10 Design Tips for Kids' Bathroom
Here are 10 design tips that are a must when designing a kids' bathroom.

When I renovated this house almost three years ago now, I knew the kids would have their own bathroom and I wanted it to be as functional as possible since the room was small and kids are kind of messy. These ten bathroom design features or tips are an absolute must when designing a kids' bathroom that is functional and practical.
To see the renovation and what this bathroom looked like when I bought this house, click here.
1. Storage
Storage is a must in the bathroom vanity. I had my cabinet maker create this cabinet with a drawer on the bottom. It's great for spare toothbrushes and other small items. Washcloths and extra shampoo etc. are in organizing bins in the cabinet.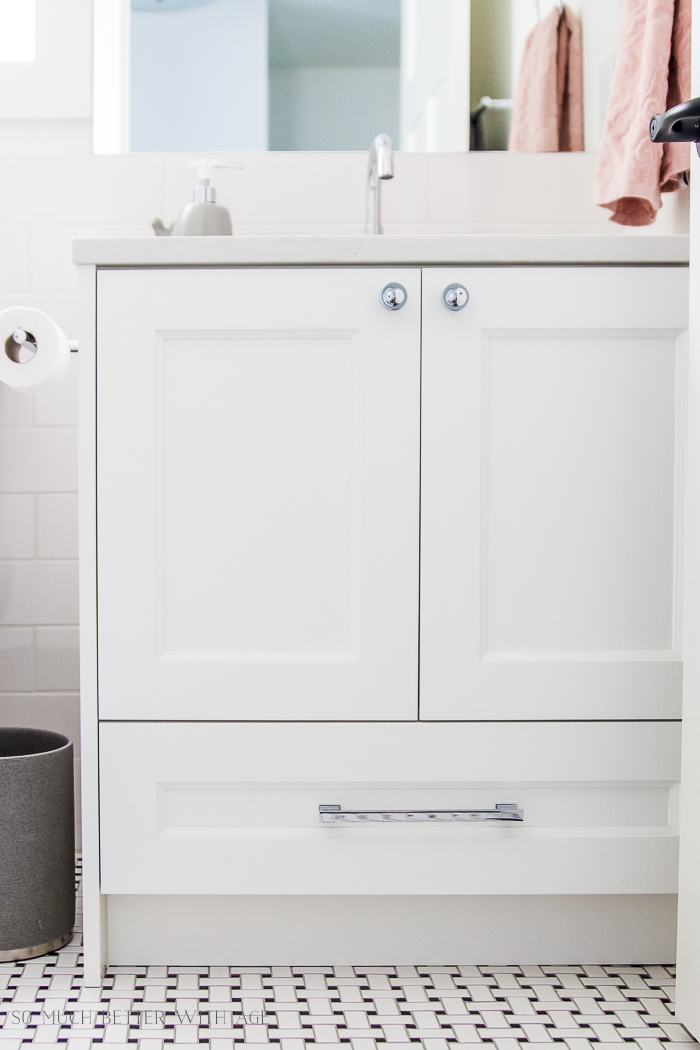 2. Small Sink Equals More Counter Space
Kids don't need a big sink. I opted for a smaller sink so I could have more counter space. Sometimes you need to plop a kid on the countertop and there's always lots of stuff to put on the bathroom counter. If they had a big sink, they would just fill it up for their dolls anyway.
3. Removable Toilet Lid
This is life changing! I think this is a must in every household especially when you have boys (men included). Nothing is grosser than cleaning a toilet so you might as well make it as easy as possible with toilet lids that remove so you can clean them properly.
There are just two buttons on the inside and the whole seat just snaps off easily. Genius!
4. Dark Grout on Floor Tile
I love a white bathroom and the white grout on the shower wall is fine but the floor grout needs to be dark. No more worrying about dirty feet staining your floors!
5. Bathtub
I've seen many houses that don't have a bathtub and I assume that kids don't live there. If you're designing a kids' bathroom, this is bathtub is a must!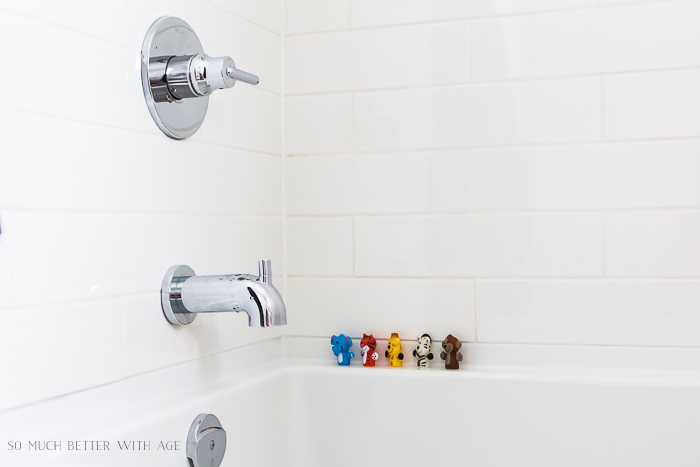 6. Spray Nozzle Shower Head
Kids are messy and nothing is easier than spraying down the bathtub after with the shower nozzle. A must!
7. Tile that Extends from Shower to Back of Toilet to Sink Backsplash
The more tile you have covering your walls the better. It makes for easy wipe down and you don't have to worry so much about splashing. Did I mention kids are messy?
8. Add as Many Towel Bars and Hooks As You Can
A towel bar behind the door is a great way to dry a towel. We have hooks by the tub for the kids to easily grab but we seem to rotate through many towels in our house and air drying them allows for multiple uses.
9. Stool
A stool is a must for little ones. Make sure you purchase one that has a grip on the bottom like this one from Ikea. I've also seen cabinets where that bottom drawer pulls out to become a step but in our bathroom the door needs to be closed in order for the drawer to be opened. Also, I needed the extra storage that the drawer provided but making the bottom drawer into a step is something to consider if you have the space.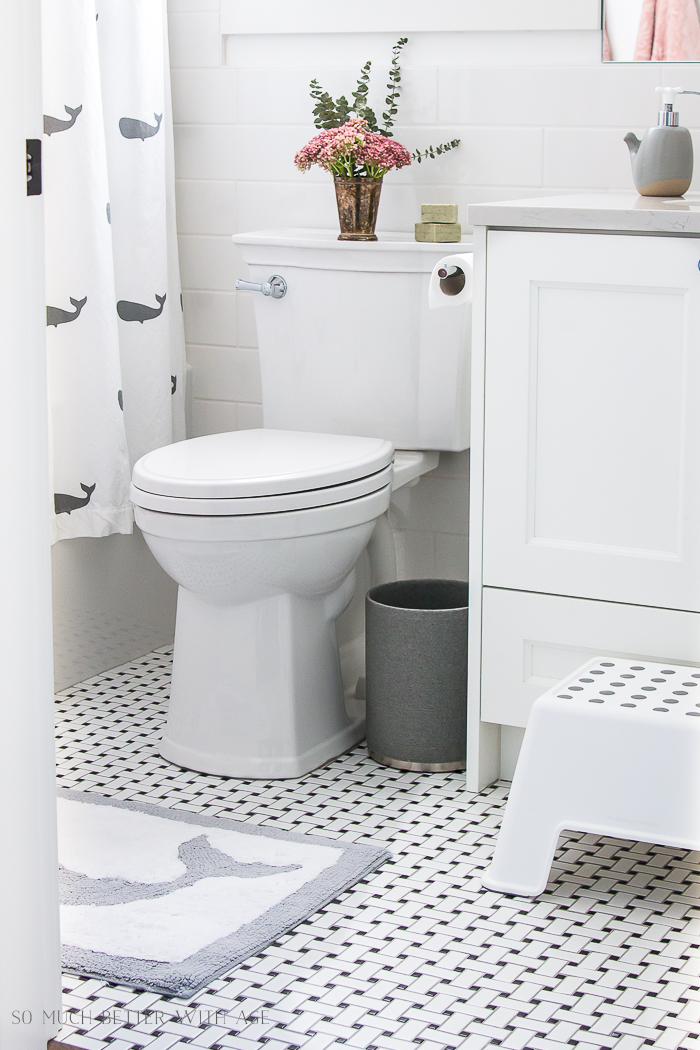 1o. Fun accents
I kept this bathroom really plain-Jane so it's more functional and practical but adding some fun touches truly makes this a kids' bathroom. I added a whale bath mat, shower curtain and whale soap dispenser to add fun to this room without effecting the overall budget.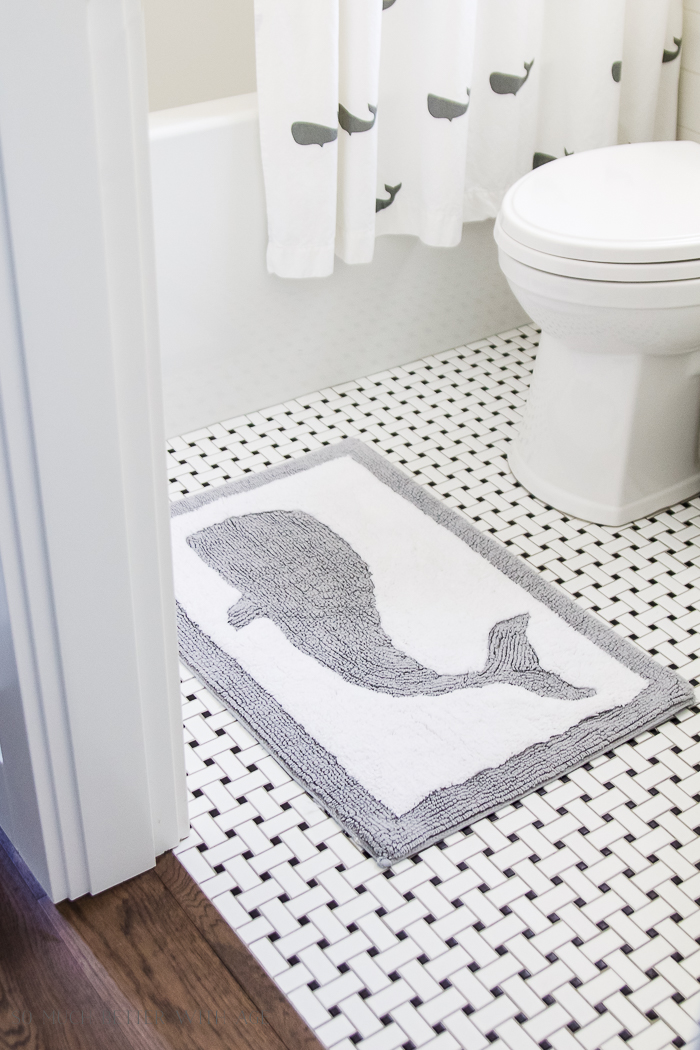 I hope you enjoyed these 10 design tips for a kids' bathroom! Let me know if you have any to add!
This post contains affiliate links for your shopping convenience. Click to read my full disclosure policy.

Sources:
Vanity – custom built
Faucet – Delta Trinsic
Countertop -Vicostone quartz BQ8220 Carrara polished
Shower head – Delta Trinsic H20 Kinetic
Tile – black and white basketweave tile – Euro Porcellanato
Towel bar, towel ring, towel hooks – Delta Trinsic line
More whale bathroom accessories
Wall paint – Simply White, Benjamin Moore
Make sure to pin it for later!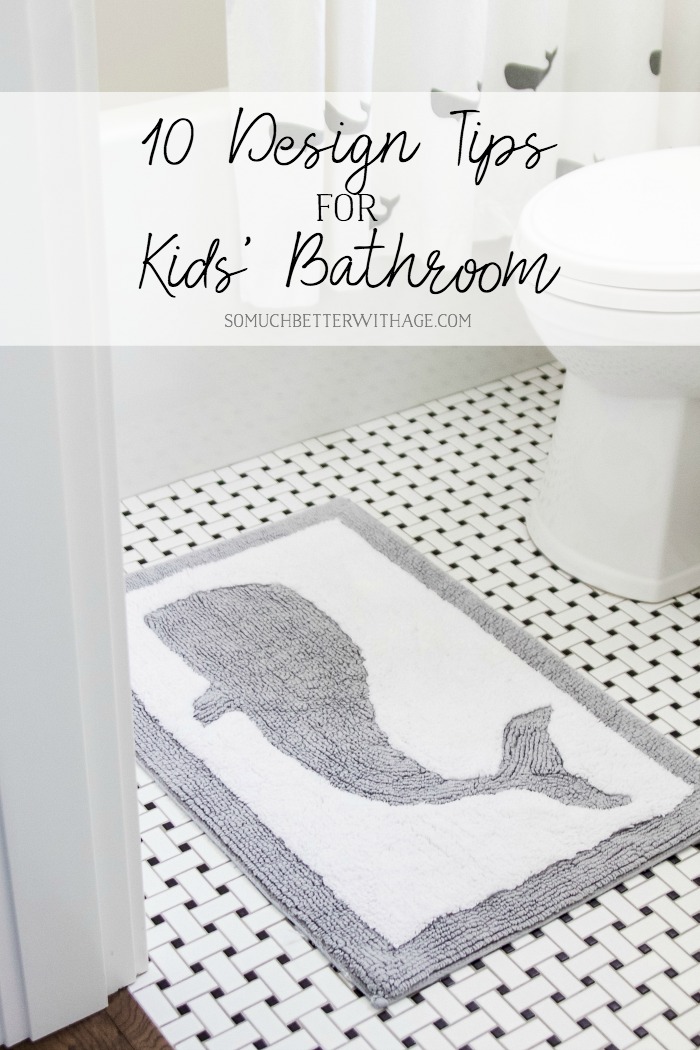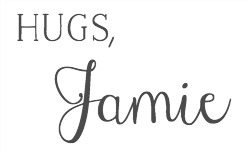 Click in Case You Missed:
13 Tips for Making a Small Bathroom Feel Luxurious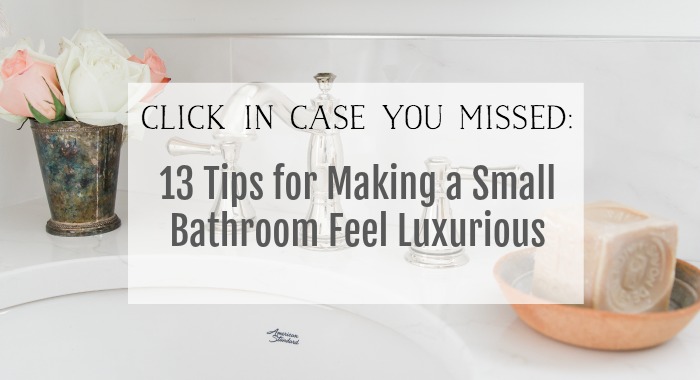 Bathroom Minimalism – How to Organize Small Bathrooms