12 Essentials When Renovating A Tiny Mudroom While Keeping it Pretty
Here are 12 essentials when renovating a tiny mudroom/laundry room while still keeping it pretty.

Last week I shared with you my Tiny Vintage Mudroom Makeover. I'm so glad to be showing more of the rooms of my house now that the holidays are over with.
This mudroom was one of my favorite renovations. I decided to get rid of a small hall closet and make this laundry room/mudroom bigger. It was the best decision ever!
I got a lot of push back from my contractor and a few other people thinking that getting rid of a closet was a very bad idea especially since I was making my main floor more open and that was the only closet.
But with planning, I came up with this brilliant idea and thought about where everything would go.
So let's get started on the 12 essentials when renovating a tiny mudroom while keeping it pretty!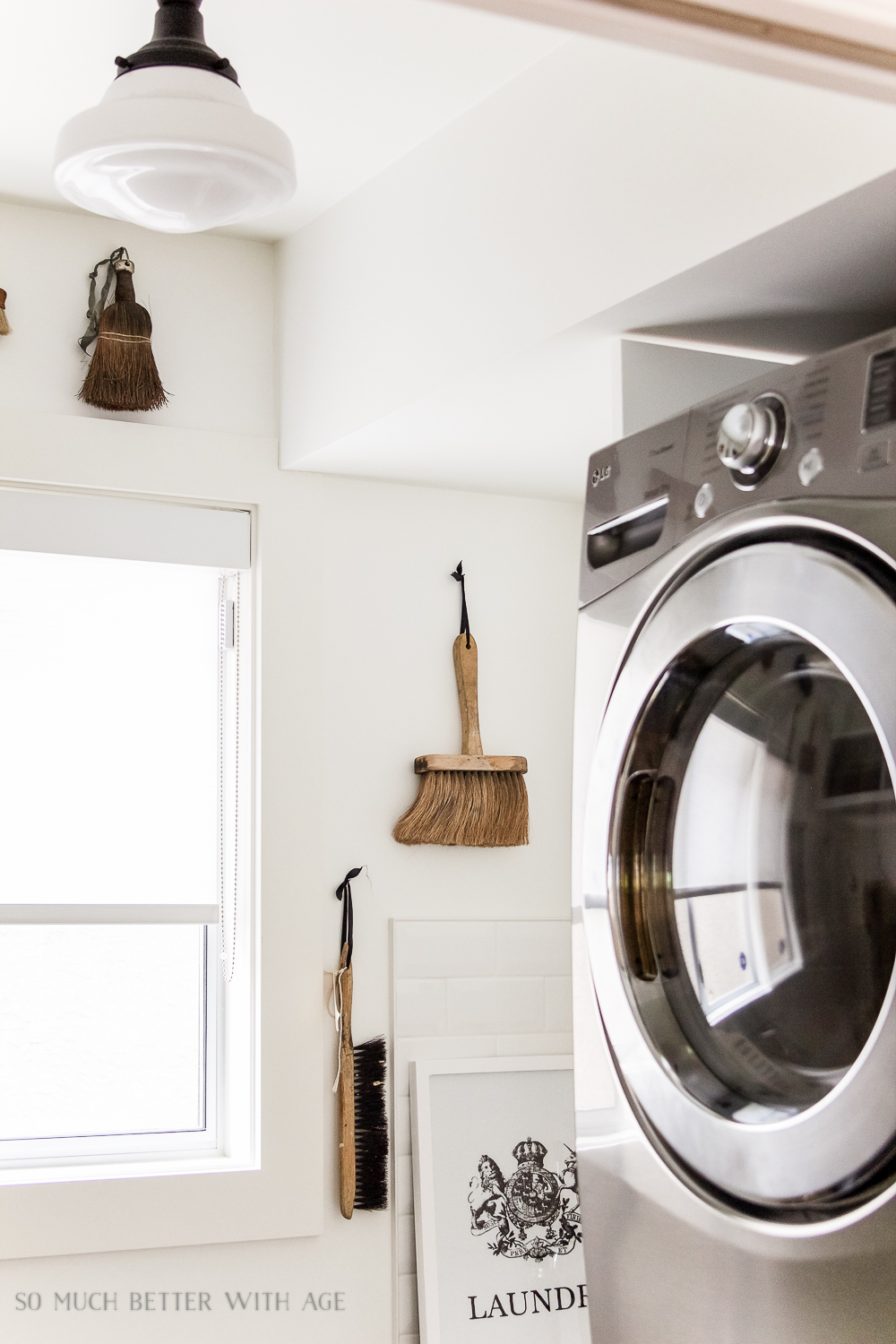 Let's refresh our memories at what the laundry room look like when I first toured the house, shall we?
An odd shaped room which was very small with the stackable washer and dryer unstacked.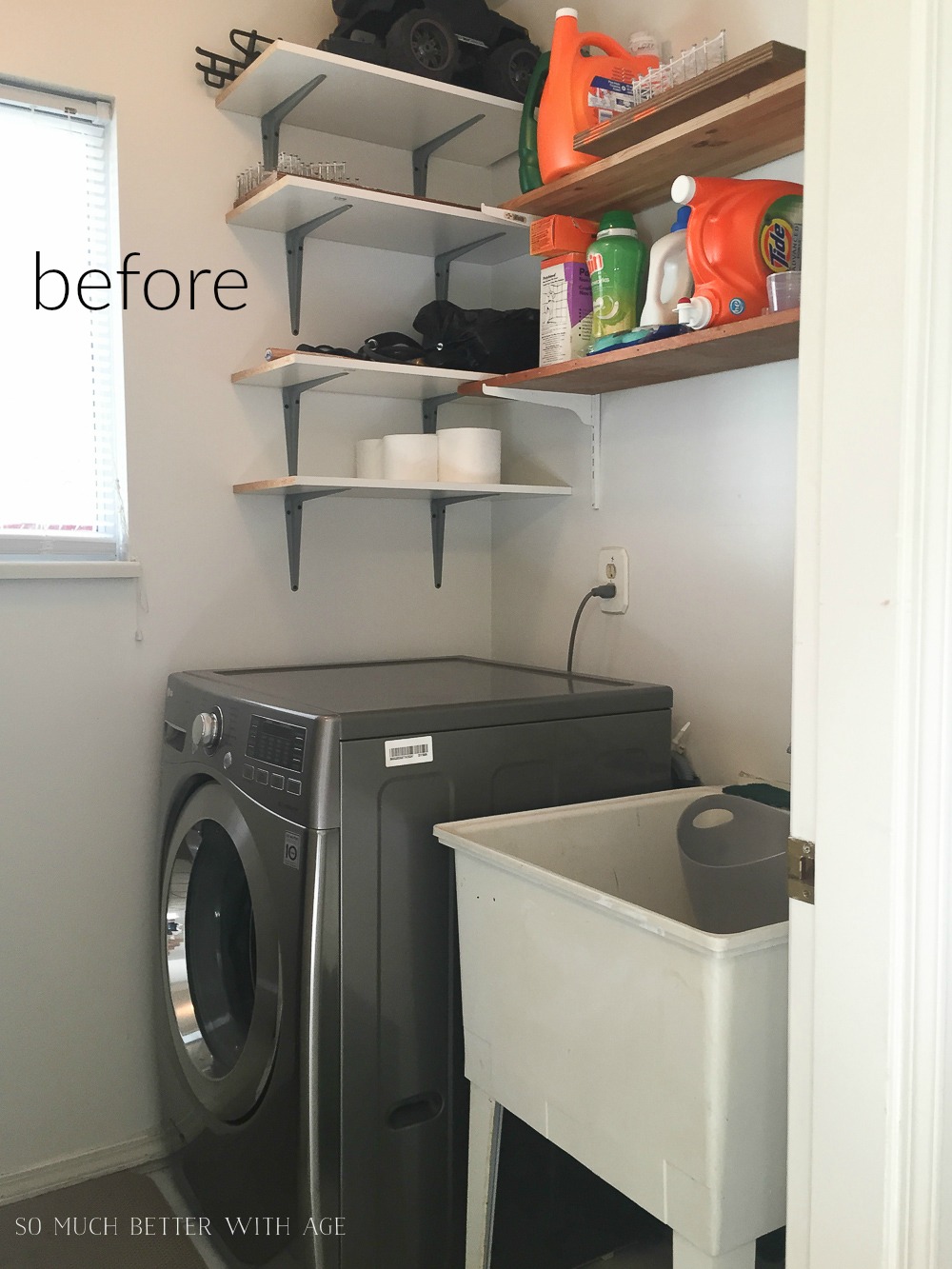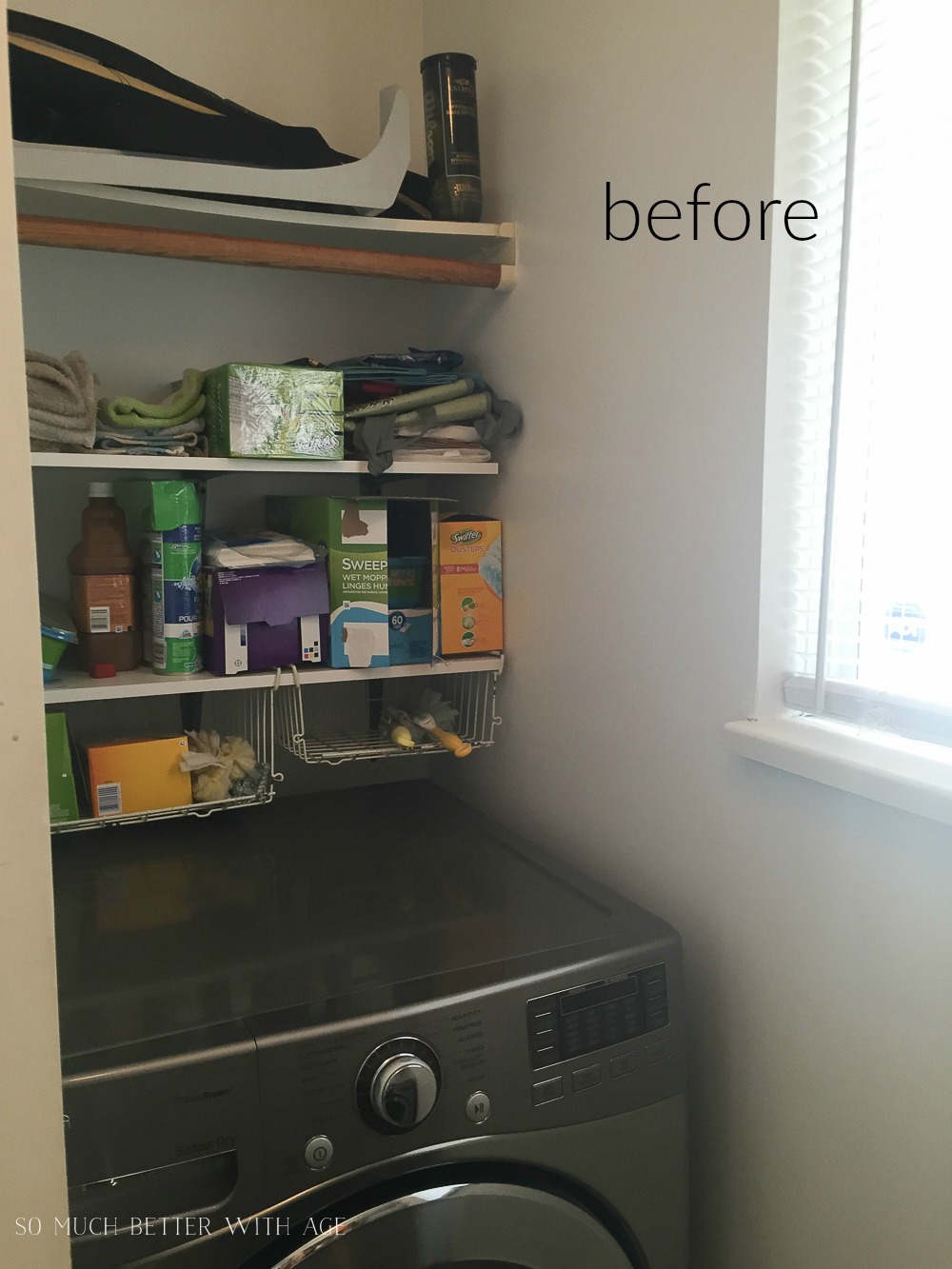 The hall closet was the small boxed in square to the left side of the photo that was removed to reveal a larger room.
Here are more of those details about the rooms.
And a view from the stairs. You can see in the tile how big the hall closet was. Not very big but such a huge difference was made by having it ripped out.
Vents, ducts and bulkheads were moved/removed to make the most of this tiny mudroom.
Here's a similar view from the stairs all renovated and made pretty with decor.
So let's begin now with the 12 essentials for renovating this mudroom.
1. Pocket Door
That door that swung in had to go! It took up so much space so a pocket door was a smart solution.
Here it is getting roughed in.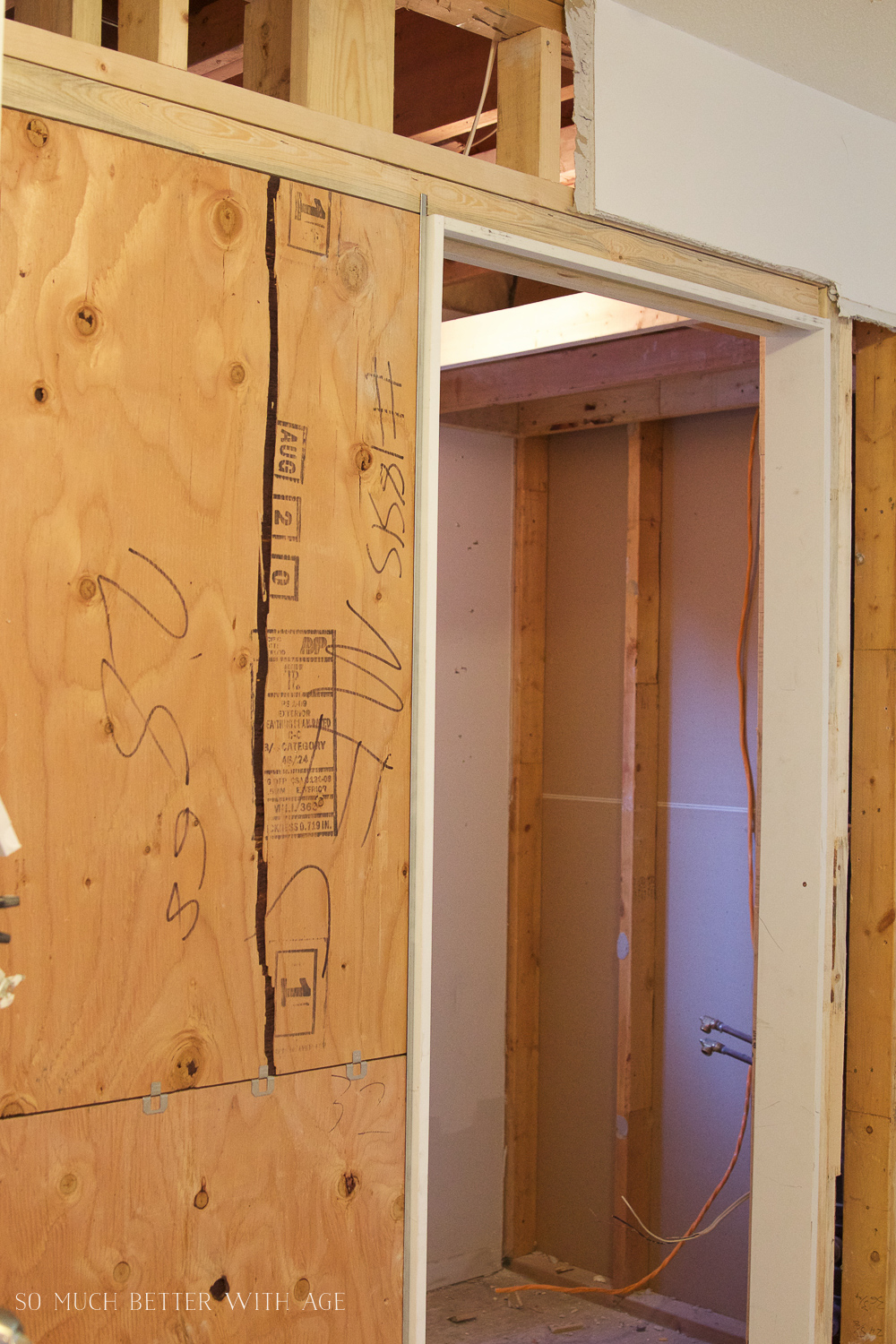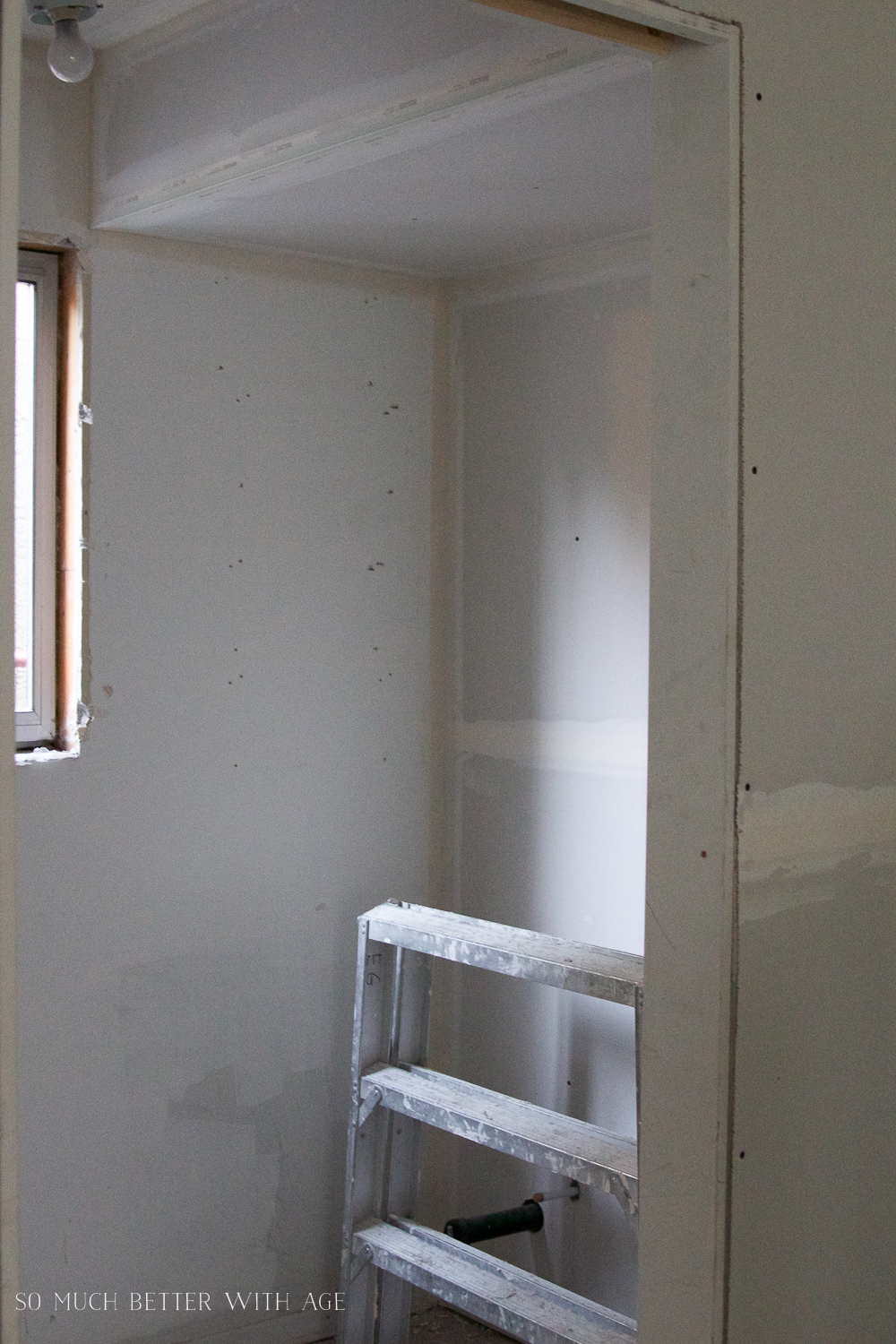 Here's a view looking into the small mudroom from the living room.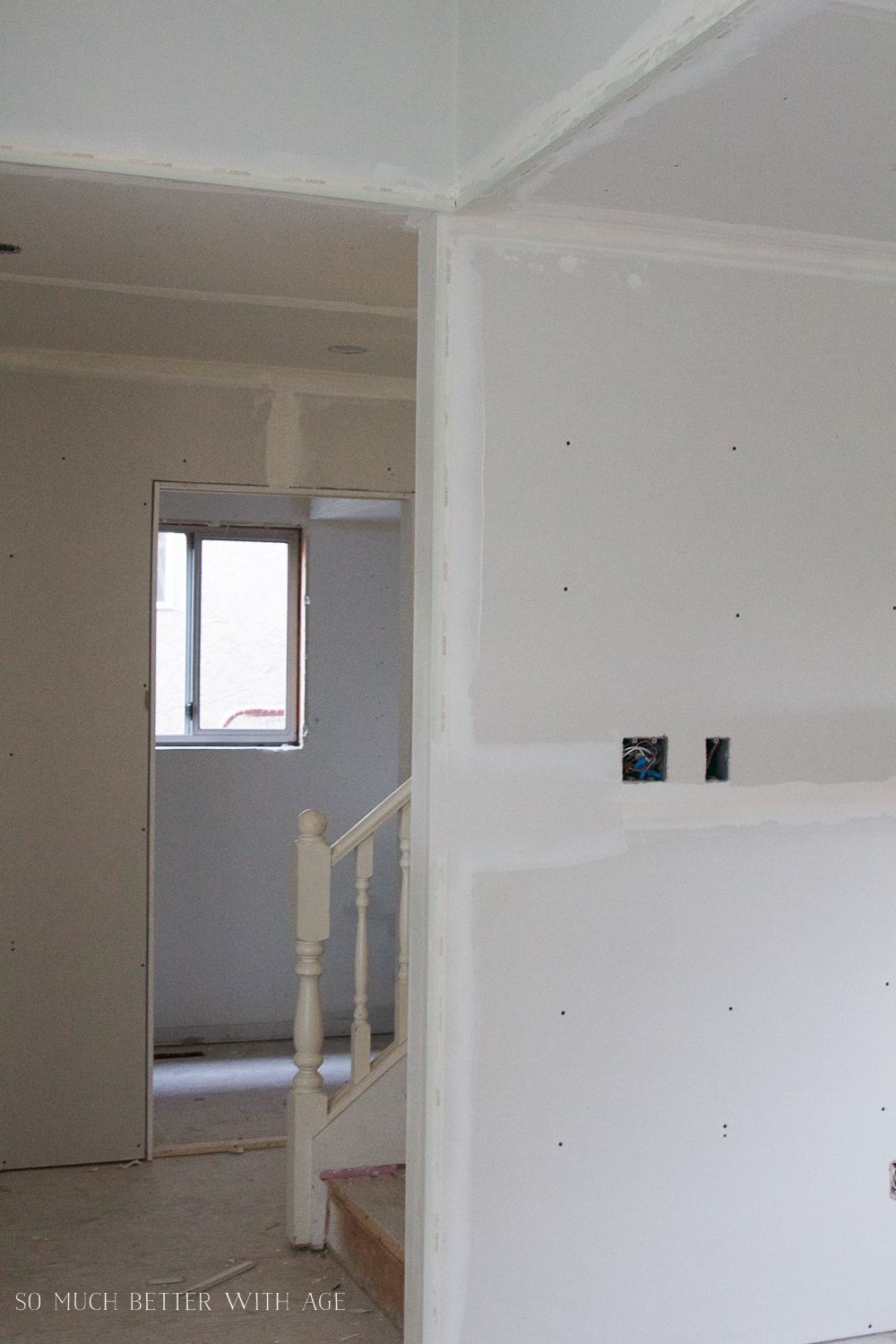 I had all new beautiful trim and doors and handles added throughout the house. It made such a huge difference to the overall look!
2. Small Sink with Pretty Faucet
3. Closed Storage
Once the drywall and paint was complete, it was time to add custom cabinetry with a quartz countertop and pretty faucet. Closed storage underneath and above the sink were a must in this tiny space.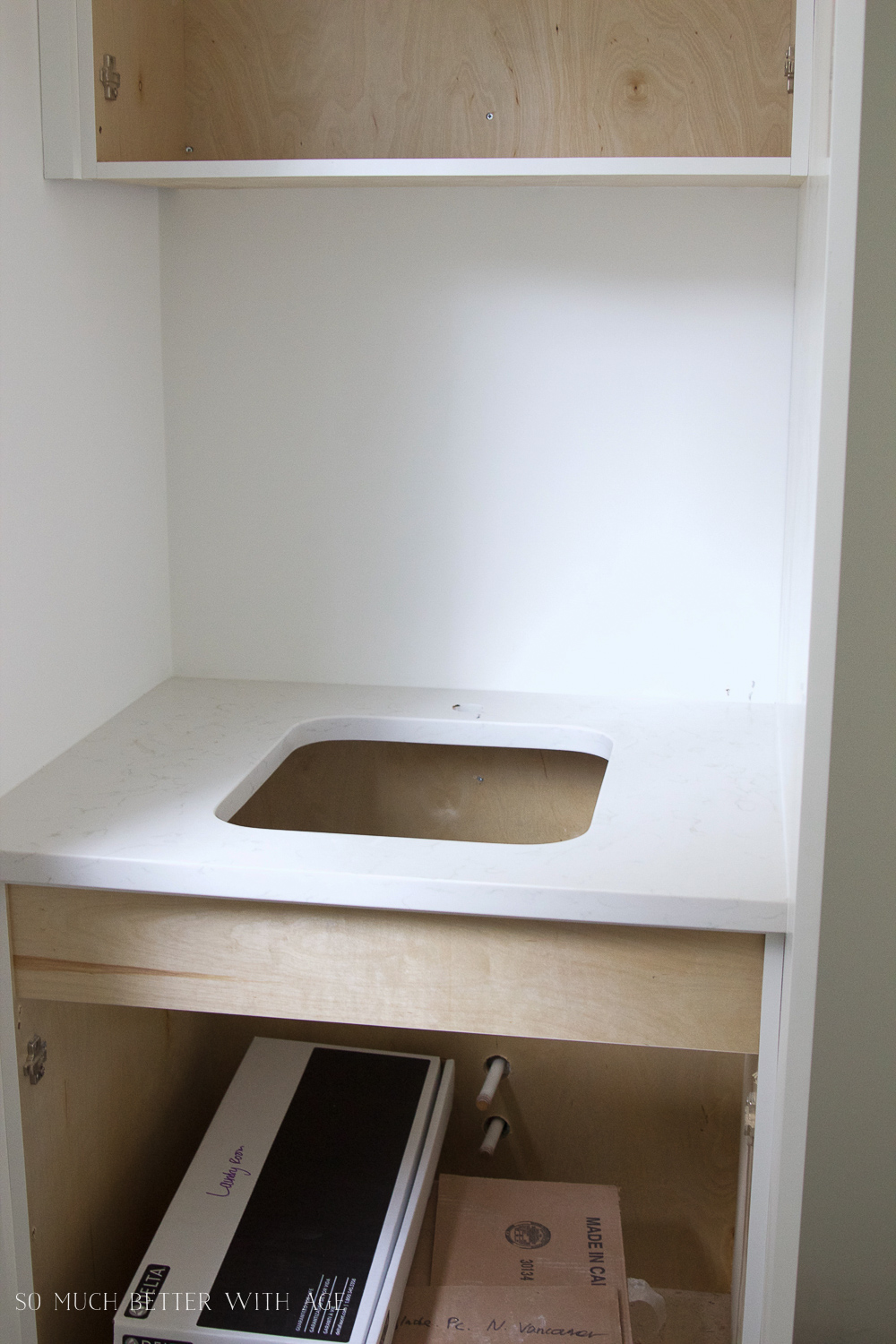 My cleaning supplies are kept under the sink and laundry soaps are kept in the upper cabinet.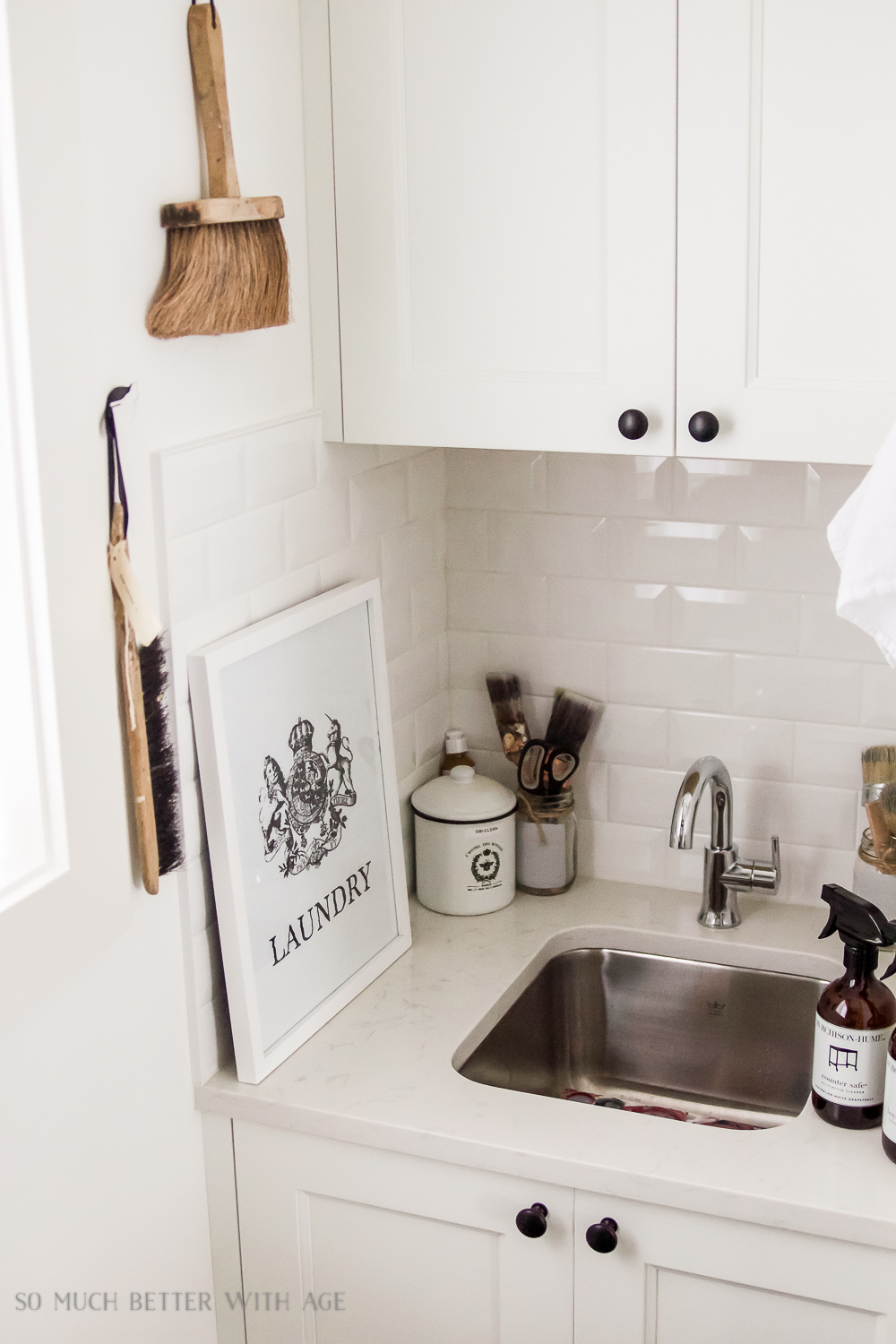 4. Stackable Washer and Dryer
This one seems obvious but the previous owners had these machines sitting across from each other. Using all the vertical space just makes sense in a small space.
A piece of cabinetry was made between the sink and washer and dryer to keep the machines snug in place.
5. Cubbies For All The Stuff
This goes without saying but mudrooms need to hold a lot of stuff! These cubbies and baskets can be changed out seasonally for stuff like mitts, hats, sunglasses, shoe polishes, etc.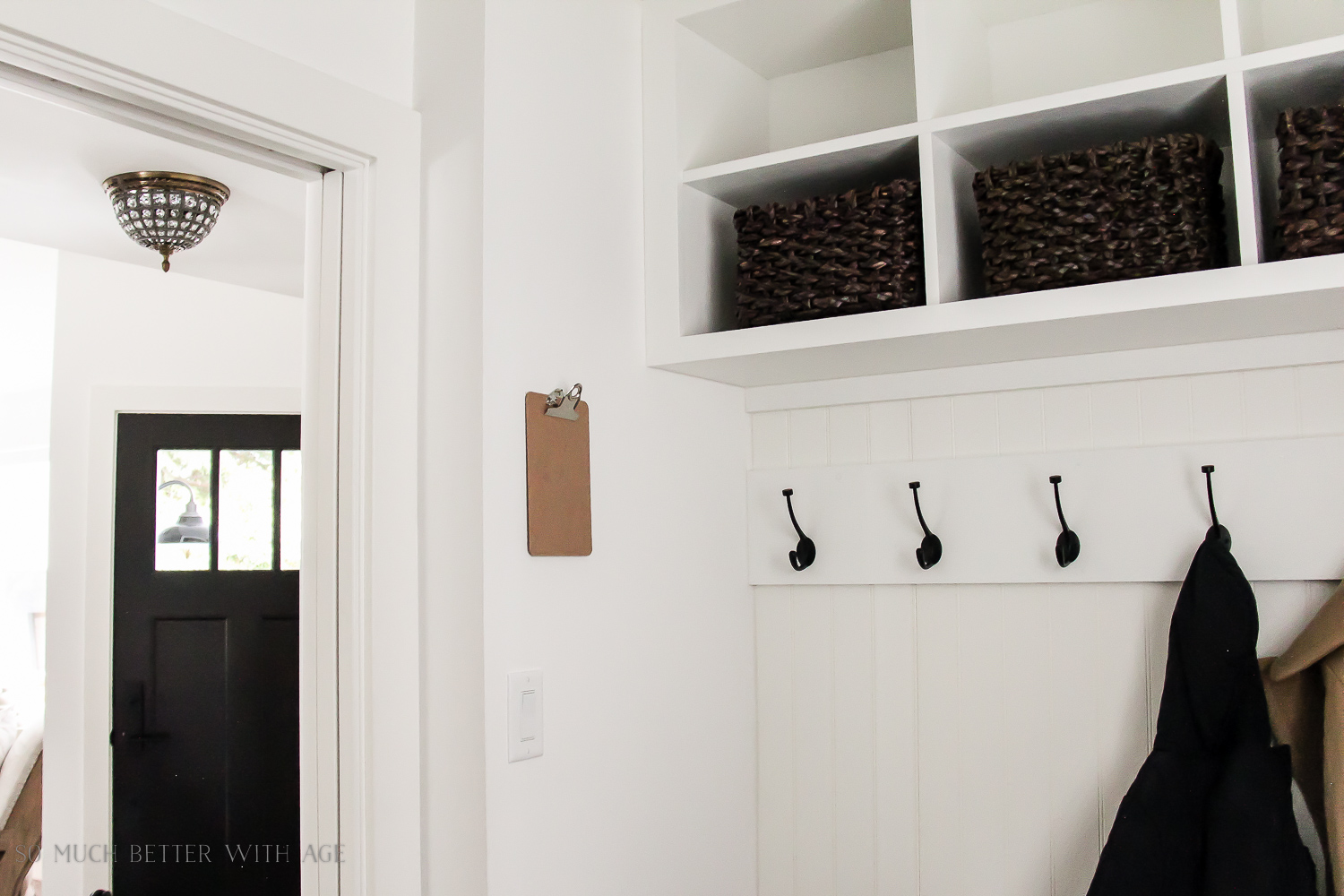 6. Hooks for Jackets
With the hall closet being gone, lots of hooks were needed for all the coats and jackets. I find this way easier than hangers and the kids can hang up their own coat but jumping up on the bench.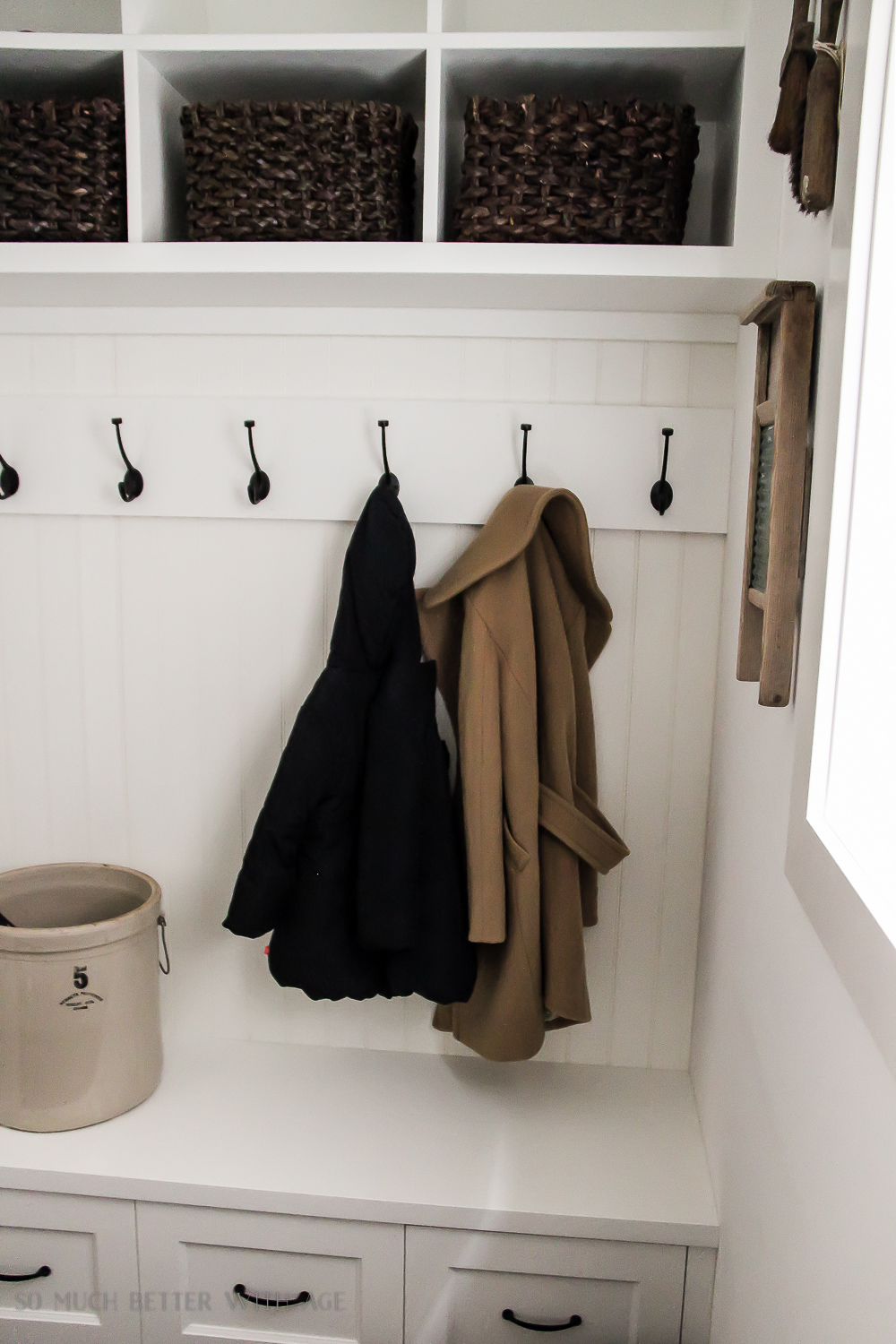 7. Closed Drawers for Shoes
If your family is like my family, you'll have a lot of shoes!
There's no way those drawers will hold all our shoes but there are always runners and sneakers that can be kept in those drawers while larger ones kept lined up.
Me and my two kids each have a drawer of our own so the space worked out perfect!

8. Small But Efficient Drying Rack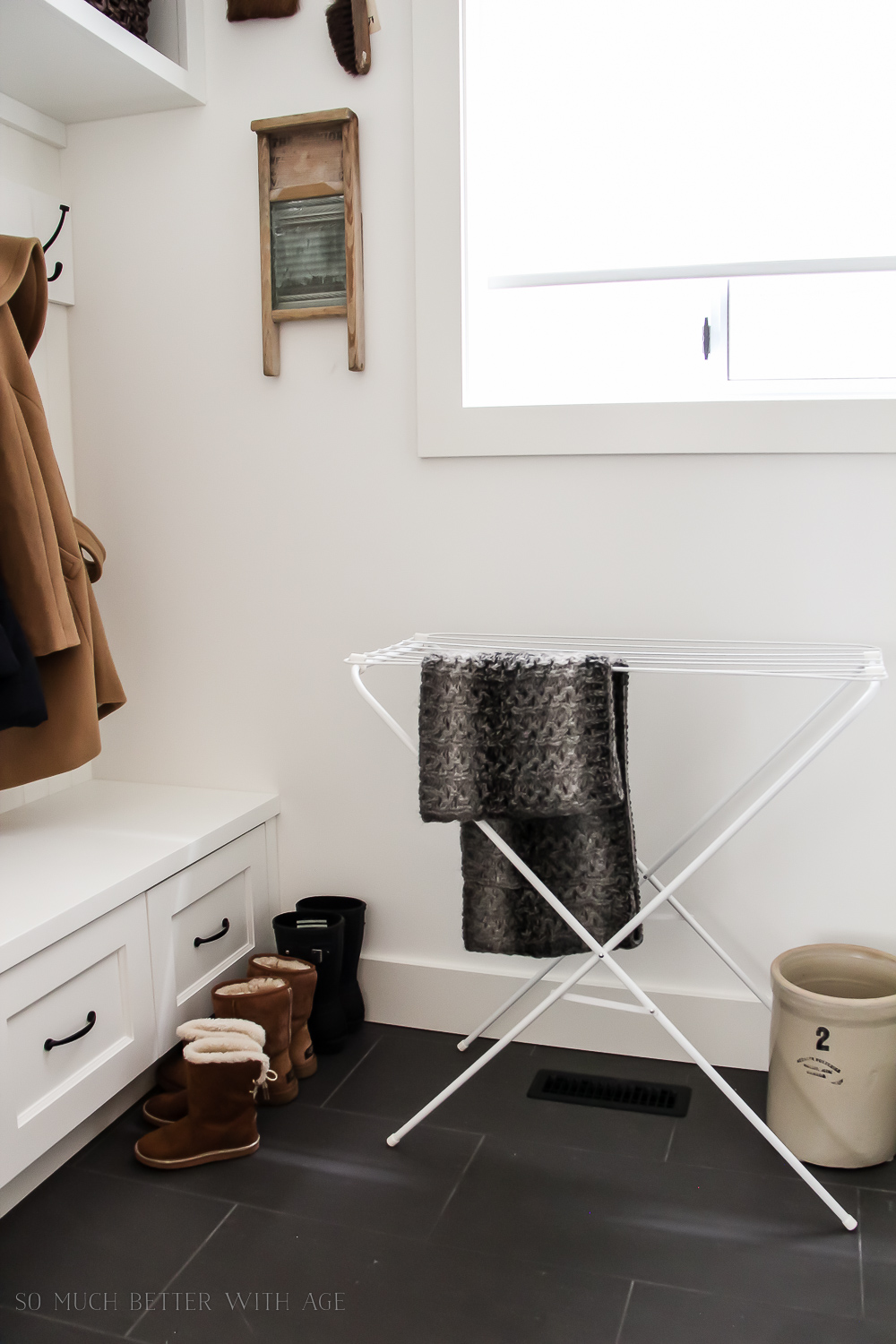 I seem to have a ton of clothing items that need to be hung to dry. This drying rack always stays out so it can't be large. It's the perfect size for this space.
9. Durable (But Pretty) Flooring
I LOVE this charcoal grey tile. I have hardwood throughout but knew I wanted this room to be tiled. I don't worry about my floors being scratched or damaged and the grey hides the daily dirt.
10. Small Containers to Hold Laundry Essentials
I love hiding soaps in cute containers. This French enamel tin is where I hid my Oxi-Clean.
Cleaning supplies in pretty bottles are a nice find too!
11. Good Lighting That Looks Good Too!
I'm constantly doing laundry so I need a bright light. I love a vintage looking schoolhouse light like this one.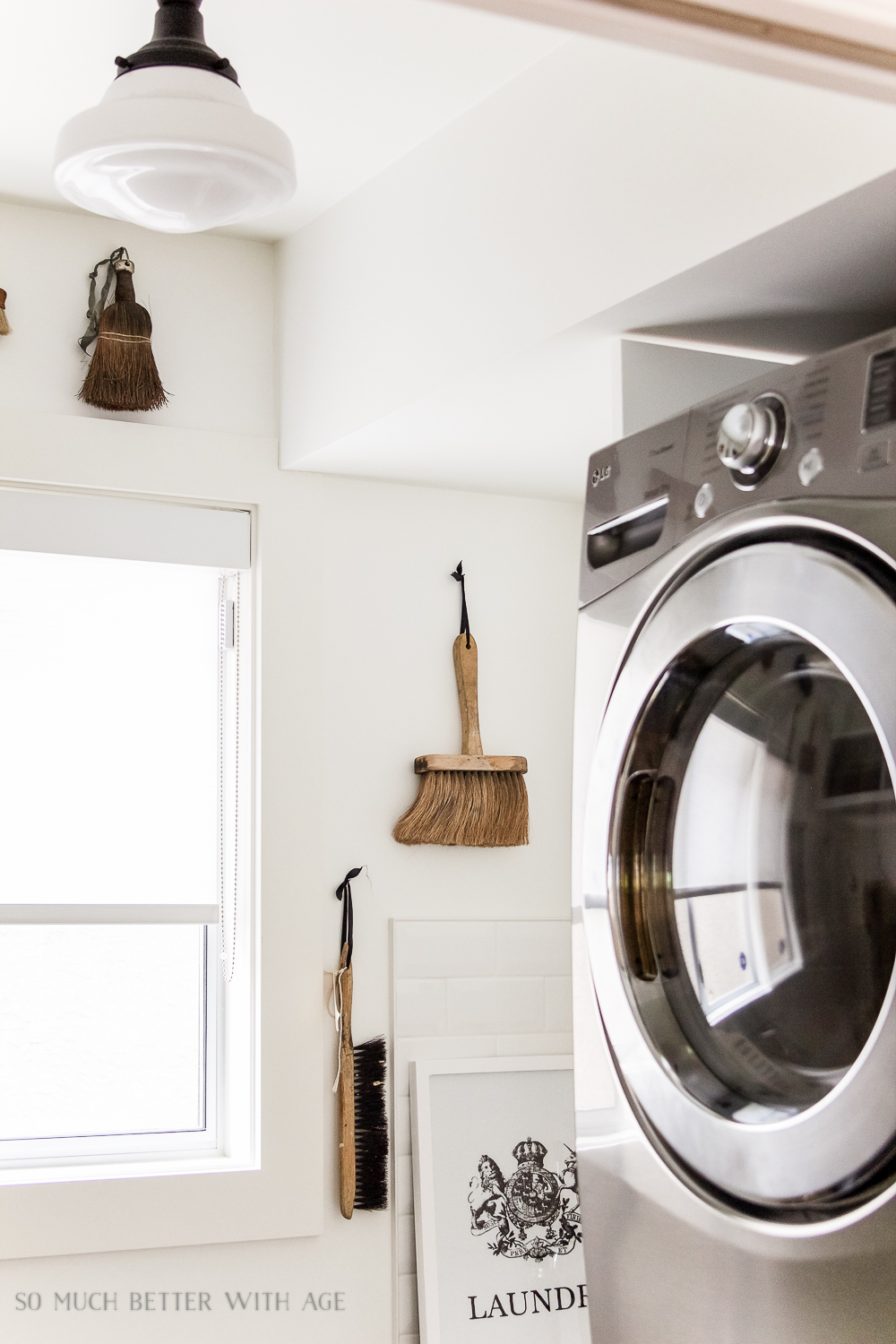 And that leaves me with the final one…
12. Pretty Decor (of course)
Laundry is one of those things we all must do and it just makes life better when it can be in a nicer room. I actually like doing laundry when it's in a pretty room.
And it doesn't have to be large. This room is small (especially compared to my previous house's laundry room) but efficient. With a well organized room, it just makes life run more smoothly.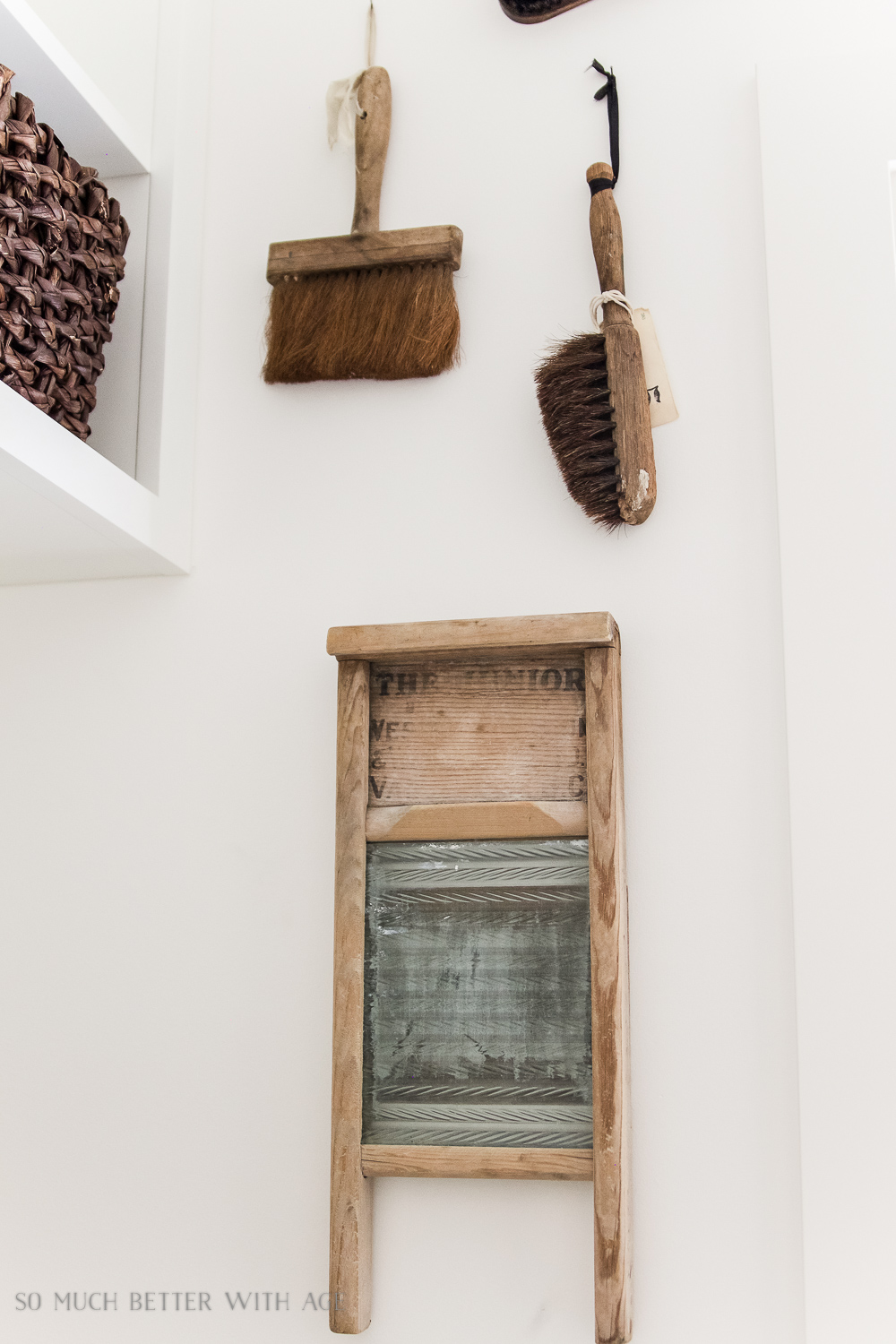 This post contains affiliate links for your shopping convenience. Click here to read my full disclosure policy.
Source List: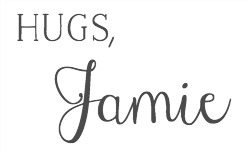 Click in Case You Missed It: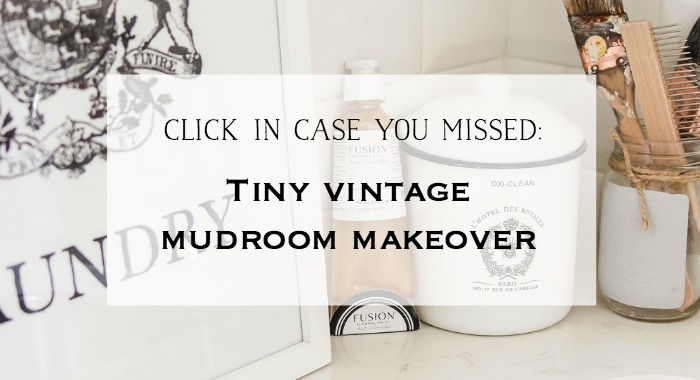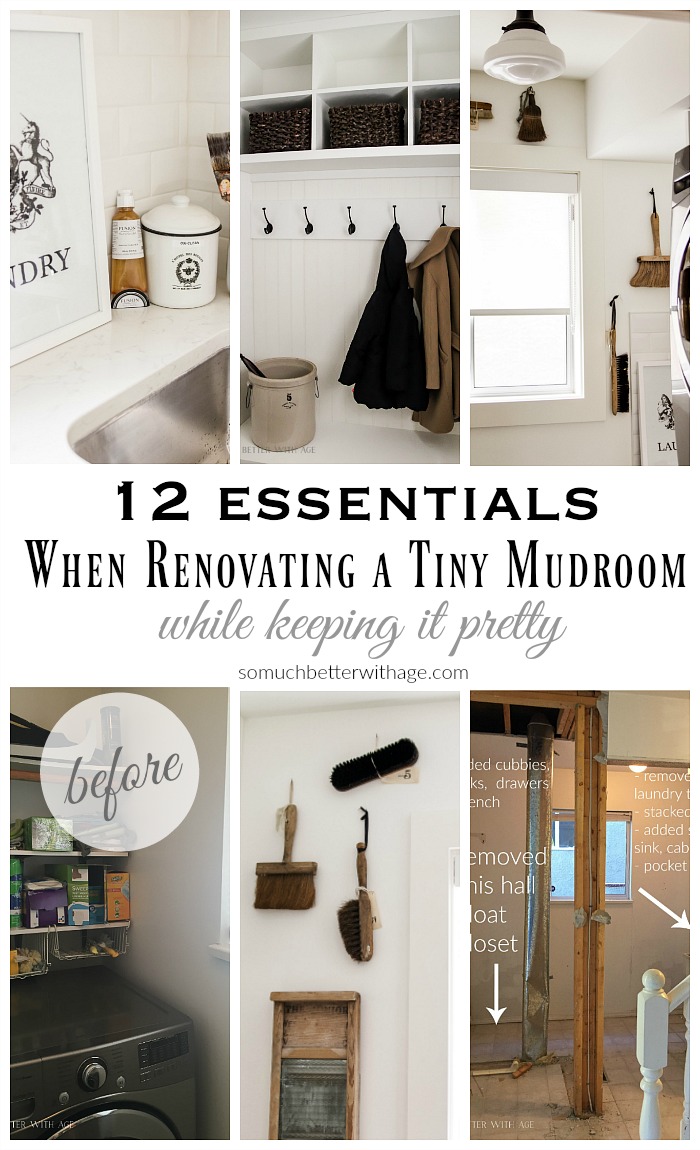 SaveSave
SaveSave