Welcome back to Give Me The Goods #50 and features!
We have a BIG ANNOUNCEMENT today.  So huge, you won't even believe it.
Today is our last Give Me The Goods link party.
Say whaaaaat?
I know, it's a bitter sweet end to a fabulous party.  And it has grown by leaps and bounds!  I think we started with 16 link-ups and now it's nearly always around 300.
Having a link party is super fun but it's time consuming.  Life is always so busy and we all find it too much to fit into our already busy lives.
It's sad because I'll miss emailing the girls each week but I'll just have to email them for other things 😉
So because it's our last party, we're having a giveaway for you, lovely readers!!  Make sure to enter it but first we have our features.
FEATURES
Most Viewed
View From The Fridge – File Cabinet Organization
My Picks
My Vintage Window – How To Make The Perfect Bow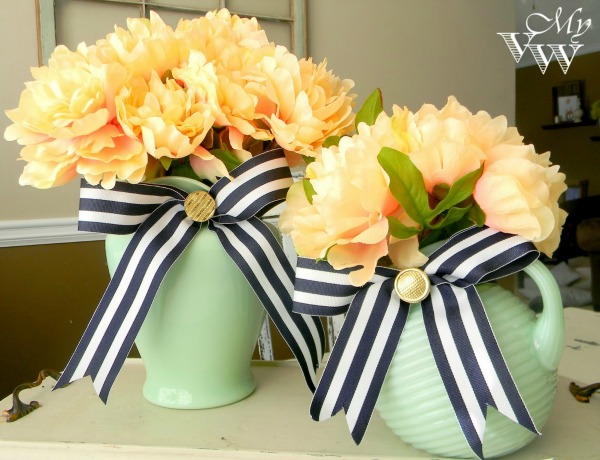 Art Is Beauty – French Pallet Art
My Love 2 Create – Final Touches Master Closet Makeover
Lovely Etc. – DIY Plank Wall
Love Olympia June – Tall Painted Dresser
Be sure to visit Jenna, Amy, Amber, and Rachel for their features!
Now onto the giveaway….
GIVEAWAY
Jenna @  Rain on a Tin Roof  | Facebook |  Pinterest | Bloglovin | Google+ |  RSS | Twitter | Instagram
Jamie @ So Much Better With Age  | Facebook|  Pinterest | Bloglovin | Google+ | RSS | Twitter | Instagram
Amber @ Averie Lane  |  Facebook | Pinterest | Bloglovin | Google+ | RSS | Twitter | Instagram
Amy @ Commona-My House  | Facebook | Pinterest |Bloglovin | Google+ | RSS | Instagram
Rachel @ Maison de Pax  | Facebook | Pinterest | Bloglovin| Google+ |  RSS | Twitter | Instagram