I love pretty, pastel colours so Easter is the perfect time to make some cute craft projects.
I had this idea at Christmas time to make like an Easter snow globe.  Although it didn't end up exactly like I imagined, I think they are pretty cute.
I used my favorite jam jars (we go through a lot of jam in our house so I collected a bunch) and painted some mini clay pots to look like they have a natural patina.
I also added some adorable miniature bunny toys with moss in the jars.
Some easter eggs, moss and ribbons and this jar is officially an Easter globe!
Let me show you how I made these adorable glass Easter jars with bunny ears.


First, you'll need the following:
Supplies
small colored Easter eggs (found mine at Michael's)
hot glue gun
scissors
Easter ribbon
twine
foam brushes
This jam is delicious but also I love it more because it's from France and the jar is really pretty 😉
Bonne Maman is everywhere in France.  They sell cookies and crackers as well.
Tutorials:
Patina Pots
Mix 1 teaspoon (or 1 part) Fresco with 2 teaspoon (or 2 parts if making a lot) of Fusion Mineral paint.  Mix together keeping it a bit lumpy.
Paint on clay pots leaving some clay showing through.
The texture should be lumpy in parts.
Do the steps above again for the next color and layer it on.
(not shown) I added a third color and layered it on as well.
I painted a whole bunch of pots at once so I liked the different variations of colours but one or two paint colours would be fine too.
6. Add some styrofoam or oasis to each pot.
7. Add a dab of hot glue and push in some spanish moss.
8. Snip some eggs of the branches leaving some of the metal poking out of the egg for pushing in to the pot.
9. Add a dab of hot glue to the metal stick before pushing in to the pot.
Glass Jars
Cut out sheet moss to fit on the bottom of each jar.  I didn't glue into place.
2. Put a dab of hot glue on the bottom of clay pot and push onto the moss.  Then add your bunny.  I didn't bother glueing the bunny as it was nicely wedged into place.
3. Next cut ribbon about 8 inches long and fold each end over twice tucking it in and hot glueing into place.
4. Hot glue each side of the ribbon to opposite sides of the jar.
5. Tie and knot some baker's twine in the middle of the ribbon and tie it in a bow.
You're now ready to display your adorable glass Easter jar with bunny ears!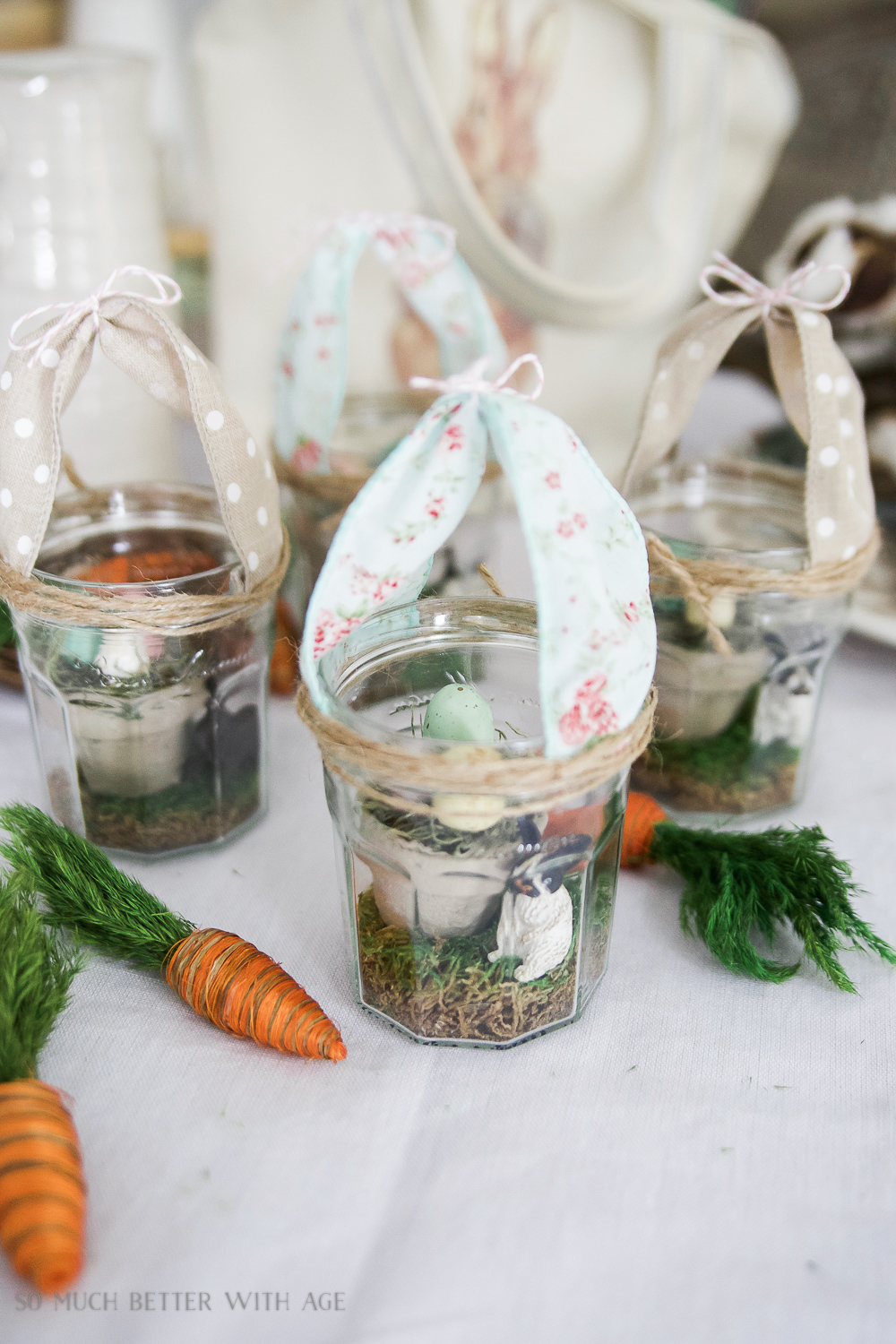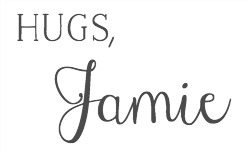 Click in Case You Missed: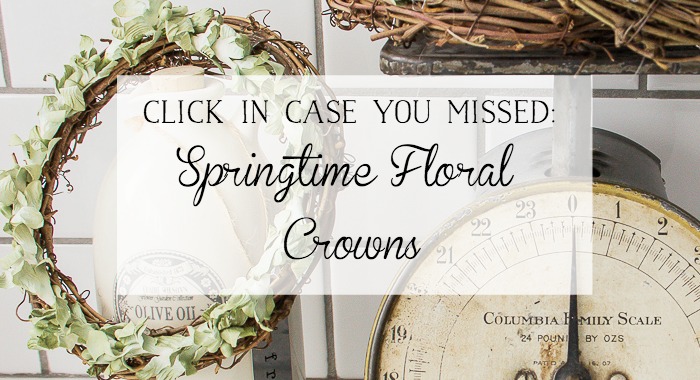 Happy Easter Sign and Bunny Printables