I love decorating for the holidays and after seven years of blogging I have a lot of projects that I've shared. Here are 30+ unique Christmas decorating ideas.
This post contains affiliate links for your shopping convenience. Click to read my full disclosure policy.
I can't believe how many Christmas projects I've shared over the years! I went back to 2011 to find posts and some of the photos are pretty bad but I've shared some of those projects with you here today. So starting from 2011 to 2018, here are the majority of my Christmas decorating ideas.
1.Eiffel Tower Snowy Centrepiece
My snowy centrepiece is just some buffalo snow on a silver platter with a cloche. I've had my collection of Eiffel towers for years. You can find them everywhere when you look for them.
Nothing is easier than a no-sew pillow, am I right?
These twine Christmas trees are fun and very inexpensive to make.
4. Make a Holiday To Do List on a Chalkboard
If you already have a chalkboard at home, turn it into a Holiday To Do List! It looks festive and is useful to remind you what fun things you're planning this season.
5. Hang Stockings on Fireplace Screen & Add Small Trees to Crocks
If you have a fireplace screen, why not hook your stockings to it? Adding some small shrubs to some crocks on either side add symmetry and is a great way to bring in that fresh tree smell without getting a real Christmas tree.
6. Use a Galvanized Tub as a Christmas Tree Stand
This faux little tree is for my kids to decorate and I love adding it to this old galvanized tub. I put bags of rice over the stand so it doesn't fall over and a blanket over top.
7. Add Mini Faux Trees to Urns or Trophies
Pop in a faux mini tree to a trophy for a grand look!

8. Decorate Vintage Finds with Christmas Decor
If you love vintage finds as much as I do, add a sprig of garland or a bottle brush tree next to it. It will bring focus to that item and look festive.
I like simple wreaths and using jute webbing gives it that vintage feel.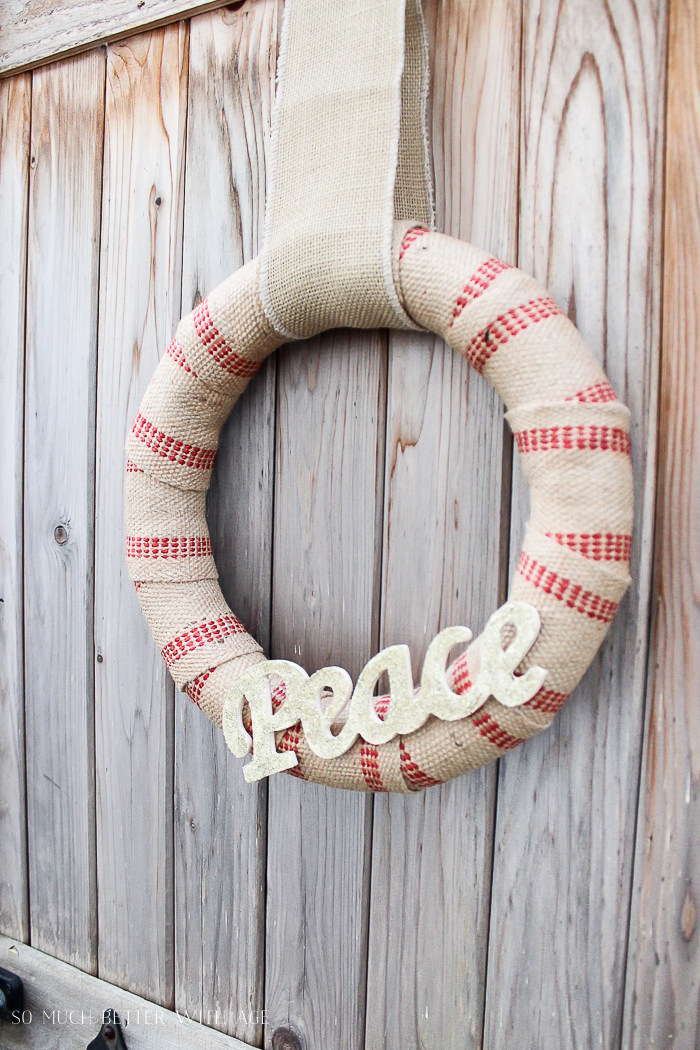 10. Use Tomato Cages for Eiffel Tower Christmas Trees
Tomato cages for trees? Why not! It looks party like a Christmas tree and partly like the Eiffel Tower so I'm in love either way.
11. Add Fresh Greenery and Christmas Picks to Vintage Crates
Have an old crate? Pop in some branches and evergreen to bring some fresh evergreen scent to your home.
12. Easy Christmas Ornament Garland

Some thick rope, ornaments and ornament hooks and you've got yourself a very festive and inexpensive garland!
13. Use Old Sleeves from a Sweater to Make a Wreath
Have an old sweater that you don't use anymore? Use the sleeves from it to make a wreath!
14. Vintage Vertical Christmas Garland
This is one of my favourite Christmas decor projects. Small clipboards, vintage postcards and fresh greenery make a lovely Christmas garland.
15. Sheet music Wooden Tag Ornaments
Making your own Christmas ornaments is very inexpensive and beautiful like these sheet music papers glued over wooden tags.
16. Use Old Plaid PJs to Make a Wreath
Have old plaid pyjamas? Turn the legs into a wreath!
17. Glittery Tree Sign – Joyeux Noel
Nothing says French Christmas than a Joyeux Noel sign for your tree!
18. Vintage Christmas Postcards
Vintage postcards with glitter taped over your regular artwork upgrades your wall decor for Christmas.
19. Crock-Mas Tree
Have a collection of crocks like I do? Why not make a tree out of them?
20. Spool and Wool Christmas Garland
Some mini wooden spools and wool make a beautiful garland for your tree.
21. Use Different Ribbon on Your Tree Each Year
I keep the same ornaments, trees, wreaths and garland for my Christmas decor each year. To change it up from year to year, I use different ribbon on the tree.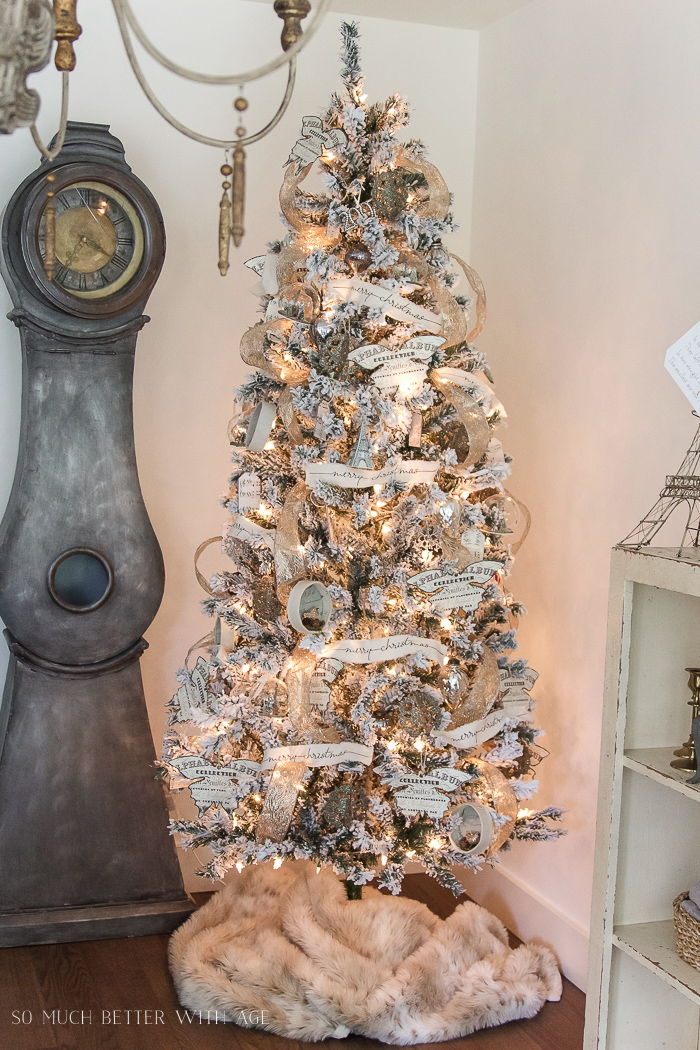 22. Painted Trunk for Christmas Presents
Have an old trunk in the basement? Paint it a glittery paint colour and add a ribbon around it to hold all your Christmas presents.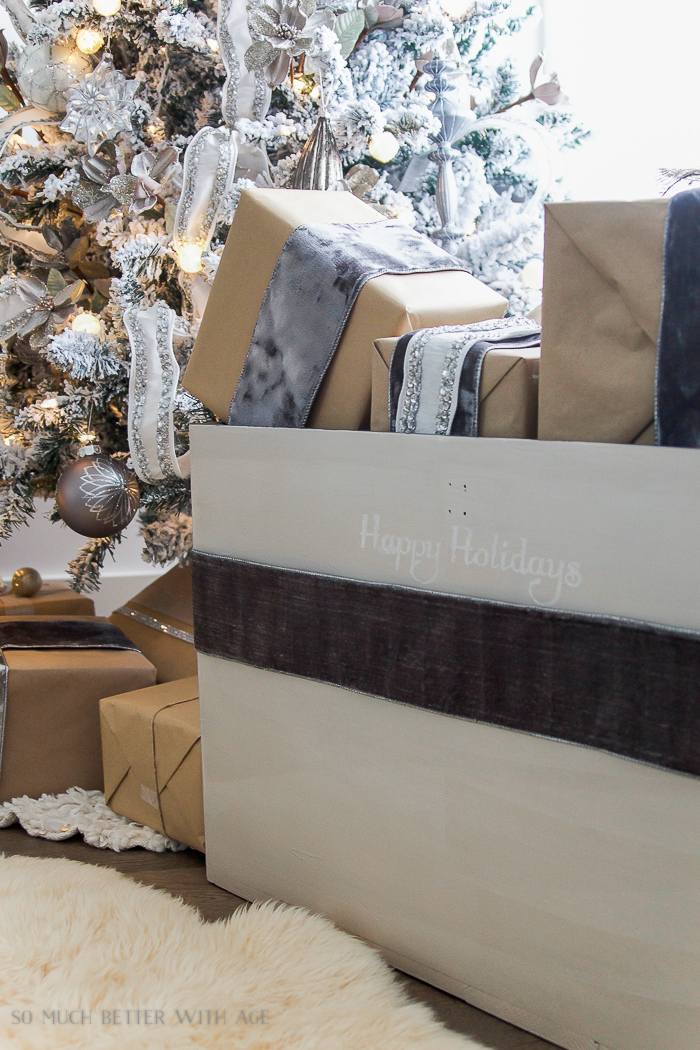 Add some fresh greenery and candles to a moose antler for a unique and inexpensive centrepiece.
24. Add Ribbon to Christmas Garland
I use the same basics every year for Christmas decor (tree, garland, wreaths) so adding velvet ribbon to the garland changes the whole look the next year.
25. Add Wooden Beads & Wooden Beads to Christmas Garland
Adding fresh eucalyptus and wooden beads also changes the look for another year!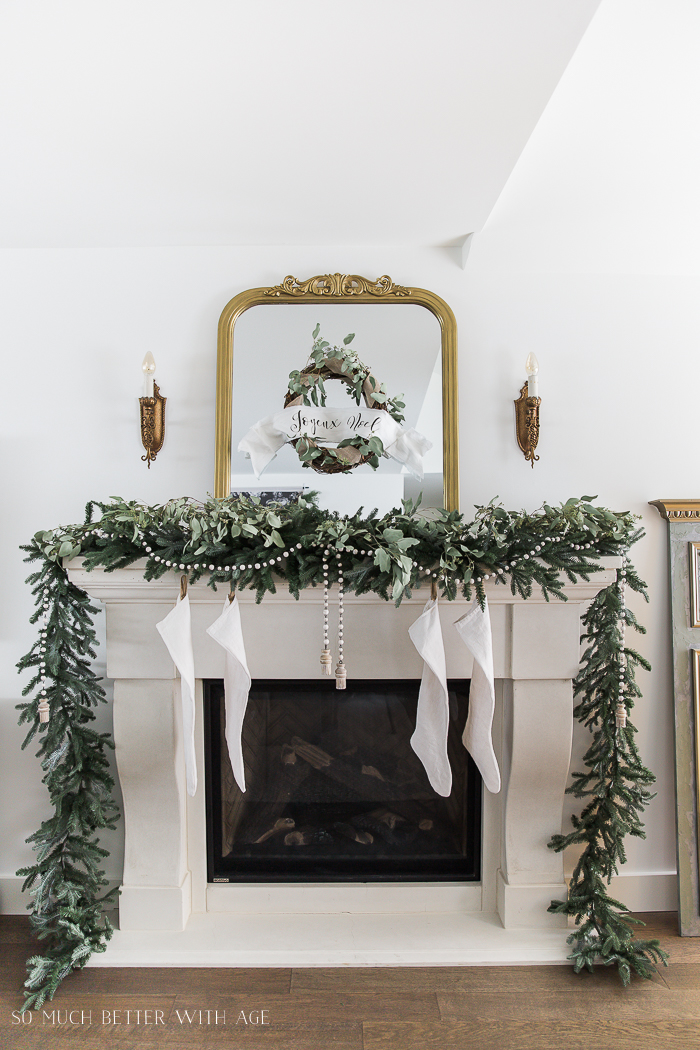 26. European-Looking Vintage Stocking Sewing Pattern
Can't find vintage looking stockings? Make your own using my sewing pattern!
Did you know that epsom salts down the middle of my table? Don't worry, there's a way I've contained it on the table so it's not as messy as you think! Click the link above to get the directions.
28. Hang Mini Wreaths on Back of Chairs (DIY Joyeux Noel Banners)
Mini wreaths hanging on the backs of chairs is adorable! I made the wreaths along with the Joyeux Banners! Click above to get the directions.
29. Christmas Grapevine Wreath
Grapevine wreaths are so pretty to begin with so it doesn't take much to add a few embellishments to make it festive.
30. Gingerbread House Centrepiece on a Sleigh
You'll never believe I just used hot glue to assemble these gingerbread kits together. So easy! And don't worry, my kids had their own gingerbread house to decorate and eat.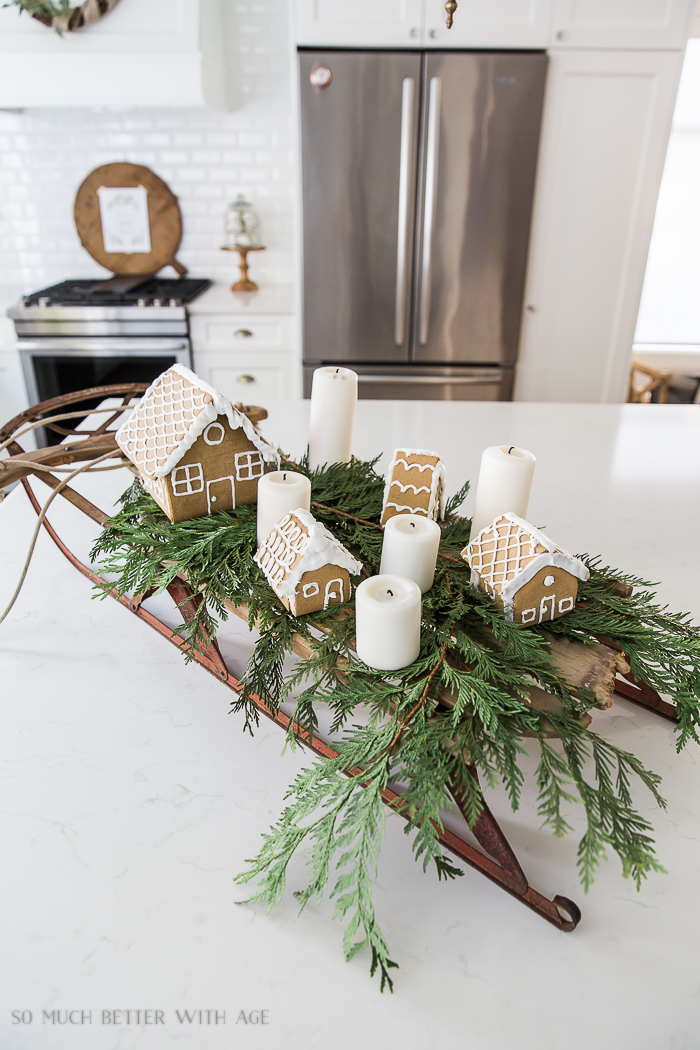 I've used my cloche collection for fall, Halloween and Christmas this year. Turning them into snow globes was my best idea yet!

Using plastic ornaments and plaid ribbon, these plaid ornaments are easy to make and look beautiful.
33. Add Faux Wrapped Gifts to a Dough Bowl for a Centrepiece
Nothing keep be cheaper than wrapping up empty boxes for a truly festive look. Add them to a dough bowl or basket for a beautiful centrepiece.

That's a lot of projects I've done! There are even more that I didn't include so be sure to check out my Christmas section for more inspiration.
Merry Christmas!
Make sure to pin it for later!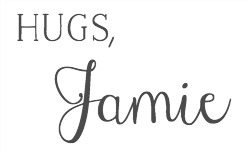 click in case you missed:
Christmas Tags – Free Printables