5 Tips for Summer Decorating
Here are 5 fun and fresh summer decor ideas to try in your home!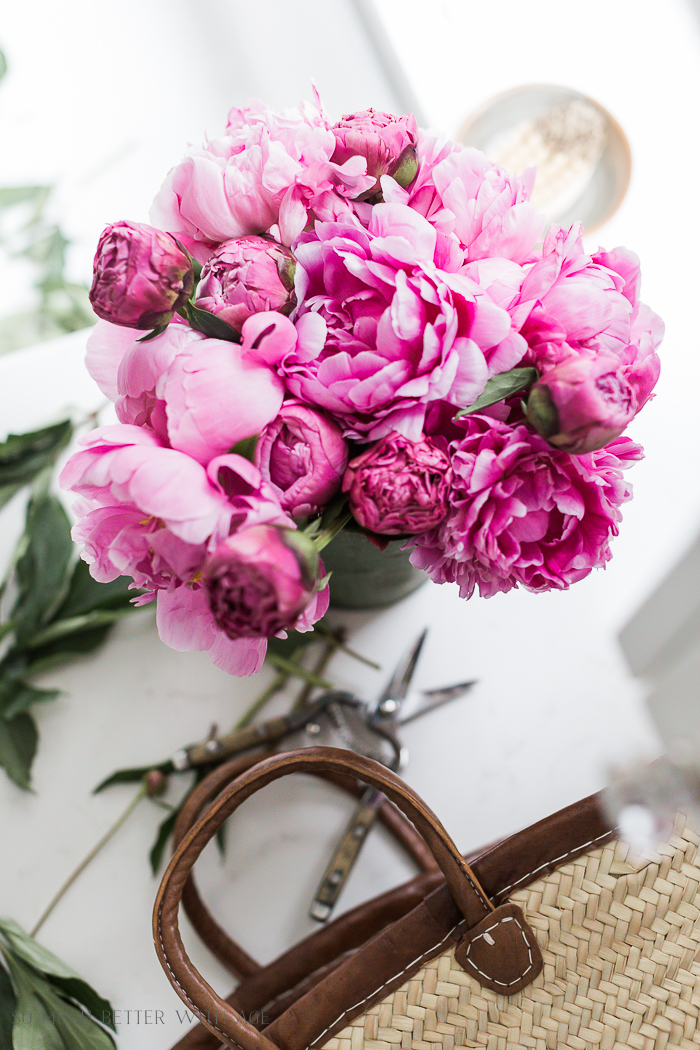 My 5 summer decorating ideas include tips for inside and outside the house. The best part about summer is having the kids playing outside all day, taking day trips with them and going on vacation.
That doesn't leave a lot of time for making a big fuss at home but it's still nice to have casual barbecues with friends and family so leaving our house in total disarray isn't an option.
Today, me and five blogger friends are sharing our 5 tips for summer decorating which will give you a total of 30 tips to try at home!
Thank you Jennifer from Decor Gold Designs and Randi from Randi Garrett Designs for hosting this great tour.
Here are my 5 summer decorating tips that work well with your fun and busy summer.
This post contains affiliate links for your shopping convenience. Click to read my full disclosure policy.
Tip #1 – For busy summers, stick to container gardening.
Because we're in and out of our house all summer and away there's not a lot of time to upkeep a garden. Planting beautiful annuals in large containers is my favourite way to garden.
Welcome guests with containers at the front door and some on your back patio or deck area. These are relatively easy to maintain when you need to take off for vacation.
I shared with you the best tip for filling large outdoor planters last month, and you can see the difference in how much these pretty plants have grown now!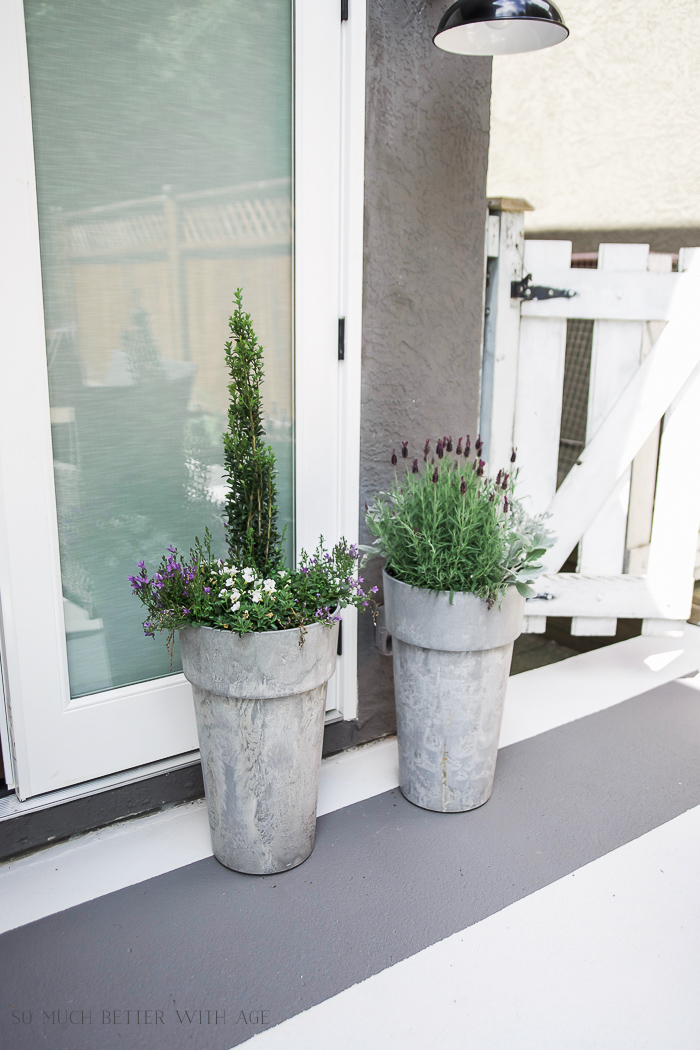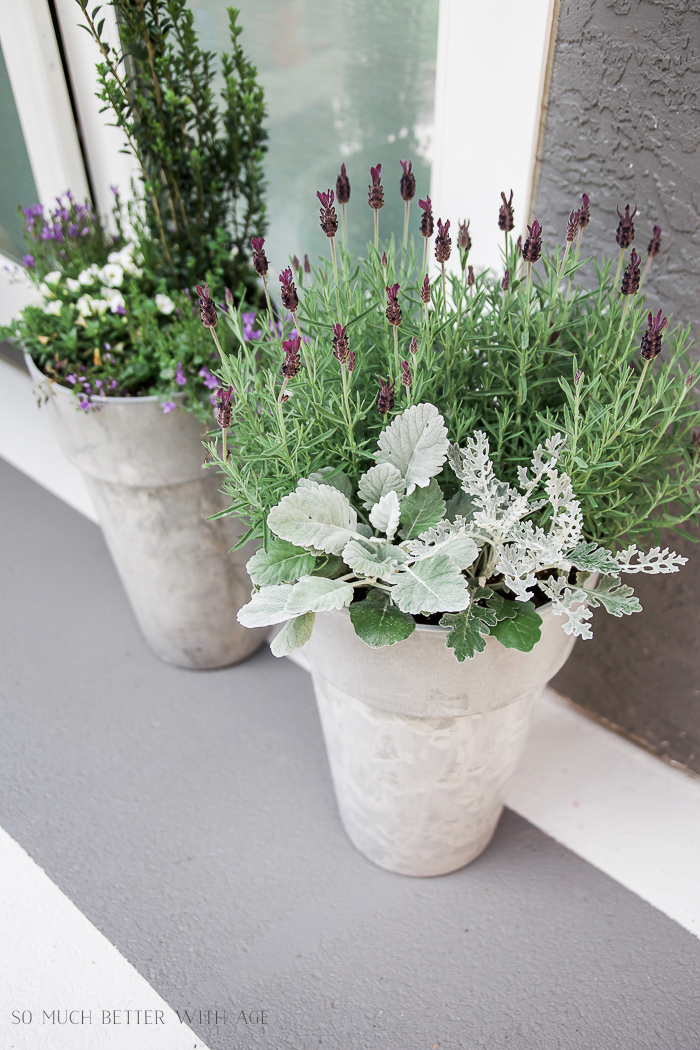 I also love using potted plants for a casual outdoor table centrepiece.
These plants I picked up from the nursery the other day and put them right in this old tool shed with their plastic containers. I'll probably transplant them over to a large container but for now this is the best way to have a centrepiece on your outdoor table!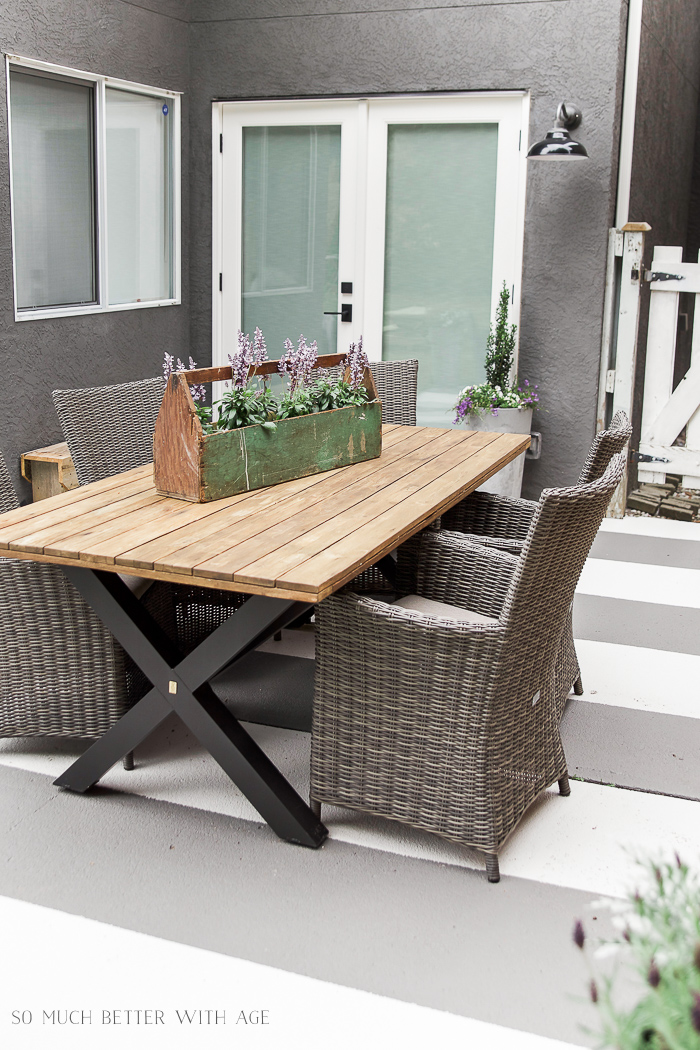 Tip #2 – Use paint for backyard DIY projects
This concrete slab and old picnic table were in desperate need of repair. To give my backyard a simple refresh without spending a fortune on it or taking all summer to complete, I just used paint to give both these things a makeover!
Check out how to paint stripes like an outdoor rug on a concrete slab and my kids' picnic table makeover.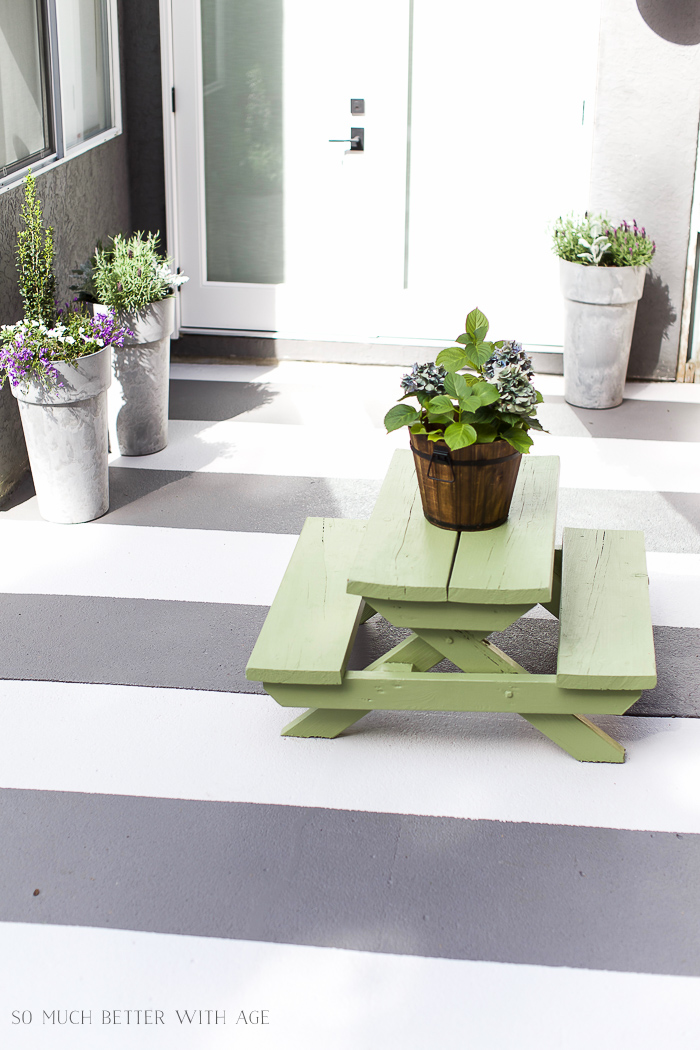 Tip #3 – Decorate with succulents indoors
Succulents are the best plant to keep alive at home when you're away on vacation. They only need light misting weekly or a shot glass of water every few weeks or month depending on your home's humidity level.
Add some on to open shelving in your kitchen or living room for a fresh nature inspired look.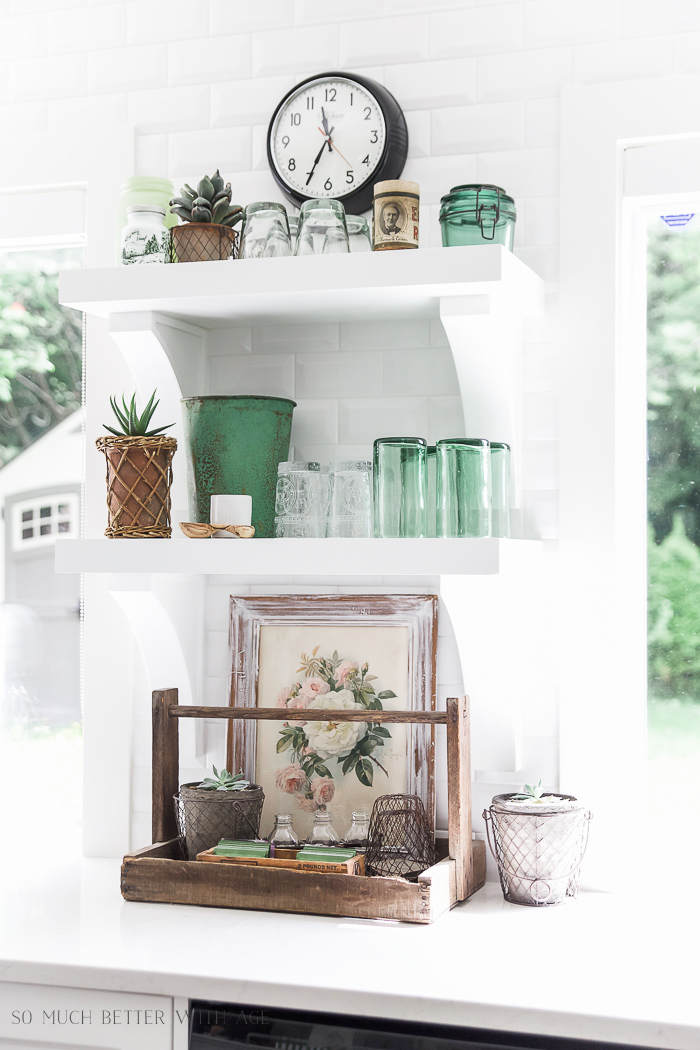 My favorite color is green so I love adding soft green touches throughout my home which brings the feeling of the outside in.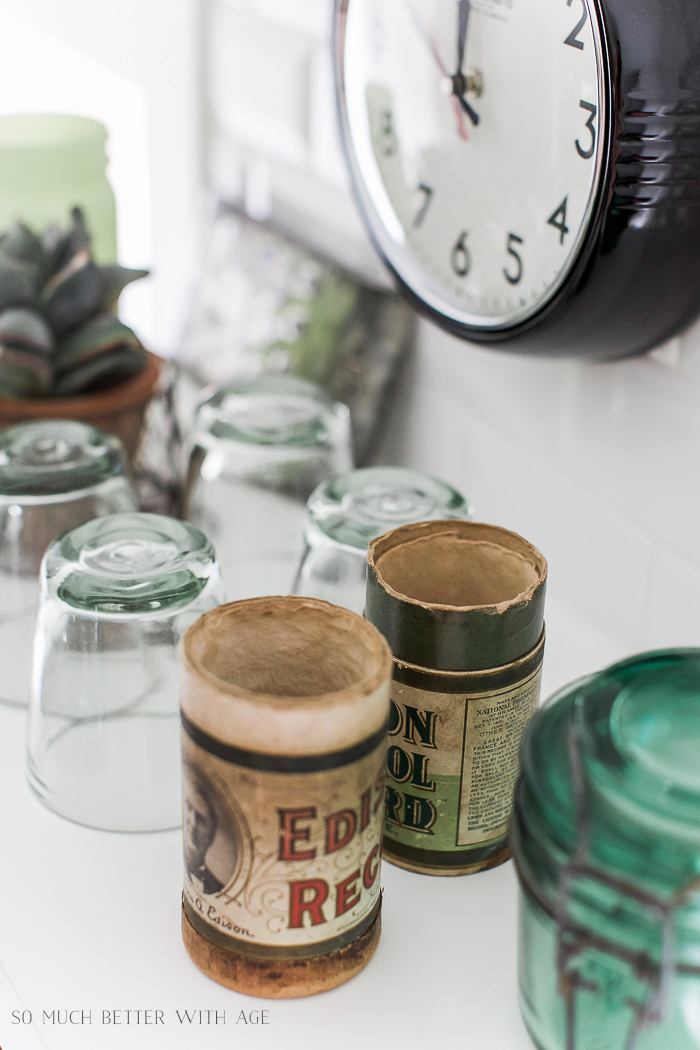 Tip 4# – Fresh cut flowers
Of course when you're home, nothing beats the timeless look of fresh cut flowers. Peonies are only in season for May/June so make sure you grab some and take in their fragrant scent. I like to buy a mixture of tight balls of peonies and some half open blooms. They open usually within a day or two and can last 1-2 weeks depending on how well you care for them.
Place them in an unusual unique container for a fun, fresh look.
My favourite is adding a vase to this old rusty sap bucket.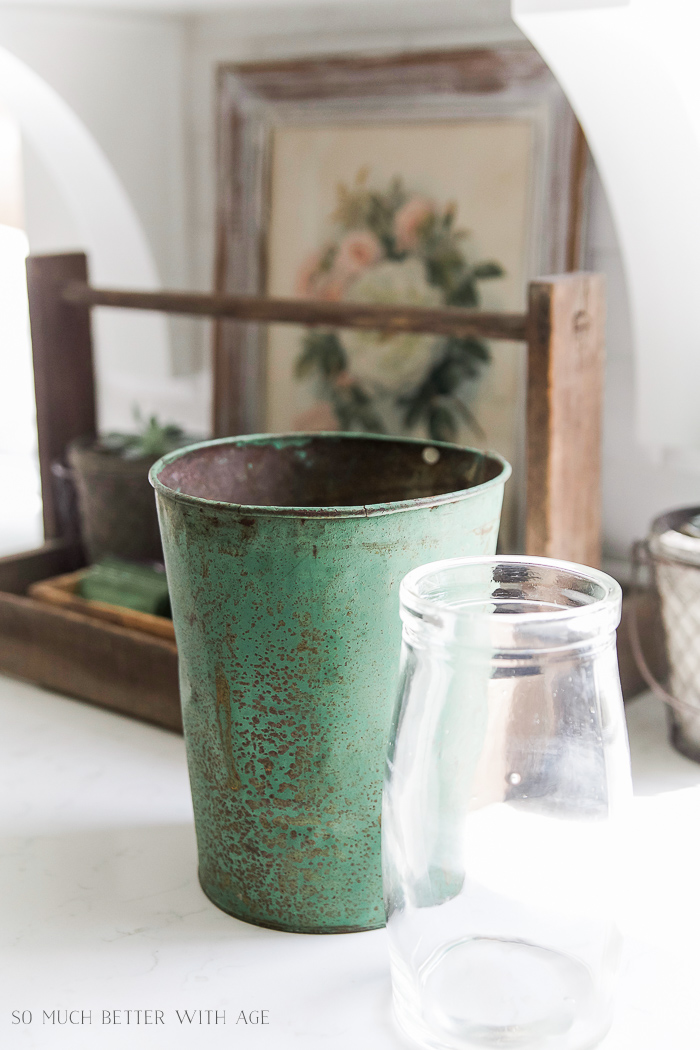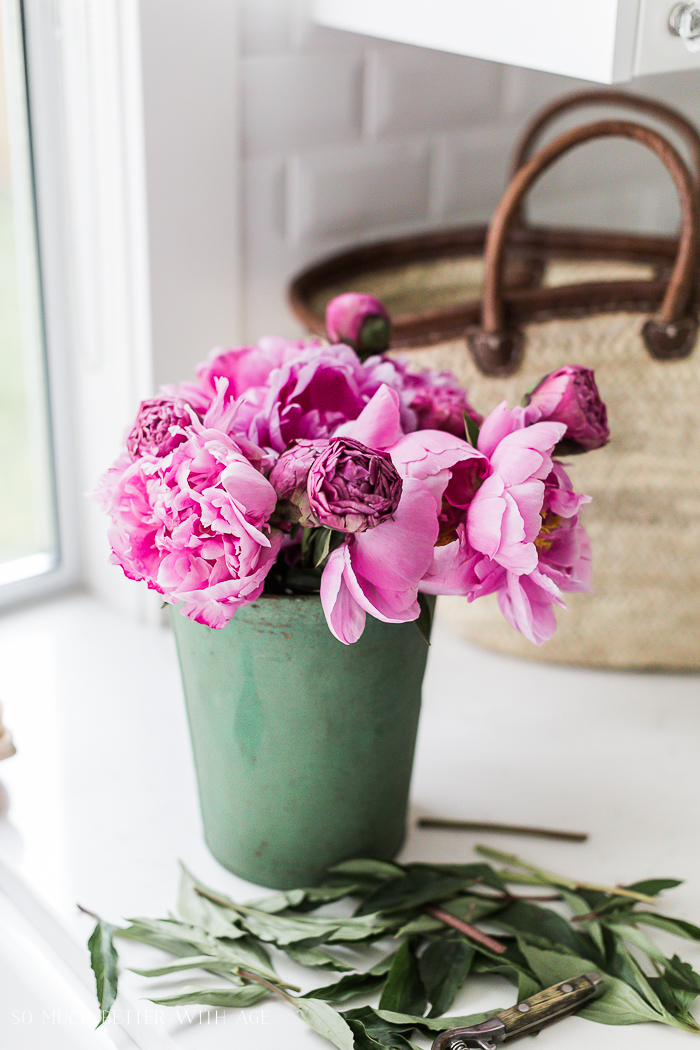 Shop Vintage Sap Buckets

Tip #5 – Add new summery pillows
Adding some flowers and new throw pillows to a room makes it feel new and fresh. I like to change pillows seasonally but I just buy the pillow covers and invest in good inserts to help save money in the long run.
I love this new art piece I recently added to the living room. You can see more of it in my how to pick art with a French Vintage vibe post.
I hope these tips help you this summer!
You can shop the posts for similar items here:

Now be sure to visit my friends for their 5 tips for summer decorating!
Make sure to pin it for later!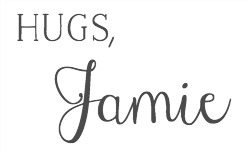 Click in Case You Missed:
Floral Centrepiece in a Vintage Basket
Bug Repellent Outdoor Centrepiece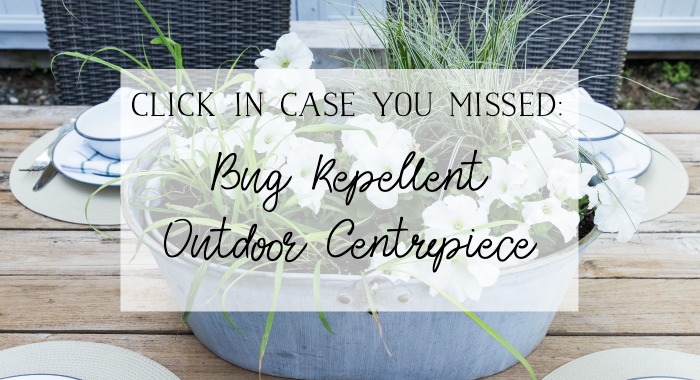 Randi Garrett Design | Decor Gold Designs | French Country Cottage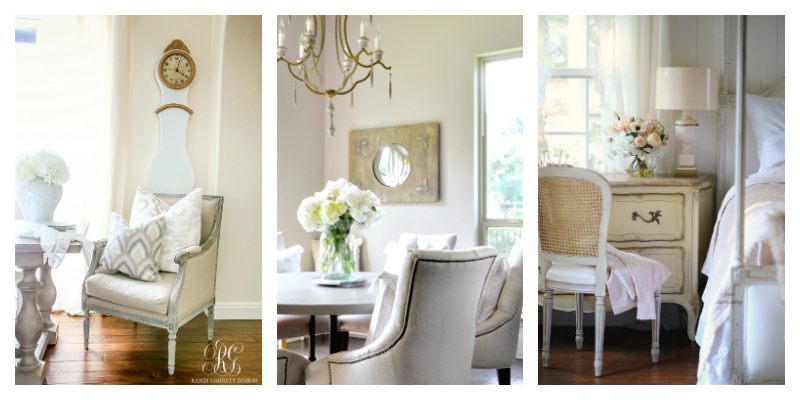 So Much Better With Age | StoneGable | Eleven Gable