Welcome! I'm so glad you're here!
Hi I'm Jamie and this blog has been running since 2010. I love European, classic decor, sharing DIY projects and organization tips, everything to make your home beautiful.
I received my diploma in Interior Design in 2020 and I love helping my clients create the home of their dreams (click Jamie Lundstrom Interiors to find out more).
My book, French Vintage Decor, has 70 DIY projects that are all French vintage inspired.
FAQ
1. Why is my blog called So Much Better With Age?
Besides the fact that I love vintage items, I feel like I should have been born in a different era! I love incorporating pieces in my home that tell a story and the older the better. I love European decor but I also believe a home should be decorated similar to the style of the house. Our 80s home (even though it was fully renovated) just doesn't do too well with lots of French stuff so I've listened to that. I feel that I only get better with age and love incorporating vintage touches throughout my home.
2. Where do I live?
I grew up on a hobby farm about an hour outside of Vancouver then lived in Vancouver for many years. I currently reside in the rainy forest of North Vancouver with my son and daughter.
3. How did my love of decorating and DIY-ing begin?
I've been DIY-ing, decorating and organizing ever since I was a young girl. I used to rearrange my mom's kitchen cupboards just for fun. I've always loved decorating and re-decorating my room and my mom's decor items in our family's living room. My first big DIY projects were painting my bedroom when I was 16 with a friend and I refinished a table sanding it by hand for what seemed like an eternity!
4. What did I do before you started your blog?
I worked for 13 years as a Medical Office Assistant and it wasn't until I was home with my kids in my late 30s that I decided to start a blog.
To see where I've been featured in the press, click here.
If you'd like to partner with me, click here.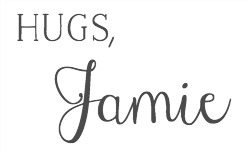 SaveSaveSaveSaveSaveSaveSaveSaveSaveSaveSaveSaveSaveSaveSaveSaveSaveSaveSaveSaveSaveSaveSaveSaveSaveSaveSaveSave