Welcome! I'm so glad you're here, lovely reader

I'm Jamie and this little area of the web is where I share my love of DIY projects, decorating, organization, self-improvement and making your life beautiful. I believe that even if you grew up in dysfunction or without any direction in your life, you can still create a beautiful life for yourself.
I've been DIY-ing, decorating and organizing since I was a young girl. I used to rearrange my mom's kitchen cupboards just for fun. I've always loved decorating and also loved keeping my room nicely organized and had fun rearranging my mom's decor items in our family's living room. My first big DIY project was painting my bedroom when I was 16 with a friend and I refinished a table sanding it by hand for what seemed like an eternity!
It's taken me years to find out what I truly wanted to do with my life and I've faced many challenges starting from a young age. I love to inspire people to find their passion and if I can help one person in some way by sharing some of my crazy past stories, then it's all worth it for me!
My book, French Vintage Decor, has 70 DIY projects that are all French Vintage inspired. It was a #1 best-seller on Amazon in 2018 in the decorating category.
I've just started my interior design business, Jamie Lundstrom Interiors.
FAQ
1. Why is my blog called So Much Better With Age?
Even though I'm in my 40s, I feel like I've lived multiple lifetimes already. Because I grew up so quickly as a teenager and married at such young age, I've gone through so much already and even had a mid-life crisis in my early 20s. I've learned so much from all the things that I've been through and I love vintage decor that I felt it was fitting to name my blog So Much Better With Age in 2010 as it could refer to many different things that I share on my blog.
2. Where do you live?
I grew up on a hobby farm about an hour east of Vancouver and have lived in Vancouver, BC (Canada) straight out of high school. I currently reside in the rainy forest of North Vancouver with my two kids (a boy and a girl) and my husband, Aaron.
3. Why don't we ever see your kids on your blog or social media?
I don't show my kids' faces on here because we've chosen not to share them on social media. It's a decision that was made between me and their dad but the kids themselves don't want me to share their faces. Occasionally, I'll share the backs of their head when they want me to 😉
4. What did you do before you started your blog?
I worked for 13 years as a Medical Office Assistant and it wasn't until I was home with my kids in my late 30s that I decided to start a blog (my first post was published in 2010 but I never shared it with the world.
To see where I've been featured in the press, click here.
If you'd like to partner with me, click here.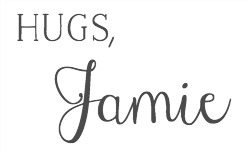 SaveSaveSaveSaveSaveSaveSaveSaveSaveSaveSaveSaveSaveSaveSaveSaveSaveSaveSaveSaveSaveSaveSaveSaveSaveSaveSaveSave