All My Fall Posts from 2011-2017
Seasonal posts are big for bloggers and today I'm sharing all my fall posts from 2011-2017.
I decided it was time to do a recap of all my fall posts. Every year I do new seasonal home tours and DIY projects with fall and Christmas being the biggest two seasons. I was just going to do a recap of my posts from this year and last year and forget about those ugly photos from the past. But I thought it would be good to reflect and reminisce on how far I've come in the blogging world. Sometimes we think we haven't grown or progressed but with a blog it's very obvious in photographs in how far we've come. And since I've recently shared my real life house tour with you, I shouldn't be embarrassed at all about my first photos, right? We all have to start somewhere!
I was recently published again in Country Sampler's Autumn Decorating magazine and wanted to share it with you too. It's still on newsstands if you want to pick it up. So many bloggers are featured in it.
Okay so starting from the beginning, here are my first fall posts!
2011
In 2011 I started blogging but just for myself. No one knew I had a blog because I didn't tell anyone but I was obsessed with reading blogs and thought that it's something that I wanted to do. I lacked the confidence to tell anyone until 2012 but I really started to be serious about my blog starting 2013.
Here are my first fall blog photos!
2012
In 2012 my daughter was born and I really wasn't blogging full time anyway so there are no fall posts. But I did do some Christmas posts so I'll make sure to do a similar round-up for Christmas next month.
2013
Seasonal Burlap Frame and Toile Pumpkin
This was the year I really kicked it up a notch with my home decor blogging. I started to blog full-time and it was the perfect way to stay at home with my kids, tap into my creativity and start to make some money (which in 2013 was probably a whopping $150 that year)
I came up with the idea of using split peas for a wreath. It was messy to make but fun to do with the kids!
I made this seasonal burlap framed art and was always planning on doing a different one with the seasons. I still might! The burlap makes it easy to stick fabric to.
I still have these chalk paint pumpkins I painted from dollar store pumpkins. Such a great idea to get the vintage look.
I still love the book pages on my mantel mirror.
This was my first big fall tour and I believe my first group blog hop that I participated in. It was a lot of fun and a lot of work. My first real taste of what it was like to run a blog full time (meaning a lot of work!).
I loved decorating for Halloween this year as I normally never do interior Halloween decor. I kept it neutral and the pops of black looked so pretty yet creepy on my neutral mantel.
I painted these paper mâché skulls to look like they were made from zinc. So easy to do!
2014
Antlers were huge in 2014 so my fall tour was a very popular post for me that year.
We had just renovated our kitchen that year so I was excited to style it for the tour.
After this tour, I had my tile guy come back and tile that entire wall by the clock and all around the window. It looked amazing after!
This spider pillow was made from a dress of mine that I shrunk. Such a great upcycle!
These Halloween ghosts was so fun to make and so easy!
2015
Crisp Fall Printable and Fall Vignette
2015 was a tough year for me as I was going through a painful divorce. I had moved a couple of a times that year and the first move was into this apartment that I called my pied-a-terre. I was able to make it cozy and even decorated it up for fall.
Such a great alternate to carving a pumpkin, string art!
2016
French Fall Home Tour (No Orange Allowed!)
French Country Fall Dining Rom
Fall Crock and Wheat Printable
Fall Pumpkin and Ribbon Wreath
Classic Black Halloween Mantel
Thanksgiving Table and Carrot Pie
Thanksgiving Napkin Transfer Tutorial
With my move into my newly renovated house, I was excited to decorate it like crazy! It was just me and my kids in the house and I didn't have to worry about anyone thought. It was very liberating!
Here was another fall printable I created from a photo I took of one of my crocks.
I'm not a fan of orange so I my French Country fall dining room tour was with other natural fall colors like my dried purple and blue hydrangeas from my yard and a tablecloth I purchased from France that year.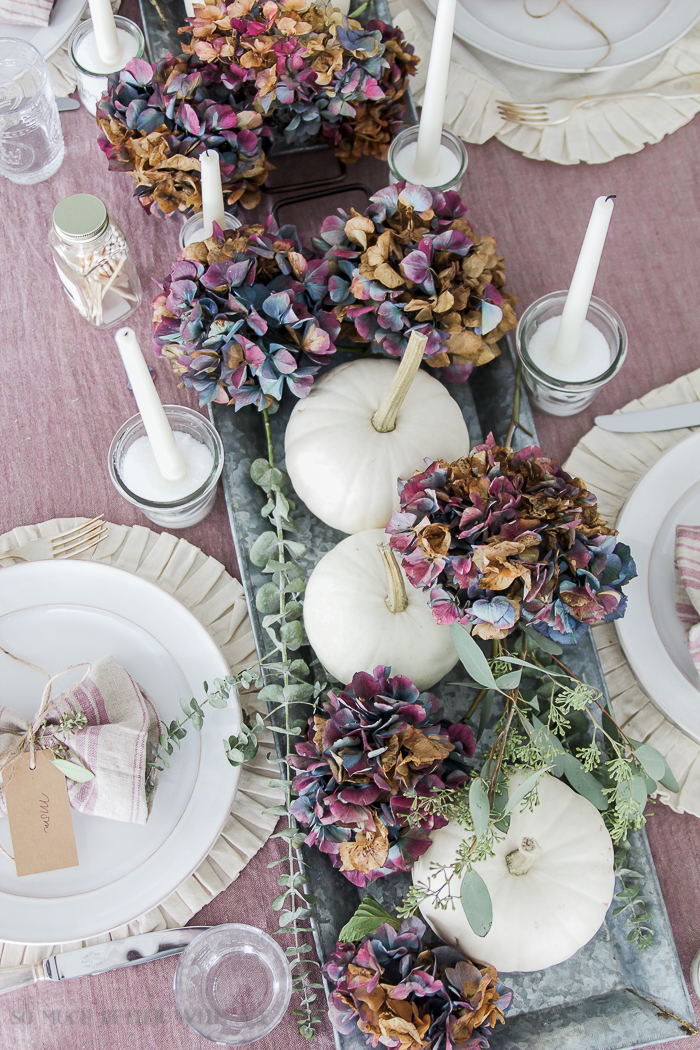 I even made an apple pie and a blueberry pie just for the tour!
After having such a hard time finding heirloom pumpkins, I created my own! The results were amazing.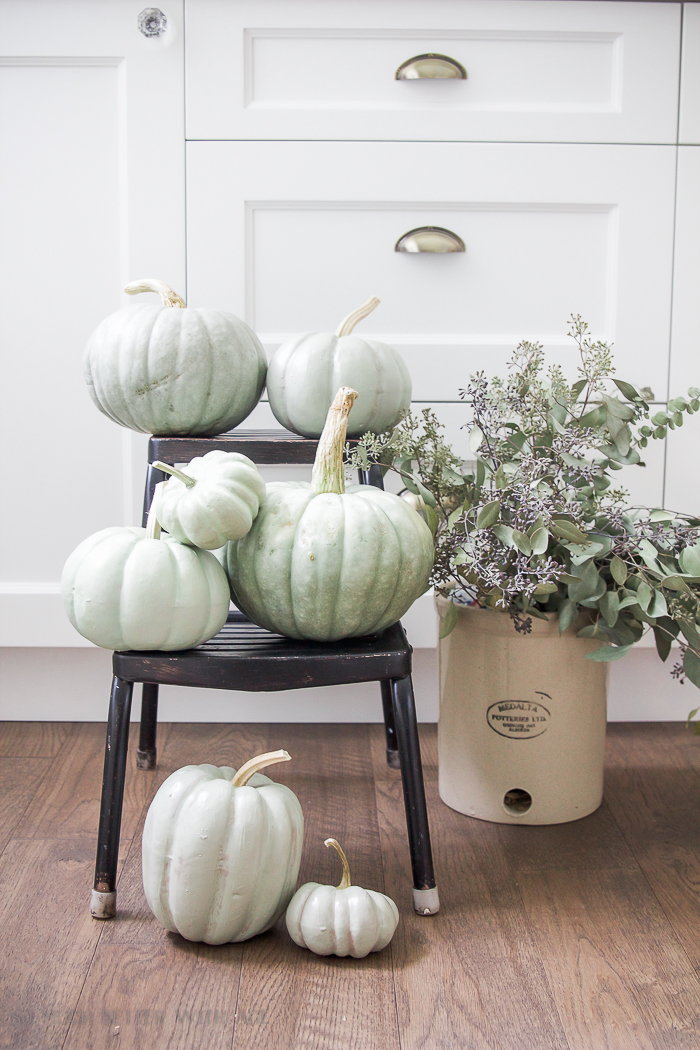 Decorating my new mantel and cozy corner in the living room was exciting too. I have always wanted a mantel like this one and my dream finally came true.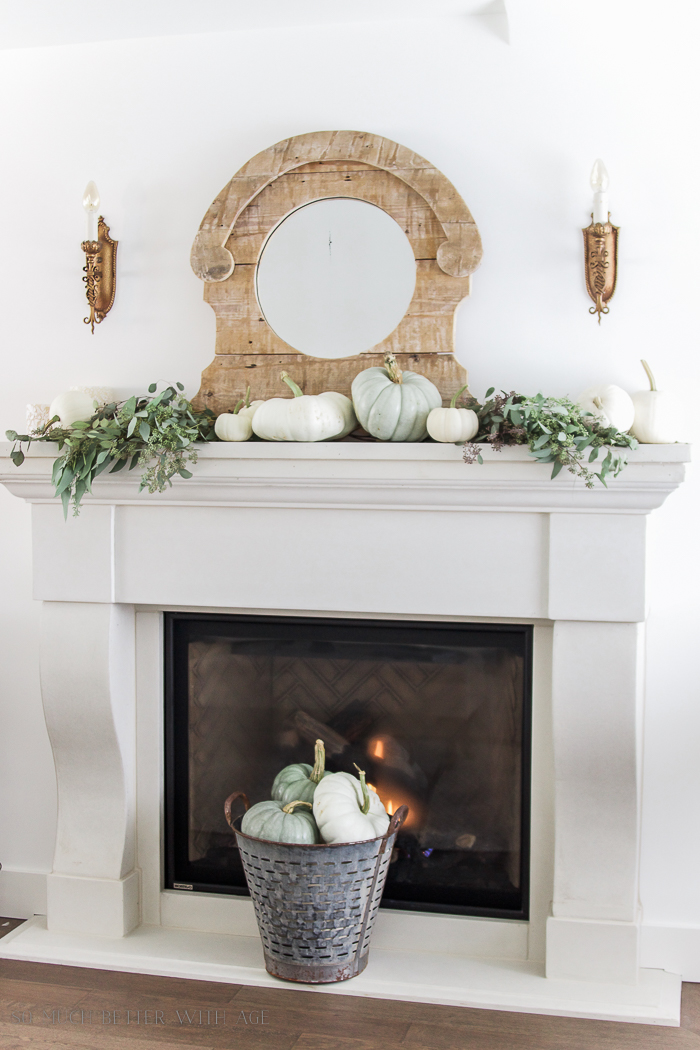 Decorating my newly renovated kitchen was also fun!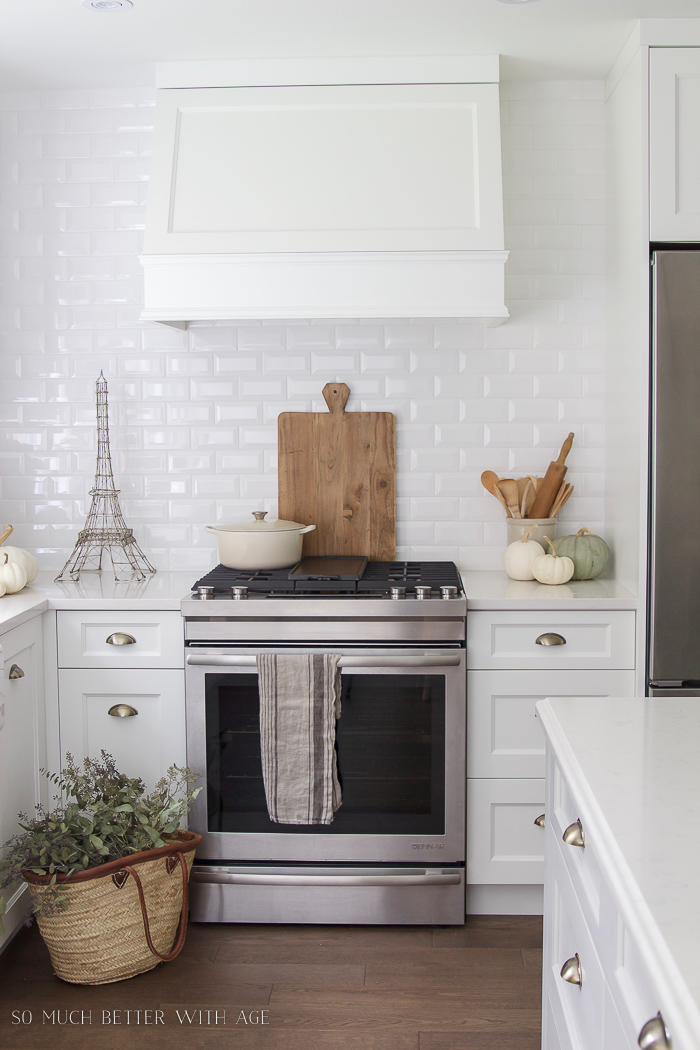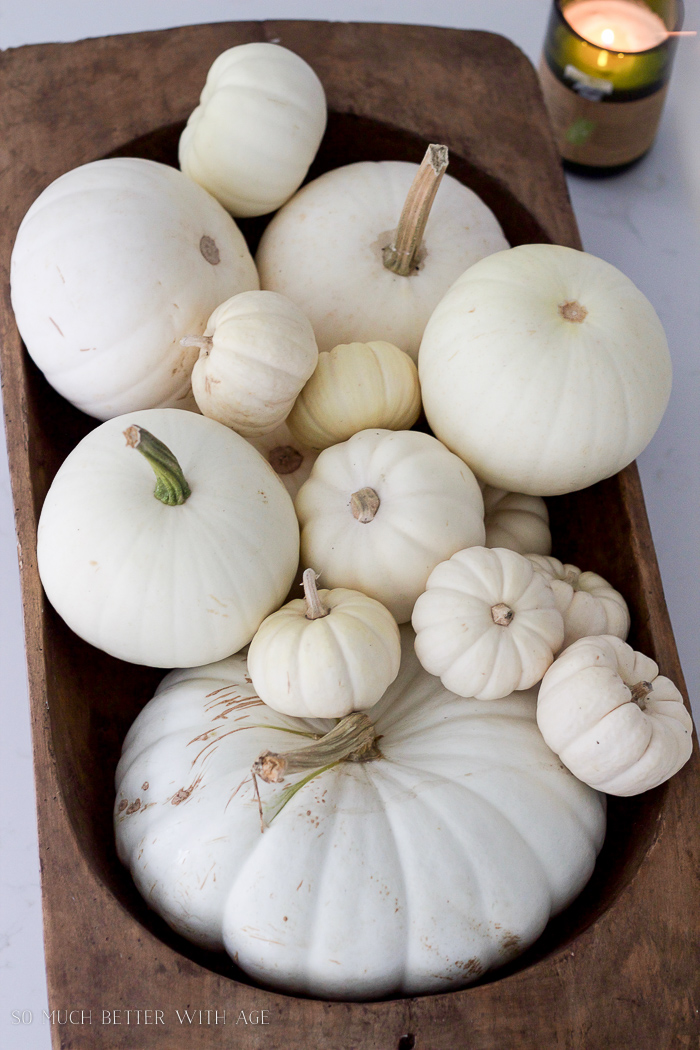 I don't make too many wreaths but I made this one with painted baby pumpkins, ribbon and wreath.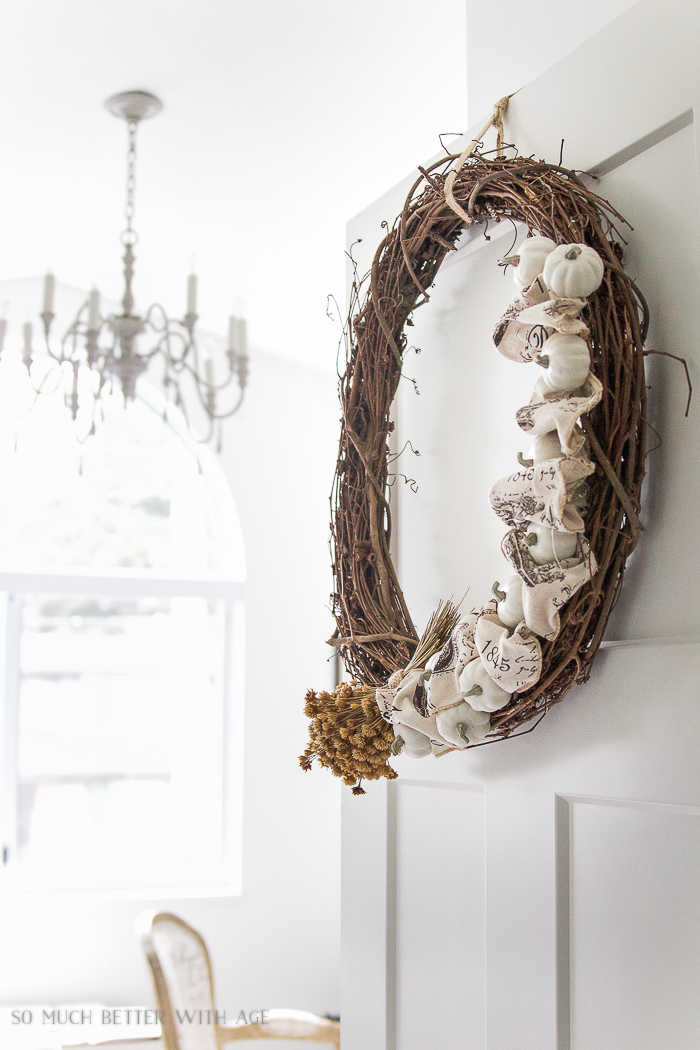 I went all out last year decorating my mantel for Halloween and I loved the results. I created the Halloween garland from paper bags and vellum which could also be used up a walkway outside.
I decorated my table again for Thanksgiving and also made a carrot pie for the occasion which is very similar to pumpkin pie.
I made these Thanksgiving napkins from tea towels and I have a tutorial on how I did the transfer.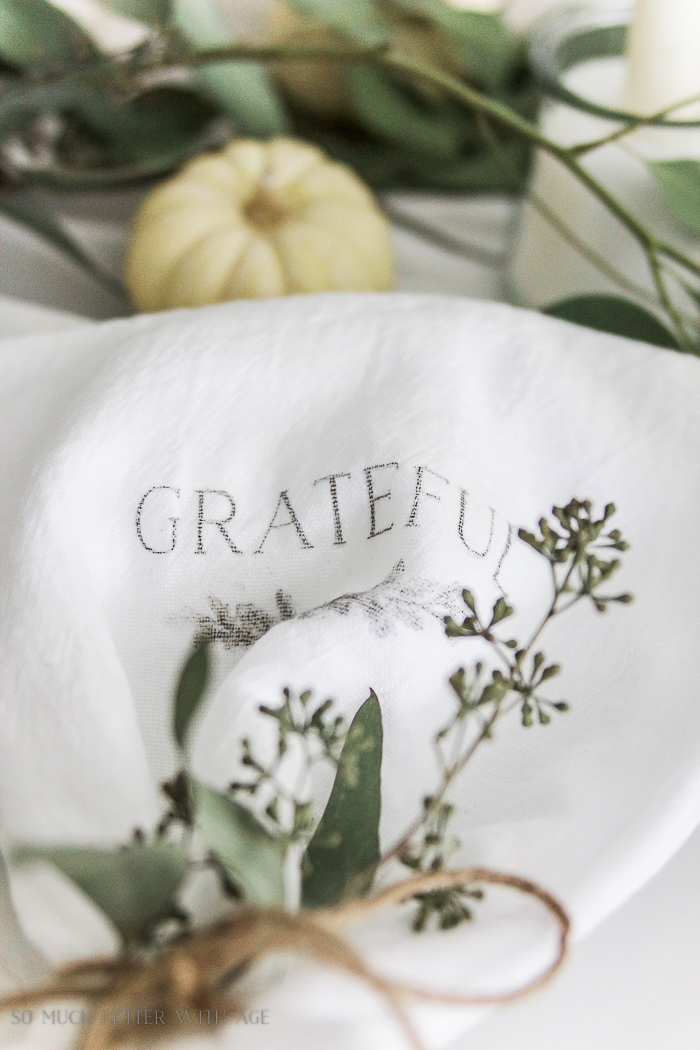 2017
Fresh and French Fall Kitchen Tour
Eucalyptus, Pears and Roses Table Runner Centrepiece
Apples and Eucalyptus Free Fall Printable
This year has been huge for me. I'm writing a book! I got the email from a publisher back in March and it's been a whirlwind ever since. Writing a book with 70 DIY tutorials AND keeping up my blog has been extremely busy but I know it will all be worth it especially when I feel my book in my hands.
Here is my full French Vintage fall tour that was a part of our Canadian bloggers group.
My fall kitchen tour that I collaborated with Kirkland's and a great group of bloggers.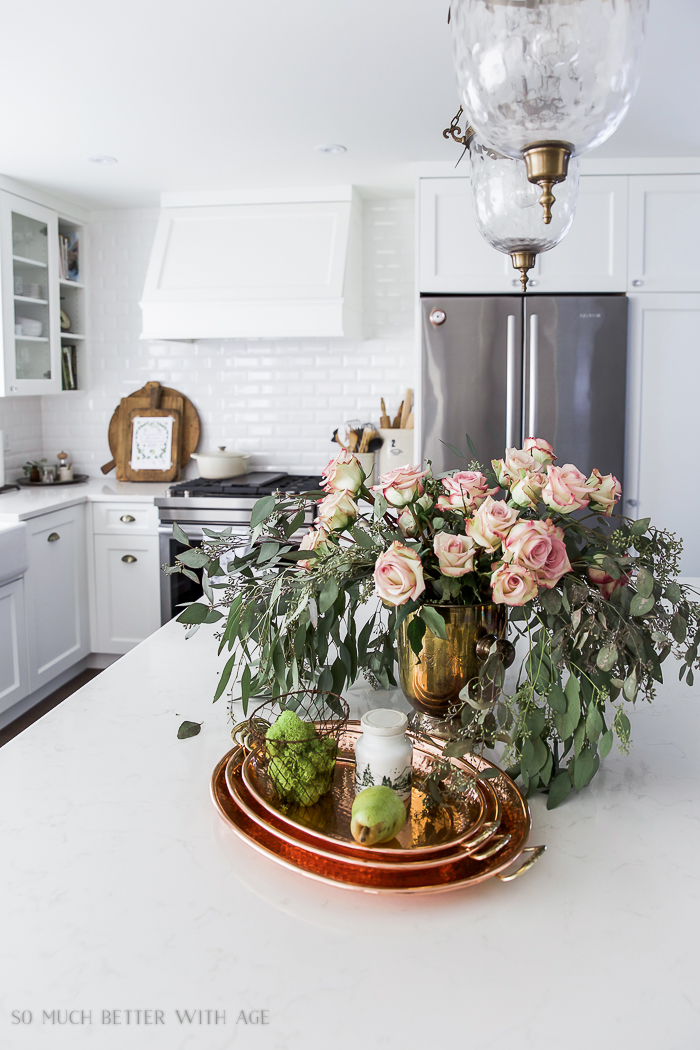 I offered a free fall printable with apples and eucalyptus, the theme that I made for this year.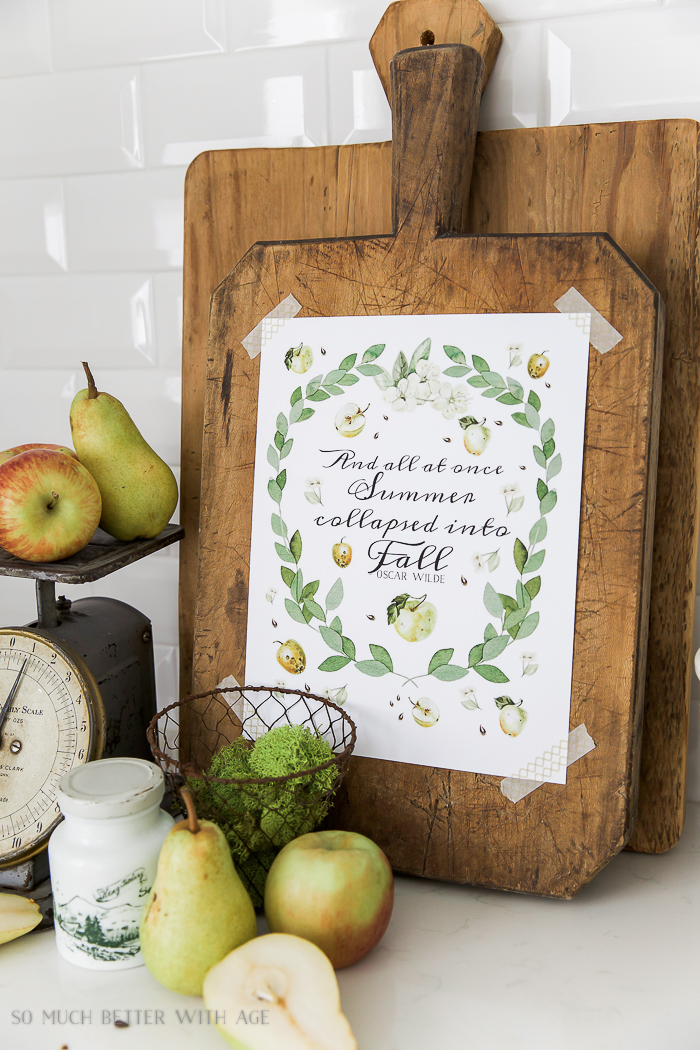 More eucalyptus, pears and roses were used in the creation of my table runner centrepiece. Another unique take on how to decorate for fall.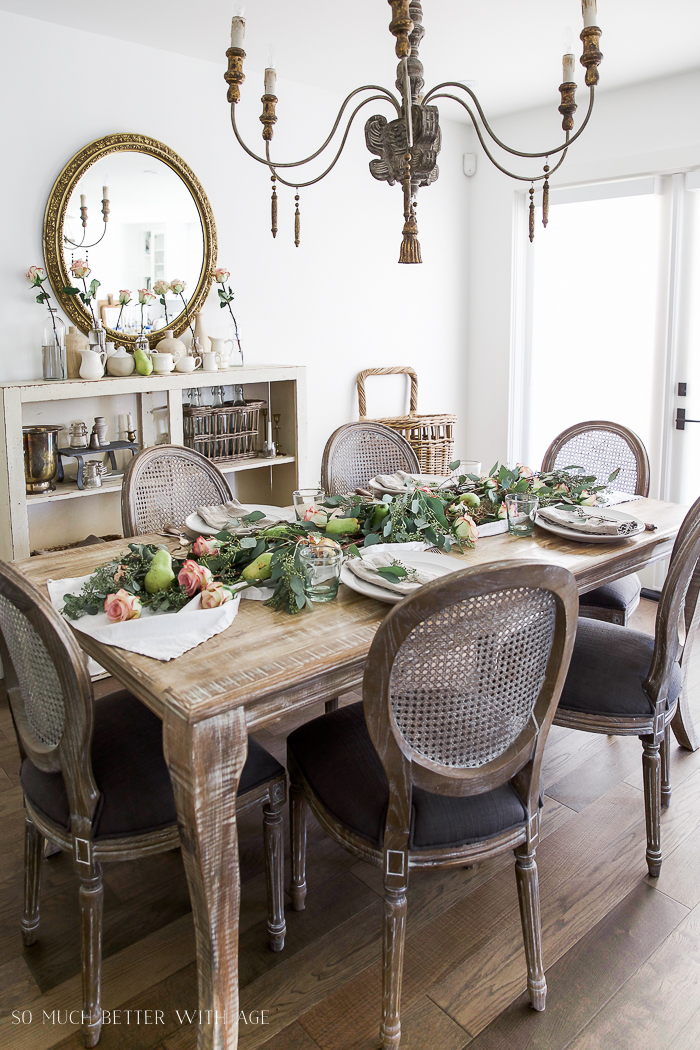 So there you have it! Six years of fall posts. I'm looking forward to doing this for Christmas this year too.
It's always so fun to create and and decorate and share with all my lovely readers. It's also been fun to see how far I've come!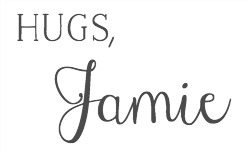 SaveSaveSaveSaveSaveSaveSaveSave