Love Anthropologie French gold mirrors but don't like the price tag? Create your own with these easy to follow instructions and video.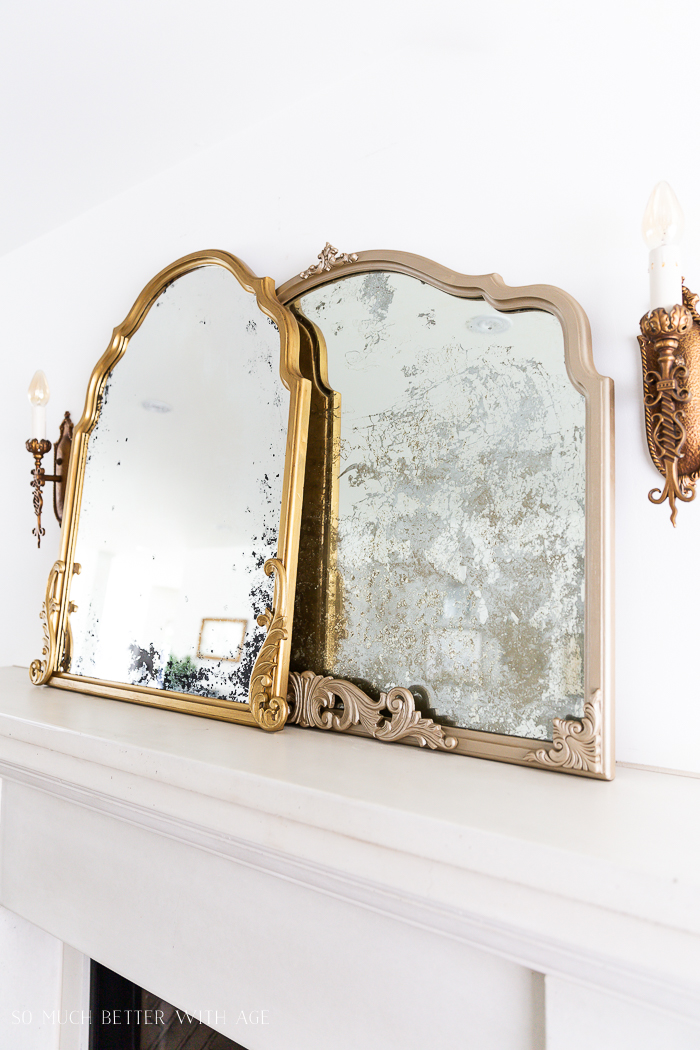 I am obsessed with mirrors, particularly French gold mirrors. My absolute favorite is a Louis Philippe mirror and because not too many know that name, I've titled this post differently. The Anthropologie mirror is a take on this style but with more detail. It's the best combination and that's what makes this mirror so popular right now!
This post contains affiliate links for your shopping convenience. Click to read my full disclosure policy.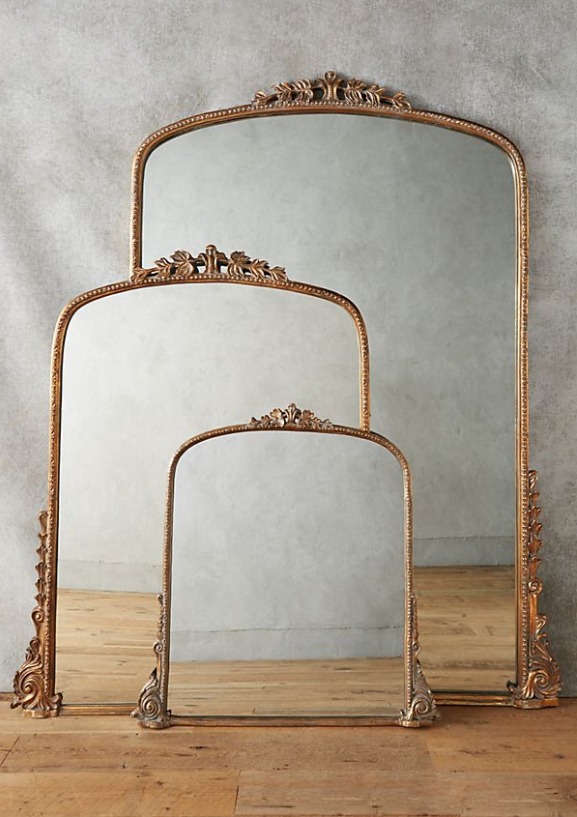 Louis philippe style
According to Wikipedia: The style of architecture and design under King Louis Philippe I (1830–1848) was a more … by his own scholarship of the "spirit" of medieval architecture, rather strict historical accuracy. … A variety of small tables became popular: writing tables, work tables, and the coiffeuse, or dressing table, equipped with an oval mirror.
The style of the 'Louis Philippe mirror' is quite simple with a flat edge, vertical mirror with rounded corners at the top.
I've had the one in my powder room (a reproduction) for about three years now. I got it from Soft Surroundings but it's no longer available.
I created a similar project in my book, French Vintage Decor, and here was the before.
This was the after!
I'll show you how you can find one of these mirrors and how you can easily create your own Anthropologie inspired French gold mirror (in the shape of a Louis Philippe mirror).
how to find a french mirror at thrift store
There's a very easy way of finding these types of mirrors at thrift stores! Here is what you need to look for.
Remember the dressers I painted last year? Well they came with mirrors!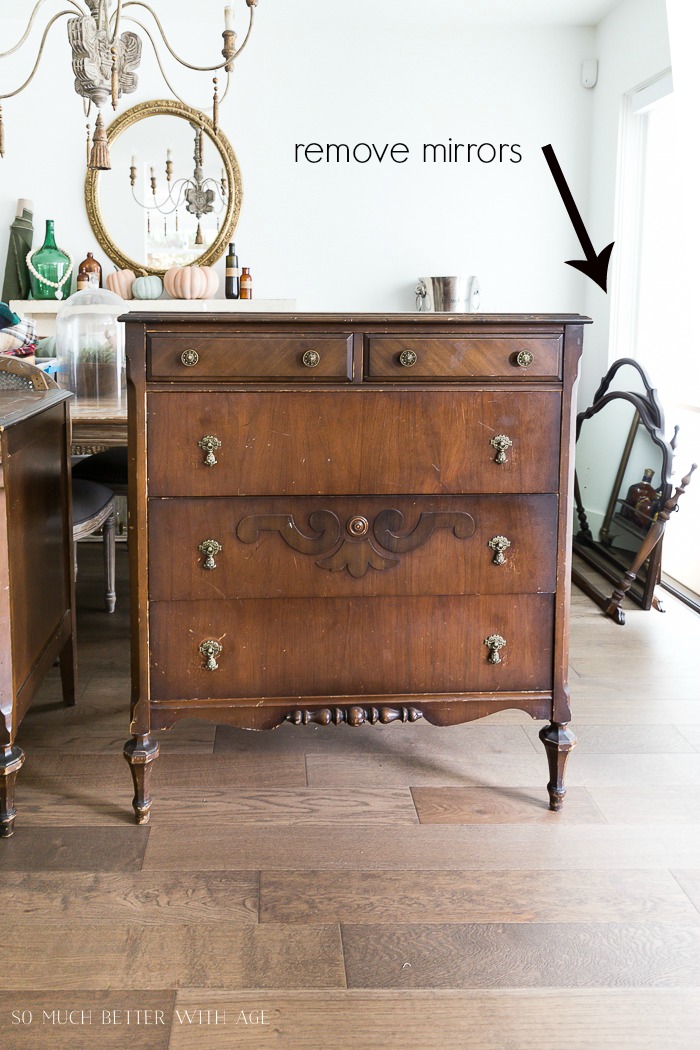 I always find mirrors that have come off dressers at the thrift store. What makes them the perfect mirror for this project is that they'll always have a FLAT BOTTOM as they have to sit on the dresser or vanity!
So make sure you always look in the mirror section of your thrift shop and if there is a wood frame around it like the ones above, they can be easily removed!
The gold and white vanity had a mirror as well as one of the dressers above.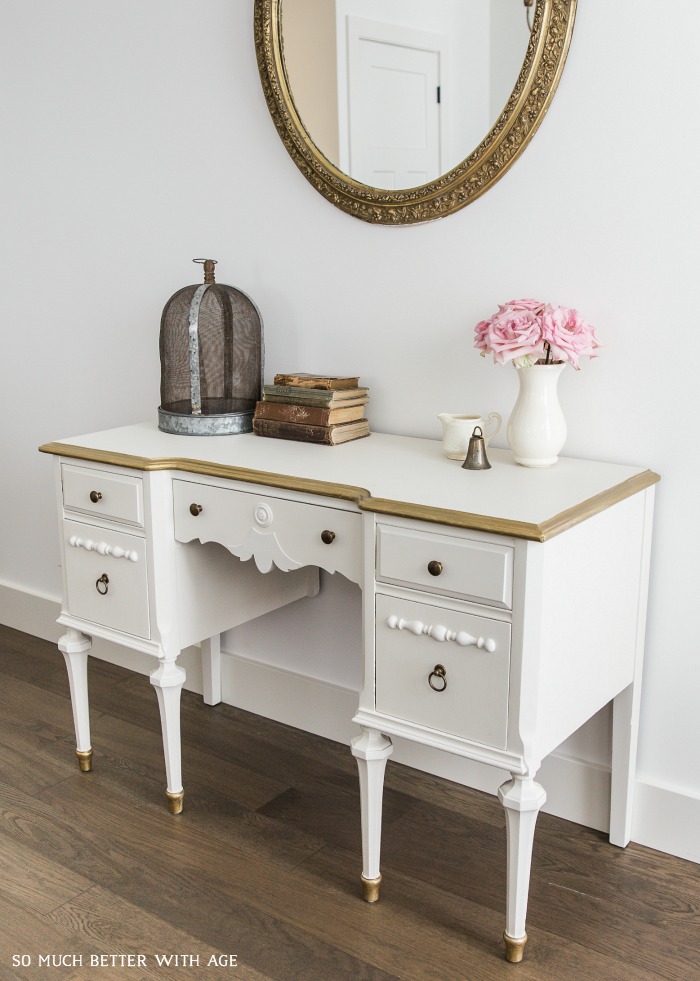 I'm not a big fan of the mirrors attached to bedroom furniture, I'd rather a mirror mounted on the wall above the piece of furniture.
How to make your own french gold mirror
I removed the mirrors and then got to work on creating some Anthropologie inspired French gold mirrors that are in the similar shape of a Louis Philippe mirror but with more detail.
You know the mirrors I just showed you above that I removed from those dressers? This is what one of them looked like when I was done with it!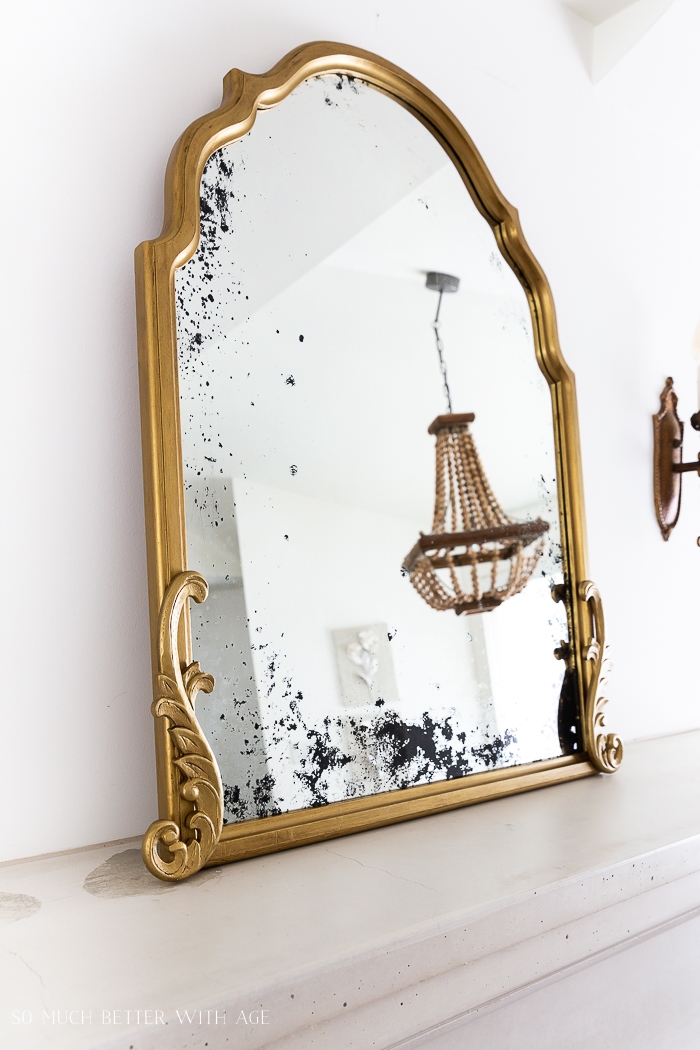 And here's what the other one looks like.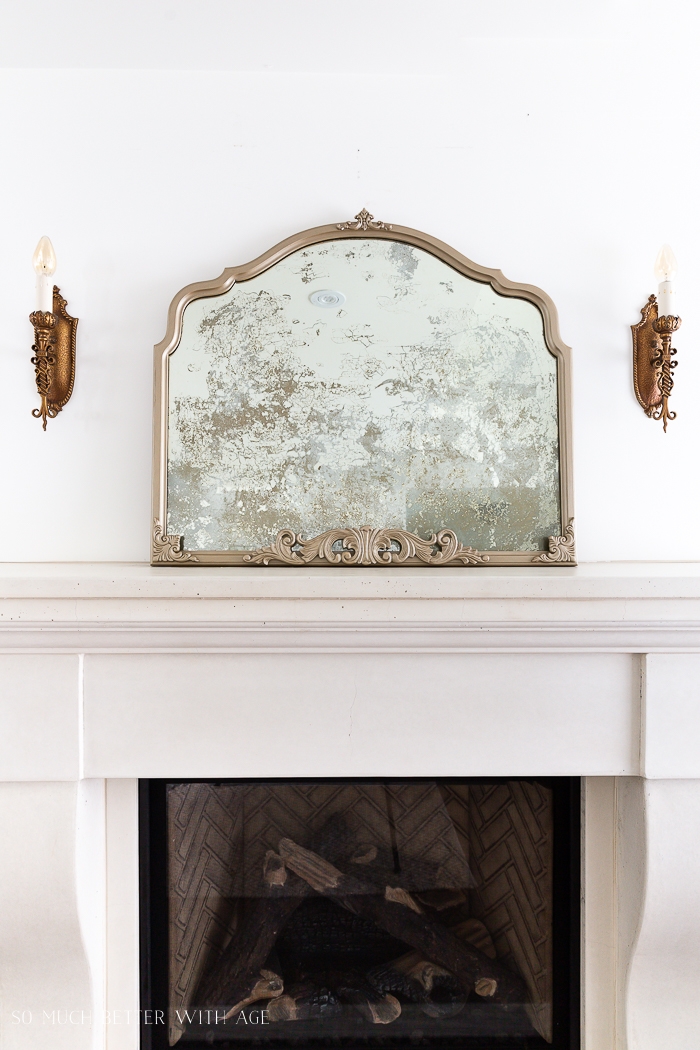 Supplies:
thrift store mirror with a flat bottom and preferably rounded top corners
sash brush x 2 (or 1 by washing in between primer and paint)
one mirror painted in Vintage Gold, Fusion Mineral Paint
the other mirror painted in X and dark wax
Directions:
The complete tutorial is in my book, French Vintage Decor, and it's now also in this video I just created!
1.Remove the mirror from the frame.
2. Sand the frame just enough to remove some of the shine.
3. Wipe off the dust with a damp cloth or baby wipes.
4. Paint on a thin layer of primer and let dry for about one hour.
5. Paint on two coats of your favorite gold paint letting dry about one hour in between coats.
6. Lay out wooden appliques and figure out where you'd like them to be placed.
7. Paint two coats as well on the wooden appliques making sure to paint the backs if they stick above the mirror as you'll be able to see the backs in the reflection. You don't need to prime natural wood.
8. Measure out where the appliques are being placed and make a mark on the back with a pencil.
9. Place a bead of hot glue where you've made a mark and press down in the correct position on the frame. Tip: Make a mental note of where some of the points meet up on the frame to match the location on the opposite side. Also make sure that the appliques are flush to the bottom and don't go below the frame if you are leaning this mirror against a wall.
video:
Be sure to watch my YouTube video below on how to make your own Anthropologie inspired French gold mirror!
I'm creating a PDF and video right now on how to antique a mirror so stay tuned for that! You can check out my ultimate guide on how to antique a mirror here.
DIY not your thing? You can buy a French gold mirror below:

Make sure to pin it for later!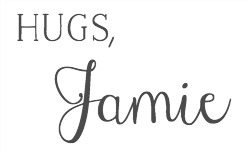 Click here to order my book, French Vintage Decor.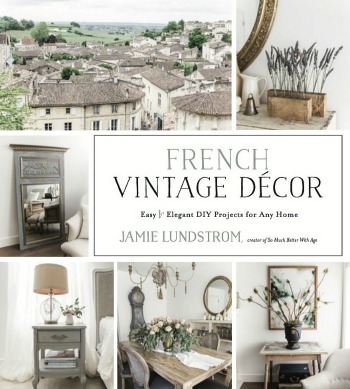 Click in case you missed:
Ultimate Guide to Antiquing Mirrors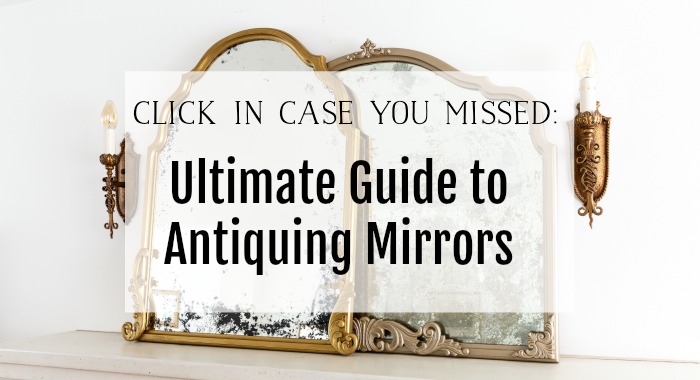 Free PDF – How to Antique a Mirror