This is not your average apple pie recipe, trust me you have to make this!
So nearly one year ago I posted my first video on how to make pie pastry.
It's been forever but I'm finally posting my Apple Pie Recipe!
Just in time for my US friends' Thanksgiving 😉
I really love to bake but I rarely take photos.
By the time some baked good comes out of the oven, it's basically gone.
Even after I tell everyone, 'don't eat this, I need to take a photo of it', GONE!
Or at least hacked so I can't get a decent photo.  Today's the day, people.
When you follow my recipe/video on how to make the pastry, this is how it should look after you cut in the shortening.  The crumble should resemble the size of peas.
Now let's pretend you finished the pastry (or you can buy one).  Cut the recipe in half.
Line the bottom of your pie plate with one pastry.   Make sure the apples are well coated with the dry ingredients and heaping until it looks like it's going to overflow.
Dot with butter.
Roll out your top layer, flute the edges and vent the top for steam.
Now make sure to print my recipe below for the best apple pie ever!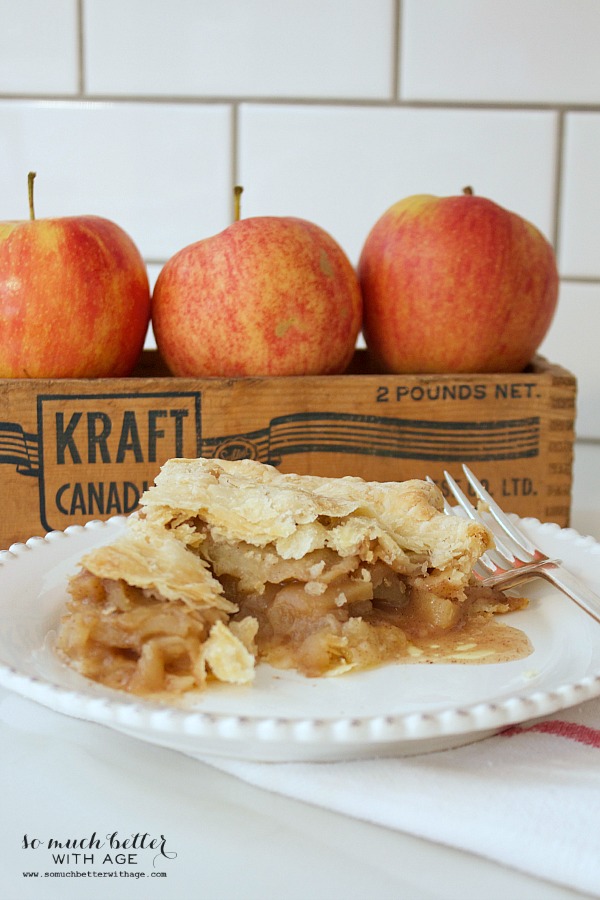 You can print off the recipe here:
Apple Pie Recipe
Ingredients
7

large Red Delicious apples

lemon juice

1/2

cup

sugar

1/4

cup

brown sugar

2-3

T

flour

1

tsp

cinnamon

2

T

butter

1

pie pastry recipe
Instructions
Preheat oven to 350 deg F

Line pie plate with pastry

Peel, core and slice apples

Sprinkle with lemon juice

Toss in dry ingredients

Dot butter on top of apples

Cover with upper pastry, flute edges and cut vents for steam.

Bake 45 min to 1 hour