Minimalism in the bathroom is important for small spaces. I'll show you how I organize all my small bathrooms and how I keep it all in check.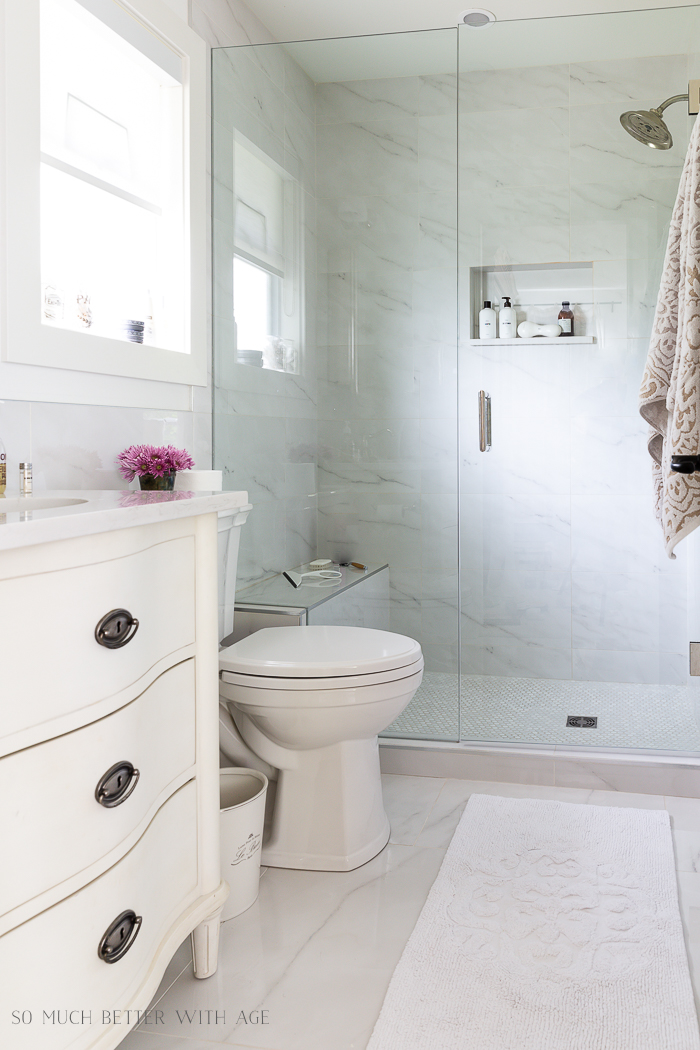 We have three small bathrooms in our house. It's great having three bathrooms but with their small size it's been a challenge on where to store all our products (especially since we are a family a four with two active kids). Keeping bathrooms pretty and uncluttered is a tall order as we all have many products that we need to use each day. Today I'll show you how I store all my products and keep my small bathrooms uncluttered and looking pretty and minimal.
This post contains affiliate links for your shopping convenience. Click to read my full disclosure policy.
How to Keep Your Small Bathroom Looking Pretty with Minimal Products
I'm definitely someone who likes her products. As I age, I'm always trying different creams and miracle potions to get rid of fine lines and creases. I highlight my hair so I have different products to keep it looking its best and it seems like every time I buy something at a beauty store I come with out a few more samples and small bottles than I was planning on. So where do I keep it all and how
1. Use products that look pretty to leave out
Without much storage, many products will be left out on my counter, back of toilet and in the shower. Now that showers have lots of open glass and no shower curtains to hide the products, I'm a sucker for pretty packaging. I look for products that have white or brown bottles and not a lot of labels. If you are really feeling keen on what your products look like, you can always pour them into plain looking bottle but that is too much work for me.I recently received some beautiful products from Public Goods and they are so pretty with their minimal branding and the products have no bad stuff (paraben free, vegan friendly, sulphate free, natural fragrance, gluten free, cruelty free) and the price point is amazing! ($4.50 for shampoo and I'm surprised at how good it works!).
This dental care set that includes 2 bamboo toothpaste, natural silk dental floss in an adorable glass container and toothpaste for only $12!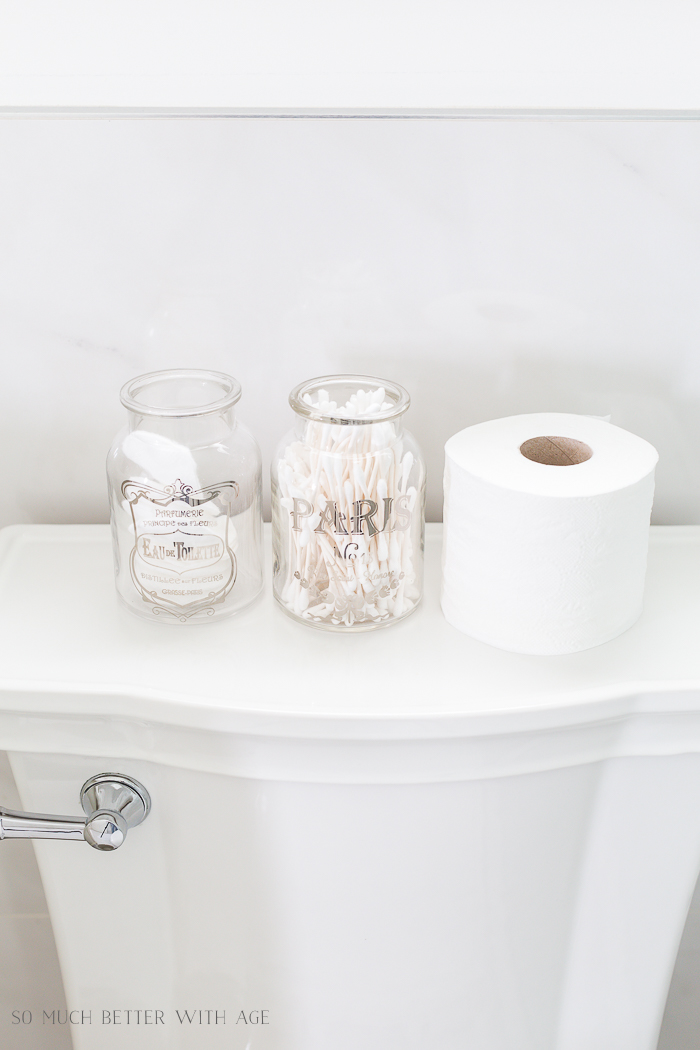 2. Get creative with storage
A made sure that our master ensuite had a medicine cabinet. Unfortunately, there was not enough room in the wall to recess it (too many electrical wires in that one spot) so I opted to have an above-mount medicine cabinet. I made sure it looked pretty at least but it holds a LOT of small bottles.
Basically all of our daily creams, deodorants, some frequent medicines are kept in here and everything else is stored elsewhere (more on that below).
Our vanity is small with only two functioning drawers.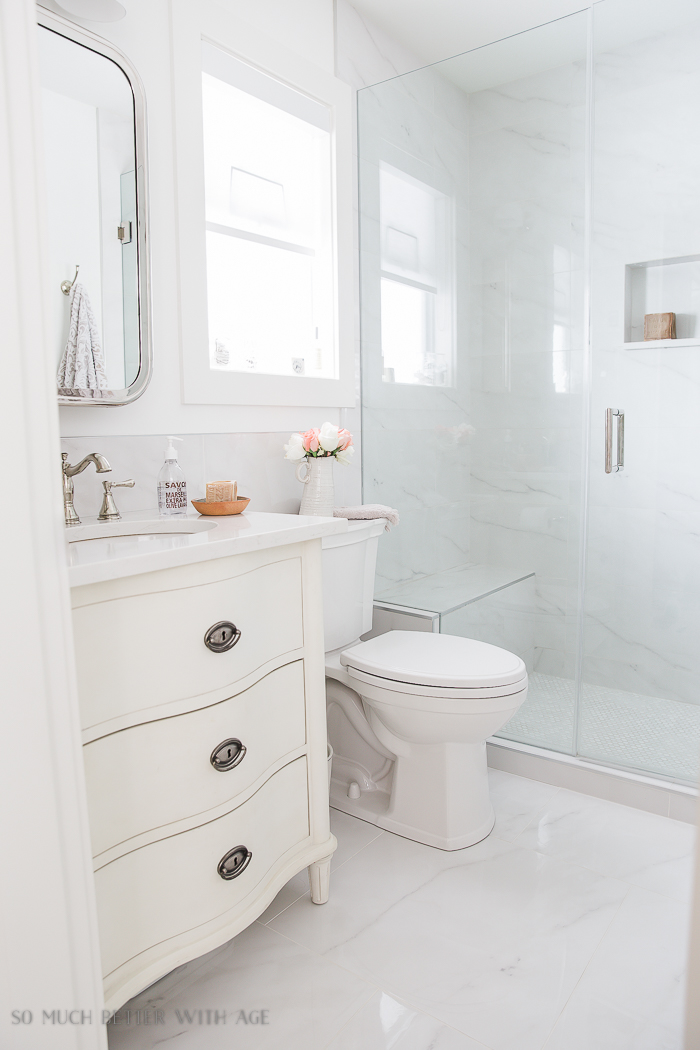 In the middle drawer, I found three plastic storage bins that fit in and organize them by use. Aaron has one small one with his shavers, I have a small one for hair elastics, tweezers and small items and the big one is for my hair brush, my favourite dry shampoo, extra makeup and razors. The back holds a small magnifying mirror that lights up.
The bottom drawer holds my blow dryer, my flat iron and my makeup bag.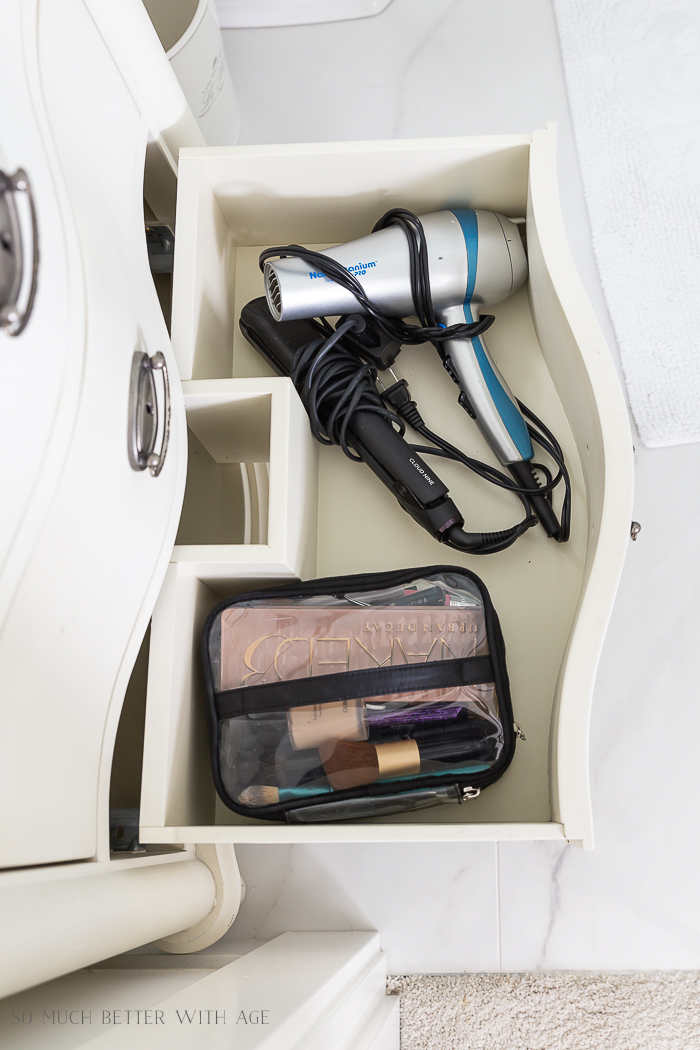 3. Maximize Your Linen Closet
We use our linen closet to hold our bathroom accessories. When we had these closet organizers installed, I made sure to get extra shelves so I could maximize this space. The top shelf holds infrequent use items, next is toilet paper storage and bars of soap, I have plastic drawers for bandaids, medicines, ointments and pedicure supplies. Beneath that I use more plastic storage bins (I use them for everything in my house and just remove the lids) to hold taller items like nail polish remover and medicines for the kids, then hand towels and below that rolled towels. The very bottom shelf holds an extra bath mat for when the other ones are in the wash.
Our linens are kept in each bedroom closet, two sets of sheets per bed.
4. Use Every Nook & Cranny
Literally! I recently purchased this bathtub corner tension pole organizer and LOVE it for storing all the kids' products. The bathtub has a very slim edge and it's great to keep the edges free.
I have no space for the ironing board and iron in our laundry room and I like ironing in the hallway off my office where there's lots of light (I mean, I hate ironing but I prefer to do it here than downstairs). I use a ironing board hanger over the door to keep it all organized.
In the kids' bathroom I use a dollar store caddy with my daughter's hair brush and container of elastics to easily do her hair in the morning. I also keep extra tall items in this bathroom cabinet and items for the kids. In the way back, is a spot to keep my free mini samples of products that I still want to try 😉
We keep sunblock in the powder room cabinet on the main floor.
I keep all my bathroom cleaners in a caddy under the sink in my laundry room.
5. Purge Bathroom Items Frequently
I know it looks like I have a lot of products for going minimal but you'll be amazed at how many medicines etc. you accumulate when you have kids! I'm good with not buying a bunch of different products to try and I make sure to finish each product before I buy a new one. There are some items I just don't use frequently but we need to keep them on hand and those are the things that can be difficult to store (post-surgical items, hairspray for dance rehearsals, that sort of thing)
I hope you found this list helpful on how to organize your small bathroom spaces and keep them minimal.
Public Goods
Sign up for a membership with Public Goods to receive so many amazing products that are free of all the bad stuff hard working products!
They have bathroom products, cleaning products, vitamin supplements and food!
For a short time, Public Goods is offering half off for their yearly membership to all So Much Better With Age readers!
Make sure to pin it for later!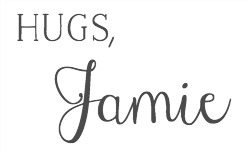 Click in Case You Missed:
Becoming a Minimalist But Keeping Some Collections
Where to Buy Faux Carrara Marble Porcelain Tile