Best Navy Blue Paint Colors for Kitchen Cabinets
Navy blue for kitchen cabinets is a solid neutral in my opinion! Come see the beautiful shades I have chosen.
Navy blue for kitchen cabinets has been around for a solid decade now. I recall the first time seeing it when my daughter was just born, crazy that was 10 years ago now. Since my green kitchen cabinet post is quite popular, I thought I would do another one with navy blue. And I consider it to be around for a long time.
I say kitchen cabinets but bathroom or built-in bookshelves would look equally as stunning.
I'm sharing my favorite navy blue kitchen cabinets but trying to find photos with just blue cabinets was difficult so a lot of these examples will be wall color but you get the idea.
the best 18 Navy Blue Paint Colors
1. Room For Tuesday did a paint color match for her gorgeous kitchen cabinets but the closest match is Benjamin Moore Navy Masterpiece. Gorg!
2. Benjamin Moore Van Deusen Blue was used in this gorgeous kitchen by Studio Dearborn. The color looks so good with warm wood tones and gold.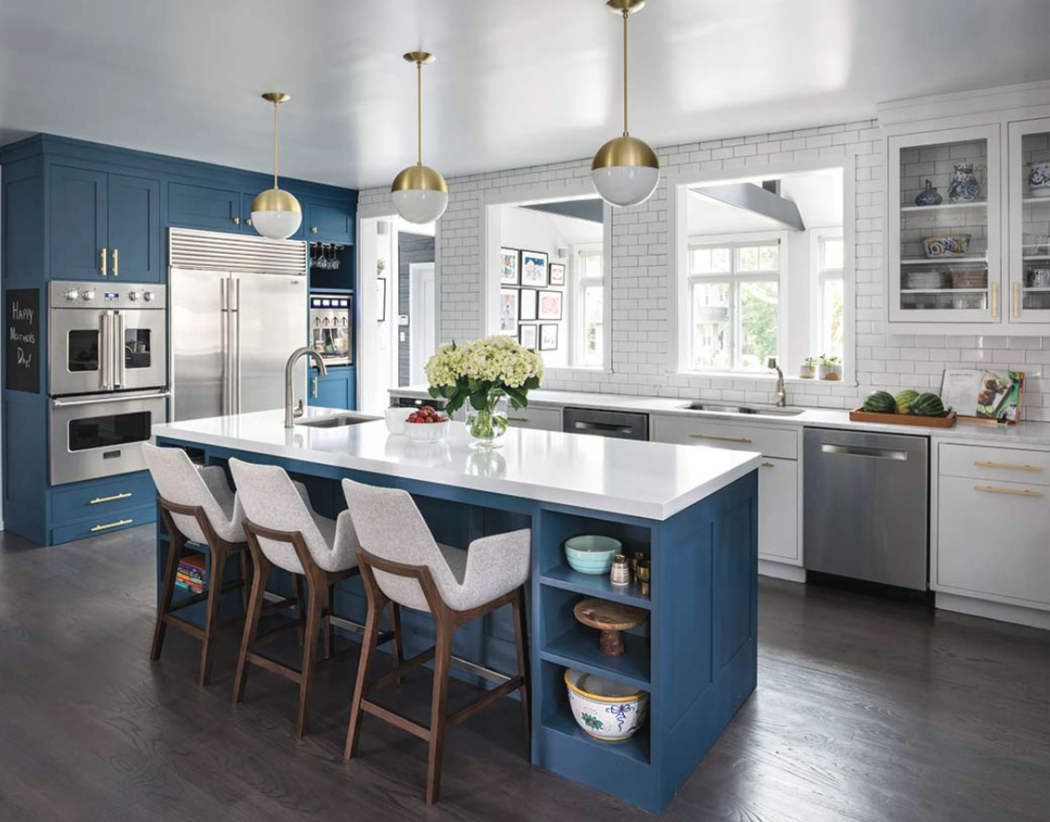 3. Hale Navy by Benjamin Moore was used in this gorgeous kitchen from Studio McGee. Hale Navy is one of the most popular navy blue paints out there right now.
4. Benjamin Moore Newburyport was picked by Kylie M. Interiors and her clients painted it in their cool home. I can easily envision it on cabinetry, can't you?
5. Benjamin Moore Mysterious might just be my favorite navy blue! This photo from Benjamin Moore is stunning.
6. So Happy Home painted this room Benjamin Moore's Gentleman's Gray. This color would make some dreamy kitchen cabinets!!
7. Clearcut Construction used Benjamin Moore Evening Sky on this kitchen island and it's a really nice bright blue that looks so good with the black hardware.
8. House of Jade Interiors chose this gorgeous evening Evening Dove by Benjamin Moore. Even with all the cabinets painted in the same color, it doesn't look overwhelming.
9. Benjamin Moore Blue Note is a stunning color so it was easy to see how my friend Kelly from The Lilypad Cottage painted it on her kitchen island. Another favorite of mine!
10. Benjamin Moore Newburg Green is a stunning greyish blue. It was chosen for this butler pantry by Tyler Coglan.
11. Taryn Whiteaker painted her bathroom cabinets in Charcoal Blue by Sherwin Williams. Such a beautiful deep hue that looks so good with black hardware.
12. Jersey Ice Cream Co. painted this kitchen in a beautiful Seaworthy by Sherwin Williams. It's such a beautiful bright blue.
13. Sherwin Williams Naval is stunning and it's no wonder it was Sherwin Williams 2020 Color of the Year!
14. Sherwin Williams Sea Serpent was painted on the cabinets of this farmhouse kitchen by Kristina Crestin Design. You might have noticed it on HGTV Farmhouse Fixer with Jordan Knight.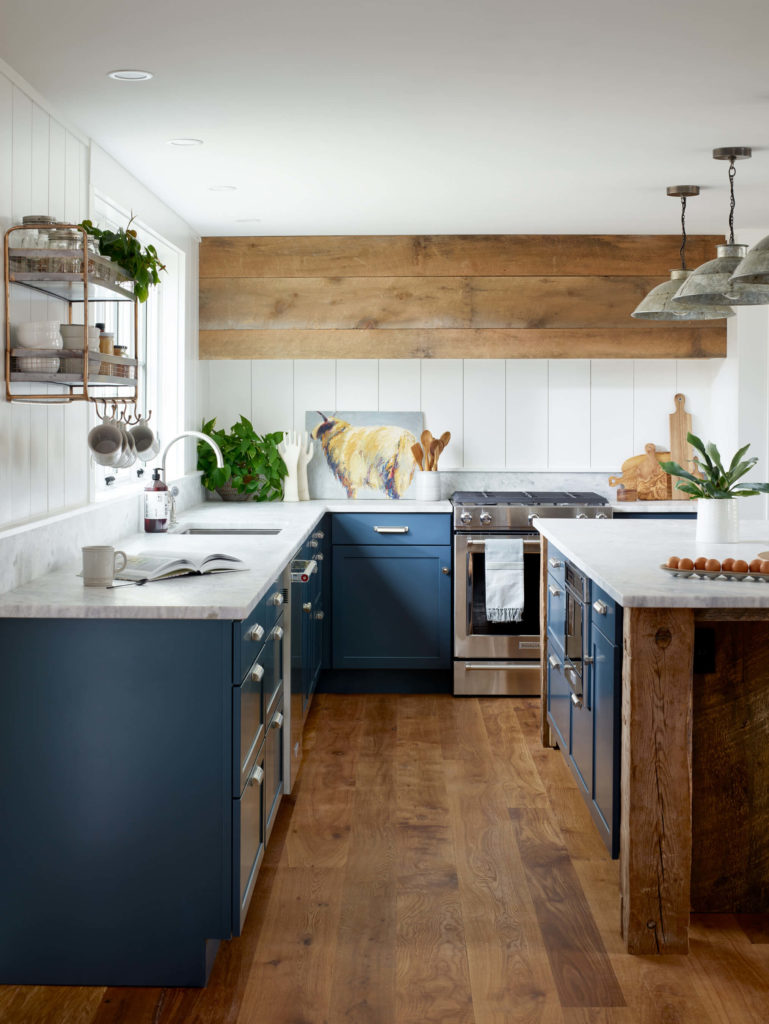 15. Sherwin Williams Gale Force was painted on these gorgeous cabinets by Wyrick Residential Design. I absolutely love how deep this color is.
16. Sherwin Williams Indigo Batik was used in this gorgeous kitchen by Donatelli Builders. A brilliant blue that looks so good with gold and white.
17. Emily Henderson painted Farrow & Ball Hague Blue in this room and it's stunning. Like a deep peacock blue-ish color. One of my favorites!
18. SS_Carpentry did a beautiful job on this built-in bookshelf and love the color Stiffkey Blue by Farrow and Ball.
My favorite navy blue paint colors for kitchens:
Benjamin Moore
Navy Masterpiece
Van Deusen Blue
Hale Navy
Newburyport Blue
Mysterious
Gentleman's Gray
Evening Sky
Evening Dove
Blue Note
Newburg Green
Sherwin Williams
Charcoal Blue
Seaworthy
Naval
Sea Serpent
Gale Force
Indigo Batik
Farrow & Ball
Check out all my paint color posts:
Make sure to pin it for later!
Okay so there you have it! real life examples of navy blue that I recommend for kitchen or bathroom cabinets or built-in bookshelves. What do you think? Let me know in the comments below.
CLICK IN CASE YOU MISSED:
Best Green Paint Colors for Kitchen Cabinets