The Best Tip for Filling Large Outdoor Planters
Let me tell you the best tip I have for filling outdoor planters this spring!

This one tip will help you save money on soil for large outdoor planters. They will also be sturdy/heavy enough without being too heavy to move. Let me tell you my best tip!
I've also teamed up with some great blogger friends so we can all share with you our spring outdoor ideas. Thank you, Shauna from Satori Design for Living, for hosting this Outdoor Extravaganza series.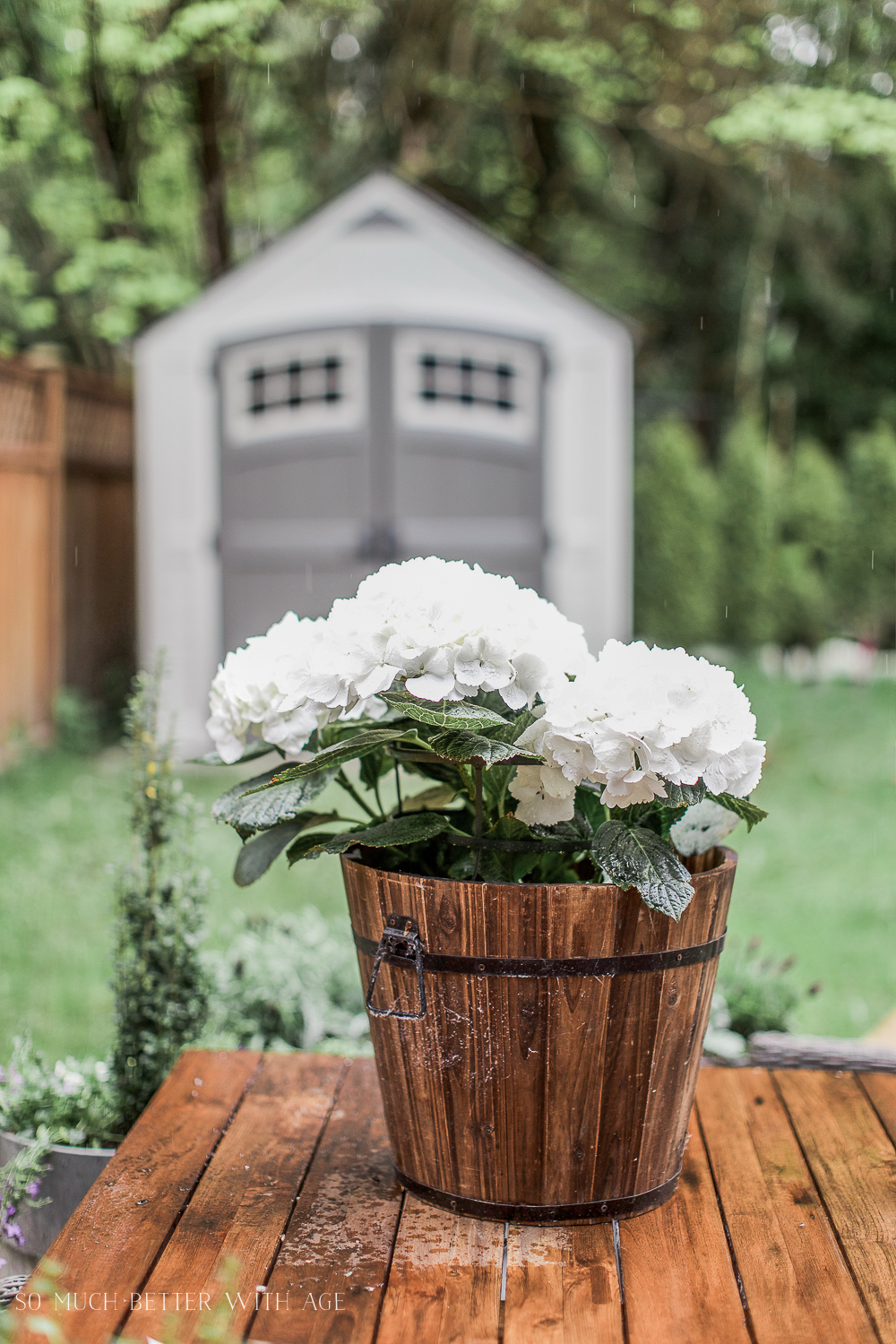 Now that it's officially spring, it's time to get my outdoor areas attended to and in true rainy Vancouver fashion, it's raining of course.
I am not much of a gardener but I always do container planters every year. Years ago in my apartment dwelling days, I learned the best tip for filling containers.
There's nothing worse than hauling bags and bags of potting soil up to your apartment patio for a few simple containers. I thought there had to be a better way so a friend of mine told me this trick.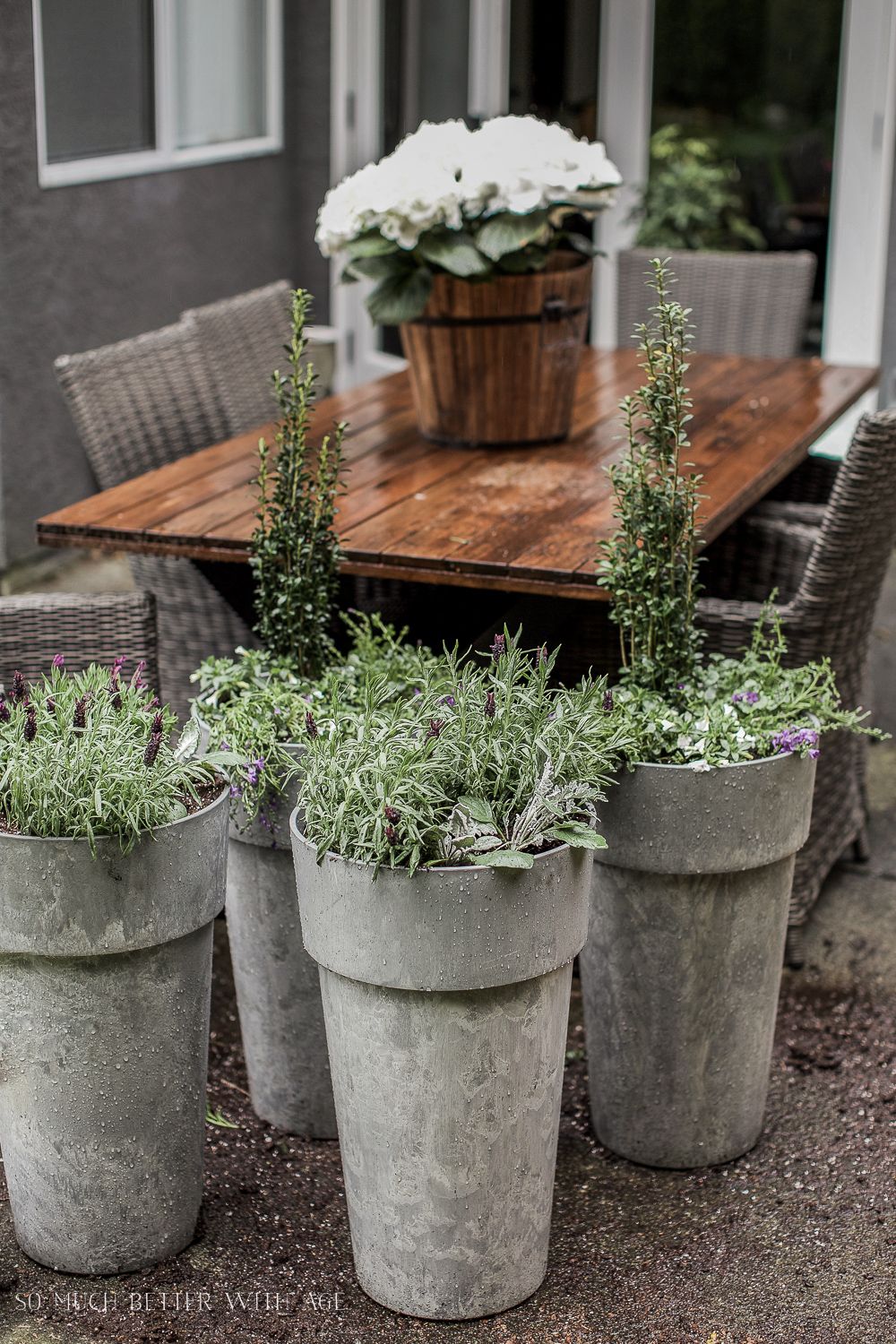 Let me show you how I filled these large outdoor planters.
This post contains affiliate links for your shopping convenience. Click to read my full disclosure policy.
Could you imagine filling all those planters with potting soil? I wouldn't be able to move them after and I can't imagine how many bags of soil I would need to buy and haul into the car.
Here is the secret: styrofoam packing peanuts!
Yes, that's right, those packing peanuts you hate to see when a package arrives at your door. Well now you have a use for them!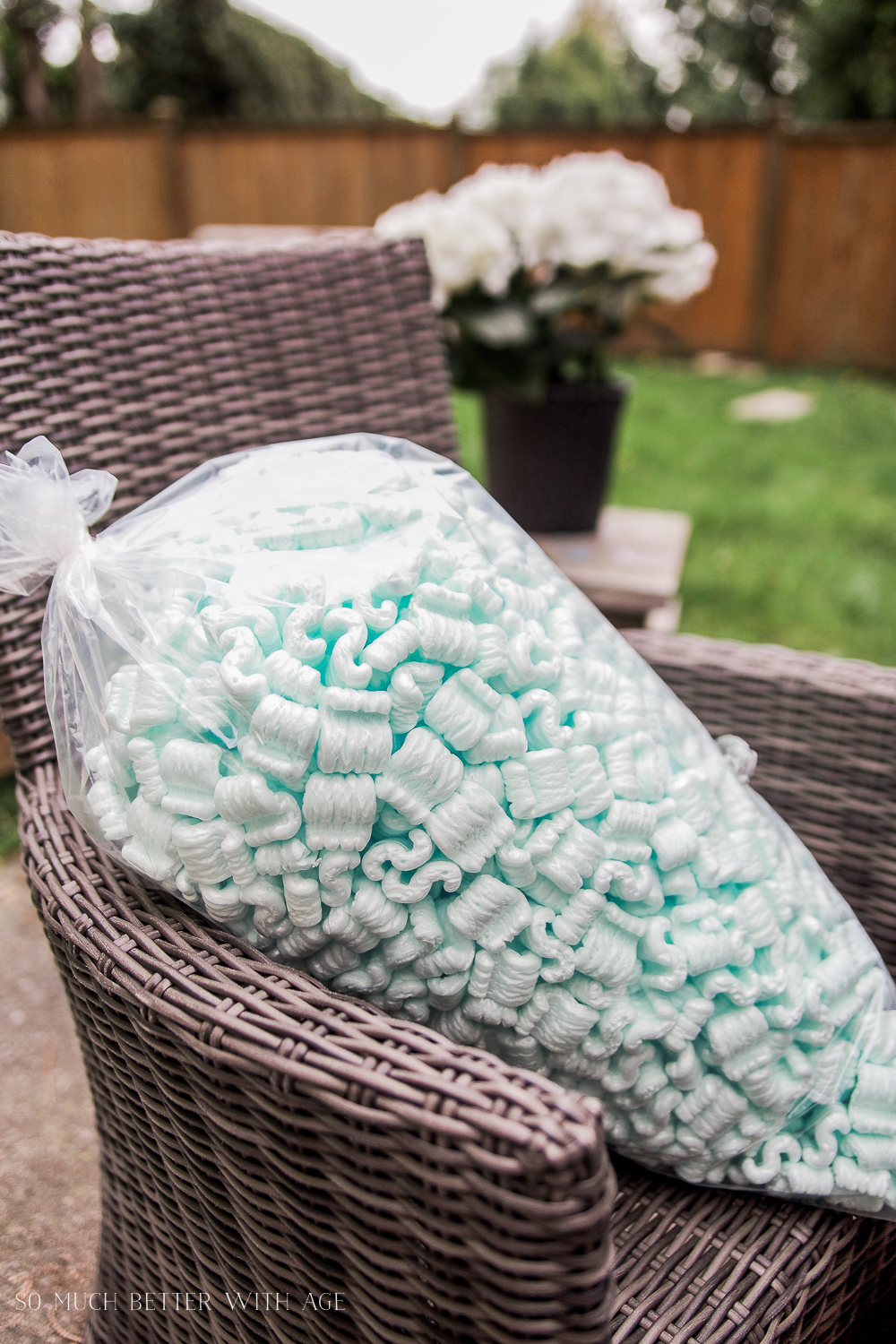 I fill the pots up about two-thirds full with the packing peanuts.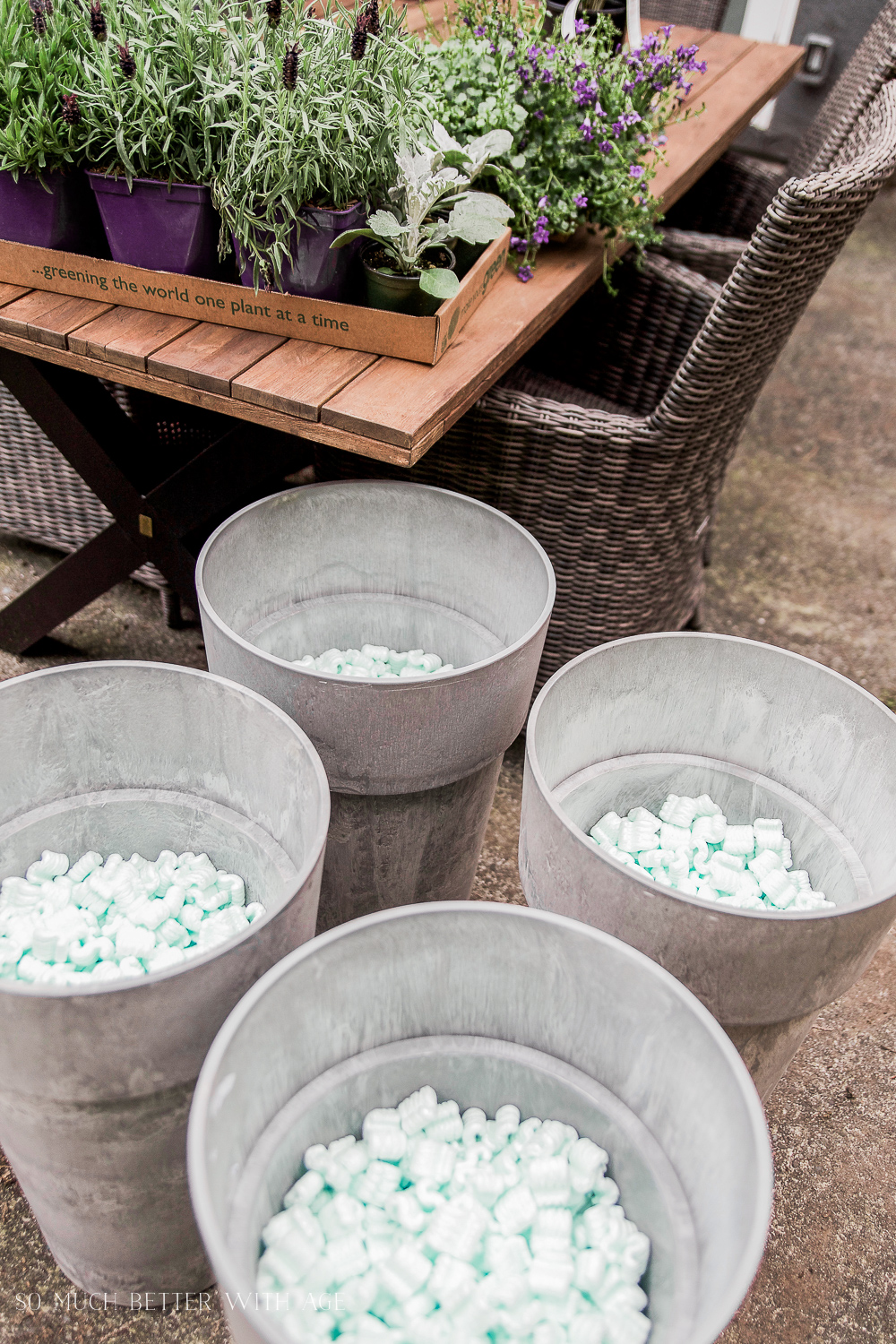 Here's another tip: You can add the packing peanuts to pantyhose or put fabric in between the packing peanuts and soil. I think I'll do this next time to prevent the roots from grabbing too much of the packing peanuts and not being able to detach the plants properly when changing annuals each year.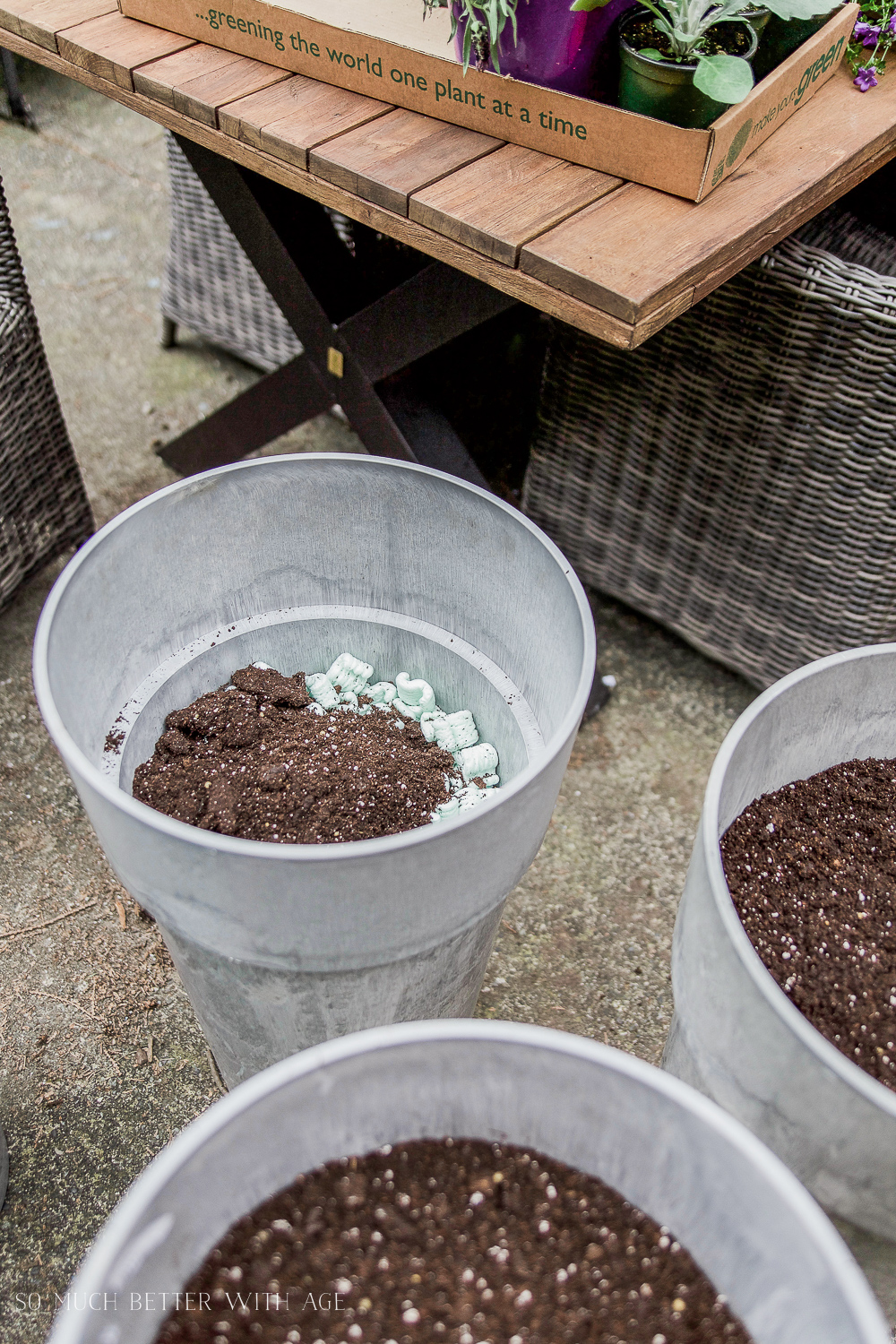 (I bought these pots at Canadian Tire from their Canvas line but they no longer make them.)
Here are some other planters I've filled. I used plastic planters and pop cans to fill up the planter.
Then I added a layer of landscape fabric over the recyclables.
And finally added the soil. Time to plant!
Similar Pots: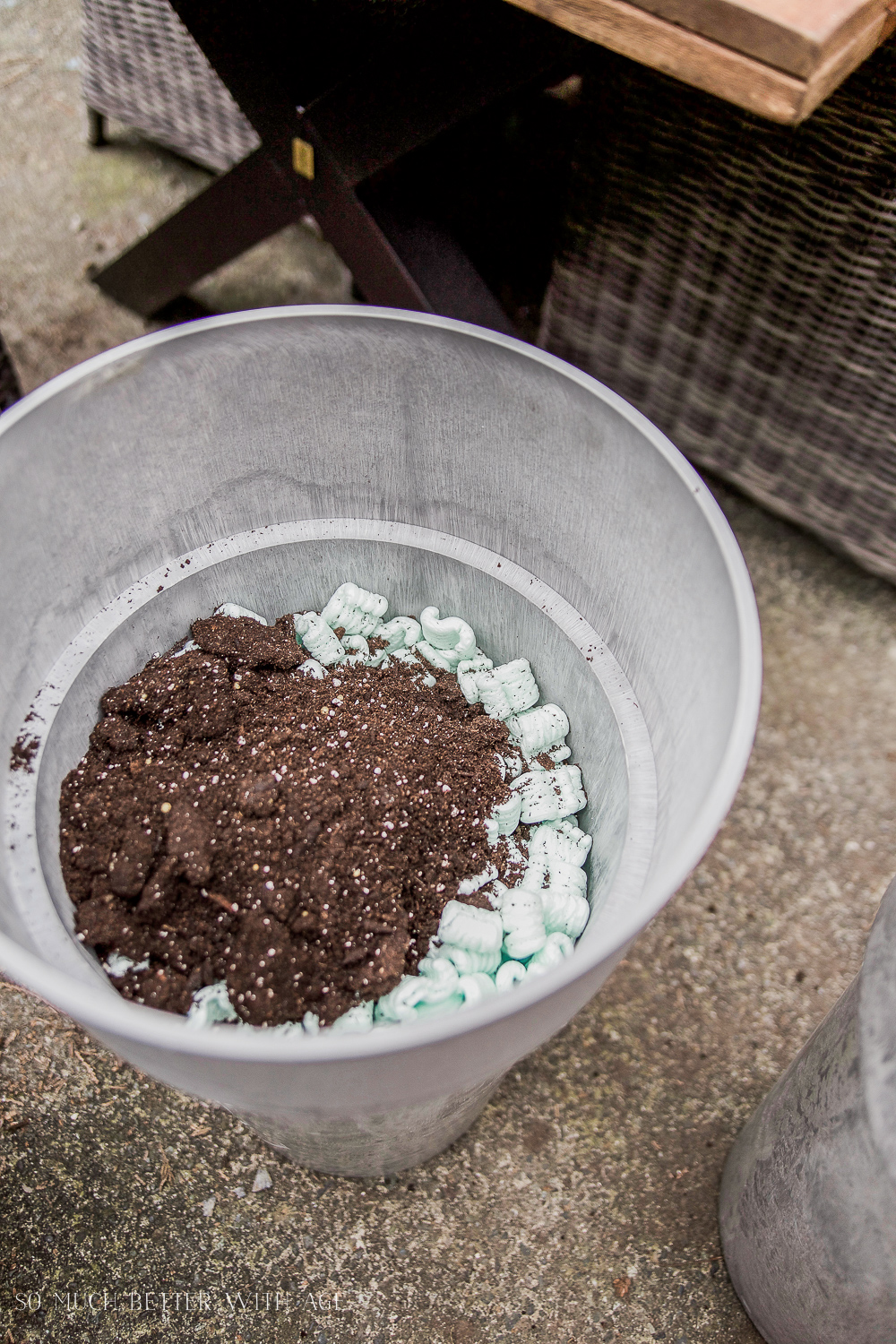 Fill your planter pots like you normally do and water them. That's it!
There is still enough soil in the planter that will not make the planter tip over. There are still a good weight but if you are concerned with tipping, you can add half packing peanuts, half soil.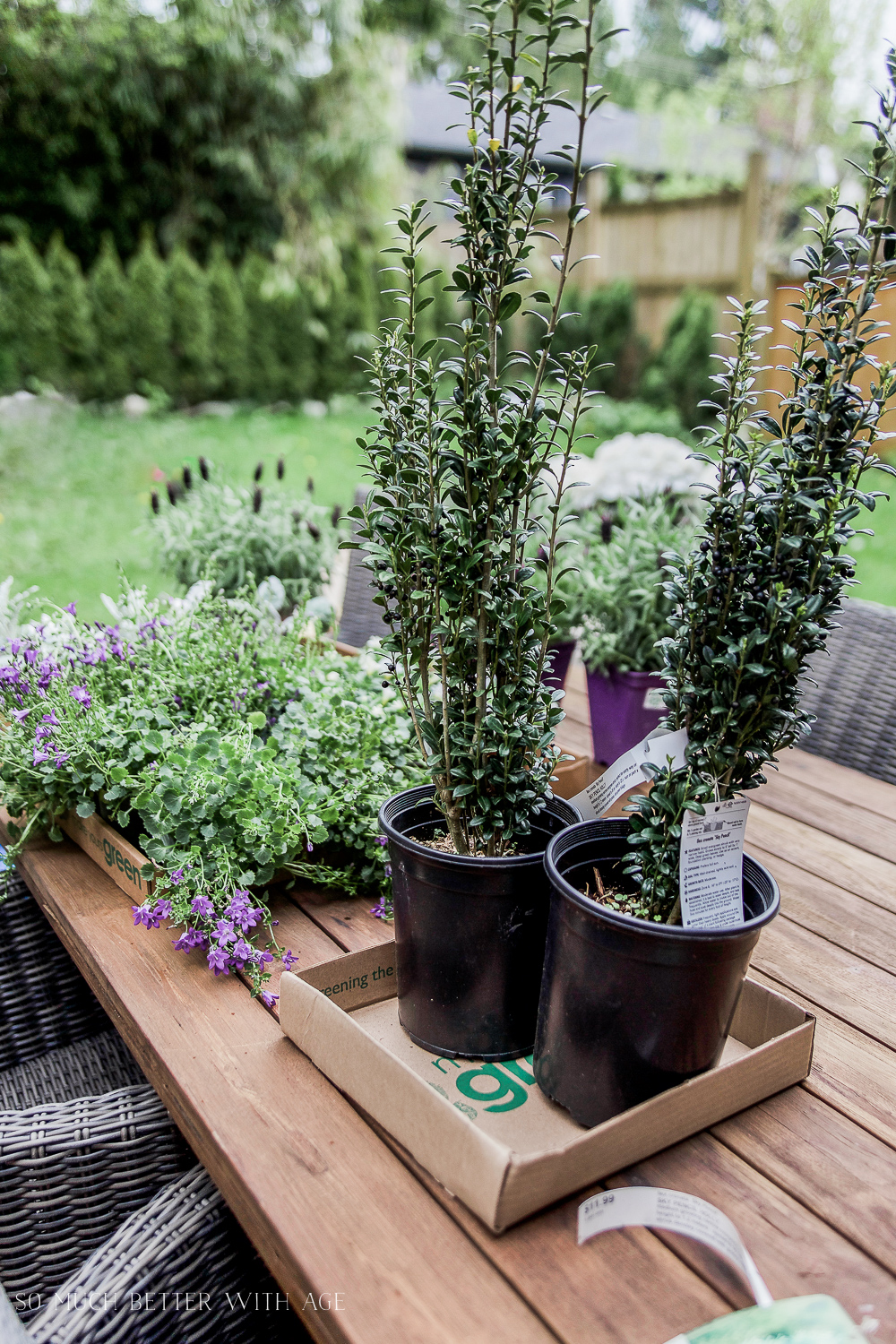 These are the plants I used:
lavender
star of Bethlehem
calibrachoa – white
sky pencil holly
white hydrangea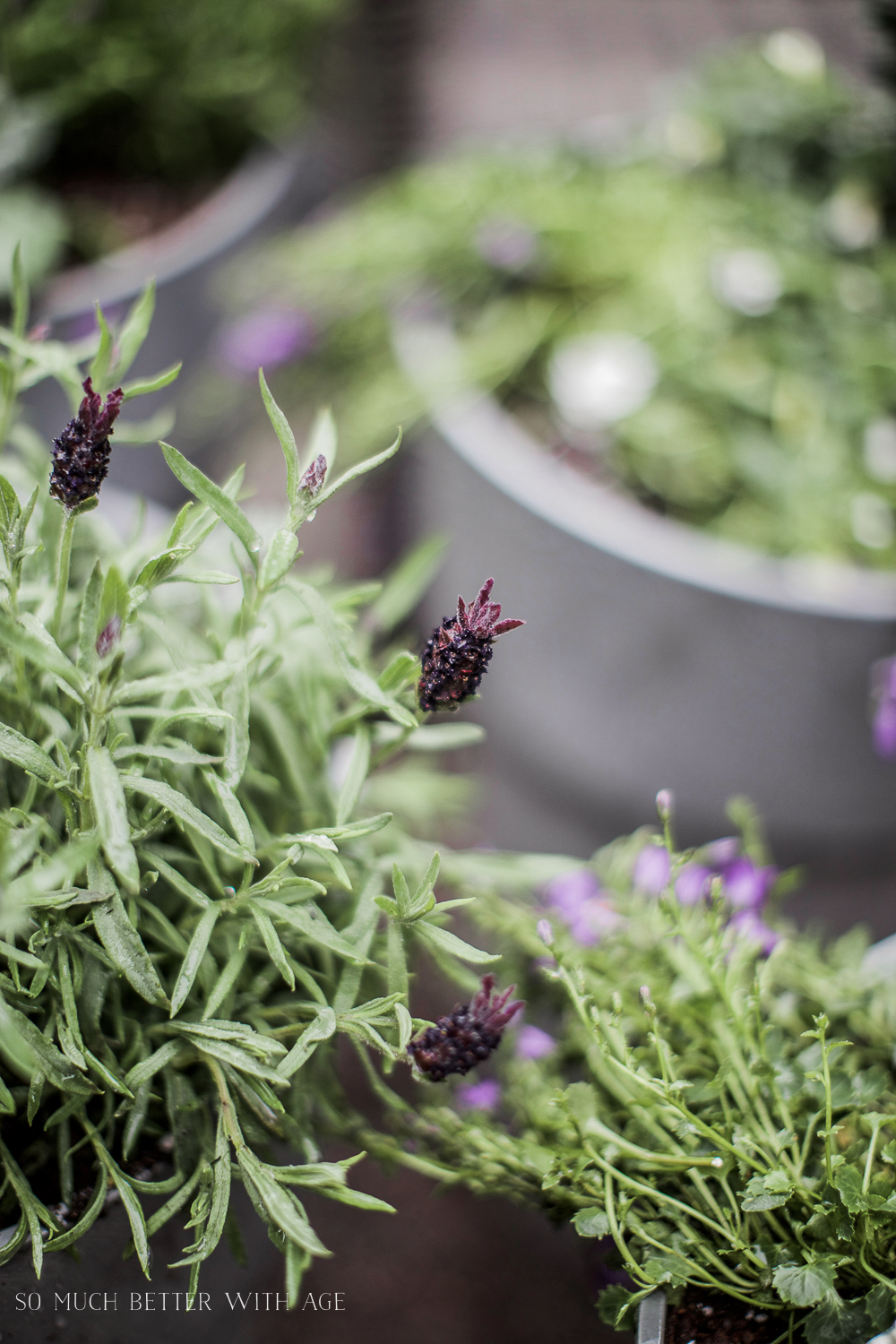 Rain, rain go away. At least my flowers are enjoying it.
So next week you'll be able to see how the plants are doing and how I put together my new patio table and chairs ready for outdoor entertaining!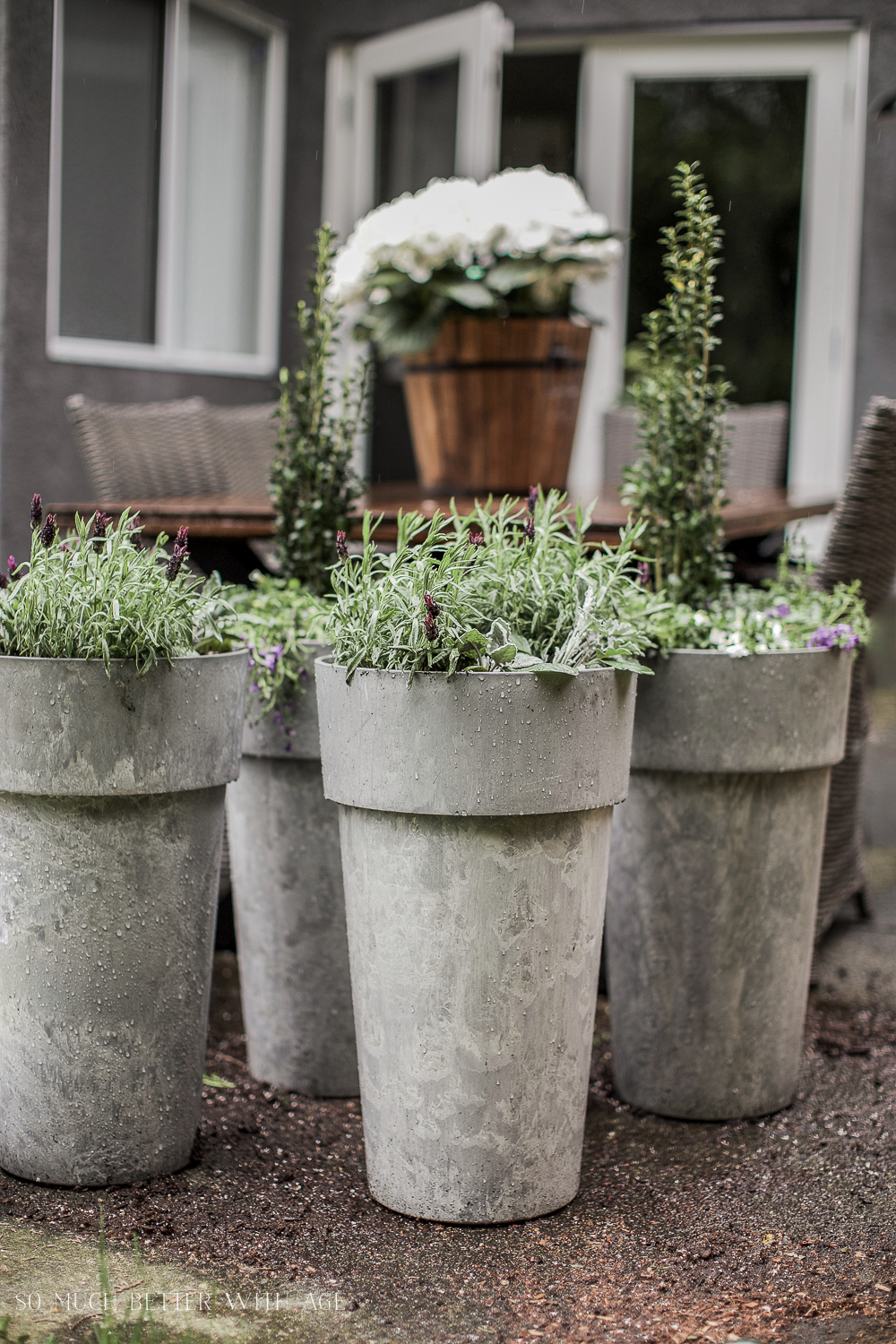 I hope this has helped you with how to fill your large outdoor planters.
Now check out what my blogger friends have done to spruce things up!
Also, my readers have left some extra tips in the comments below!
Make sure to pin it for later!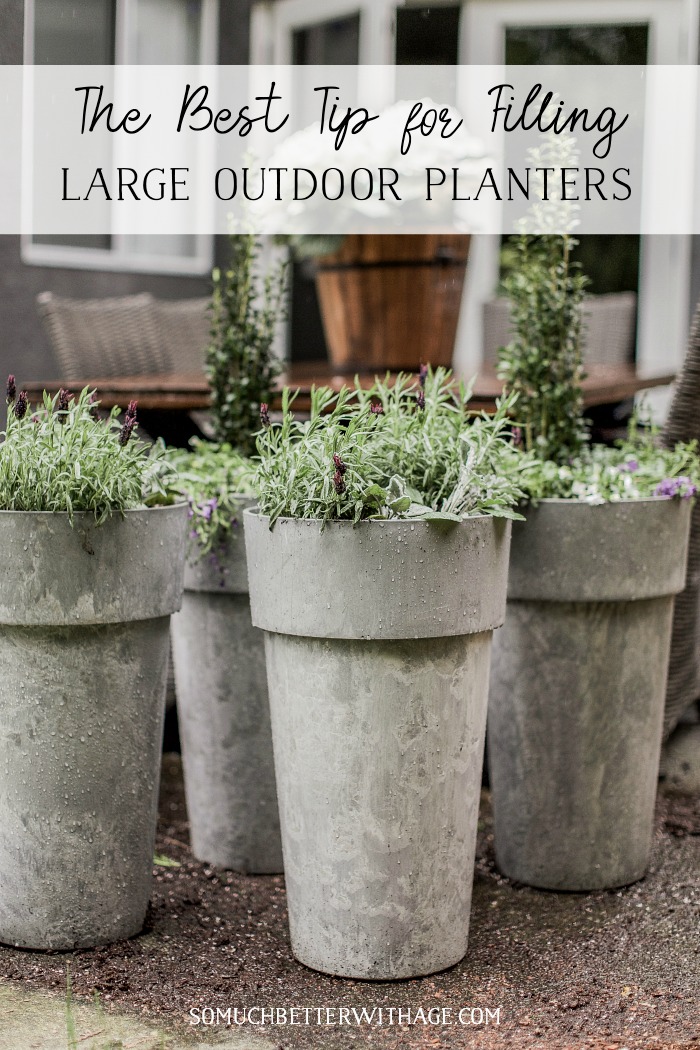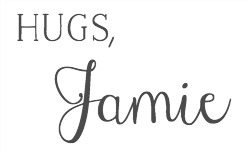 Click in Case You Missed:
How to Plant Herbs in Metal Containers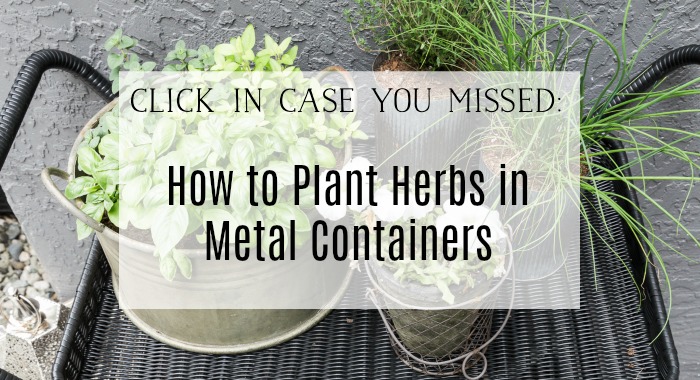 Bug Repellent Outdoor Centrepiece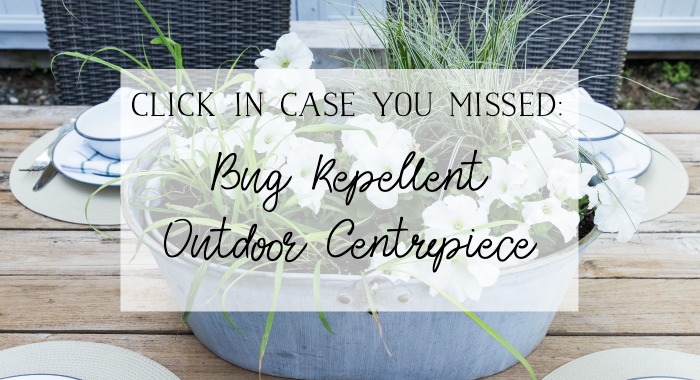 How to Give a Basic Clay Pot a Beautiful Copper Patina Finish by The Happy Housie
Faux Succulent Bird Cage Planter by Making it in the Mountains
Tomato Sauce Garden Gift Basket by Satori Design for Living
Paint Dipped Succulent Log Planter by The DIY Mommy
Front Porch Planters by Craftberry Bush
Spring Patio Flowers by Elliven Studio