Haven Recap and Business Cards That Stand Out
Here is my Haven recap and also how you can make business cards that really stand out from the rest!
Today I will show you how to make your business cards that will really stand out, but first let me tell you all about Haven!
Each year for the last four years I take a long trip from my home in Vancouver, BC Canada to Atlanta, Georgia for the DIY blogger conference called Haven. Why you ask? Doesn't Vancouver have any blogging conferences?
Yes we do! And there are a lot of bloggers in Vancouver but most are fashion bloggers or mommy bloggers. The blogging world is very niche driven. I'm in the DIY & home decorating niche and then there's niches within that niche. Have I lost you yet? I hope not!
So I love going each year to visit the friends I talk to every day and to meet face to face with brands.
I actually took my big camera with me this year, I usually don't as it's too bulky to carry around all day, but the lighting was bad so it was probably irrelevant. Oh well. I still had fun taking everyone's picture.
So here's Jenna, Rachel, Sarah, Abby, Natalie.

And of course my roomie every year, Jenna.
Moi / Lauren / Rachel / Liz Marie / Shannon / Liz
With Sarah and Lauren and Rachel
We have soo much fun every year!
Selfie time! Here are some of the outfits I wore at Haven this year.
Nina / moi / Rachel / April / Lauren / Sarah / Abby / Chelsea
Missing from photo: Jenna! She was sick, poor girl 🙁
My favourite class two years in a row now is Amy Howard's class.
She is one incredible woman with so much experience in the business world with furniture and her paint line and just life. She tells you so many inspiring stories and she really wants to uplift women. It's a real treat to listen to her talk. And while she's talking you're painting. It's a great and unique combination for a class.
Here's Amy showing us a new technique for vintage wood, which was so cool.
You put on this product that's a bit like a watered-down stain called Better With Age (um..I need to be a brand ambassador, hello!)…
You then add Venetian plaster to it and scrape it off.
Like vintage barn wood. I love this look with the plaster.
Of course, there's always lots of Haven swag to bring back home.
Business Cards That Stand Out
I wanted to make business cards that stood out this year as I'm going through a re branding of my site (EEK! I cannot wait to share the new look with you!) and I wouldn't have my new business cards done in time but I wanted to tell people that it was coming. So I made little cards to attach saying what they could expect coming up on my blog, like the new re branding of course as well as videos. I just printed it on card stock and cut each card with a paper cutter.
I also printed off a photo from my new house so I could tell brands there were going to be a ton of new projects in the works for the blog.
I found cute little kraft paper envelopes and had my son help me stamp each envelope with a little French stamp that I already had on hand. I taped it up with a strip of washi tape.
I found these little white flags at a craft store that added a nice little touch and with the baker's twine it all came together.
I love how they turned out. A cute little card collection in their own little envelope.
These were so much fun to make and my weekend was a blast. I got to meet new people and I love seeing my girls!
To read about my other years at Haven, click below: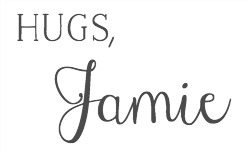 SaveSave