Looking for new Christmas decor or just want to be inspired? I have a list of great sources from Canada and the US!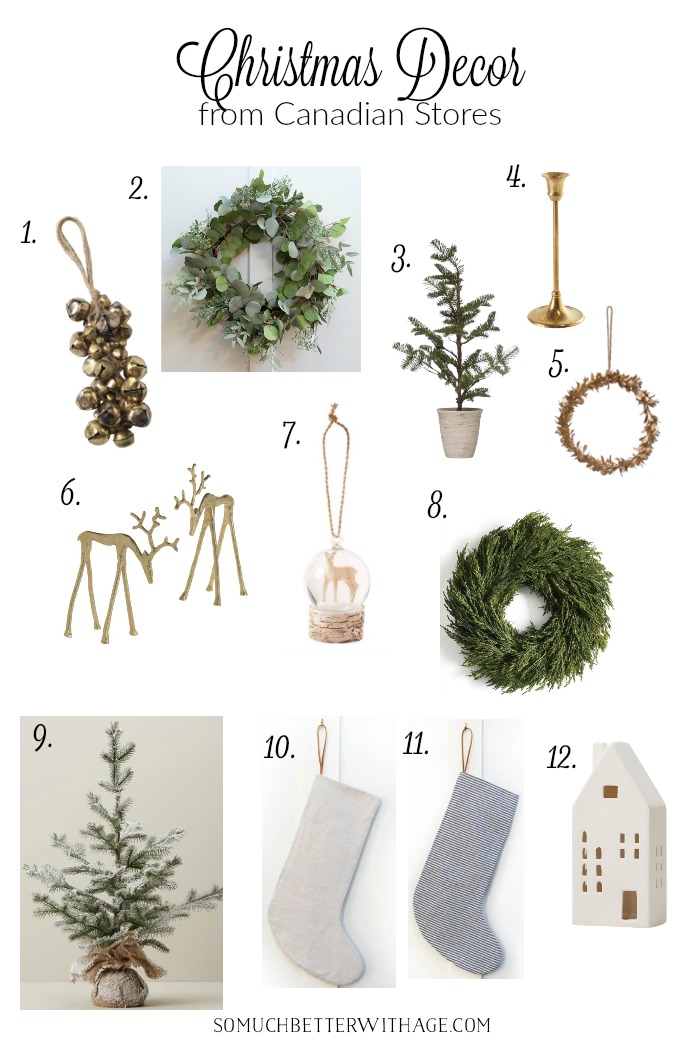 This post contains affiliate links for your shopping convenience. Click to read my full disclosure policy.
During this crazy pandemic year, I've been searching more for Canadian stores to shop at. Even if you do find a store that you love from the US that ships to Canada, it seems to take forever to get her now with our borders closed.
Of course, shopping local businesses is always best. But to appeal to my widen audience here, I'm sharing Christmas decor from stores that sell holiday items online.
Order early to avoid disappointment!
1. Vintage sleigh bells hanging in the middle of a wreath on a door handle is so pretty and brings in the holiday spirit.
2. Eucalyptus berry wreath – I love adding eucalyptus to my holiday decor. You can see how I added it to my Christmas garland on my fireplace mantel here.
3. Faux pine tree in pot – love adding little Christmas trees throughout the house.
4. Brass candlesticks like the ones I use in so many table settings and Christmas displays.
5. Round gold leaf wreath – this would be so pretty hung anyway, even on a mirror.
6. Rudy reindeer – these guys are the cutest and can be displayed anywhere all winter!
7. Snow globe deer ornament – I love anything in a snow globe! I even put Christmas gifts in cloches for a past Christmas mantel.
8. Cypress wreath – I love the fullness of this wreath.
9. Small flocked tree in jute base – love this little flocked tree!
10. Grey linen stocking – this one is perfect for neutral decor!
11. Black striped linen stocking – love the ticking stripe.
12. LED ceramic house – love that this is LED lighting!
13. Pine wreath – I love pine at Christmas
14. Gold weeping branch decor – this would look so pretty just swagged simply on a wall above the fireplace or on a table runner.
15. Shearling stocking – shearling is the new fabric this year and this looks super cozy!
16. Faux fur stocking in laurel green – this is my favorite color! Enough said!
17. Gold star wreath – so Scandinavian! Love it.
18. Glitter bottle brush trees – these look so pretty displayed on a table or mantel.
19. Leaf and glass beaded swag – this would be so pretty hung on the wall anywhere!
20. Pine garland – so pretty draped over a mantel, down the middle of a table or hanging on a staircase.
21. Pine spray – you can stick these in a dough bowl or piece of pottery.
22. Potted pines, set of 3 – I love adding little Christmas trees throughout the house.
23. Dough bowl – I know a dough bowl isn't actual Christmas decor but it's the best time to use these to hold ornaments, sprays (faux foliage) or twinkly lights.
Stores in Canada
If you know of any pretty Canadian stores that sell Christmas decor online, please let me know and I'll keep adding to this list!
The Cross – beautiful holiday decor like this gold hoop on stand.
more Christmas decor
Here are more Christmas decor items that are generally in the US but check shipping to see if they ship to Canada.
door mats

stockings

christmas decor

crowns and toppers

Ornaments

tree skirts and collars

garland

skinny and little Christmas trees

Flocked Christmas Trees
These flocked Christmas trees have great reviews. Check out these ones here:

Here are some more flocked Christmas trees with great reviews from Amazon :
I hope this helps you shop for Christmas decor shopping this year!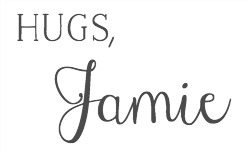 click in case you missed:
French Vintage Christmas Kitchen
30+ Unique Christmas Decorating Ideas