Looking for Christmas gifts and stocking stuffers that won't break the bank? Check out my list!
This post contains affiliate links for your shopping convenience. Click to read my full disclosure policy.
I've put together a list of great gift ideas all for under $30! Perfect for the person that's hard to shop for and stocking stuffers.
1.Christmas tree cookie set – we love our cookie set! Such an easy way to decorate sugar cookies.
2. Chef'n Looseleaf Plus – I know Aaron would love this for cooking with his fresh herbs. Takes all the leaves off any stem like cilantro.
3. Bee spatulas – love the bees on these spatulas. You can never have too many for the baker on your list.
4. Holiday bar soap – such a cute bar of soap and it comes with a bottle brush tree!
5. Honey spoons – perfect to give a tea drinker on your Christmas list.
6. Hipster cookie mix – this would be a fun laugh for the hipster in your life and they get cookies!
7. Squirrel nutcracker – yes we love squirrels at our house!
8. Flavacol – if you miss going to the movie theatres like Aaron and I do, you must purchase this. It's the same seasoning salt the movie theatres use!
9. Dictionary key lock safe – a great gift for anyone on your list. I'm sure my kids would love this too!
10. Goddess head planter – I've been wanting one of these for awhile, I'm just worried I'll kill the plant I put in it.
11. Maple syrup cans – we love maple syrup (hello, we're Canadian!) and these cans are adorable with a reusable lid.
12. Crown catchall – I love crowns as this is double duty as decor and a catchall!
13. Mini magnetic screwdriver set – what a great gift idea for anyone on your list!
14. Schitt's Creek Rosebud keychain – such a great gift for any Schitt's Creek fan!
15. Show Me the Monet game – this looks like a good time for a date night.
16. Living My Best Battery Life – a pouch that contains everything you need to charge your electronics. Comes with headphones, stand, chamois cloth and password list.
17. Wine pump and stoppers – this is a must for the wine drinker on your list.

Wine bottle hat and sweater set – this would be a great addition to a bottle of wine or just added to the stocking!
USB rechargeable candle lighter – we use ours all the time.
Squirrel picnic table – we would have endless hours of entertainment with this thing outside our window!
Pictionary Air – I've been wanting to buy this and it has great reviews.
Microwavable comfort wrap – I have one similar to this one that I use all the time.
Cotton and jute zip pouch – I love any fabric with texture and love that there's a zipper on this pouch. Throw in some chocolates for a fun gift!
Best friend necklace and leash hook – perfect for the dog lover on your Christmas list.
Cat socks – these socks are adorable with amazing reviews!
The Screaming Goat – if you loved those screaming goat videos, you'll love this!
Wireless charger – these are so handy to keep on your desk
Hair turban – both me and my daughter use these every time we wash our hair. Saves on drying time!
Ear muffs and face mask – definitely a 2020 gift! this looks cozy, I'm sure my kids will love it.
Pick a Pom Beanie – we would call these toques here in Canada but I'll let it go 😉 You can pick your beanie then pick a pom to go with it!
Monogrammed mug – Aaron and I love our mugs that we've had for a couple of years now. Classic.
Designer hand sanitizer – I've labelled this 'designer' because it's really pretty and it's flat which means it could fit in my small purse.
Thumbprint cookie set – making thumbprint cookies would be a breeze with this set!
Caudalie Beauty Elixir – this is my favorite facial spray!
Jade de-puffing face roller – I have yet to try one but this year might be the year!
Desktop vacuum – thinking I might need one of these since I spend all day at
I've also compiled a bunch of item in my Amazon store and along with holiday decor.
I hope this list helps you get your shopping list complete for everyone on your list this Christmas!
Happy shopping!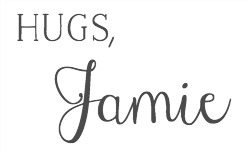 Click in case you missed:
Small Business Christmas Gift Guide (includes 36 Canadian shops)
My Favorite Interior Design Books