Today I'm sharing my Christmas tour with classic and simple touches!
Happy December 1st! I'm excited to share my Christmas tour with you today. For the first time since I started blogging, I'm not in a tour with my blogger friends and instead of breaking up the tour in a number of posts, I'm doing it all in one big post.
This year has been something, hasn't it? With so much going on in the world and adding a new interior design business this year, I wanted to keep things simple and I wasn't sure if I was even going to get a Christmas tour done for you but I did and I'm excited to share it with you.
Every year I make it my challenge to decorate for Christmas in a little different way using the same decorations. Some years I add a couple new things (like all the plaid a couple of years ago) but this year I'm proud to say I didn't add anything new except some stocking holders (which are awesome, by the way. I'll link them below!).
This post contains affiliate links for your shopping convenience. Click to read my full disclosure policy.
Mantel and Living Room
For my mantel, I used the same garland I used last year from Canadian Tire and the stockings I made in 2016.
Click here for the stocking sewing tutorial.
My Christmas tree hasn't changed much this year.
But here is the stocking hook! It's the easiest thing to hang up your stockings with.
I used the crown again that I've used for the past few years. I added wire to the bottom of it so it can sit upon the tree. You can see the image below from my plaid dining room.
Shop Crowns

I used my knitted garland (4 of them) that I bought from Crate and Barrel a couple of years. They no longer sell them but here is a source I found on Etsy.
I've had these Paris snow globe ornaments for years and I love them so much.
There are only two types of ornaments on this tree, those globes and these chandeliers. I got them at The Cross two yeas ago but I haven't seen sell them since.
It doesn't look like there are only two types of ornaments on my tree and I think it's because of the flocking. You can read more about flocked trees here.
A set of three vintage looking bells sit on the mantel with the lighted garland.
I hung the garland similar to last year's mantel by just using Command Hooks. You can get the easy tutorial here.
I got the Christmas tree collar from Crate and Barrel two years ago now and I just checked and it's sold out again this year. Here is a similar tree collar.
Kitchen
In the kitchen, I hung garland from the Dollar Store above the large windows.
I popped this Ikea Christmas tree into my large crock and added bottle brush trees to a baguette basket.
I've had this twig wreath for as long as I can remember! I love its simplicity.
For my kitchen island centrepiece, I added large bottle brush trees to my vintage dough bowl. I bought the super large ones at Home Sense last year and I can't find ones that large online.
You can see my previous kitchen island centrepieces here:
Shop Dough Bowls

I added more bells to the opening shelving in the kitchen and my favorite Christmas mugs that I bought years ago from Pottery Barn (they no longer sell the collection).
Shop Christmas Plates & Mugs

I've also had this driftwood tree for years and years. I believe I got it at Home Sense. The maple syrup candle smells exactly like maple syrup and these plates go with my Christmas mug collection.
Shop Candle and Tree

Here is a close-up of the bottle brush trees in a vintage baguette basket.
Shop Baguette Basket

Dining Room
I finally added artwork to the dining room! I picked from the big list of downloadable vintage artwork that I shared recently.
I'm going to share soon how I painted these frames gold.
I've had this collection of brass candlesticks for years too that I collected from thrift stores.
My DIY rosemary garland looks really pretty on the table.
I really hope you enjoyed my classic, simple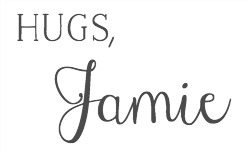 click in case you missed: