Do you know how color combinations are formed? Have you ever used an artist's color wheel? This article explains the details on color theory.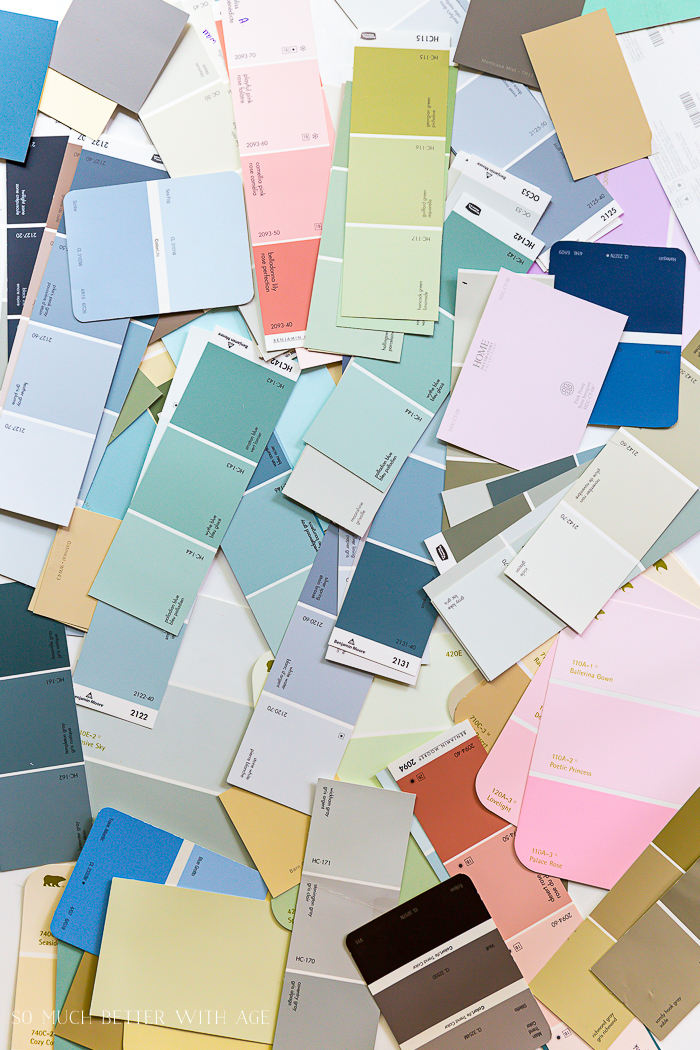 For someone who LOVES neutrals, it may seem odd for me to write a post series on color theory, right?
Well I do have some news to share with you first. I've been taking an interior design program since the fall and I'm about to graduate! It has been so exciting learning all the intricacies of designing a space, the history of design and learning all about color theory.
Did you know that we see colors first before any other elements in a space? We see color then shapes, then all other elements.
Learning about color theory and how to use a color wheel takes the guesswork out of picking colors in decorating. But what is color theory anyway?
This post contains affiliate links for your shopping convenience. Click to read my full disclosure policy.
What is color theory?
There is so much to understand about color and initially I only thought using an artist's color wheel was just for artists. But there is a reason that certain color groupings look good together and that's why it's good to understand how color groupings work. You will then have a foolproof way of decorating your home with color.
Using a color wheel is the best way to learn about the different color groupings and about color itself.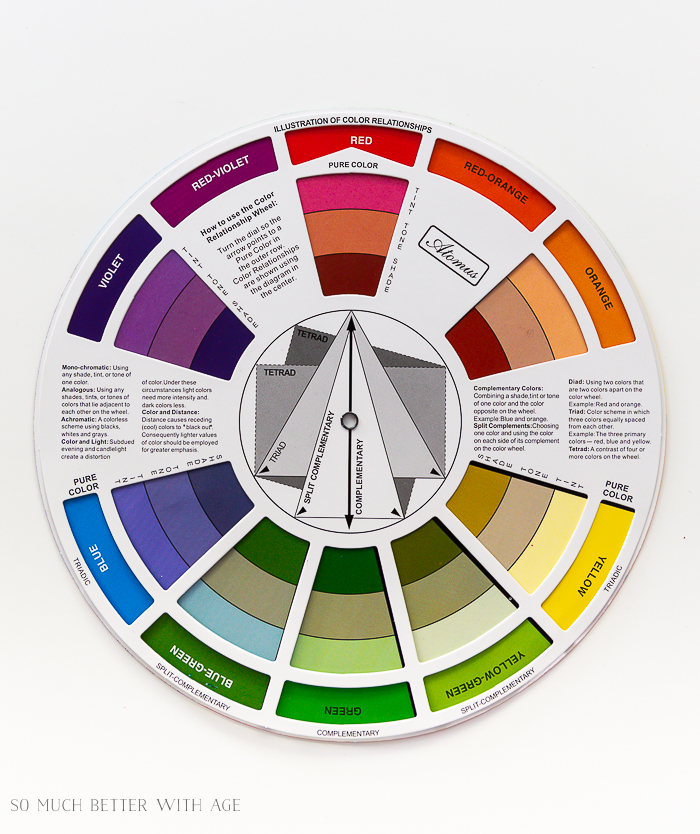 The Basics in Color Theory
Basic Colors on the Color Wheel:
Primary Colors
The Primary Colors are red, blue, yellow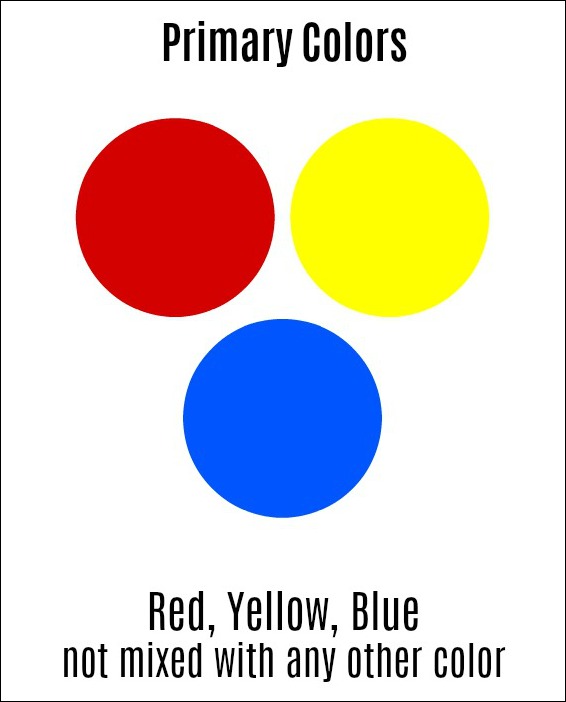 SEcondary colors
The secondary colors are made when you mix equal parts of these colors together to get orange, green and violet.
Yellow + Red = Orange
Blue + Yellow = Green
Blue + Red = Violet
Tertiary Colors
Tertiary colors are made when you mix equal parts of one primary color and one secondary color together
Red-Orange
Yellow-Orange
Blue-Green
Violet-Blue
Red-Violet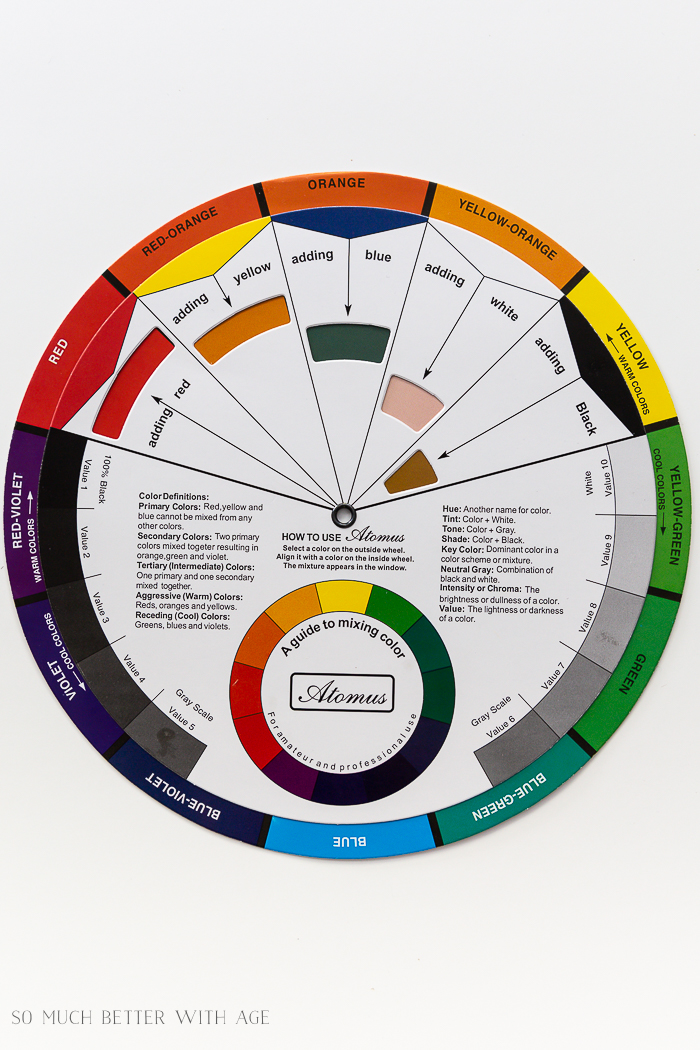 Tint, Shade and Tone
Then if you take a pure color and add white, black or grey to it, they become a tint, shade or tone of a pure color.
TINT: adding white to a pure color
SHADE: adding black to a pure color
TONE: adding grey to a pure color
Look under RED in the color wheel below and you can see how the RED changes when you add white to it (TINT), or add black to it (SHADE) or add grey to it (TONE).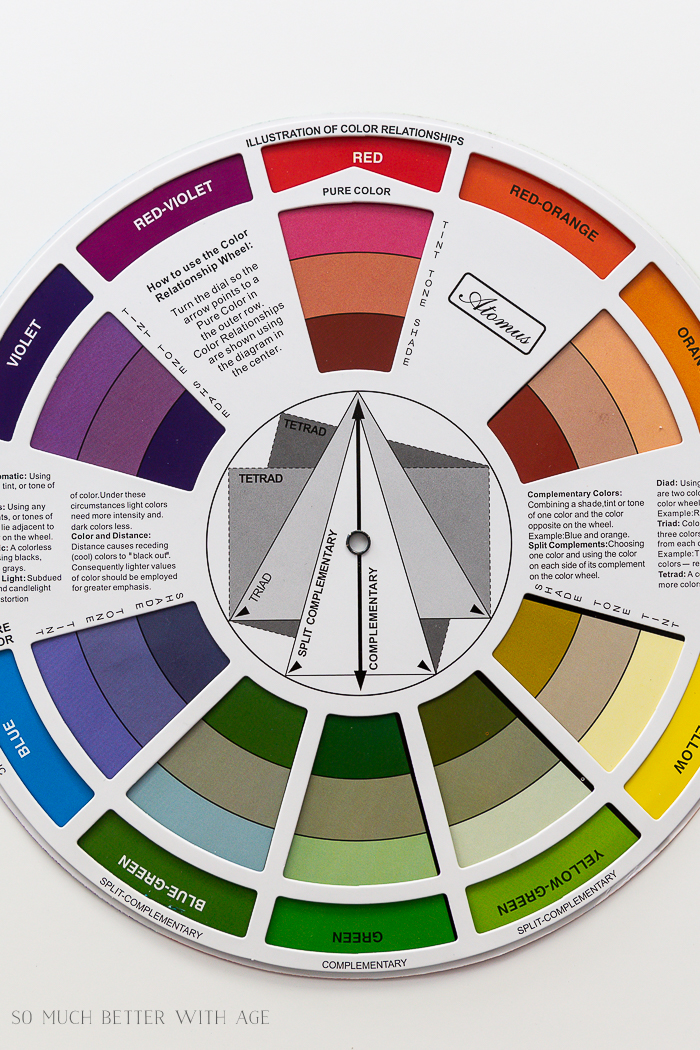 Warm and Cool Colors
Warm colors: reds, yellows, oranges
Cool colors: blues, greens, violets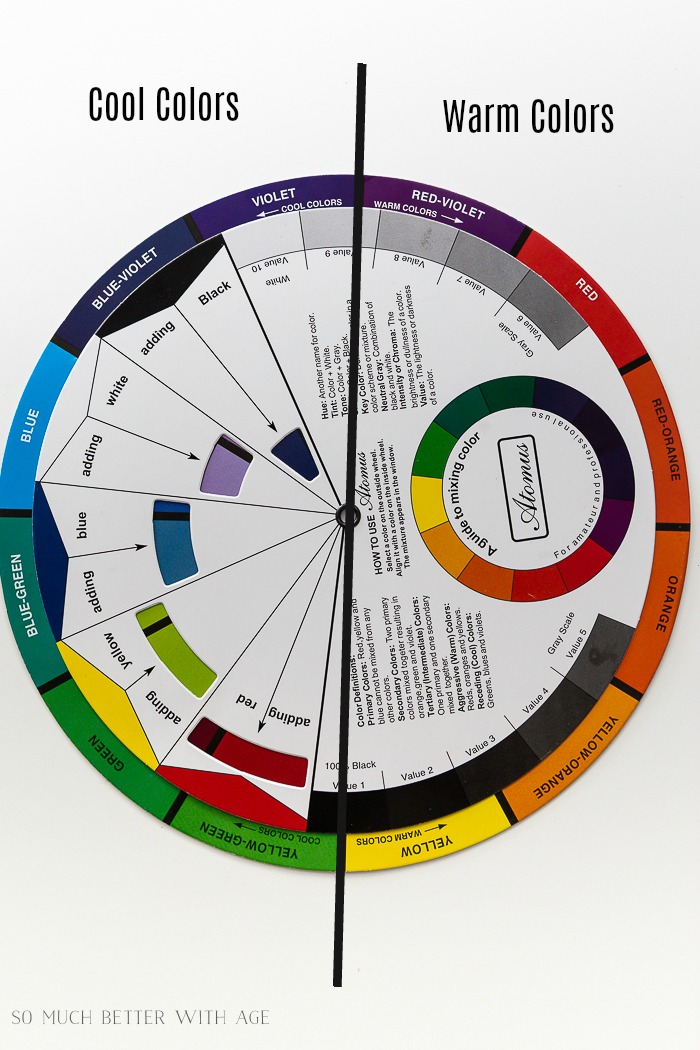 Chroma – the degree of vividness or intentsity
Color Temperature – warm or cool colors
Undertone – except for primary colors (red, blue and yellow) all colors are made by mixing two or more colors together.
color harmony groups
Here are harmony groups to decorate by:
Achromatic – colorless scheme (no hue) using black, white and grey only
Accented Achromatic – an accent color added to an achromatic color scheme
Analogous – using 2-4 colors that are adjacent to each other on the color wheel (yellow-orange / yellow / yellow-green)
Accented Analogous – using analogous color scheme and adding the complimentary color to the central color (yellow / yellow-green / green / violet)
Clash – one color and another that is directly to the left or right of its compliment (green / red-violet)
Complementary – using 2 colors that sit directly opposite each other (red / green)
Split Complementary – using any color along with the color either side of its complement (blue / yellow-orange / red – orange)
Double Split Complementary – using a combination of 4 color that contain 2 sets of complements (blue / green / red / orange)
Monochromatic – using a tint, tone or shade of just one color (1 color)
Tetrad -using a combination of 4 colours that are equally spaced on the color wheel (green / blue / yellow / red)
Triadic– using any 3 colors that are equally spaced from each other on the color wheel (green / violet / orange)
Looking at the color wheel below, in the middle you can see different arrows and boxes. You can see how the red-orange colors blend with the blue-green colors to have a COMPLEMENTARY color grouping.
You can also see how the points on the boxes produce TETRAD harmony groups, TRIAD and SPLIT COMPLEMENTARY groupings too. Using a color wheel is a foolproof way of seeing which colors (along with the correct tint, tone and shade) go well with each other.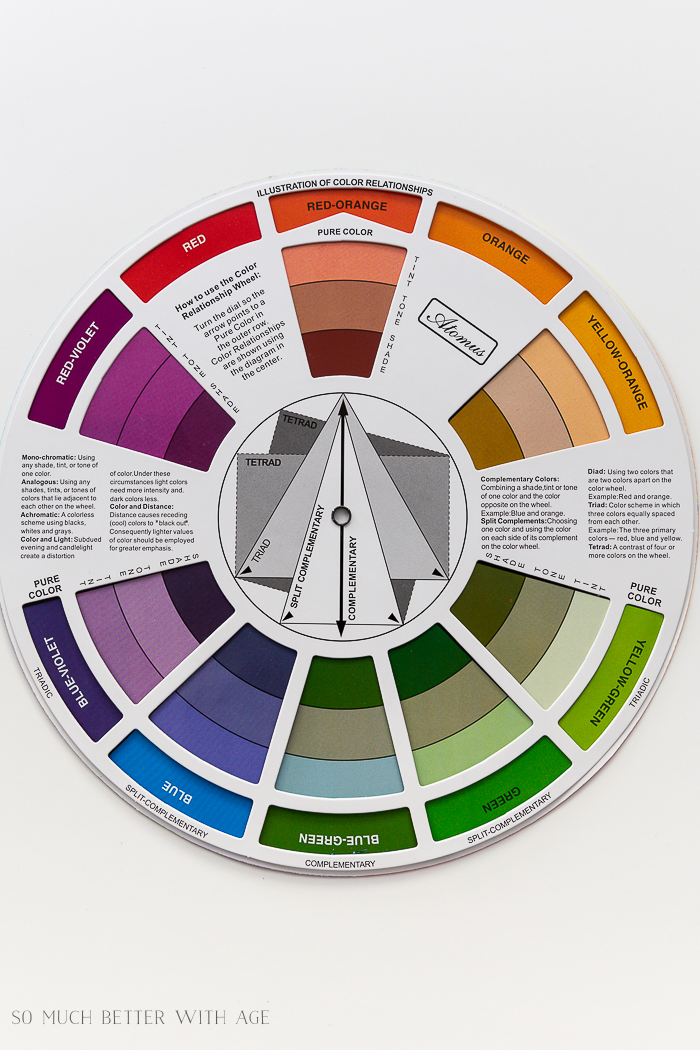 You can buy your own inexpensive color wheel here.
In this color theory series, I'm going to be sharing examples of what each room looks like in each of the color harmony groups listed above. You'll get to see how rooms are decorated in pleasing tones and will understand WHY they look good together because you learned how they complement one another in this post.
You can check out my new interior design website here!
Make sure to pin it for later!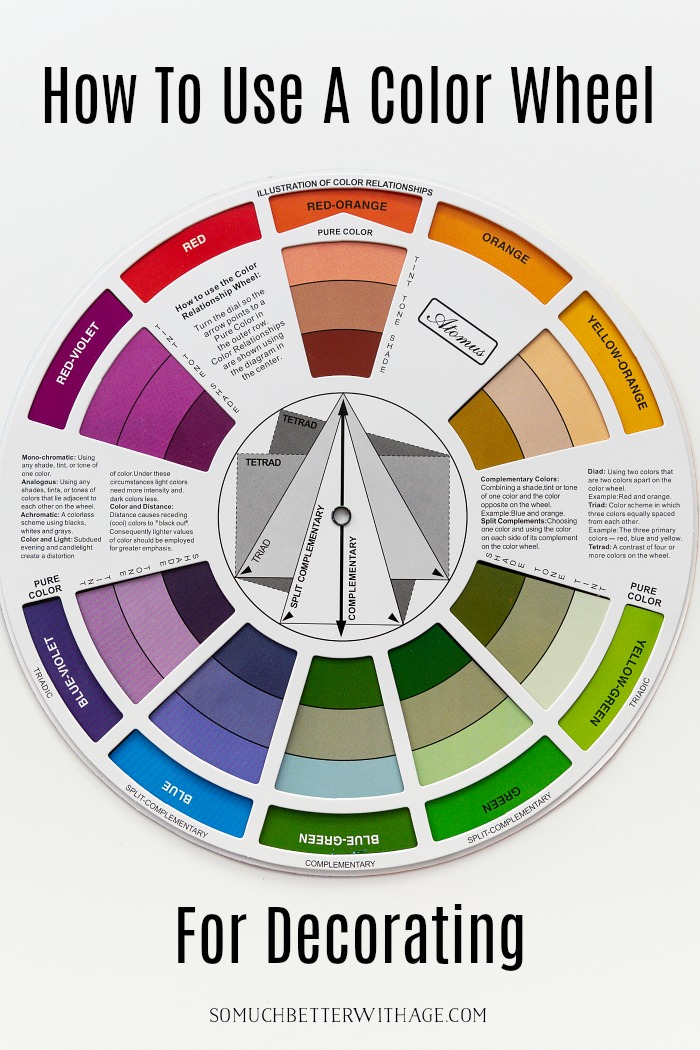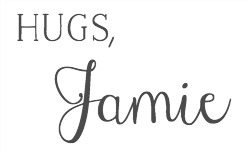 click in case you missed:
Decorating with Complementary Colors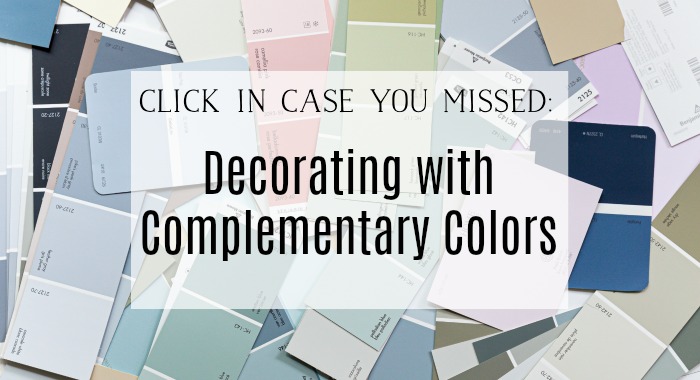 Decorating with Achromatic, Analogous and Monochromatic Colors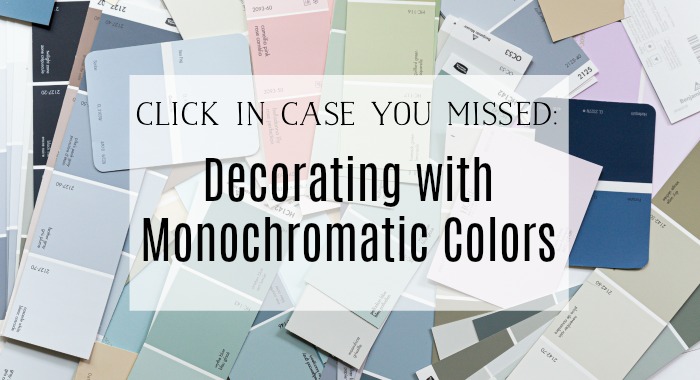 Decorating with Split Complementary, Tetrad, Triadic and Clash Colors