Complete Kitchen Supply List – Simple and Pretty Items for Everyday & Entertaining
This complete kitchen supply list includes simple and pretty items that are perfect for everyday use as well as entertaining.
As you probably already know, I'm obsessed with kitchens. Not only in the way they look but in the way they function too. Also, I've been married twice and have gone through plenty of moves throughout my lifetime so I know exactly what I need to have in my kitchen so I don't have a lot of 'extra' stuff stuffed in the cupboards. I hate cupboards that are stuffed!
I've put together a complete list of what one might need if they were a couple just starting out, someone moving into their first home or if you've had your kitchen stuff for the last 20 years and are wanting a wish list of items to replace it with.
I'm sharing with you specific items that I have as well as a complete printable list that you can download. I think of these items as investment pieces as they'll last the long haul and serve double duty. I use everything here in my blog post photos as well as for everyday use so I know you'll love them.
(What this list doesn't include is what baking items I have as I will do another post with those items. If you don't bake, there's no need to purchase items unnecessarily.)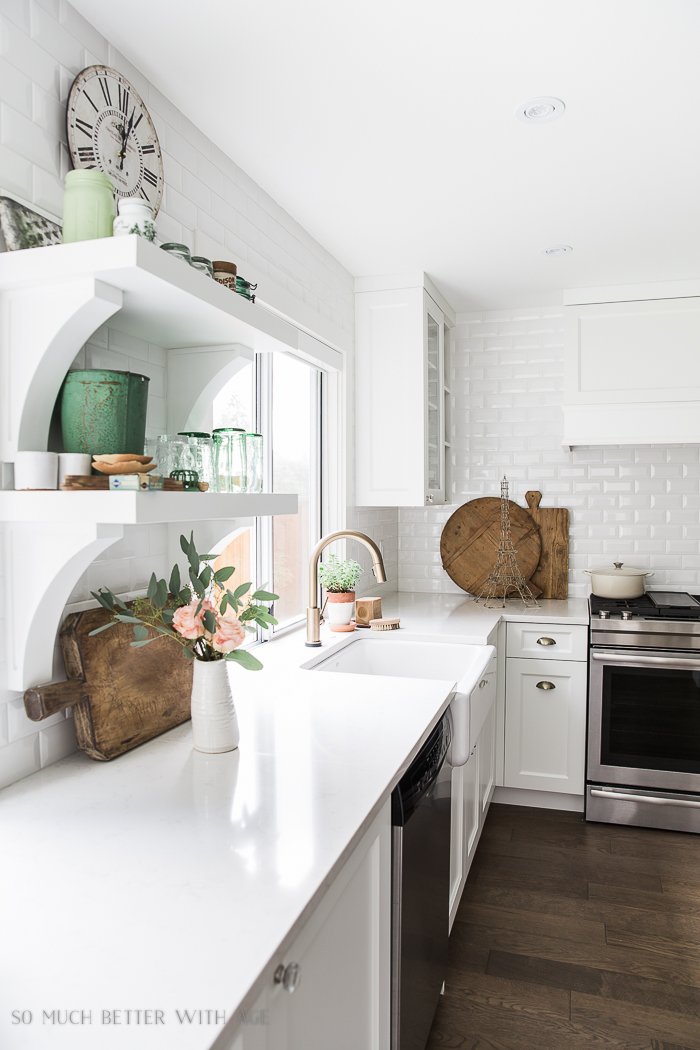 This post contains affiliate links for your shopping convenience. Click to read my full disclosure policy.
Dinnerware
1. I love neutral plates. This Cambria dinnerware collection from Pottery Barn is gorgeous and does double duty for entertaining. The dinner plates are extra large and have a nice weight to them.
For my family of four, I purchased two sets of 4 so I have 8 dinner plates and 8 side plates. I also got 8 cereal bowls and 8 soup bowls as we seem to use bowls a lot in my house and I like to have plenty of them. I think double of how many people there are in your family is the best number to have on hand. There's no need to have a dozen plates in your cupboard.
2.Ramekins: I love having 4 white ramekins on hand. They are perfect for a little snack bowl or heating up a little dip in the microwave. I use them so much.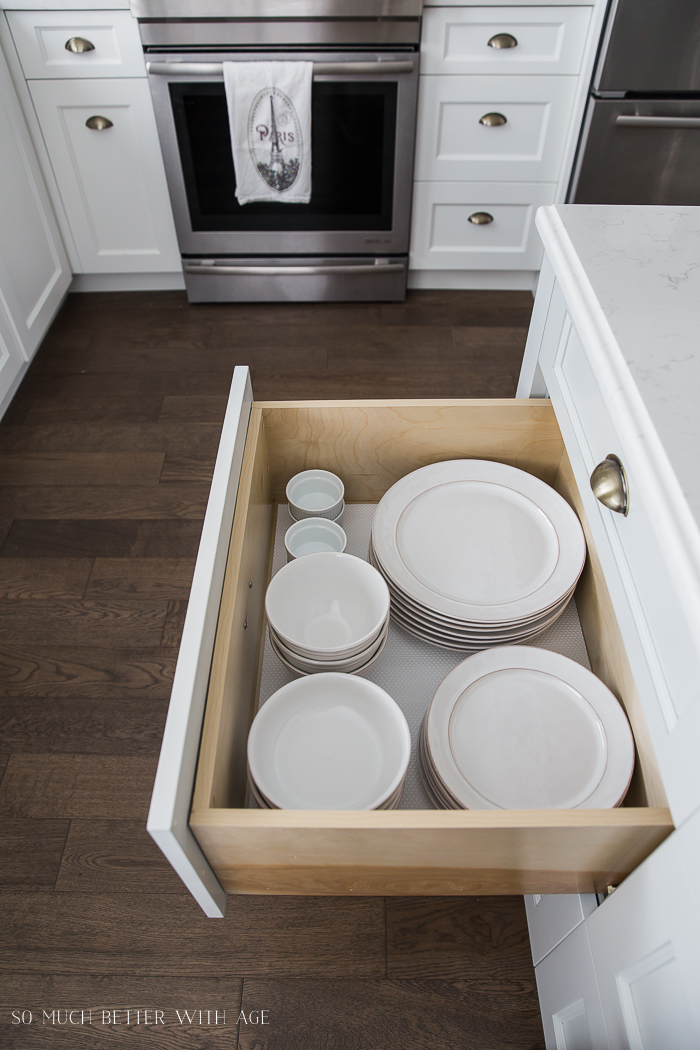 Glassware
3. Glassware: All my glassware fit on this open shelving as well as in the only upper cupboard. I have 6 tall green glasses (purchased at a thrift shop), 4 medium glasses (mostly because they have crowns on them and I can't find anymore to replace them) and 4 short green glasses from Pottery Barn.
4. The Cambria collection at Pottery Barn had these adorable Tidbit plates so I had to get some of those but of course not necessary. They are perfect to leave out when having guests over.
5. I used to have a dozen red wine glasses and a dozen white wine glasses and a dozen champagne glasses. They took up an entire cupboard and it was just too much. I pared it down to 6 red wine, 6 white wine and 6 champagne flutes. If I'm having a large party, I will just rent more glasses. It always seems to work out when having people over so I don't worry about having any more. Another option is to just get a dozen red wine glasses instead of red and white.
My extra bowls fit in this cupboard as well as I'm worried the drawer will get too heavy with too many dishes.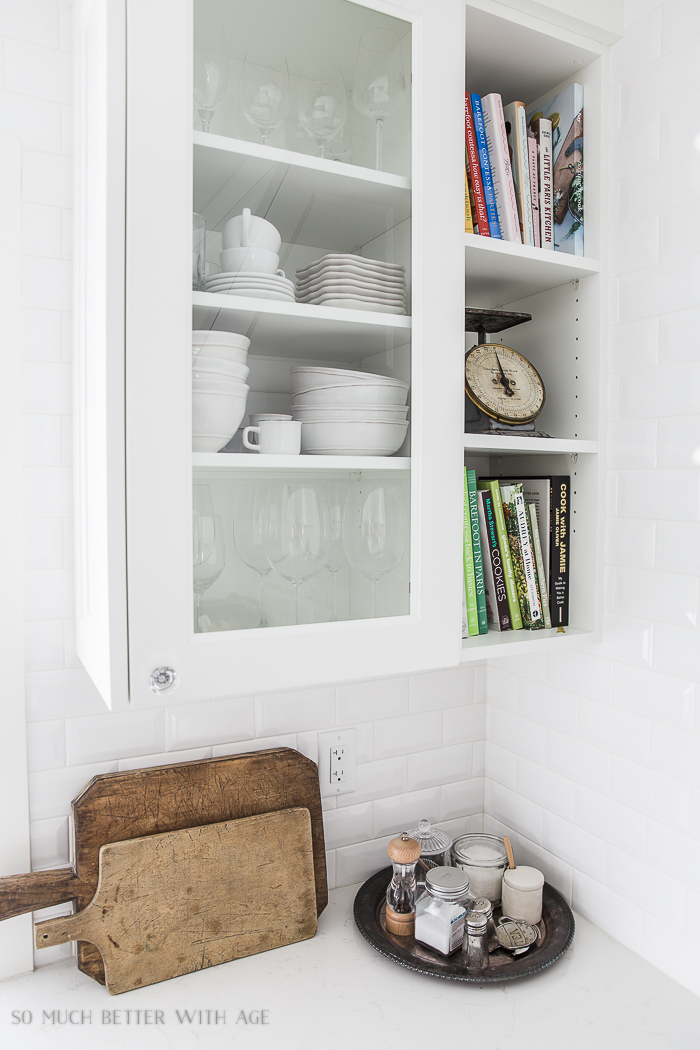 6. Coffee and tea cups – I don't have specific mugs just for coffee and just for tea. I'm a tea drinker and love to have a large mug anyway. I didn't buy the mugs with the set as I'm always buying cute and funny ones so I have more than enough mugs in the house. I store them on the bottle drying rack.

Flatware
7. Flatware – my favourite is this gorgeous set from Pottery Barn again called the Maxfield collection. It's silver and I love the patina on it. I used it every day and it's perfect for entertaining. I've used them in every table setting on my blog too as well as my plates.
I have a family of four and I have two sets (8 each) of this flatware.

Cookware
8. All Clad D5 10 piece stainless steel cookware set – this was an investment and it's such a gorgeous set. The cookware is awesome and looks so shiny all the time. They do get quite heavy as they get bigger so now I'm wishing I put a pot filler in above my stove. I bought 2 extra saucepans because we use saucepans a lot especially for the kids.
10-Piece Set includes:
8″ and 10″ fry pans
2-qt. saucepan with lid
3-qt. sauté pan with lid
3-qt. soup pot with lid
8-qt. stockpot with lid
1.5 saucepan with lid x 2
9. Dutch oven – I have this one dutch oven from Le Creuset and it's a must in my opinion. You can make a roast, a stew, meat sauce and the best part is that the whole thing just goes in the oven after you use it on the stovetop.

Appliances, Utensils, Casserole Dishes etc.
Here is the rest of my list including utensils. Be sure to download my free printable!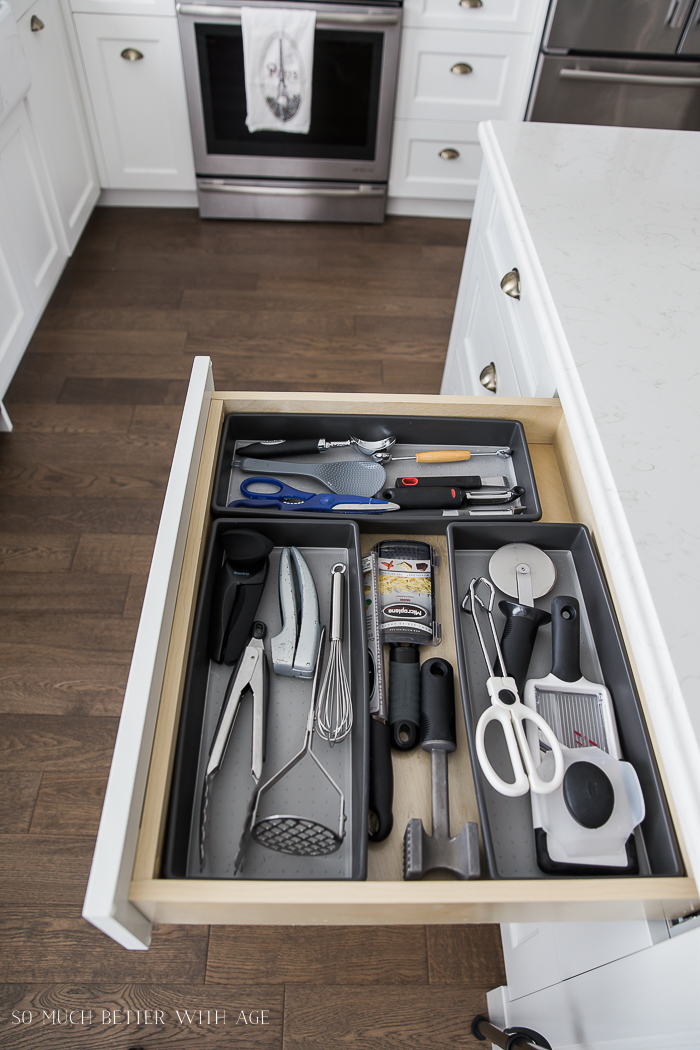 Rice steamer
Blender
Toaster
Kettle
Cuisinart
Mini Cuisinart chopper – great for chopping nuts and onions
2 cookie sheets (just for cooking)
Oven mitts
2 casserole dishes
Lasagne dish with plastic lid
3 stainless bowl set with lids
Glass nesting bowl set
Strainers – 1 small one (great for washing a bunch of grapes) 1 large one
Bowl with pour spout – perfect for making pancakes
Griddle or pancake pan and/or waffle maker
Glass storage containers with lids – these are amazing for cooking say a baked dip in the oven for guests and then put the lid on and straight to the fridge for leftovers. No need to switch out containers for storage. I also have a bunch of disposable plastic containers on hand as well
Serving spoons and forks
Platters – I have one large platter that was part of the collection and I use old ironstone plates and pretty cutting boards and silver platters to display cheese and charterurie on
Wooden salad bowl and tongs
Salad spinner
Popcorn maker
Small and large liquid measuring cups
Measuring cups
Measuring spoons
Utensil holder or crock – great for holder spatulas and wooden spoons by the stove
Garlic press
Pizza cutter
Lemon juicer
Ice cream scoop
Scissors
Tongs
Potato masher
Meat tenderizer
Can opener
Mandolin
Slotted spoon
Pasta fork
Flipper/spatula
Soup ladle
Silicone coated whisk
Metal whisk
Spatula
Wooden spoons
Cutting boards
Good knife set!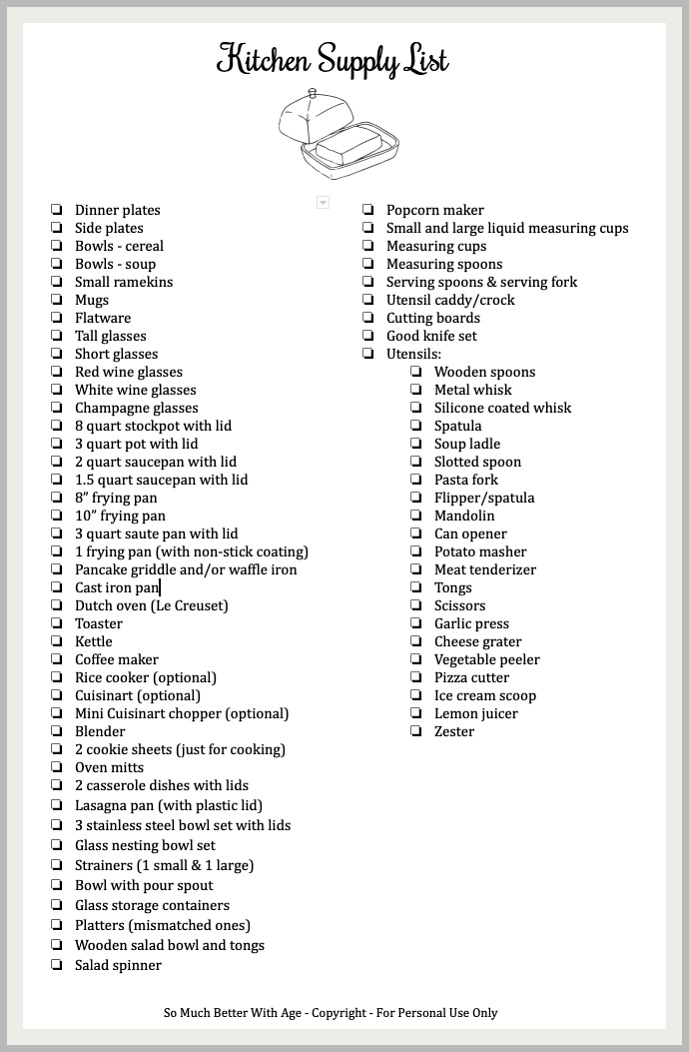 Printable:
To download this printable, subscribe to my newsletter.
If you are already a subscriber, you'll have access to the printable in your inbox.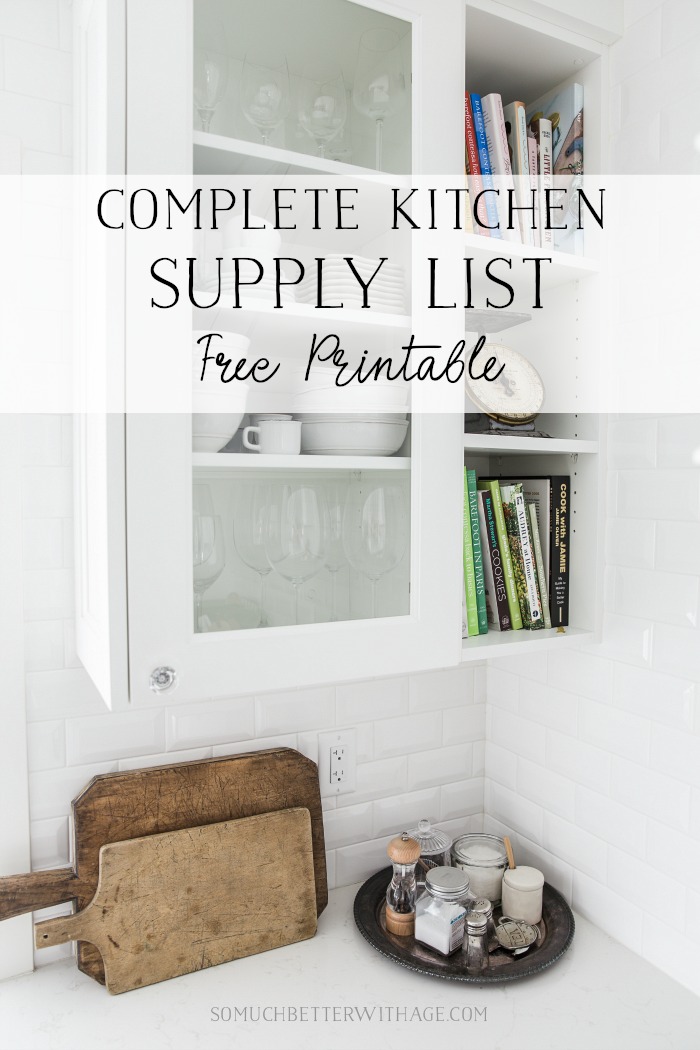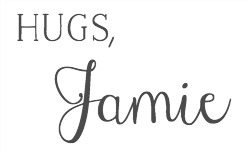 Click in Case You Missed:
My Big, Beautiful Kitchen Renovation