In this article I'm sharing the difference between a standard refrigerator and counter depth and why I love them!
There's nothing more annoying that walking into a kitchen and seeing a massive fridge sticking out. Even worse, a newly renovated kitchen! Funny enough, they are often seen in kitchens that are already maxed on size. So what is the standard size of a refrigerator and what is the difference of a counter-depth refrigerator?
Counter Depth versus Standard or Full Depth
A counter-depth refrigerator is just that, the depth of your countertops which is somewhere around 24-25 inches. A standard or full depth refrigerator is around 30 inches. That's a big difference!
You can see in the photo below a counter-depth fridge is on the left and a standard fridge is on the right. The box of the fridge is what is concealed with the counter depth fridge. The doors are not flush with the surrounding cabinets as they need space to open but it it still looks so much better than the standard fridge.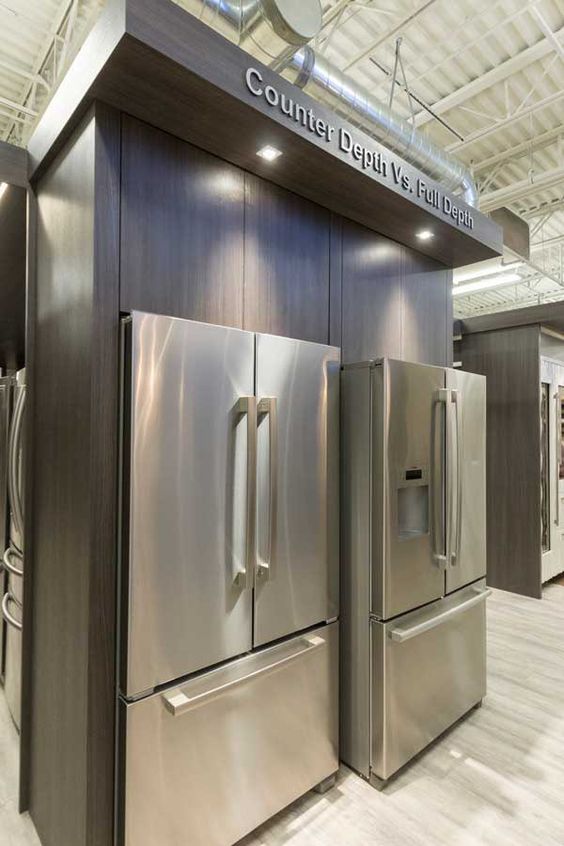 All sorts of wrong
I'm sure this kitchen (photo below) you can see how much the fridge sticks out from the cabinets. You could make a custom cabinet that fits the fridge that would make it look 100% better…or just buy a counter-depth refrigerator!
This photo below is all sorts of wrong. It just looks like the elephant in the room! You can see how a standard refrigerator doesn't work in here.
And clearly the owners thought these two fridges were odd sizes too as I found these photos in a forum asking for help on how to fix it!
This is what the fridge looked like when I first toured our house (this fridge and microwave area is currently now our kitchen island!)
If the standard refrigerators at least had a cabinet built around it, it would be much better but it still would stick out too much, in my opinion.
Why is counter-depth not flush to the cabinets?
One question you might be thinking is if the fridge is counter-depth, shouldn't it be flush with the cabinets?
That would be a custom built-in refrigerator (see an example at the end of this post) Those are flush to the cabinets and usually have panelled doors that fit on top.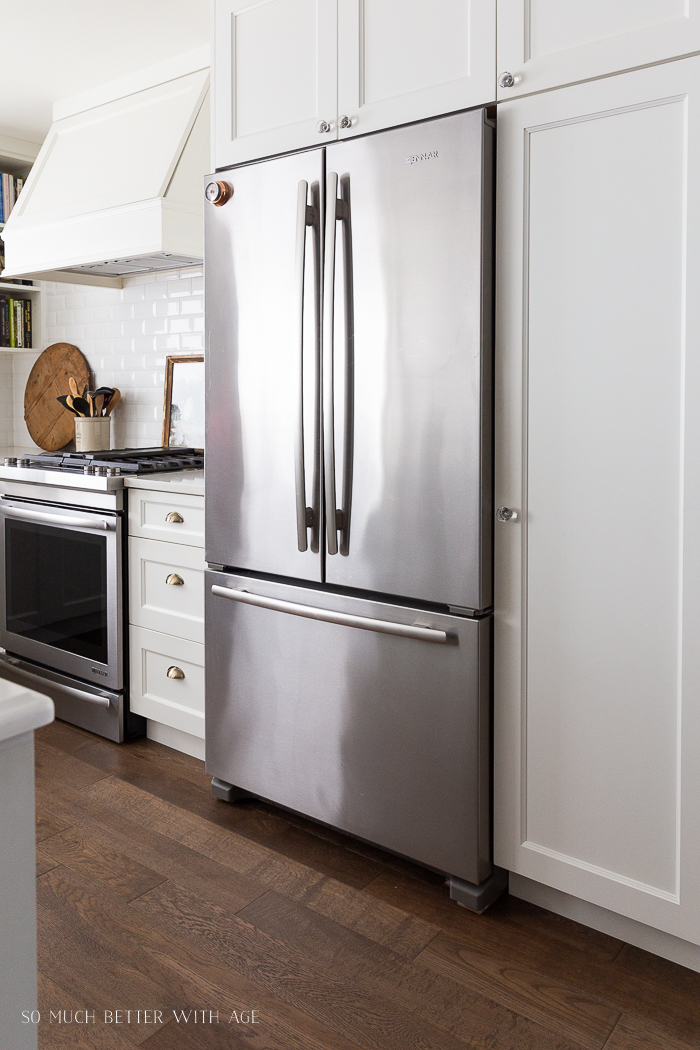 The counter-depth fridge sticks out about 1 1/2-2 inches so the doors can swing open.
This is the counter-depth fridge we had in our previous house. You can check out that full kitchen renovation here.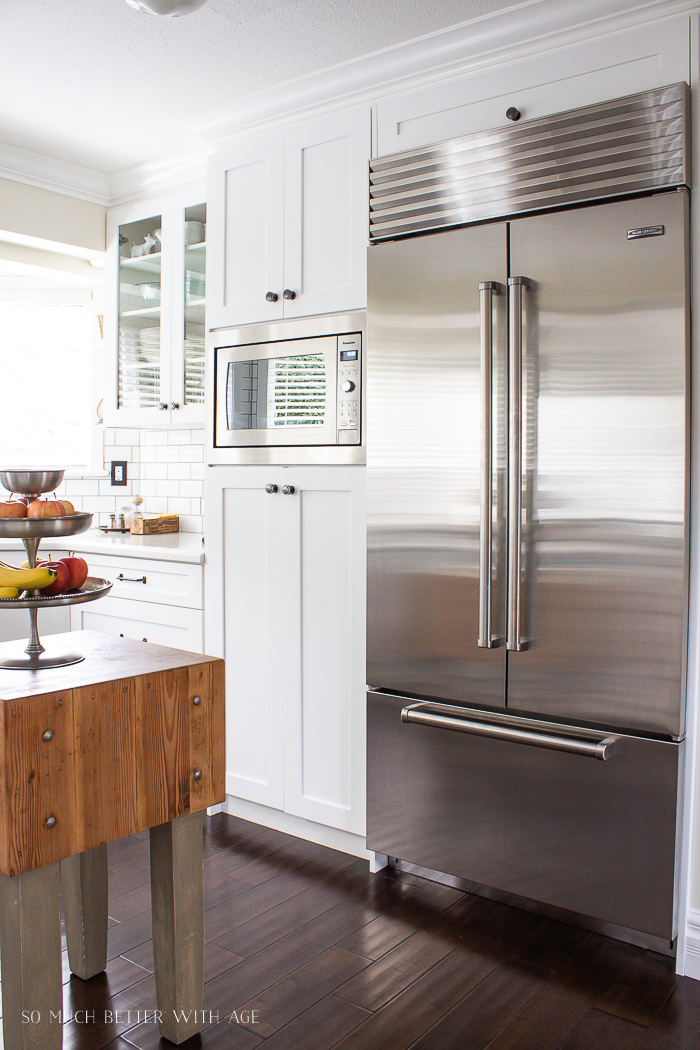 Built-In Refrigerator
Here is a gorgeous photo of a built-in custom refrigerator. It's the next step up from counter-depth and if you guessed it's more expensive, you guessed right!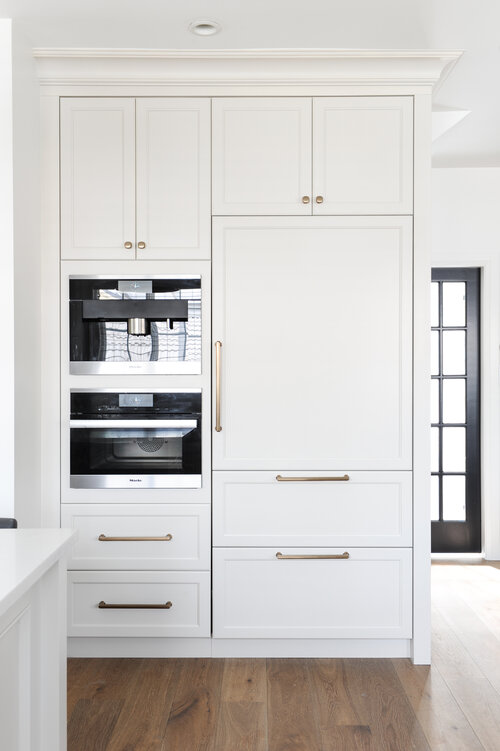 Is there enough space?
I love a counter-depth refrigerator! But you may be wondering, do we have enough space for all our food for a family of four?
We do have a second refrigerator in the garage but we only just bought it during COVID. We managed fine with just the counter-depth fridge with our family of four. Sometimes it can feel like it's tight on space but it makes us not so wasteful. I mean, it's only a few inches so we don't noticed what we're not missing! And it does hold a full uncooked turkey no problem.
I hope this helps you decide whether a counter-depth or standard refrigerator is right for your space.
Make sure to pin it for later!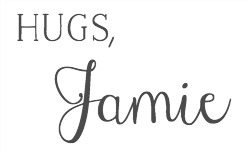 click in case you missed:
Affordable Mini Light Fixtures