Why not try something different this Christmas and make an O Crock-Mas Tree!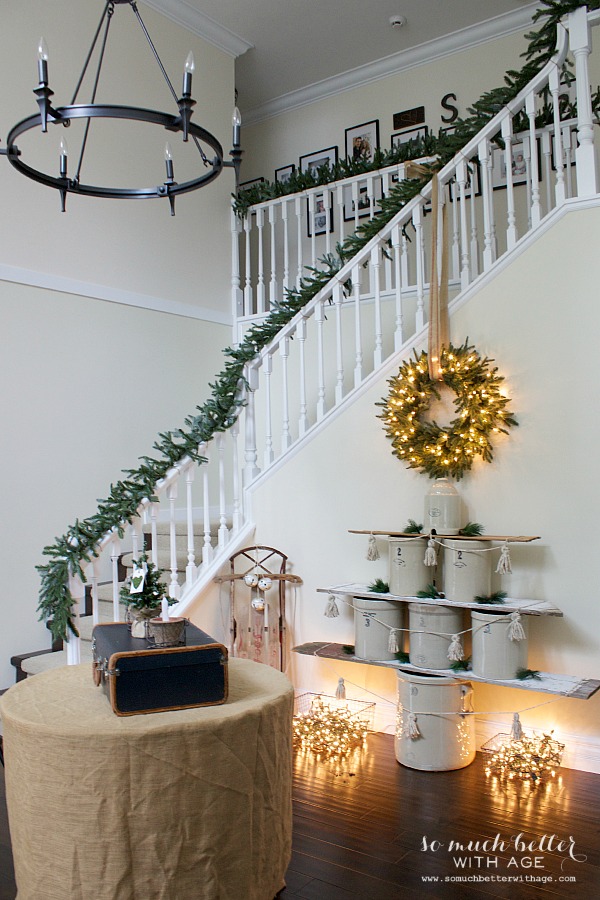 On Friday I posted my Holiday Housewalk that I was a part of with Jennifer Rizzo and more than 30 other fabulous big-time bloggers.
I was completely honoured to be among such talent.
I really thought, little ol' me is a part of this? I'm still a bit stunned.
I put a lot of pressure of myself to do a great job and to push a little bit outside the norm.
Most people put up a tree, maybe some lights and call it a day. And normally I do the same!
These Holiday Housewalks are not for everyone to feel like what they do or how they decorate for the holidays is not good enough.
Trust me, everything you do is good enough. You are good enough!
I've always had to battle with perfectionism most of my life so I get it.
You have to think of these tours like the inspiration you would find in a magazine. The fact that we bloggers pull magazine quality tours all on our own is pretty amazing. But that's what it's for…inspiration.
In no way is it meant to make you feel you have to do the same. If you feel inspired to do a little something extra or try something that maybe you were afraid to do, then just do it!
Like my Crock-mas Tree.
Most people laughed at this idea but today I'm going to share more details with you today 😉
Please note:  affiliate links added to this post. Please read my disclosure policy.
So I've had a mild obsession with crocks for some time.
I know they have never been cool or hip or bright colored and I always get 'but what the heck do you do with them?'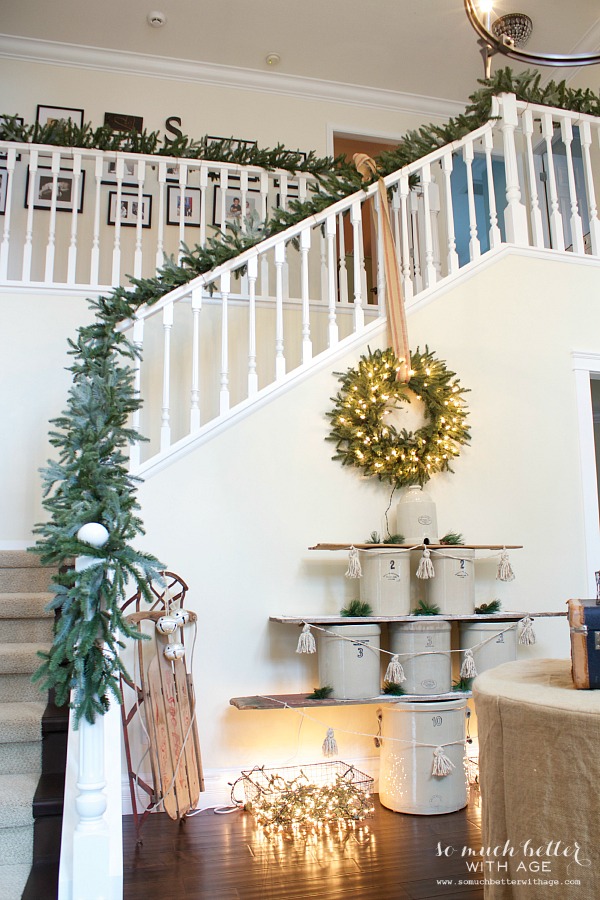 First of all, I LOVE neutrals so me and crocks go hand in hand.
The fact that they are a simple shape with small typography on the front just melts my heart.
Am I weird? Sure. But isn't everyone just a little bit weird?
If you love something, just love it and who cares what everyone else thinks.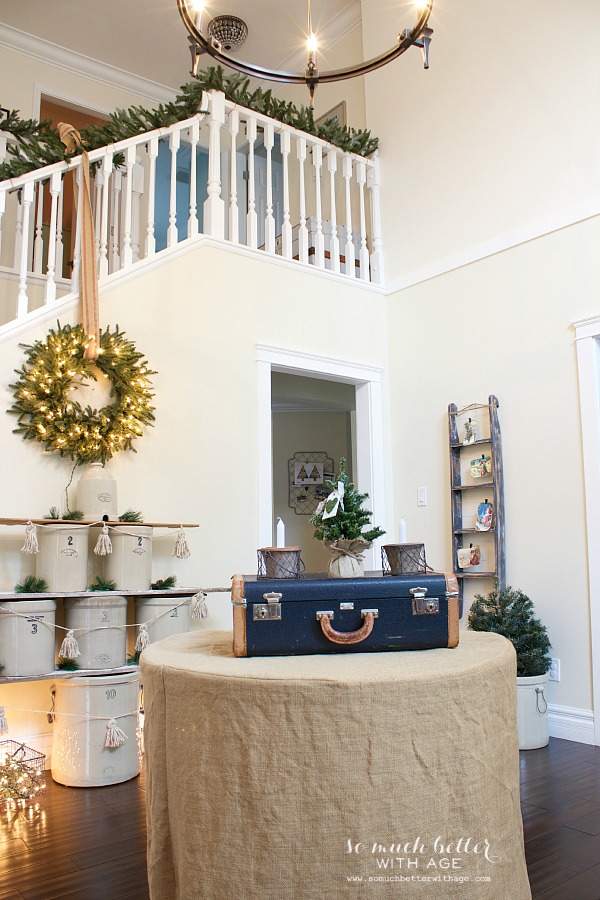 Donna from Funky Junk Interiors loves rusty junk. I mean, most of us would just raise our eyebrows at her but I saw how her eyes lit up when she scored a box of rusty goodies for next to nothing on our recent junking trip.
I know that feeling.
I can spot a crock a mile away.
I've had this idea for a Christmas tree made out of crocks for a year.
Last year I didn't have time and to be honest, I felt a little weird putting all my crocks together on pieces of wood to make a tree.
I mean, would anyone get it?
By the time this Christmas came around, I was actually excited to do it. Who cares what anyone else thinks.
I have over a dozen crocks so I wanted to make it bigger but I was worried that it would be too unstable especially since I have young children. (I've been collecting for years!)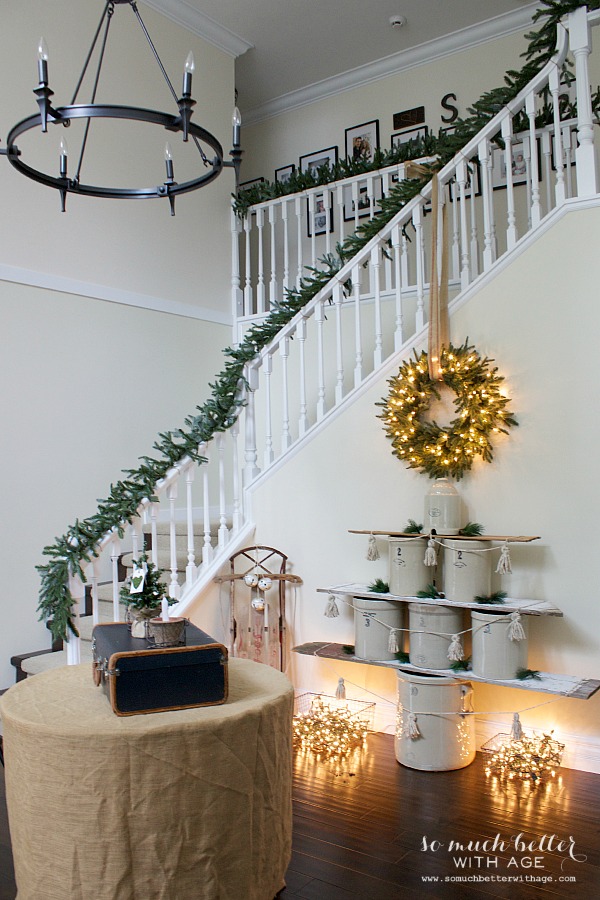 Surprisingly, it's quite sturdy. I found old chippy white barn wood at a local antique shop.
Most No.2 crocks are the same size but all my No.3s are different sizes.
Those three No.3 crocks are actually all slightly different heights. So I had to put some smaller pieces of wood on top of the crocks before adding the larger piece of wood that's why you see that gap.
The top shelf is a board that was part of a broken drawer from my dresser makeover.
I added a few pieces of green garland, small pinecones and a wool tassel garland.
I made the garland following the tutorial in Jennifer Rizzo's new Creatively Christmas book.
It was so fun and easy to make.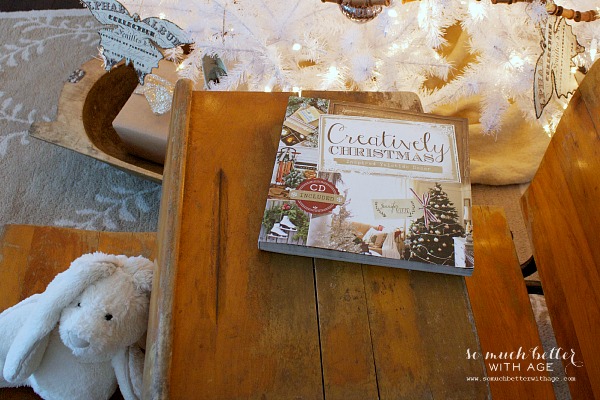 The beautiful Fraser Fir wreath is from Balsam Hill.
The top crock is an old chicken feeder that I found on that same junking day too.
The garland up and down the staircase is Fraser Fir from Balsam Hill too.
It took just three garlands to hang on my entire staircase. Amazing!
For more fun, I added a bunch of mini white Christmas lights to two French wire baskets underneath the tree.
This was by far the funnest DIY project I've ever done.
It was easy and will be no problem to dismantle.
But I'm going to enjoy every minute it's up for Christmas.
 Click If You Missed:
SaveSave
SaveSave
SaveSave
SaveSave