How To Decide Whether or Not to Give Antique Furniture a Makeover
How do you decide whether to give an antique piece of furniture a makeover or not? This antique armoire looks so amazing with a makeover but there are some key points to consider.
Do you remember this armoire that I posted about years ago?
This armoire was given to me from a friend. It was left in their crawl space of the new house they bought and in 10 pieces. She knew how much I loved antiques so she just gave it to me and I had it set up at home. It goes together like a jigsaw puzzle which explains how they were able to move massive pieces of furniture up tight staircases and doorways back in the 1800s. And yes, I forgot to mention that piece of information, it's from the 1800s! So why did I give it a makeover, you are probably wondering.
And how do you decide whether or not to give an antique piece of furniture a makeover?
The biggest thing I didn't like about the armoire was that it had a very orange-y stain and a glossy varnish.
I never wanted to give it a makeover by stripping it or painting it as I knew it would diminish its worth but it still bothered me.
 It is 8 feet high which is roughly the same as the ceiling height in my current house.
(I'm 5′ 3″ and easily fit inside!)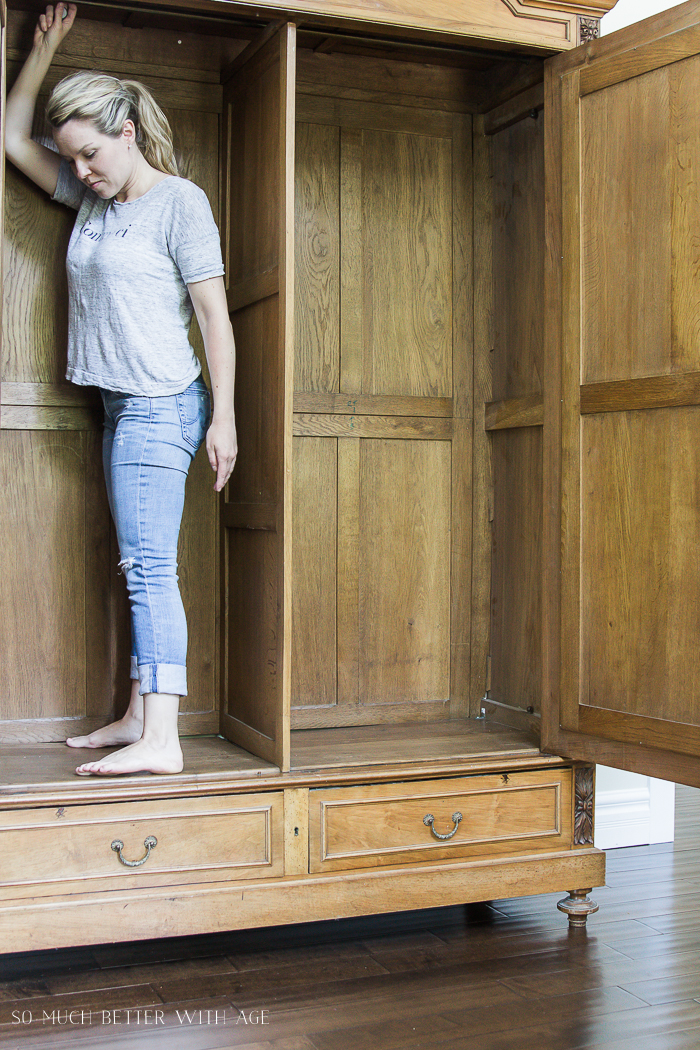 When the armoire was assembled together in my previous house, we noticed the back structure was not entirely secure. The armoire is not secured together with screws or nails or anything like that. It stacks together at the base and the bolts from the front doors hold with the weight of the top piece on top. It truly is a marvel piece of furniture! Anyway, the back wasn't as secure as we would have liked and with small children running around it, we decided to add metal plates and screws to the back of it for security.
There were also a few dents, chips and we noticed that the top ornamental piece was cut in half, probably to make it fit into a room a long time ago.
There were also no definite markings on the piece anywhere from the furniture maker.
I knew from these deficits, that the piece would only be worth what someone would pay for it. I even tried to sell it for a time and did not get any buyers. So I knew it was fate and I had to keep her.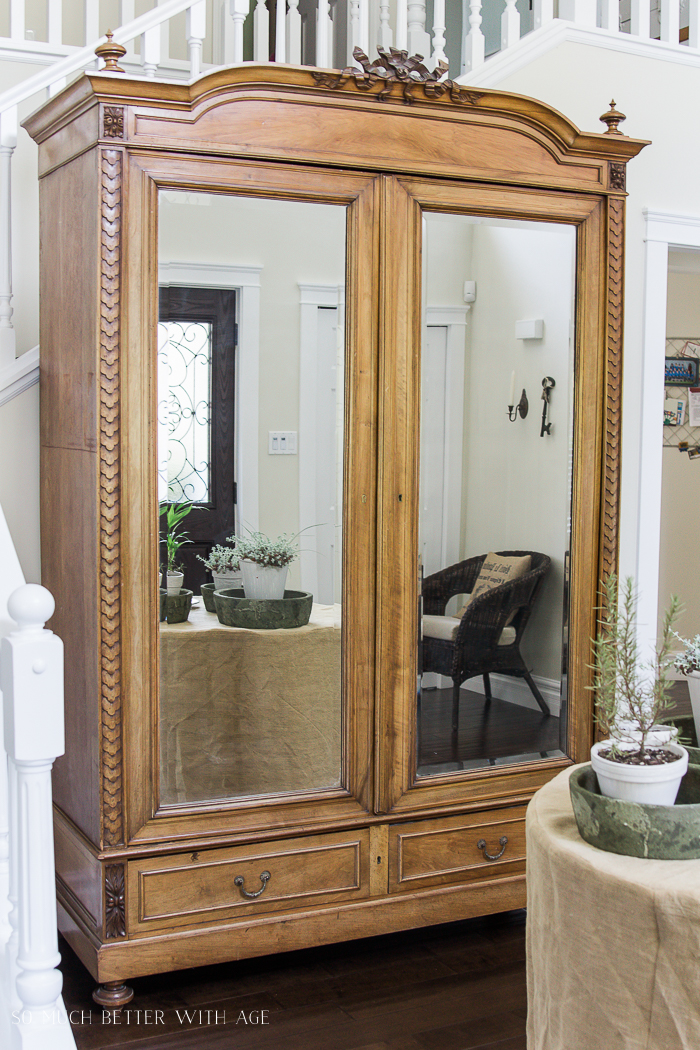 Don't Makeover If:
appraised at a high value as is
Do Makeover If:
the only thing holding you back is feeling guilt over painting/sanding/staining the wood
the only thing holding you back is knowing how much you paid for it __ years ago (it doesn't matter anymore, all furniture can be expensive and that was then, this is now!)
you're tired of the finish and want to get rid of the piece of furniture
family or friends wants to give you a piece of furniture. If they didn't want it to have a makeover, they shouldn't have given you the piece of furniture! Every time someone wants to give me a piece of furniture, I first tell them that if they do, it might get a makeover so they are fully aware. Some people like to know that their piece of furniture is off living some glamorous life untouched. But if no one is enjoying it, then it is not making anyone happy. And if that person is trying to get rid of it, then they don't want it either! There is no point making others feel guilty by not allowing them to do what they want with it. Just make sure to mention that you may or may not give it a makeover. That person can also sell it online. If they find there are no buyers, it's probably because of the finish! Giving a piece of furniture a makeover is far better than it landing up in the landfill.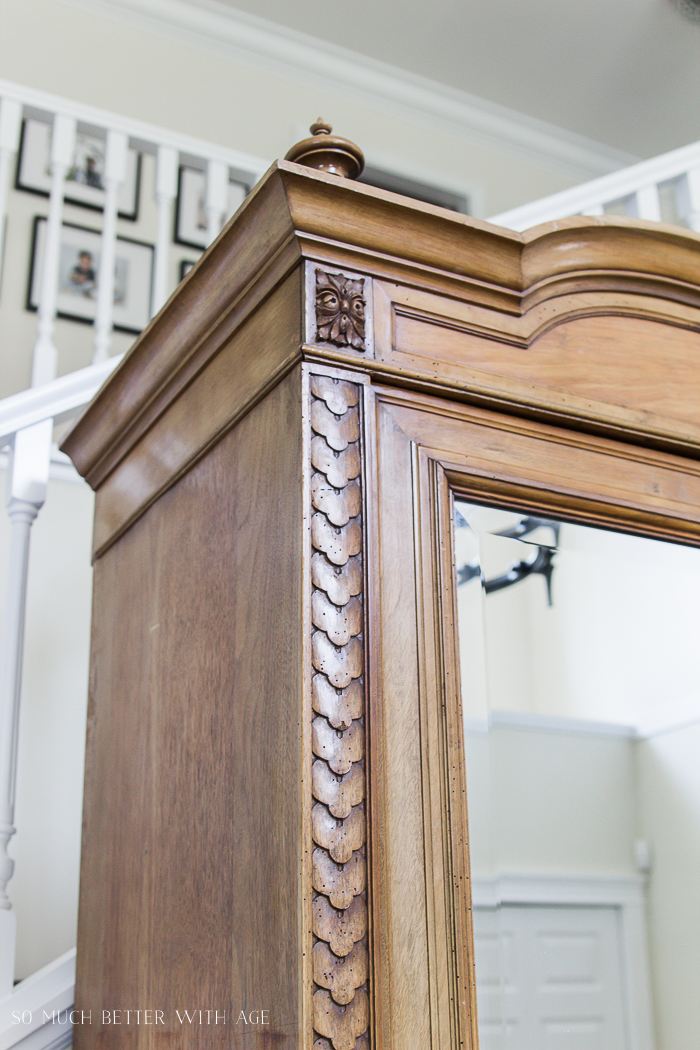 Makeover Time
Know that I knew I wanted to give her a makeover, I had to figure out what kind of makeover to give her. I knew I didn't want to paint her. She was just too pretty!
I also knew deep down it would hurt a little to splash paint over all that beautiful inlay and relief work.
The only choice then was to sand her down. That's right! This entire thing was sanded down…by hand…by my boyfriend last summer!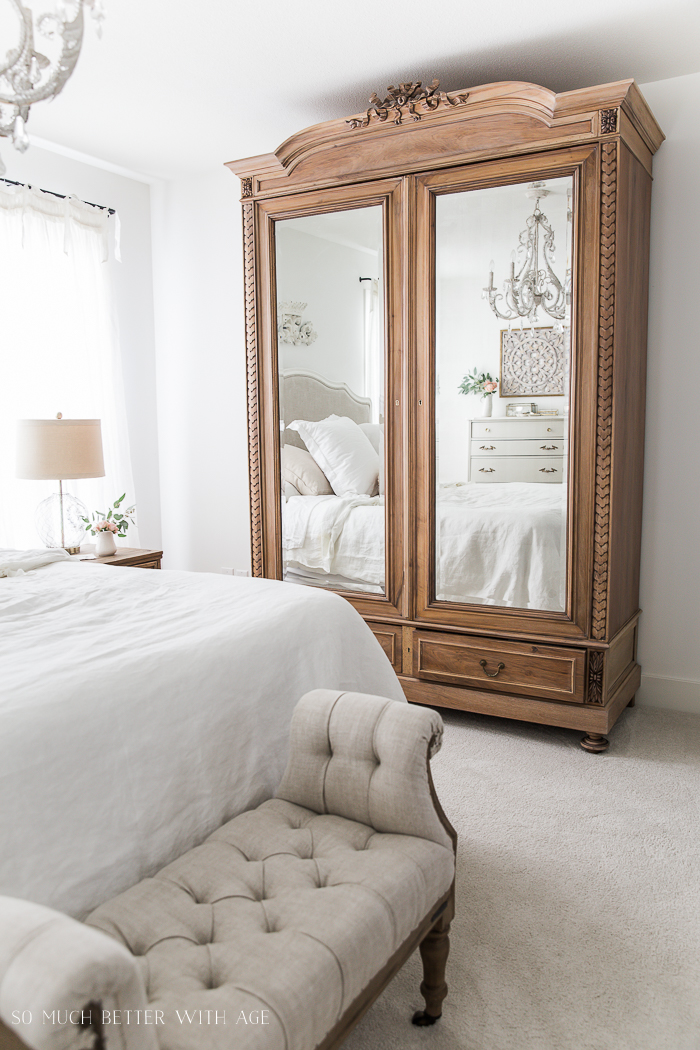 He used the two different sanders that I owned plus a Dremel sanding tool for all the tiny crevices.
It was a mammoth of a job and probably took about 3-4 weeks in total, doing pieces at a time.
The Finish
After you sand a piece of wood furniture down to the natural grain, you can pretty much do anything to it! It's a blank canvas! I wanted to keep it a natural wood and leave it as is. After doing some research, I was told that leaving the natural wood exposed to the elements and oil from fingers (we use this armoire daily for clothes), we decided it needed to have some sort of finish.
I didn't want it to have a polyurethane finish although I'm sure a matte poly finish would look fine.
I had considered liming the wood to give it a nice whitewashed look but thought that might look too 'white' as I loved the natural wood tones.
We could have used a clear furniture wax on the piece but we finally opted for a white furniture wax finish, very light buffing most of it off.
The final result is a slightly white patina mixed into the grain of the wood. You can still see the natural wood color and the depth of the wood reliefs.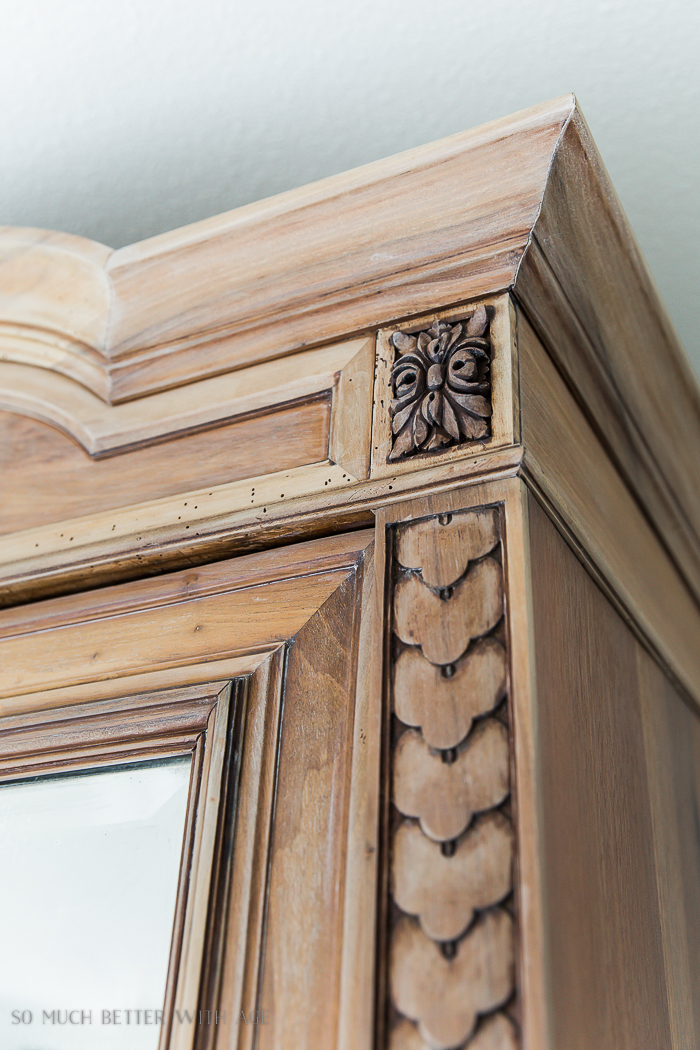 There were different woods used in this piece of furniture so some of the parts pick up more of the white than others and I like that.
My worry with using a clear furniture wax was that some parts could go dark with it and I wanted it to stay light.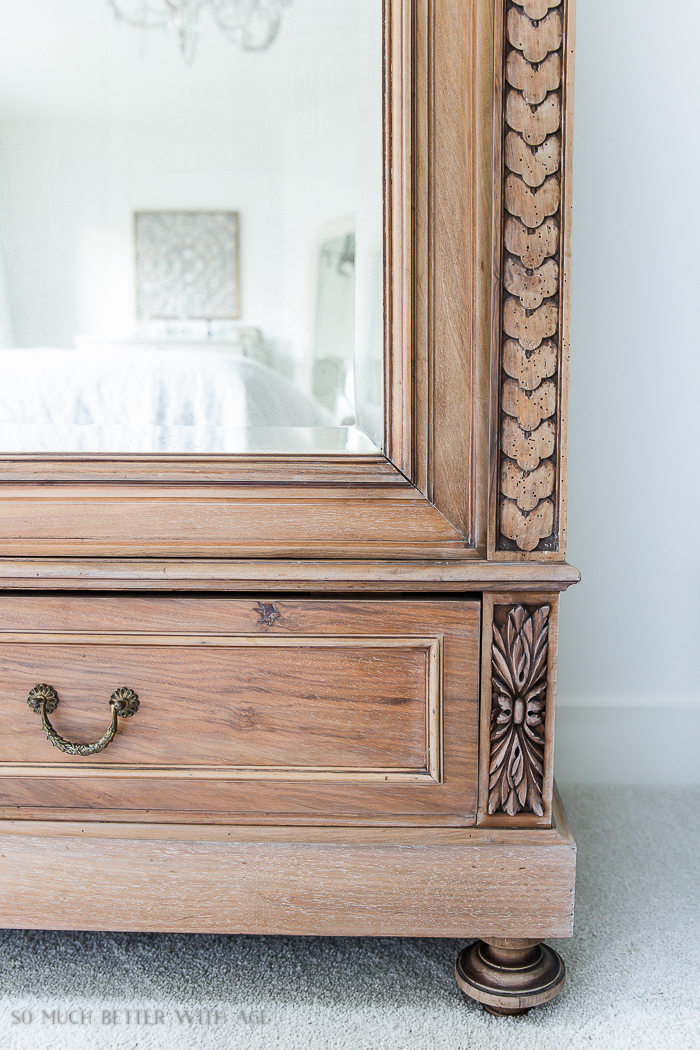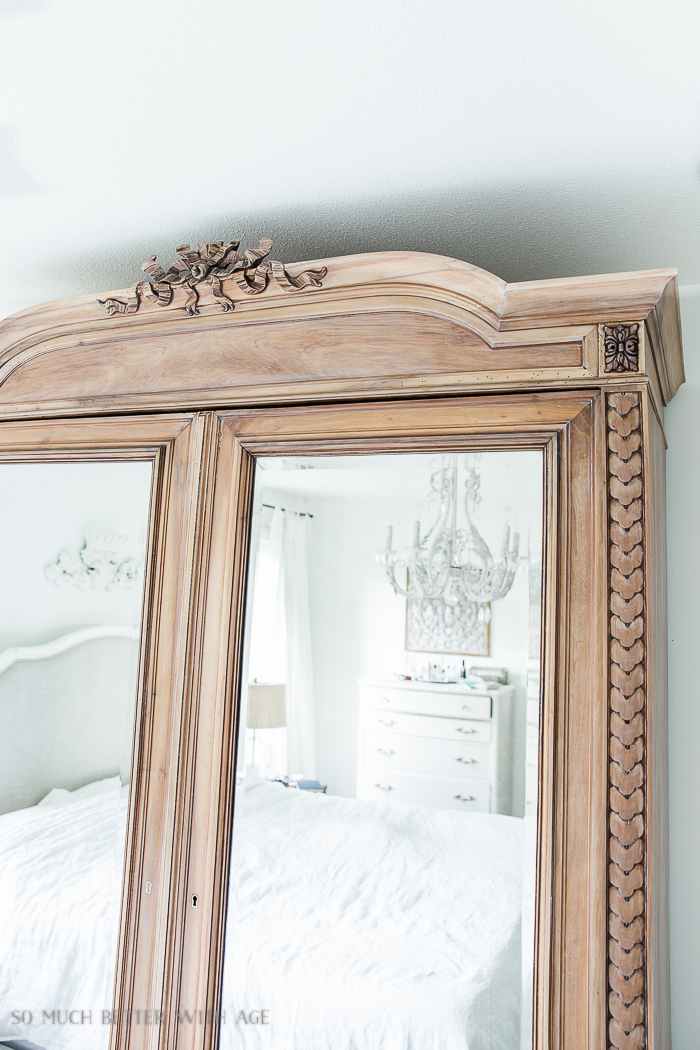 It's such an amazing piece of furniture and I feel it's even better now. I'm so grateful for this kind gift and will cherish it forever, especially since it was such a labor of love.
There was so much work involved in this piece but at the end of the day, it only cost the price of the wax.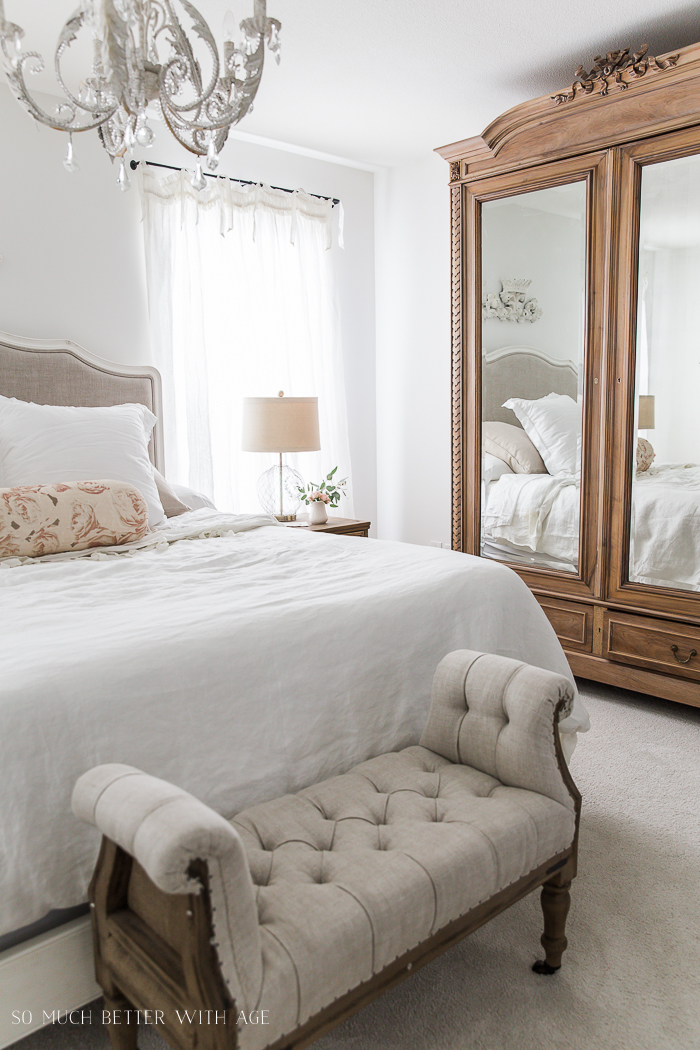 This post contains affiliate links for your shopping convenience. Click to read my full disclosure policy.
Sources:
Here are the products we used in giving this antique armoire a makeover:
Black & Decker Mouse sander – my favorite sander for getting into corners and small projects – great for the armoire doors and small spaces
1/4 sheet palm sander – this sander is best used for the large sides of the armoire
Sandpaper – 80-100 grit for removing finish then 120-200 grit for smooth finish
Soft rags
There's nothing more satisfying than working on a beautiful piece of furniture to match your home decor and to love forever. There's no point in living with a finish that you don't like. The furniture always remains a classic but the finish on it makes it up to date.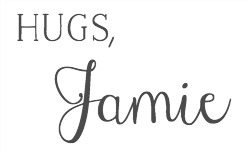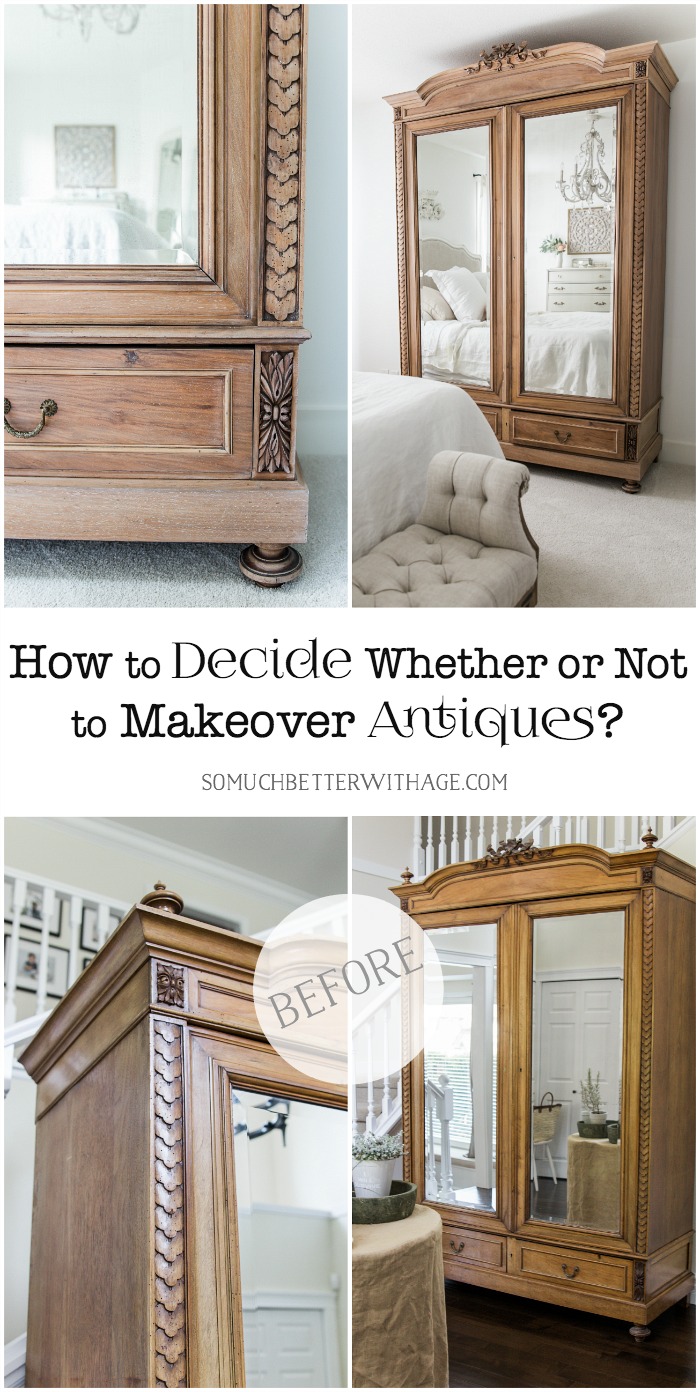 SaveSave
SaveSaveSaveSaveSaveSave
SaveSave
SaveSaveSaveSave
SaveSave