This post will teach you how to make your own double-sided photography surface for taking beautiful flat lay photos.
I've been using a photography surface for my photos for a couple of years now and I love it. My kitchen quartz countertop has a Carrara marble look to it but the veining is so light that when I take flat lay photos on the countertop, the veining gets washed out.
It's also very difficult to take photos with a tripod high on a countertop.
This post contains affiliate links for your shopping convenience. Click to read my full disclosure policy.
I've seen these online for $200 or more which is out of my budget and it's convenient to make it double-sided so you can have two surfaces in one! Here's what you'll need to make it.
Supplies:
pre-sanded/pre-finished piece of plywood (I found mine in the off-cut section at a hardware store) 30 x 48 inches
marble contact paper (as wide as possible, the largest I've found is 26″ wide)
scissors
Sterling or Little Lamb grey paint, from Fusion Mineral Paint
about 4-5 tablespoons of Fresco
plastic spoon and container
Directions:
1.Cut the contact paper for the correct size of your board making sure it's centered to ensure there are no lines in the middle. Peel back a couple of inches of the contact paper and place it on the edge of board on a short side. Smooth down. Continuing smoothing down the contact paper while peeling the backing off underneath few inches at a time.
2. Cut pieces of marble contact paper to fit the ends if your board is larger than the contact paper.
3. Flip over the board and prepare for paint. Mix 1 tablespoon of Fresco with some paint (about 1/2 cup) poured into a plastic bowl and stir.
4. Roll this out over the entire surface. As you roll, the lumps will smooth out but will create a slightly bumpy texture.
5. Next mix more paint and Fresco together adding about a 1:1 ratio of Fresco to paint and stir. If it gets too thick, you can add more paint and stir. Using a putty knife, spread all over in a random pattern. Smooth out the edges by using an artist's spatula. Let dry.
6. I repeated the last step again but added more Fresco and put it on in just a few random spots on the board. The more Fresco that is added, the lighter it becomes with more texture.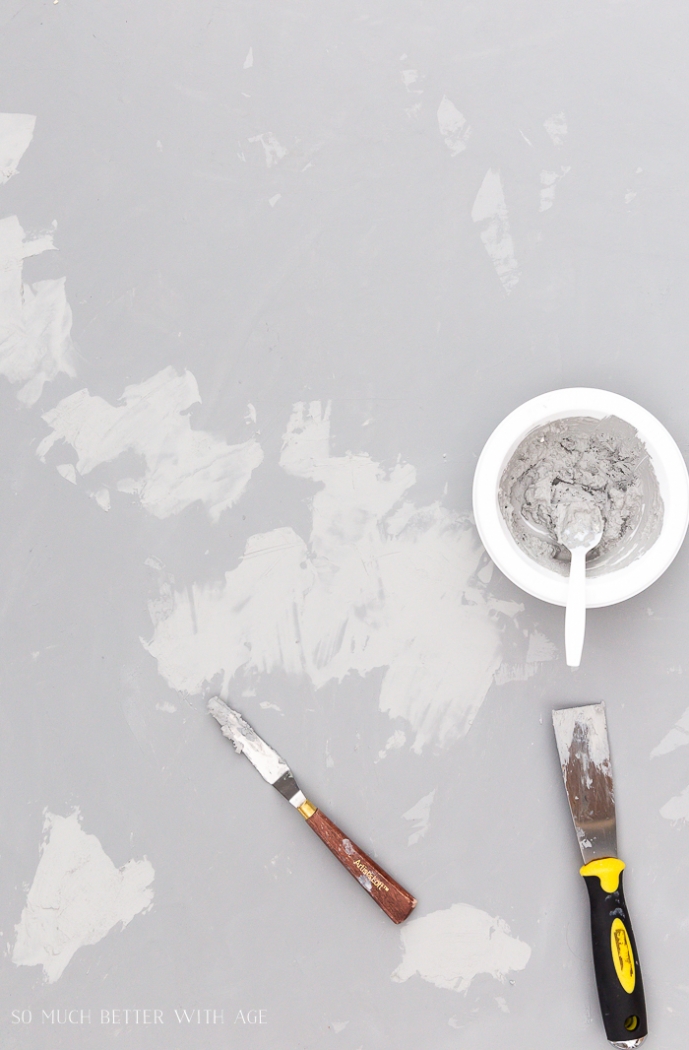 You can see the light tones are the random spots I added for the last time.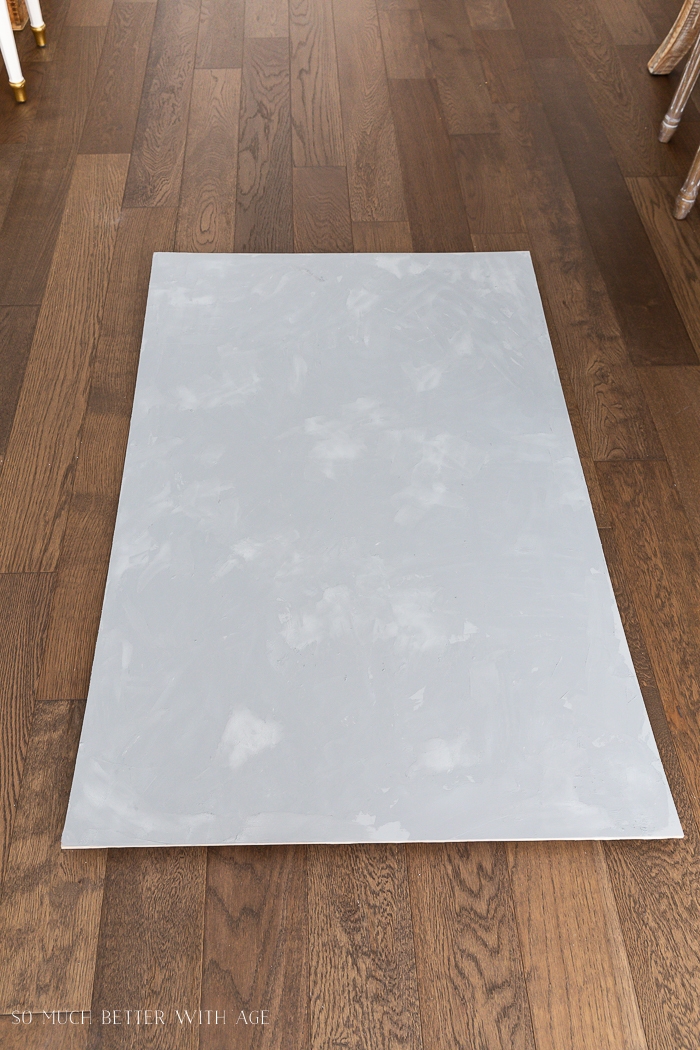 And now I have a beautiful two-sided photography surface to take flat lay photos from.
I hope this has inspired you to create your own two-sided photography surface.
video:
Be sure to watch my YouTube video on this DIY double-sided photography surface:
Make sure to pin it for later!