DIY Easy Ghosts Garland for Halloween
These ghosts are so easy to make and so fun especially hung as a garland for halloween!
I had this idea for ghosts using old curtain sheers and they turned out so spookily!
There is no sewing involved and I just used items around the house (stamps, old curtain sheers, elastic bands). These ghosts are so easy and fun to make with the kids!
Disclosure: This post may contain affiliate links. Please read my disclosure policy.
Supplies:
Directions:
1.Cut the curtains/fabric in rectangles approximately 15 x 20″. You don't need to cut those exact measurements but that was the size that worked with my fabric. A rectangle shape is better than a circular shape to achieve ragged ghostly edges.
2. Find the middle of the rectangle (vertically) and with a piece of paper underneath, grab the zero from your stamp collection and stamp in two eyes and a mouth. Don't press too hard to avoid stamp edges.
3. Stuff a fistful of fibre fill (or something similar) underneath the ghost face and play around with it until you are happy with the head shape. Twist an elastic band around the head a few times to secure.
4. Attach your ghouly ghosts to black ribbon with safety pins and hang your garland!
It's just that easy to make!
I've had these ghosts for years now! I recently took new photos in the home I'm in now to update my post with.
Then I draped up a dollar store spiderweb tablecloth above my mantel. I already had nails there from my mirror and architectural salvage pieces.
The ghosts look great with my antique mirror.
Make sure to pin it for later!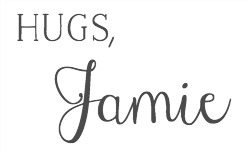 click in case you missed: