Dresser Makeover with Chalk Paint
You must read the story on how I came about giving this dresser a makeover with chalk paint!
This dresser is a family heirloom. Can't you tell? There's quite the story with this dresser.
When my hubby and I moved into our first house my mother-in-law let me borrow this dresser.
I loved it and made sure nothing happened to it.
Then I started to go through a painting furniture phase to furnish our new home. I found curbside furniture and was painting everything white that came in my sight.
I think she was worried about me painting this dresser. Well, I know she was because she told me so.
Whatever you do, don't paint that dresser!
So why did I paint this dresser?
I don't have a good photo of when the dresser was in our house. This is the only one I could find.
Do you see it on the left hand side of this wedding photo?
So what the heck happened to this dresser, you ask?
Well…..I'm not quite sure. All I know is that it was meant for another family member, it was put in storage, and then it got stuck outside on a patio deck for over a year.
EEK.
When I spotted it one day on a patio, the current owner was about to throw it in the dumpster! I said, hell no, I'll take it home with me!
So here is what the dresser looked like when I saved it.
Here is the back…
And here are some of the broken drawers!
So after two tubs of wood putty, a gazillion finishing nails and some imagination, I pieced it all together.
Yeah, craziness.
I had to cut off the feet because there were only three.
Then I used some of the drawer pieces to finish the missing back pieces.
I also had a new piece of wood cut for where the baskets sit.
Then I used Chalk Paint® decorative paint by Annie Sloan in Graphite and Paris Grey first and finished with the Clear Soft Wax and Dark Wax.
The finished piece was well worth the effort!
The interior I painted with Paris Grey (two coats), Clear Wax, then Dark Wax. I waxed on and waxed off the Dark Wax until I achieved the finished look I wanted.
I added these awesome industrial bookplate pulls which go perfectly with the dark grey.
Initially, I didn't want to paint this dresser AT ALL because I imagined a beautiful driftwood-type dresser but it just wasn't salvageable without all that putty and nails.
I painted the exterior in Graphite Chalk Paint®.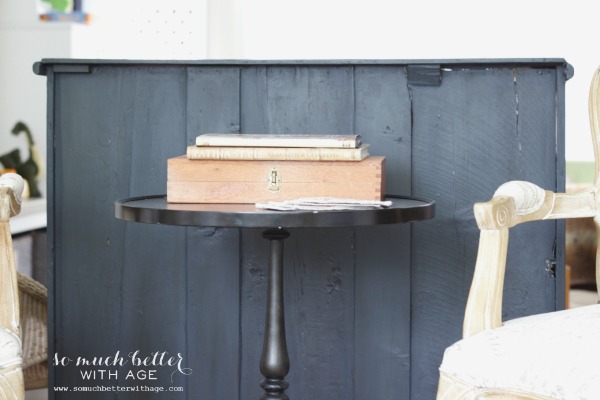 Then I finished it the same as the interior – Clear Wax first then Dark Wax.
I love the variation in texture and depth the Dark Wax gives to the Graphite.
I'm sooo freakin' excited about this piece and LOVE that the Thomas Train table is gone and the long baby gate and finally have a place to store all the kids' art supplies.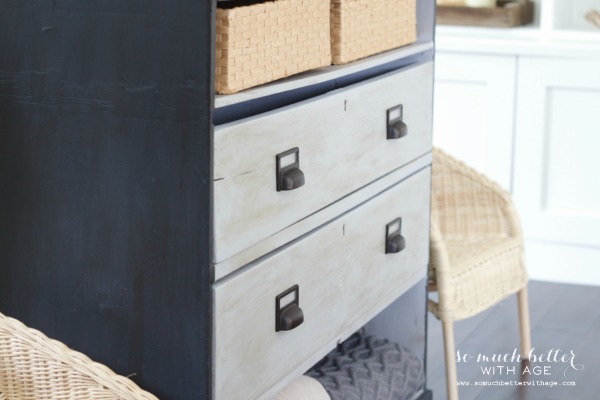 Yep, totally worth it 😉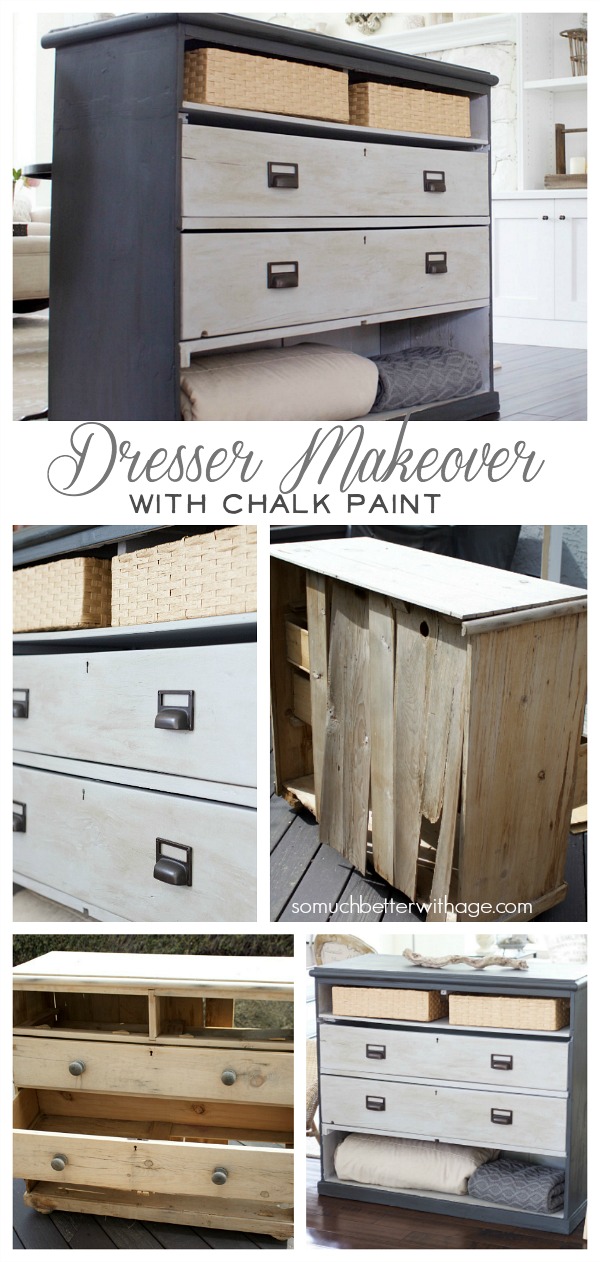 And totally ironic that my mother-in-law didn't want me painting it but painting it brought it back (and saved) its life!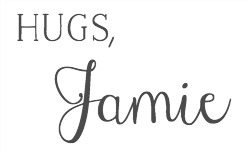 Disclosure: I received Chalk Paint® products for this post but all opinions are 100% my own and I absolutely love the products.