Looking for the perfect greige? Benjamin Moore Edgecomb Gray is my favorite! Check out different homes painted in it.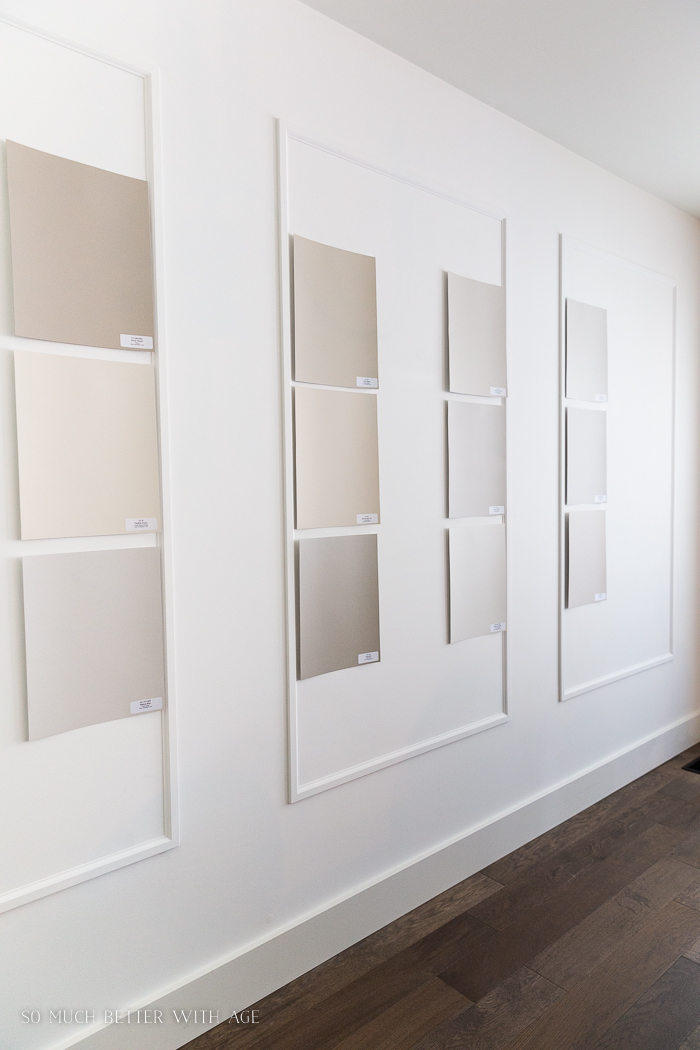 Last week I shared how we added simple picture frame moulding to the dining room and I wanted to paint the inside of the moulding a nice greige color. Something like a putty or mushroom color. Who knew it would be a challenge to find?
I put up paint sample boards using a number of different Benjamin Moore greige colors to see what the different colors would look like in our house.
It's always best to either paint your wall with the paint color you're considering or painting them on large poster boards.
You can read more how to do that in this post: How to Pick White and Grey Paint Colors
This post contains affiliate links for your shopping convenience. Click to read my full disclosure policy.
Here are the greige colors I picked to choose from:
Stone Hearth OC-490/984
Feather Down OC-6
Balboa Mist OC-27/1549
Grant Beige HC-83
Manchester Tan HC-81
Pashmina AF-100
Edgecomb Gray HC-173
Revere Pewter HC-172
Wind's Breath OC-24/981
Pale Oak OC-20
Collingwood OC-28/859
Cedar Key OC-16/982
Note: sometimes there are two numbers associated with a paint color because Benjamin Moore has put it in a different collection. That's why some of the paint colors have two numbers above.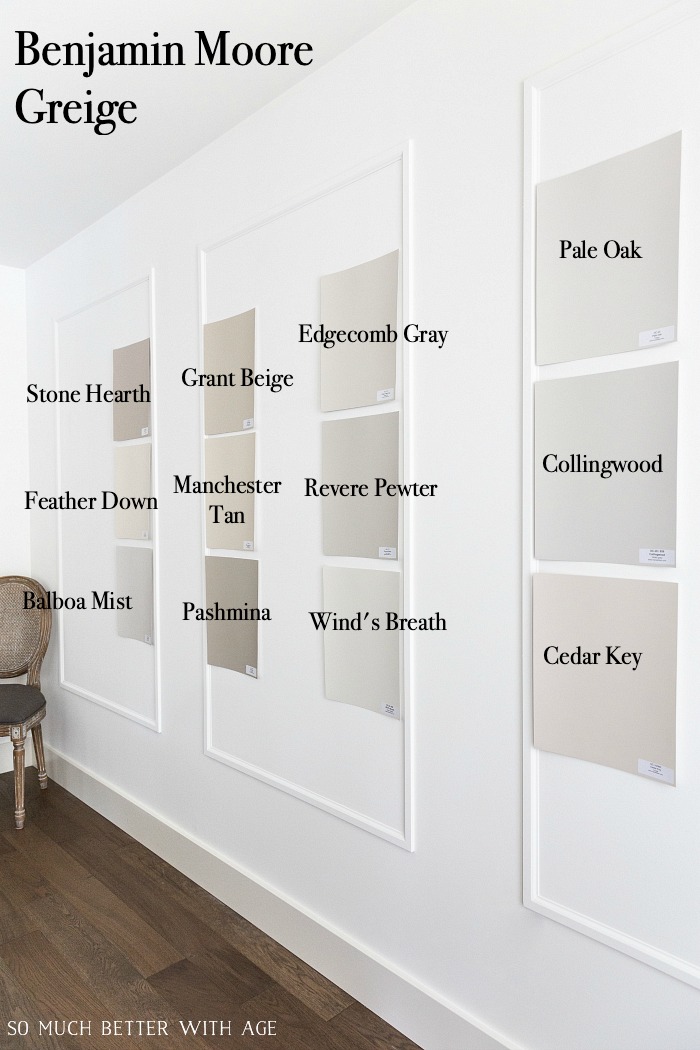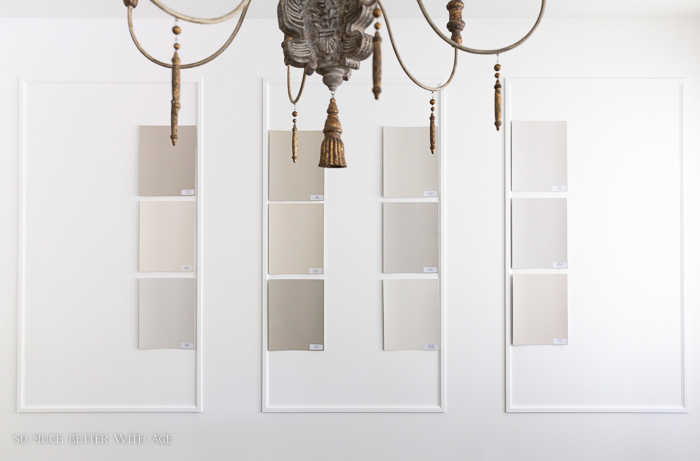 After having these colors on the wall for a day or two, we narrowed it down to these three: Wind's Breath, Feather Down and Edgecomb Gray.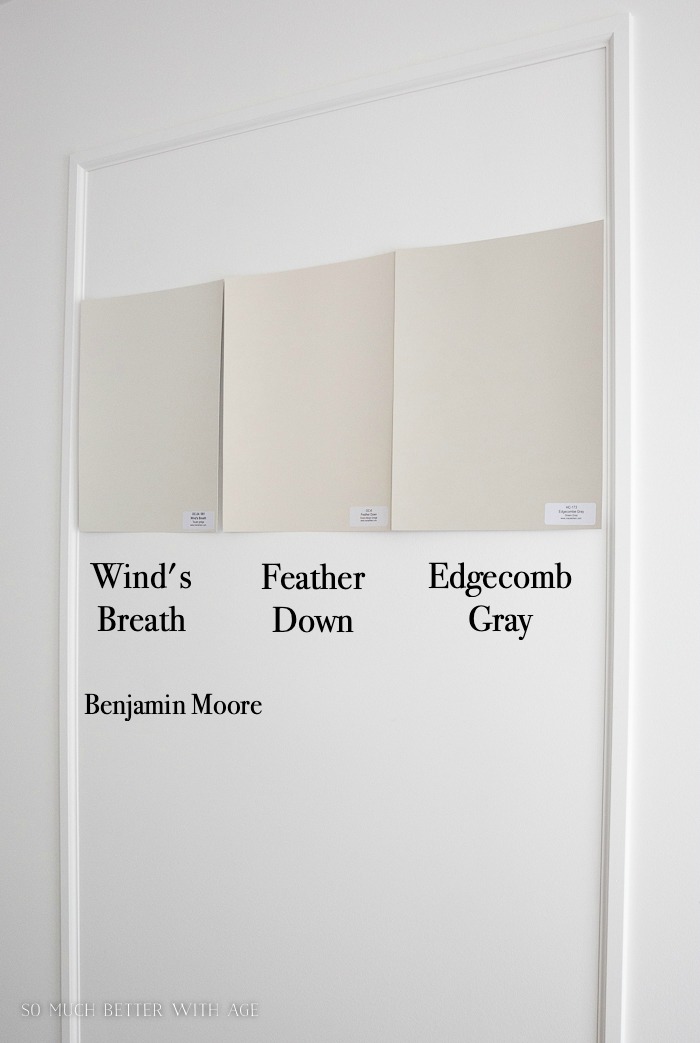 It's good to see what the color looks like under natural light and artificial light as you can see the big difference below.
Edgecomb Gray looked the best in all different lighting circumstances in our house!
I taped up the inside of the moulding with my favorite painter's tape and got ready to paint.
Putting on the painter's tape is always harder than painting!
I painted two coats with Edgecomb Gray in Regal Select from Benjamin Moore.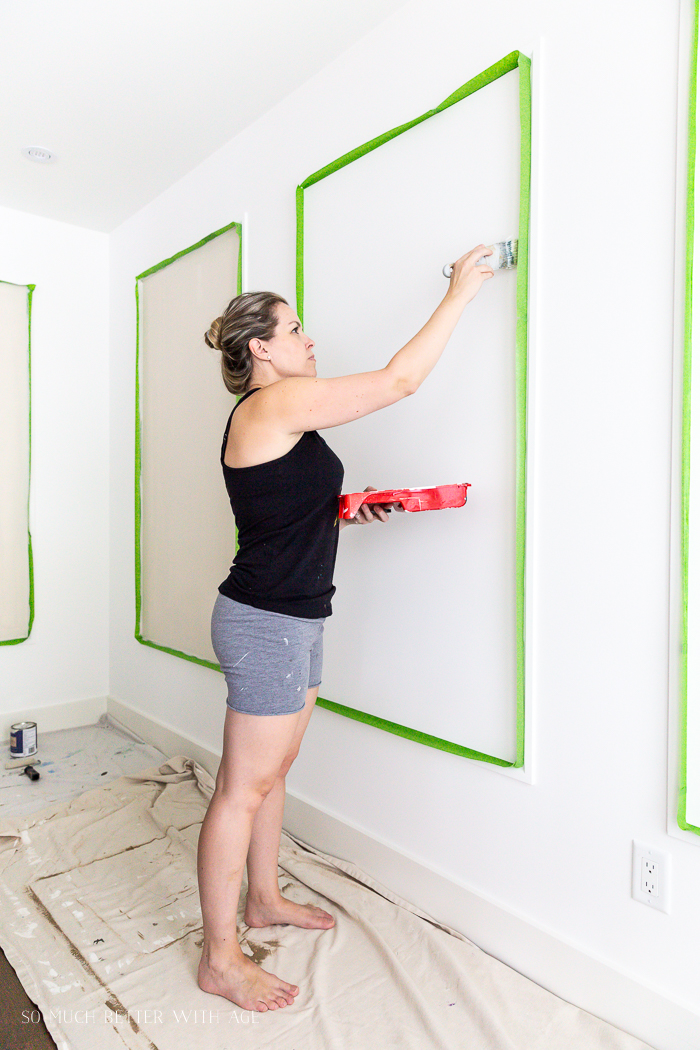 And here is the finished result!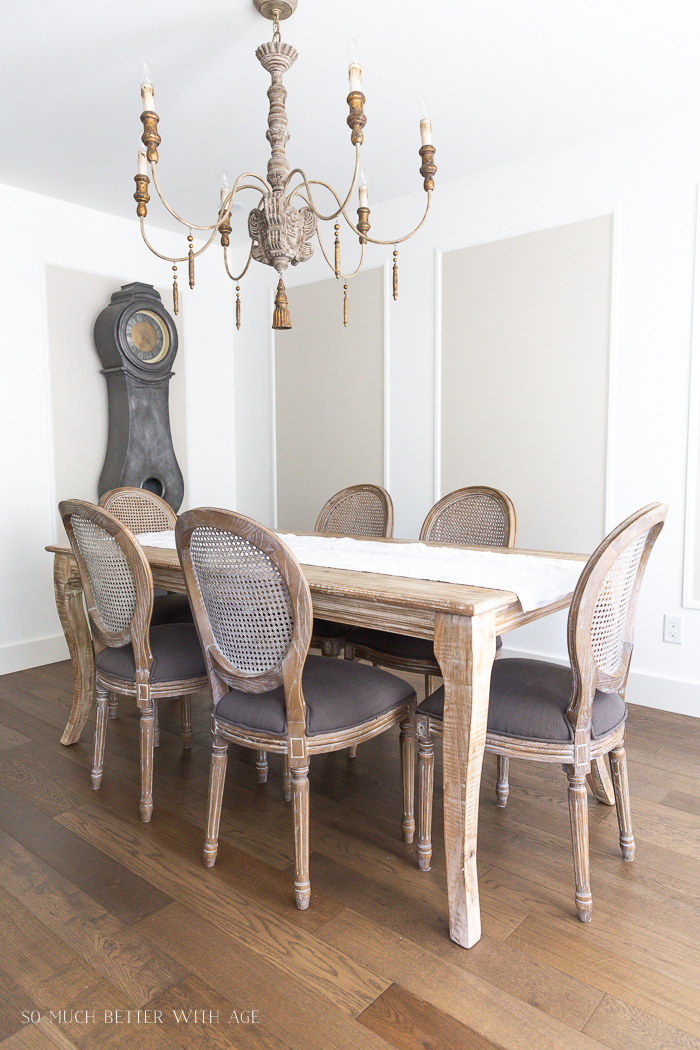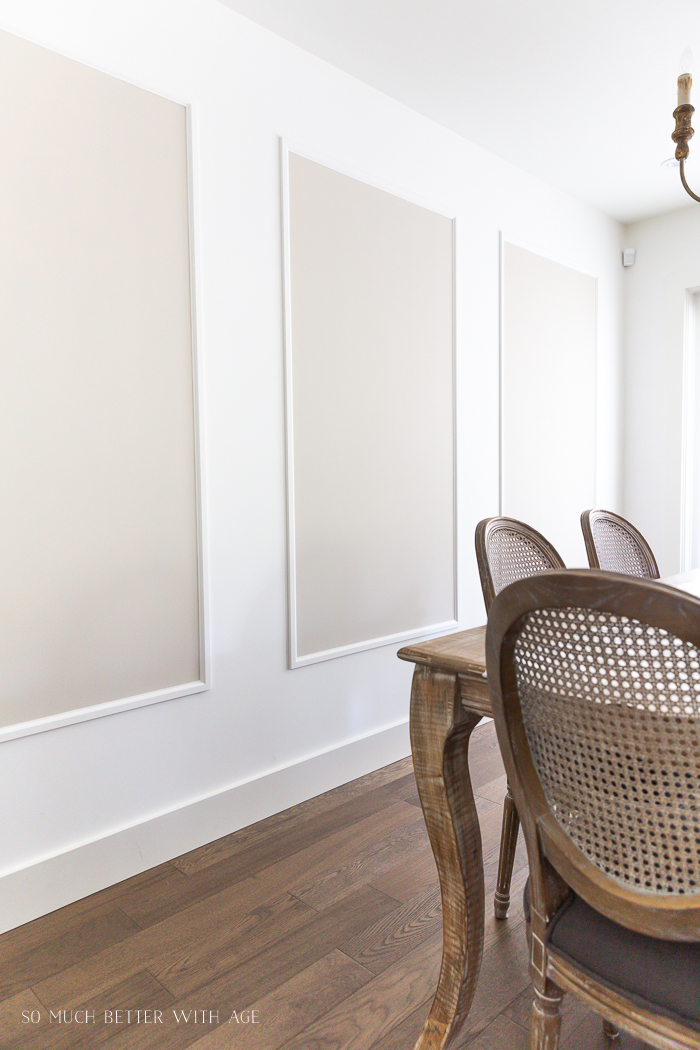 Now we just need some artwork and it will look complete!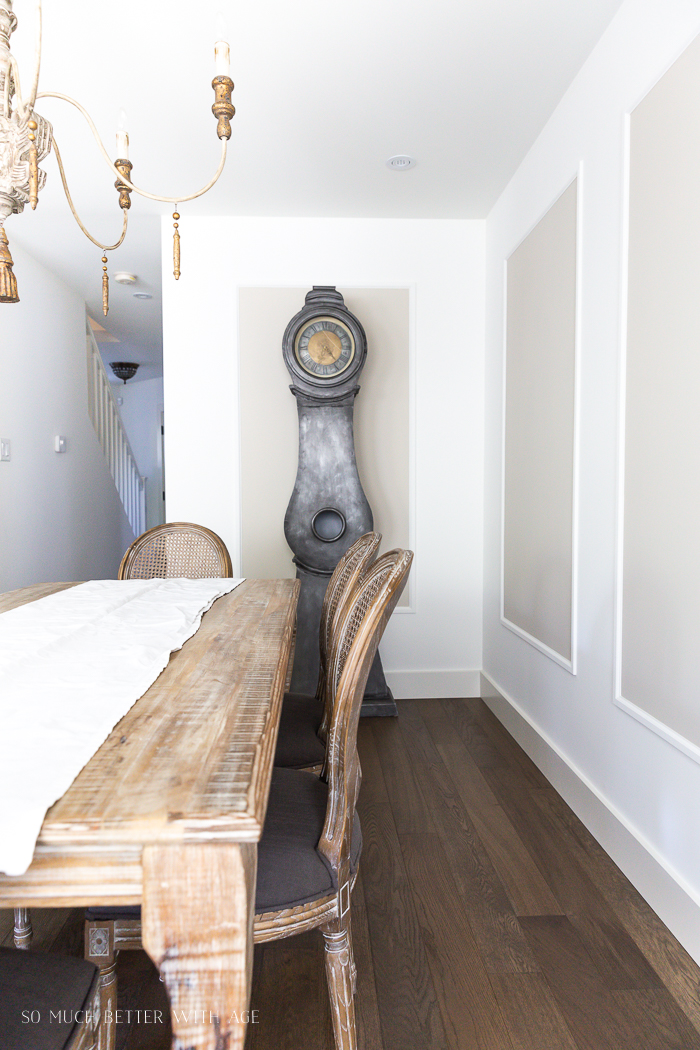 Other homes painted in Edgecomb Gray
I gathered some other homes of my blogger friends that also loved Edgecomb Gray in their homes.
Kristi from Making It In The Mountains painted her whole home with Edgecomb Gray.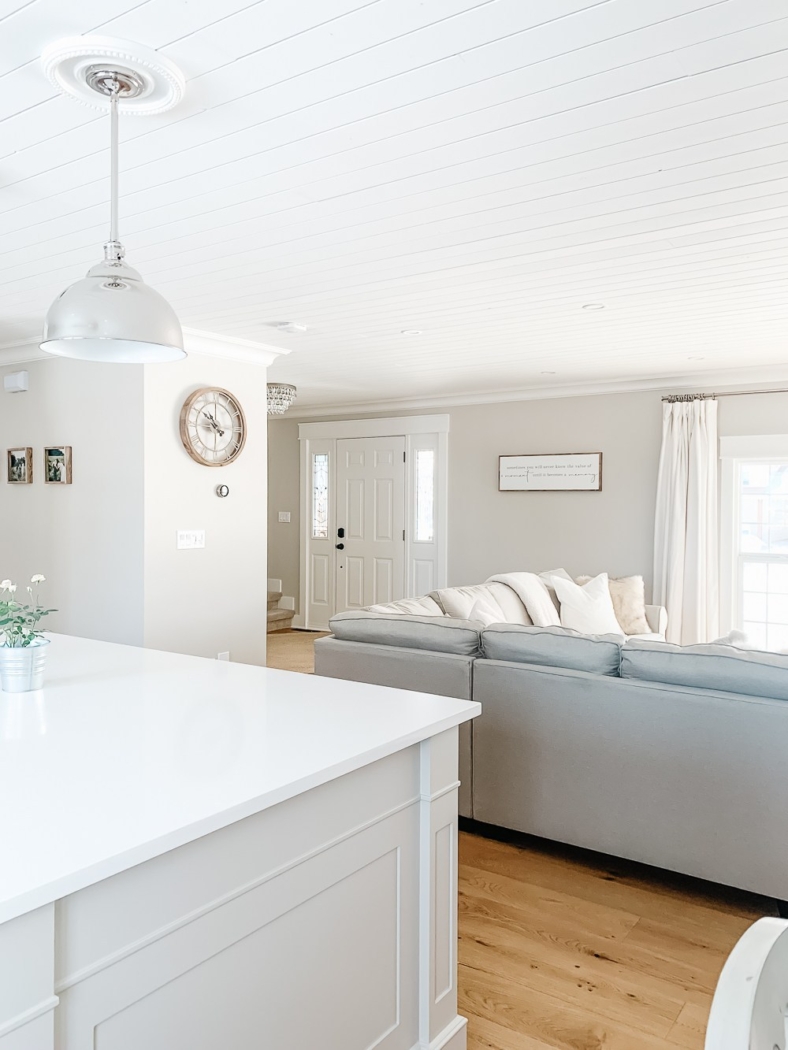 And Kristi also used Edgecomb Gray on her bedroom doors and I love the contrast!
Laura from The Turquoise Home painted her kitchen in Edgecomb Gray too and it looks beautiful!
Nina from Nina Hendrick.com painted her beautiful family room in Edgecomb Gray.
I hope this has helped you picked out a greige paint color.
Stay tuned for the artwork that I'm picking out!
Make sure to pin it for later!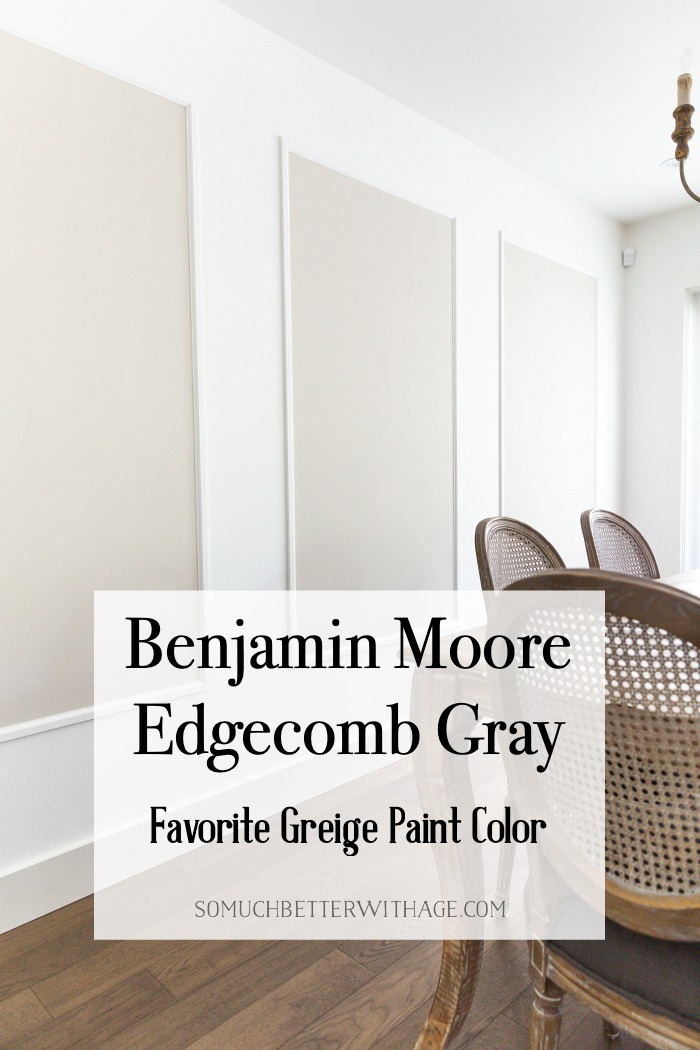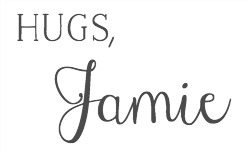 click in case you missed:
How to Install Simple Picture Frame Moulding