European-Looking Vintage Christmas Stockings – Sewing Tutorial and Free Pattern
Sew your own European-looking vintage Christmas stockings with this free sewing pattern.
Last week I shared with you my Christmas mantel and mentioned I made this European-looking/vintage custom Christmas stockings.
I've always wanted to have stockings like these….ones that look like they were bought at an old brocante shop in France or some small town in Europe with cobblestone streets used hundreds of years ago *sigh*.
Of course, that was going to be an extremely hard find. I also scoured the internet and couldn't find any patterns out there so I created my own.
After many prototypes, I created this sewing pattern myself and I couldn't be happier with the results.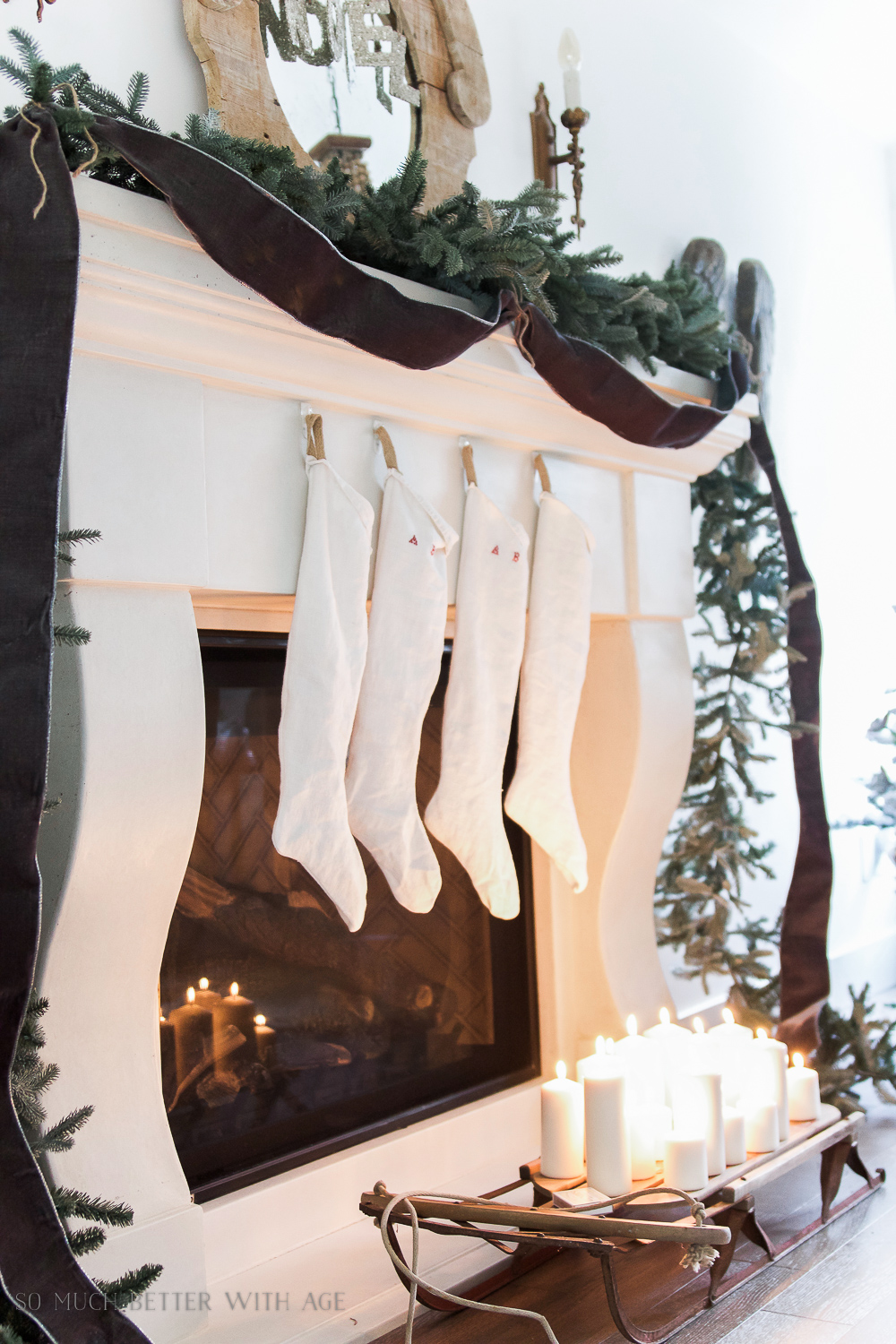 Let me share with you the tutorial and free downloadable sewing pattern so you can make your very own customized European-looking/vintage Christmas stockings. 
I made seven prototypes and most were really bad.
I just hand drew a pattern on wrapping paper and cut them out on fabric that I had on hand.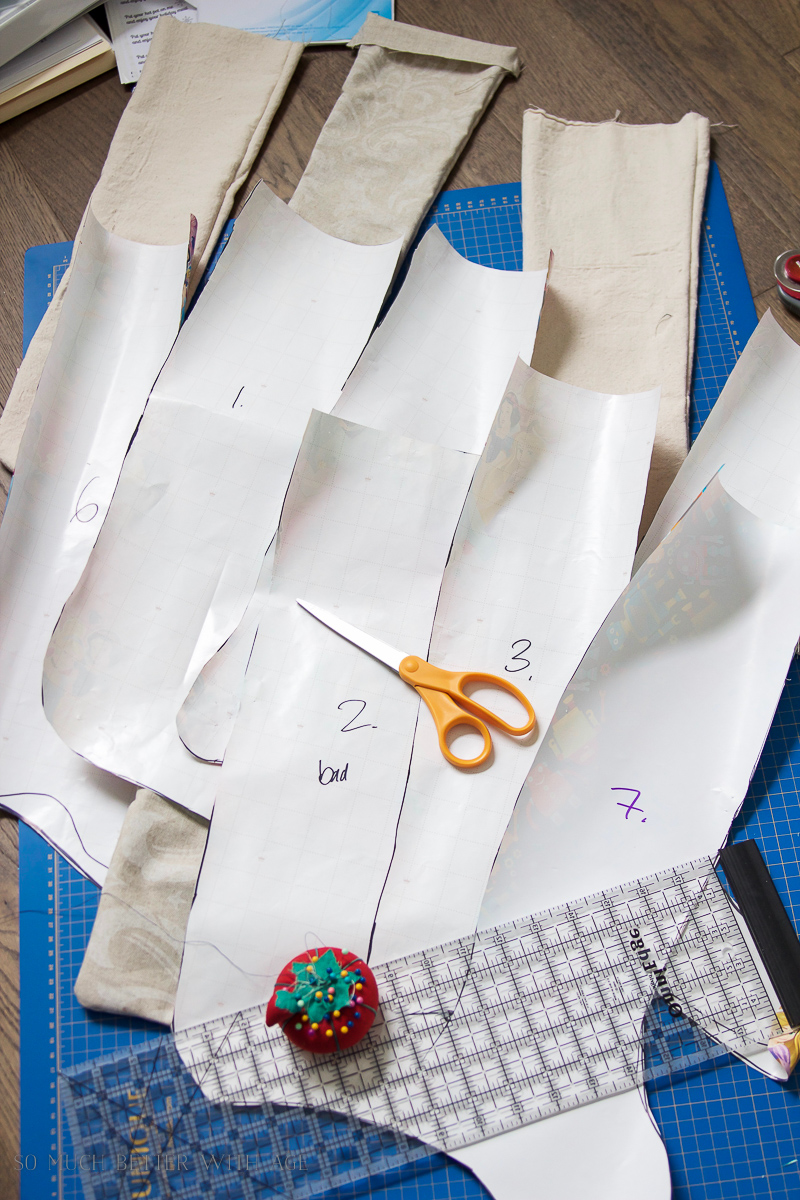 You can see my note on number 2 – it was bad!
Don't worry, yours will NOT look like my prototypes 😉
Disclosure: This post may contain affiliate links. Please read my disclosure policy.
Supplies:
homespun pure linen, like nubbly grainsacks (I bought mine in France but Etsy has great shops to buy from like this one)
jute braided trim or something similar
sewing machine
scissors
pins
iron and ironing board
Shop LInen

directions:
1.Print the downloadable pattern (end of the post) and lay your pattern on two pieces of fabric (this piece of linen has been folded over).
2. Cut out the pattern.
3. Pin the sides together before sewing (I'm bad and don't do this).
4. I've only left about a 1/4 inch of seam allowance. If you prefer 1/2 inch seam allowance, be sure to cut pattern out a little larger.
5. The inside-out version is really pretty on its own as well. Keep inside out and cut out some ribbon or trim 6 inches long for the hook.
6. Keep stocking inside-out. Overlap trim and place on back seam.
7. Stitch into place, reverse stitch a few times.
8. Turn inside right and iron the seams. Pressing out the seams and ironing at the same time will give it a polished look. The stocking on the left is not ironed and the one on the right was just ironed.
I've hung the classic stockings on the fireplace using Command Hooks.
Because I'm not the best seamstress at all, they are all a bit different which I love. It really shows the handmade appeal of them.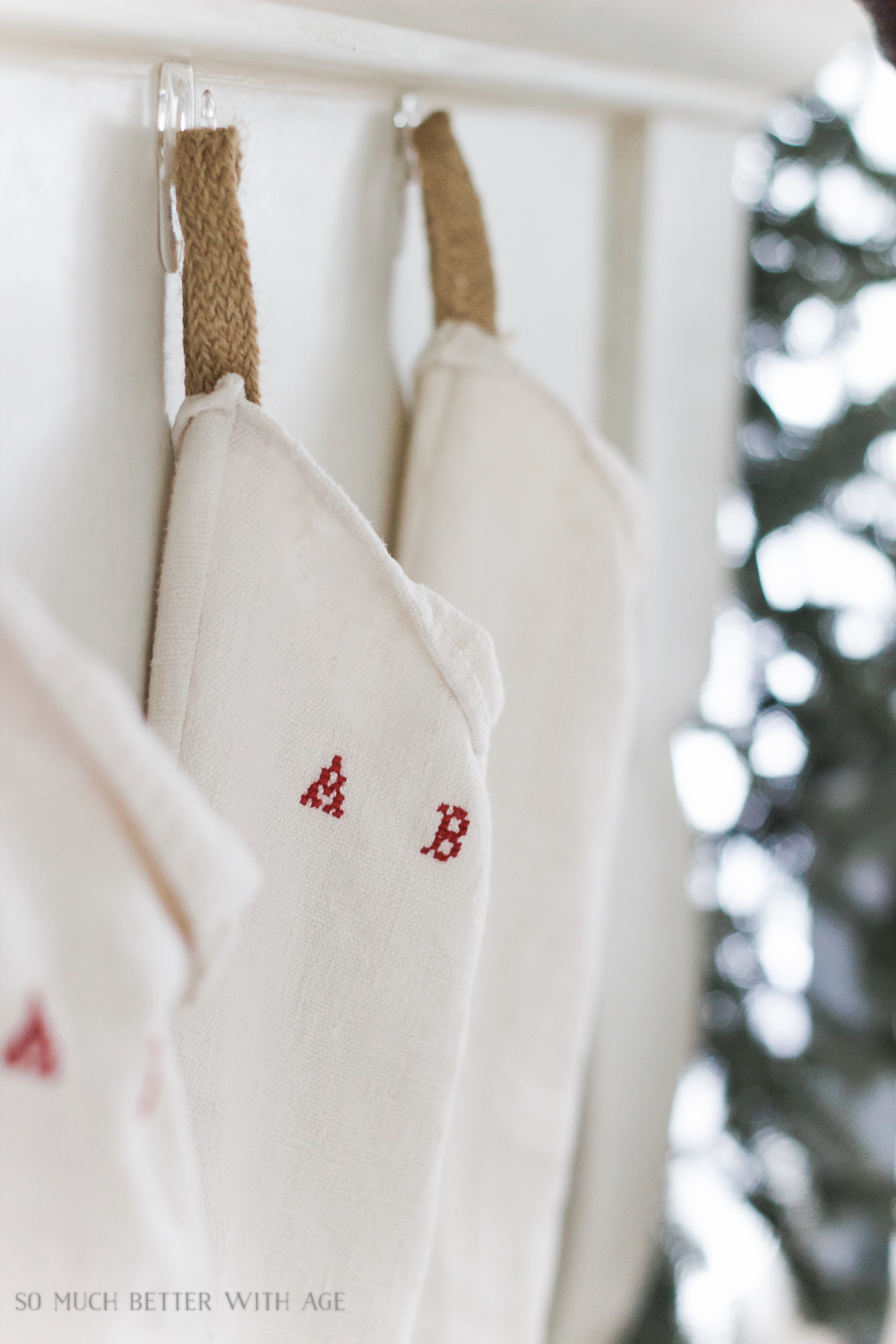 I hope you enjoy making your own European-looking/vintage Christmas stockings this year and feel confident to do it on your own even if you are a beginner seamstress!
You got this!
printable:
To download this printable, subscribe to my newsletter.
If you are already a subscriber, you'll have access to the printable in your inbox.
Make sure to pin it for later!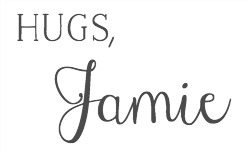 Click in Case You Missed: