Floral Design and Photography Workshop
I have been practicing my floral design and photography and I am delighted with the results!
About a month ago I shared with you about the floral styling and photography workshop Tracey Ayton and Alice de Crom from Floralista were having. I was so excited to attend as I've been focusing on improving my photography skills this year as well as trying all things creative.
There is really nothing better than spending time with a group of creative women and learning from each other. I couldn't wait to play with floral designs!
The whole day was set aside for just that and a beautiful feast as well.
Let me show you how this beautiful day unfolded.
The morning started with coffee, tea and yummy lemon cake, banana bread, cookies and fruit.
We were able to eat a bit while getting to know each other better.
The workshop took place in Tracey's gorgeous house and started with words from Alice and Tracey.
Alice had brought in an enormous amount of gorgeous florals. As she described all the different flowers and foliage there was for us to choose from, she started to give us ideas of what types to start with and colours we wanted to pick. Of course my eye went towards all the neutral florals and beautiful foliage.
A beautiful field guide was given to each attendee so we didn't have to take notes and was a gorgeous keepsake to take home.
Alice had placed some chicken wire into pots and then showed us how she creates her beautiful flower arrangements.
Here is the stunning end result.
She has such a talent in creating gorgeous, whimsical floral designs.
After, we got to work on our own flower designs and here is mine. I'm actually quite surprised how happy I was with the result. Alice made it all seem so easy with her step-by-step process.
Then we got to work photographing our pretty floral designs around Tracey's house. Tracey went around and worked one on one with us to master our photography skills.
While we were busy making floral arrangements and photographing them, Nerissa Goco of The New Domestic was in the kitchen putting together this beautiful and delicious feast.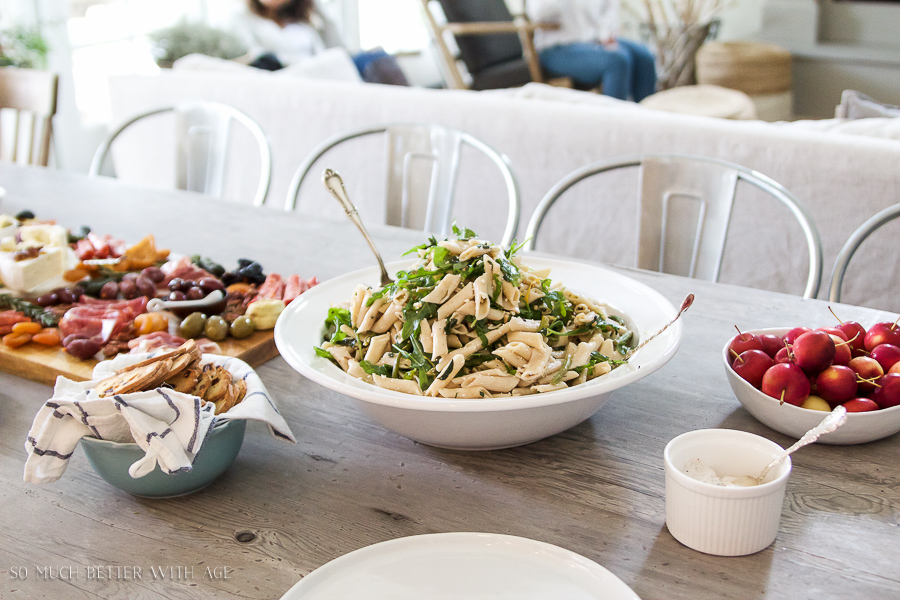 It was so nice to have the workshop in Tracey's house. It was so personable and relaxing and her house was just stunning. Her design has a gorgeous, slight coastal flair which is so fitting as her home is near the ocean.
It was a beautiful full day of learning, chatting and eating. So. Much. Fun.
Here is a group shot taken by Tracey.
Back row L to R: Giovanni Perot-Averill | Noriko Nagami | Jacquie Alarie | Sheryl Spencer | Emma Toews | me! | Claire Roy
Front row L to R: Amber Bull | Tina | Crystal Williams-Rocha| Tracey Ayton |Nerissa Goco | Monika Hibbs | Alice de Crom
We were also given this gorgeous gift basket of goodies to take home along with our floral designs.
Sponsors: Cookies from Claire Spencer Bakes | Seeds from Strathcona 1890 | Tote bag & wool slippers from The New Domestic | Saison beer from Four Winds Brewing Co. | Terracotta pots, vases and florist clippers from Floralista |Organic aromatherapy spray from Spirit Sister | Photography goods from Beau Photo Supplies | Professional printing discounts from The Lab Vancouver
Thank you so much ladies for the amazing day.
My only question is…when is the next one?