Recently, I was contacted by Maryanne at Stimuli Magazine to see if I wished to participate in The Passionate Home's 4th Annual Chairs for Charity even.  I met Maryanne this summer at the Milner Gardens Hometalk event I participated in.  I was honoured she asked me so of course the answer was yes.
The Passionate Home is a beautiful home decor store in Langley, BC that stocks Annie Sloan Chalk Paint and, of course, I love chalk paint so I couldn't wait to find something to give a makeover.
I'll show you how I turned an ugly chair into a French distressed chair and also show you an easy upholstery tutorial.

To get started, here are is what you need for this project:
SUPPLIES:
wooden chair in need of painting with a fabric seat
chalk paint in charcoal grey (chalk paint is best so you can avoid sanding – I used Annie Sloan Chalk Paint in Graphite)
chalk paint in cream or white (I used Annie Sloan Pure White but a cream I think would be really nice)
clear furniture wax (I used Annie Sloan clear wax)
dropcloth (washed and dried to soften)
sandpaper or sanding sponge (120 or 220 grit)
packing tape
scissors
paintbrushes, 1 for each color.  I like to use a sash brush like this one
screwdriver to remove upholstered seat
masking tape or painter's tape
Tutorial:
 Here is the ugly chair before she got a makeover. It was $4 from the Salvation Army, solid wood and from Romania.
Before you start painting, unscrewed the seat from underneath and set aside for now.
Paint the chair with 1-2 coats of the white paint waiting to dry in between coats.  Chalk paint dries quicker than acrylic paint.
Paint the chair with 1 good coat of the charcoal grey paint.
Allow to dry 24 hours before sanding.
Sand the entire chair with fine grit sandpaper sanding more around the edges for a natural distressed look.  Wipe off excess dust.
Finish the chair by rubbing clear wax over chair with a rug then wiping/buffing off as you go.
7. Lay the seat upside down on the piece of drop cloth keeping the old fabric attached to the seat (you can remove the fabric but then you will need new foam and batting so it's easiest to just leave it on).  Cut around the chair leaving about 2-3 inches all around.
8. Staring in the middle either the top or bottom, pull the drop cloth a bit tight then staple.  Then I did the same to the opposite side as pictured below.  You want the fabric pulled nice and snug but too tightly will make pulls in the fabric.
9.  Repeat the same on the sides of the chair alternating top, bottom, side, side with one staple next to the first staple about an inch apart.  Adding a staple top, bottom, side, side then repeating until you are only left with the corners.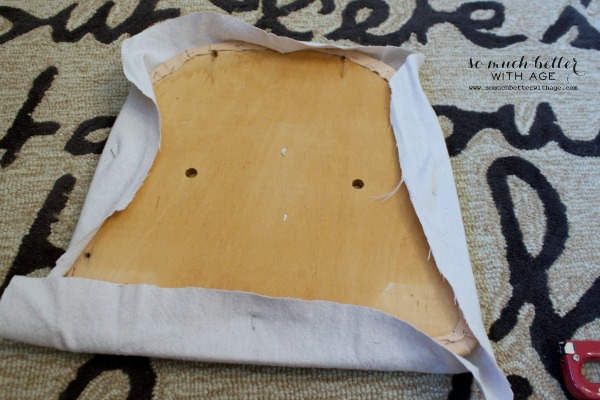 10. For the corners, (1) pull the middle piece of fabric towards the centre of the chair and staple. (2) Then pull one side over the part just stapled and staple in place (3) and repeat for the last piece.  This will ensure a nice fit with no fabric pulling from the top side.
11. Trim off the excess fabric.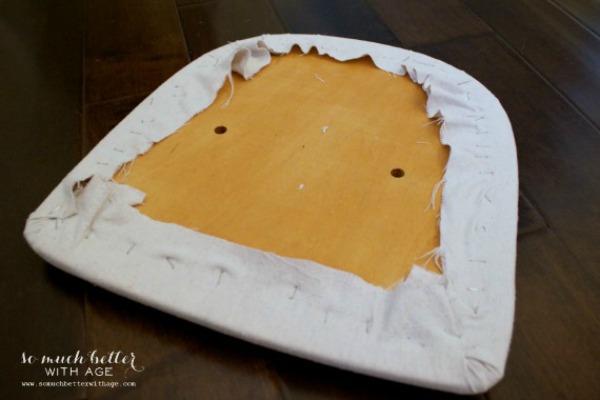 12.  Tape the edges down with packing tape (it's all I had on hand and seemed to do the trick!)
13. Next, flip the seat around and place your French stencil on the middle of the chair and put masking tape or painter's tape around it to secure the stencil in place.  Squeeze a bit of black fabric paint on a paper plate and dab the foam brush into it dabbing off excess on some paper towels. Dab foam brush over the stencil onto the fabric moving brush up and down to make sure the paint doesn't bleed through under the stencil.
14. Let dry then screw the chair pad back to the chair.
And now it's all done.  I love the finished results!!
 This chair is actually quite small so it would be perfect as an accent chair.
 I dropped off the chair last week to The Passionate Home and hope someone falls in love with it.
I've named her Frenchy.
Don't you want to bid on her?
I miss you already, Frenchy.  I hope you find a home that you will be happy in.
Maybe I'll go and bid on Frenchy myself 😉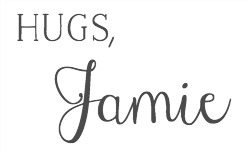 4th Annual Chairs for Charity event this Thursday, October 23 6:30-8:30 pm.
All funds raised go towards the Langley Christmas Bureau.
Fore more information, click The Passionate Home.