French Glittery Christmas Tree Sign Using a Silhouette
A French glittery Christmas tree sign is the perfect decoration for your Christmas tree this year.
Today I'm going to show you how to make this French glittery Christmas tree sign, Joyeux Noel.
Because I obviously love all things French and I think it's fun to add a sign to the Christmas tree.
Let me show you how I created this Christmas decoration using my Silhouette Cameo.
Disclosure: This post may contain affiliate links. Please read my disclosure policy.
Note: I used adhesive kraft paper from Silhouette but you can also use double-sided adhesive which would probably save you a step but I just used what I had on hand.
SUPPLIES:
grey card stock (or adhesive card stock), cut slightly larger than each word
toile scrapbook paper, cut slightly larger than the grey card stock
double-sided adhesive or adhesive kraft/cardstock paper
tlitter
transfer or contact paper
double-sided tape (if not using adhesive card stock)
Mod Podge or glue (if not using double-sided adhesive)
scissors or paper cutter
Directions:
Check out my newbie Silhouette tutorial HERE
1. Print the words you would like for your sign. Be sure to check out my friend Lauren's tutorial on how to weld the letters together.
2. Place contact paper over your first word. Press lightly and start to peel off the negative space (the paper around the words).
3. When you flip it over, it should look like this. Now I didn't have double-sided adhesive so I just used Mod Podge (or regular glue is fine too) over the words and pressed down on the grey card stock.
4. Now press the word hard onto the grey card stock and smooth over with a card or the scraper tool that comes with the Silhouette contact paper.
5. Pull the contact off and pull off the white 'backing' that was over the words.
6. Use double-sided tape to adhere the card stock to the toile paper (or use double-sided adhesive card stock).
7. Line glue along the edge of the grey card stock and now comes the fun part – glitter everywhere! The adhesive words hold the glitter so well and the best part is it's flat.
8. Shake off the excess glitter and hole punch each edge of both signs. Now thread through some ribbon and you're done.
EEK! I love how it looks. This adds the sparkle to my Christmas tree!
The adhesive paper makes the glittery words look so professional.
Love, love, love.
Merry Christmas!
Or Joyeux Noel 😉
Make sure to pin it for later!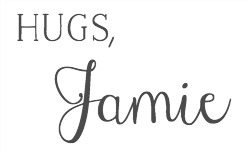 Click in Case You Missed: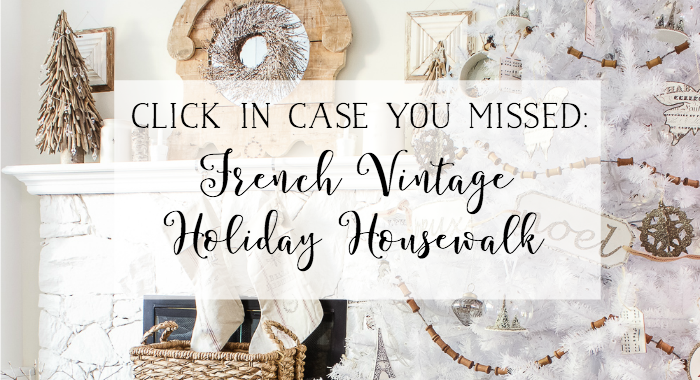 DIY Easy & Pretty Christmas Wreath