Have you been wanting to get your pantry organized and give it a fresh update but don't know where to start? Check out all my pantry organization tips here!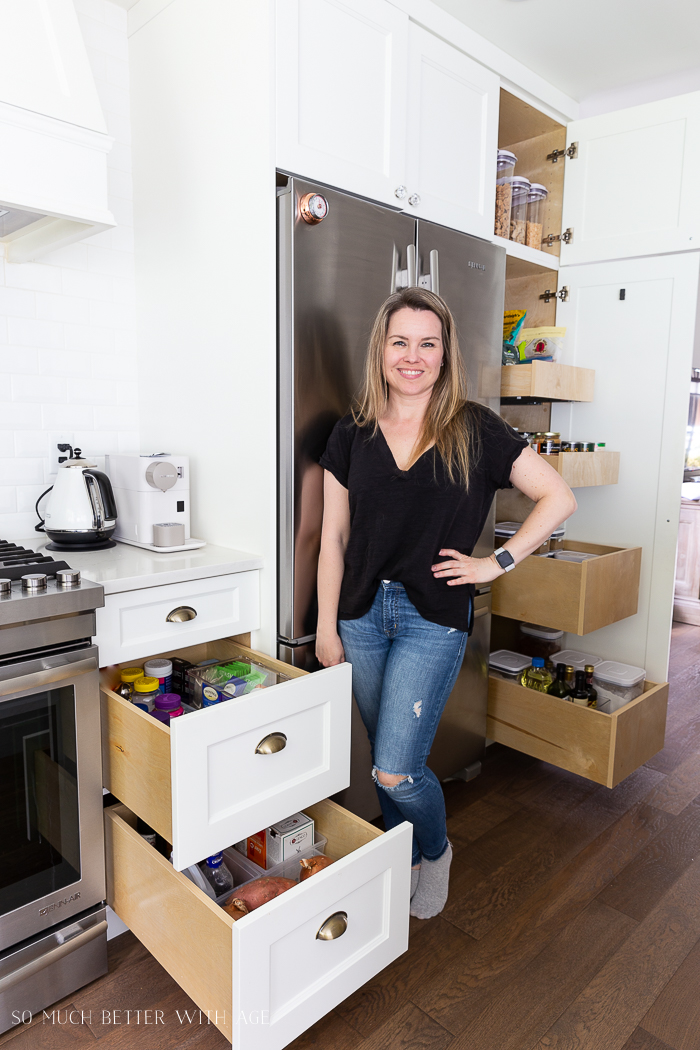 This post is in partnership with Bed Bath & Beyond, a brand I love. All opinions here are my own.
I've been wanting to organize my pantry and give it a fresh update for some time now and since we are all at home 24/7, it has been bothering me even more! It seems like the kids need snacks 23 times a day and are always rifling through the bags in the pantry All the the bags of food just pile on top of each other and it drives me crazy!
It was time to get it under control.
And I wanted to use Bed Bath & Beyond as they have everything you need to get your kitchen organized, and a variety of brands/styles.
But first, let's take a look at what my pantry looks like.
pantry organization before
Clearly there was no organization before in the pantry. I mean, I thought there was once upon a time but with all those food bags it seems impossible to organize.
There is a fair bit of storage but it's not a full walk-in pantry so space is of the premium.
I hate how everything just gets shoved everywhere.
There is food toppled upon food and it's hard to find anything in here. Food expires before we have a chance to find it!
The inspiration for my pantry comes from my favorite OXO containers you see below. I have some for my flour and sugar and have been wanting more. They are so perfect to organize a pantry.
coffee, tea and vitamins drawer – before
On the other side of our fridge, is where our coffeemaker and tea kettle sits. I also like to keep our vitamins here. While we're waiting for our coffee and tea to brew, it's the perfect time to take the daily vitamins. But this drawer is a mess!
oils, onions, potato drawer – before
Below that drawer, is a drawer with items needed for cooking like cornstarch, salts, vinegars, small bottles of oil and it's where we keep the onions and potatoes.
under the sink – before
While I was at it, I thought it was the perfect time to also tackle under the sink. With the pipes and large garburator, there wasn't much space for those handy under the sink organizers so I had to get creative (you'll see below!).
how to order the right pantry organizers online
First things first, take everything out of the pantry.
You can toss anything that has expired and now's the time to take stock of what you have and what you want to put in containers. I find the frequently used items the best thing to put in containers. There are some items I only buy to try and it doesn't become a family favorite, those don't need a container. But pantry staples definitely should have a container.
Make a list of all the items you'll need and estimate how many containers or bins you'll need.
Usually when I shop for any type of organizer (i.e. for drawers or closets), I'll go to the store, grab a few items, take it back home and see if they work. I can get an idea of how many more I need and I'll take a few rough estimates.
During this time of self-isolation, going back and forth to stores isn't really an option. If you are going to order things online, you better make sure they fit.
Here is the easiest way to order:
1.Measure the drawer space.
2. Take those measurements and draw them up on a poster board, piece of cardboard or anything else you have lying around to reuse.
3. Find the organizers that you think will fit, take note of the sizes and cut out 'organizers' from paper and move them around on your rectangle until they fit like a puzzle. They don't need to fit exactly, some space around them is good but you definitely don't want them to be bigger than your rectangle.
hate those plastic wrappers?
Plastic wrappers are the worst, aren't they? And the way they open right down the middle drives me bananas (is it just my kids who do this??). You can't even use a clip to close them back up after!
An entire box of crackers fits perfectly into the 2.7 qt rectangle OXO container. No more expired food as they'll stay fresh in here until they are eaten up.
pantry organized!
Now it's time to show you how I put the pantry puzzle back together.
These OXO Pop cereal containers are also my favorite. They have an easy pop-up spout that makes it easy for kids to pour their own cereal in the morning. Also, there's no more guessing how much cereal is left!
I love this clear bin for holding packets like taco seasoning and sauces.
The top pantry shelf holds pasta and rice. Again, I love the 2.7 qt OXO rectangle containers (like the crackers above) for our quinoa, brown rice and white rice that I have in this drawer.
If you worry about not remembering the directions, I cut each set of directions off the bags and used double-sided tape to tape on the inside of the container.
The second to top drawer holds canned food, coconut oil, peanut butter, and mac and cheese.
Now that the other big stuff is neatly in containers, there was more room for these jars and cans to be neatly displayed.
And notice no bags of food shoved on top!
The third drawer has the majority of OXO containers. I got the 10 piece set which holds a lot! The two containers with crackers are in the far right corner. The other containers hold raisins, nuts, croutons and pretzels.
For items like the flax and chia seeds, I added a label to those containers as they look so similar.
Making salads has never been easier!
For all the snacks my kids love, I've added packs of cookies and granolas bars to this handy clear organizer. That got rid of so many boxes!! Their seaweed packs tucked neatly beside them.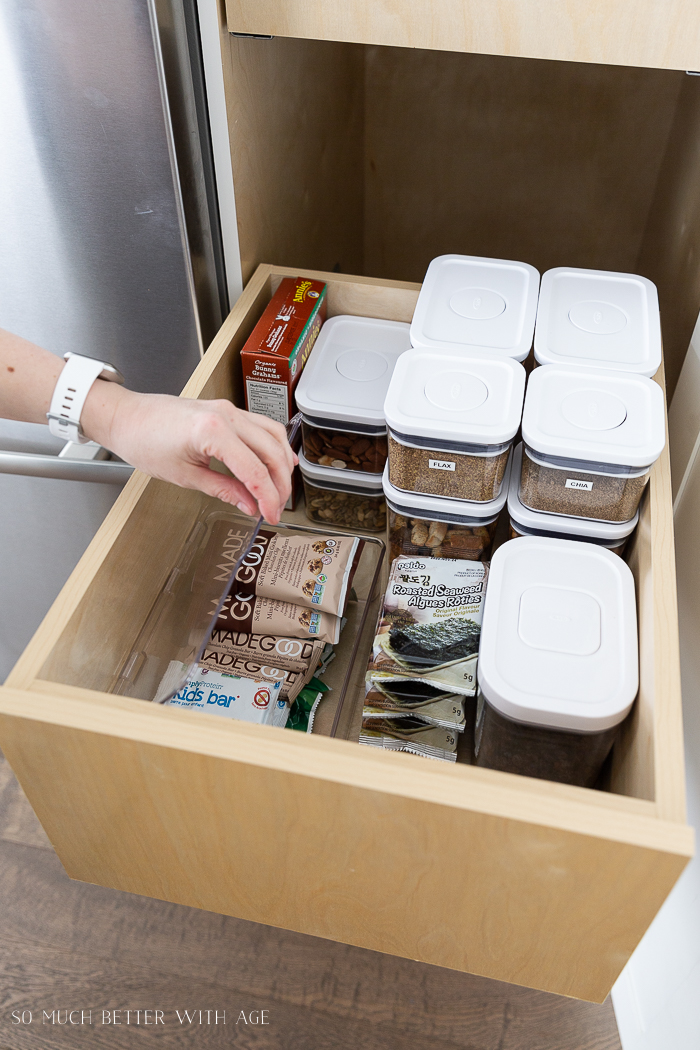 The bottom drawer has the original OXO containers I've had for years along with two new ones. I've had the original ones for over 10 years and the new ones (with the circles in the centre) are the new ones so you can tell how well they stand up over the years.
I added clear acrylic bin lined with paper towel for all the oils that fit neatly beside the flour and sugars.
COFFEE, TEA AND VITAMINS DRAWER organized!
What a difference! I got two of these convenient clear tea bins to hold all the tea bags and coffee pods.
(They also have this coffee pod clear bin if you don't need one for tea!)
The most used tea and coffee are in the top container.
I used a clear shoe box for holding all the vitamins.
And the less used tea and coffee in the bottom stackable clear tea bin.
oils, onions and potato drawer organized!
The smaller oil and vinegars are now nicely organized by the potatoes, onions, cornstarch and salts.
I just used three clear shoe bins to hold them in different categories.
under the sink organized!
Under the sink looks much neater with just two clear bins. It actually makes me want to do dishes! Well, maybe not but at least it looks pretty.
1 large clear bin and 1 small clear bin
I hope you feel inspired that you can organize your pantry and order containers online that nicely fit. It will make your daily task of making 145 meals a day much more enjoyable!
Curbside pick-up is available at Bed Bath & Beyond so you can pick up your organization essentials easily! Curbside allows you to shop and reserve the products you need online then pick them up at your local store without leaving your car. You even get a handy "ready to pickup" email within just 2 business hours!
SOURCES:
Make sure to pin it for later!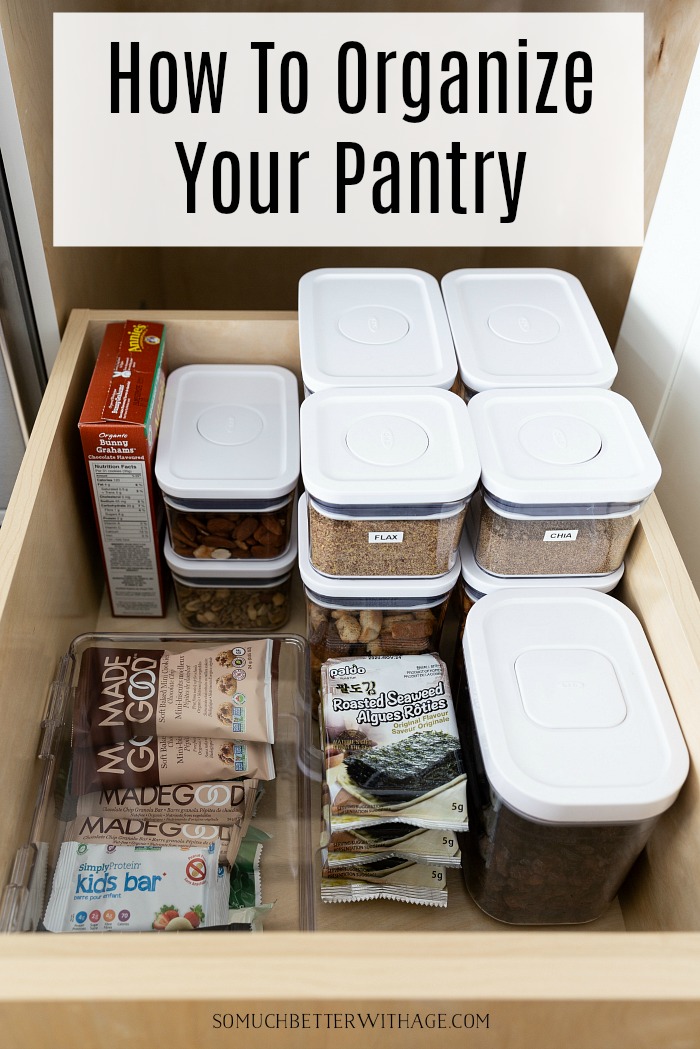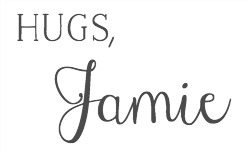 click in case you missed:
How to Declutter and Organize Your Basement