Glass Easter Jars with Bunny Ears are the cutest thing to make this Easter.
I love pretty, pastel colours so Easter is the perfect time to make some cute craft projects.
I had this idea at Christmas time to make like an Easter snow globe. Although it didn't end up exactly like I imagined, I think they are pretty cute.
I used my favorite jam jars (we go through a lot of jam in our house so I collected a bunch) and painted some mini clay pots to look like they have a natural patina.
I also added some adorable miniature bunny toys with moss in the jars.
Some Easter eggs, moss and ribbons and this jar is officially an Easter globe!
Let me show you how I made these adorable glass Easter jars with bunny ears.


First, you'll need the following:
Supplies:
small colored Easter eggs on wire, like faux flowers (I found mine at Michael's)
hot glue gun
scissors
Easter ribbon
twine
mini foam brushes
Alternatively: you could buy a cream and a beige-y/brown craft paint and a mossy green paint if you'd like from a craft store and mix it with sanded grout for texture but just painting the pots on their own would look just as good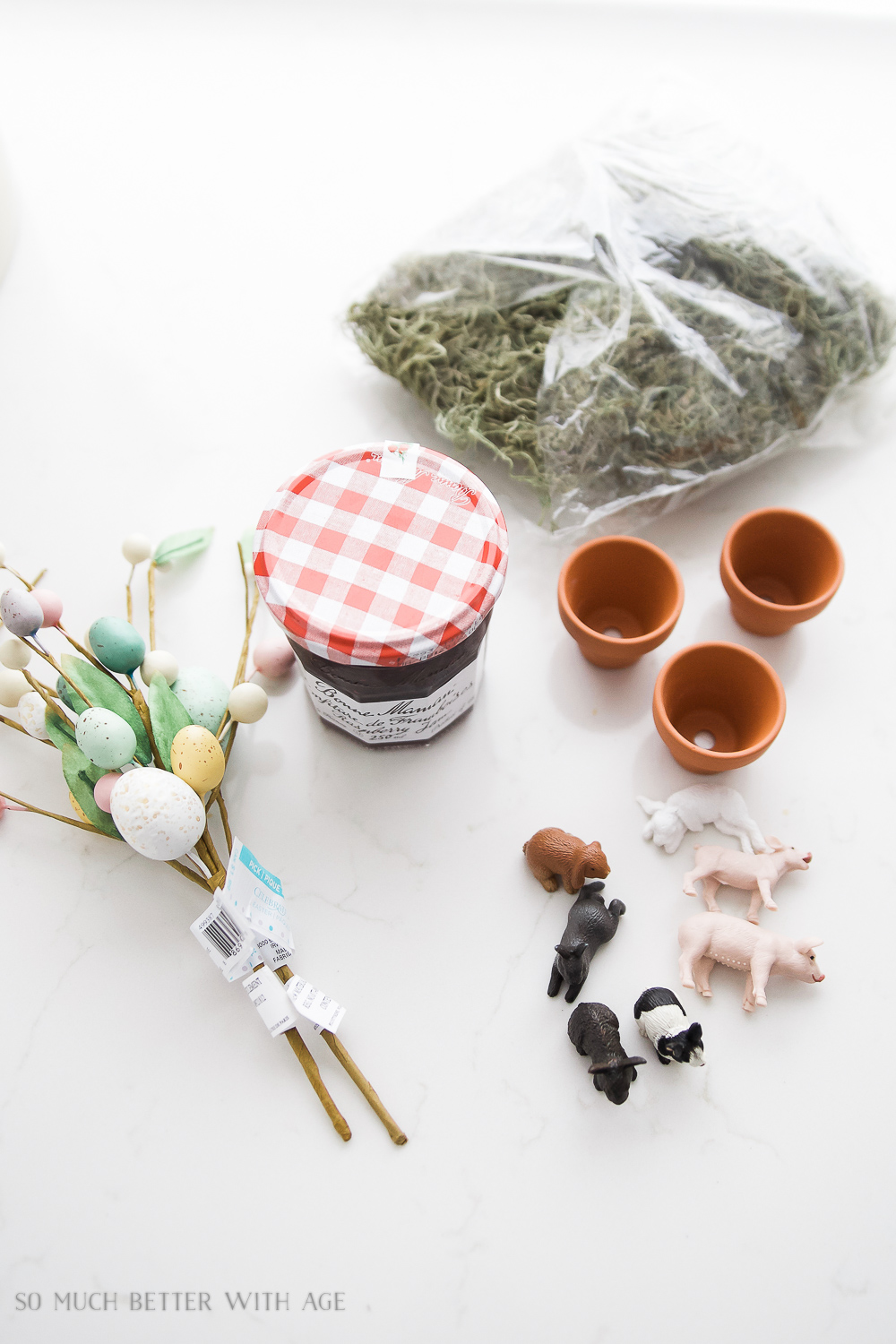 This jam is delicious but also I love it more because it's from France and the jar is really pretty 😉
Bonne Maman is everywhere in France. They sell cookies and crackers as well.
Directions:
Patina Pots
Mix 1 teaspoon (or 1 part) Fresco with 2 teaspoon (or 2 parts if making a lot) of Fusion Mineral paint. Mix together keeping it a bit lumpy.
Paint on clay pots leaving some clay showing through.
The texture should be lumpy in parts.
Do the steps above again for the next color and layer it on.
(not shown) I added a third color and layered it on as well.
I painted a whole bunch of pots at once so I liked the different variations of colours but one or two paint colours would be fine too.
6. Add some styrofoam or oasis to each pot (I had some circular styrofoam balls on hand and just cut up one of those).
7. Add a dab of hot glue and push in some spanish moss.
8. Snip some eggs of the branches leaving some of the metal poking out of the egg for pushing in to the pot.
9. Add a dab of hot glue to the metal stick before pushing in to the pot.
Glass Jars
Cut out sheet moss to fit on the bottom of each jar. I made sure the moss was a snug fit so it didn't need gluing into place.
(You'll notice in this photo that I added burlap to the lids of the jars but I didn't like how you couldn't see into the jars as nicely as keeping it open. If you used taller jars, that might be a nice alternative)
2. Put a dab of hot glue on the bottom of clay pot and push onto the moss. Then add your bunny. I didn't glue the bunny as it was nicely wedged into place. If you find you have more room in your jar, then put a dab of hot glue on the bottom of your bunny before placing it on the moss.
3. Next cut ribbon about 8 inches long and fold each end over twice about a 1/4 inch. Add a thin line of hot glue under the fold making sure to not burn your fingers.
4. Visualize where you want the ribbon to go on the jar. Add another line of hot glue to the top of that folded edge and press onto the side of the jar near the top (where the screw marks are on the jars). Repeat for the other side of the ribbon.
5. Tie some baker's twine in the middle of the ribbon and knot it.
6. Tie it in a bow and cut the extra off.
7. Holding the end of the sisal twine in the front/center, wrap some twine around the jar where the screw marks are about 5 times and tie tightly into place making sure the knot is in the middle. Cut the extra twine off.
You're now ready to display your adorable glass Easter jar with bunny ears!
You can see them on the Peter Rabbit inspired Easter table I just posted about with a step-by-step guide on how to get the look yourself.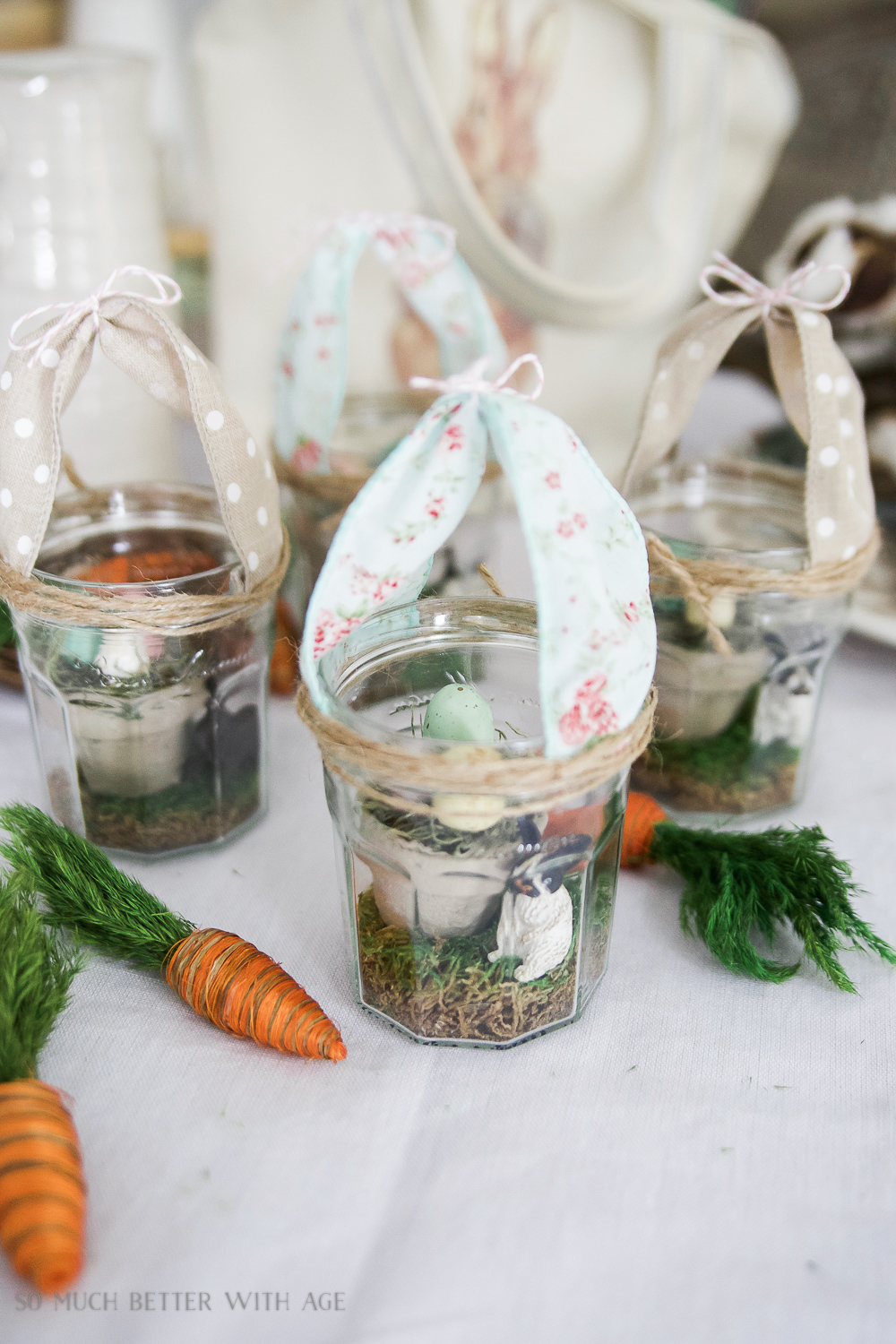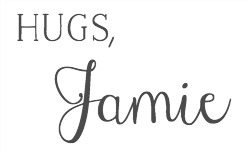 Click in Case You Missed: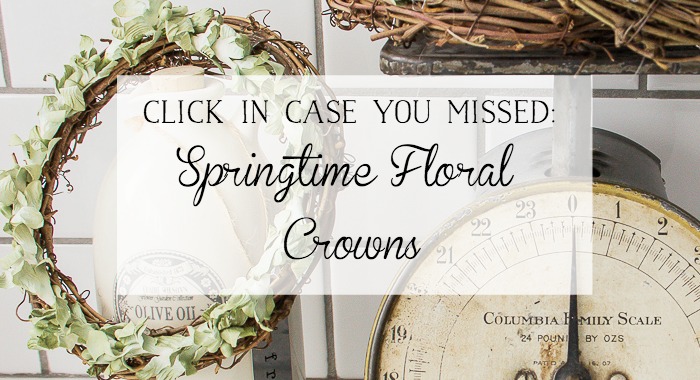 How to Set a Peter Rabbit Inspired Easter Table
SaveSave
SaveSave
SaveSave