This tutorial will show you how to update your old mirror with some gold leaf and paint!
It's time for our monthly Trash To Treasure time again!
Today's DIY project is not so much a "trash" project but more about how I nearly ruined a project but how I brought it back to life.
Follow my tutorial to make an epic fail turn into something beautiful and amazing!
Then be sure to check out my fabulous co-hosts projects too!
So here it is. It seems harmless enough. A dark brown wood convex mirror. I've had it for many years and love it.
It's been in nearly every room in my house until one day it made it's way to my crawl space where it stayed for a long time.
It was just a little too dark for me. It needed brightening up. A refresher of sorts.
I thought why not put some pretty gold leaf on the inner circle to make it sparkle.
Supplies:
Tutorial:
(I messed up and should have painted it white first. Start with a mirror of your liking and the color of your liking too 😉
1. Brush on the gilding adhesive to about half the area you want to cover. Wait a few minutes for the glue to get tacky. It needs to be sticky to touch for the gold leaf to stick.
2. Press the gold leaf down onto the glue and press into surface. Then gently lift backing up.
3. The gold leaf should stick easily to the glued surface. Keep pressing down and lifting up all around until the area is filled.
4. EEK! That's a bit too gold for my liking. Darn it. Now what am I going to do.
You know what? I should have painted it white first. That would have looked much better, white with gold accents.
5. But first, wait one hour and then brush off the gold leaf bits that didn't stick with a soft brush.
6. Call in for some help because you didn't think this project was going to take this long!
I painted Annie Sloan Chalk Paint® in Old Linen, two coats.
7. Once it dries, I wet sanded just the inner circle area to reveal the gold leaf.
I knew that some of the dark wood would show up too.
8. That's okay! Just add some more adhesive and golf leaf.
9. Then just scrape off the paint on the mirror with a plastic spatula (use plastic so it doesn't scratch the surface).
And finally my epic DIY mirror fail turns into a thing of beauty!
I love that you can see the bits of dark wood underneath and the different layers of gold leaf.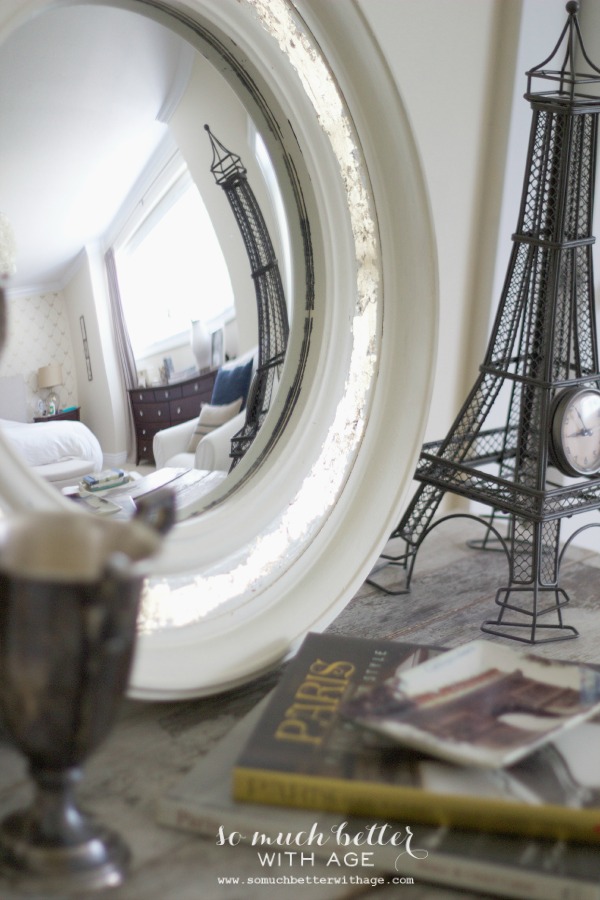 So needless to say, I'm very happy with the finished results (even if it did take an eternity!)
Now be sure to check out my co-hosts projects!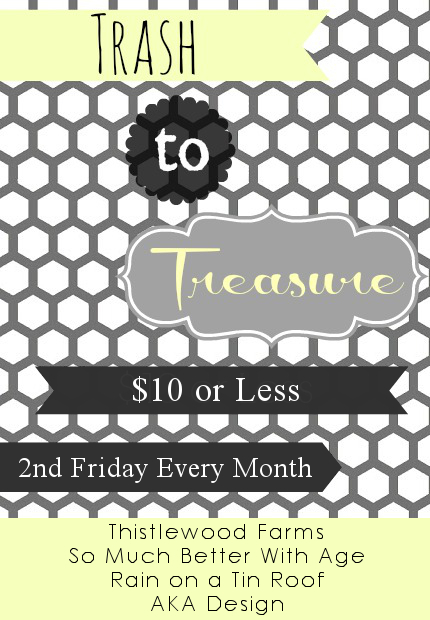 Karianne from Thistlewood Farm
Jenna from Rain On A Tin Roof
Shannon from AKA Design