Haven Conference Recap
If you follow me on Instagram, you'll know that I made my way across the country to Atlanta for the annual Haven Conference. It's for DIY bloggers and it's fabulous!
You may want to catch up on last year's posts:
Here's my post on a few wonderful parts to the conference this year.
This year I flew down with my fellow Vancouver blogger friends, Tara from Suburble and Krista from The Happy Housie.
It was great to chat the flight away with my local blogging buddies. Last year I flew by myself (which I totally don't mind sans kids) but it was a bit unnerving heading into a huge conference with hundreds of women on your own.
As soon as we arrived at the hotel, Jenna was there to greet us and the screaming ensued!
Then gifts were exchanged. I got Jenna an assortment of Kate Spade office supplies.
And she got me monogrammed linen coasters and some taffy for the kids although the kids will never see it 😉
We arrived a day early so we could hang out and shop. First we went for lunch together and Jenna was surrounded by three Canucks.
Then we did some shopping. Tara tried to grab some of Urban Outfitters' free wifi so she hung out there for awhile.
Once we registered, we got our swag bag.
From all these sponsors!
And exchanged business cards with everyone we ran into.
Friday's first talk was with Chip Wade from HGTV. Now most people would be pretty excited about that but I stood in the back because I was stalking this guy….
Yep, Mike Holmes! Good thing I was stalking as I got a photo with him.
I nearly died and went to heaven.
There were some awesome sessions like this one…sshhhh, it's a secret!
And some amazing lunches.
I even took a woodworking class to make this coffee table.
Here's Jaime from That's My Letter.
And here's Jen from The House of Wood showing me what I need to drill.
Must.have.this.Kreg.jig.now.
Joe from Ryobi gave me the lowdown on how to use this bad boy and I'm in love!
(with the machine, not Joe. Okay, maybe a bit of both)
Joe assures me he's not cutting off his hand but it looks suspect.
Meeting all the bloggers you only know from blog land is a sight to behold.
The best.thing.ever!
Jamin & Ashley  from The Handmade Home, Jen Rizzo and Gina from Shabby Creek Cottage.
(did you know they all have books published or being published?)
Take a photo of you two? It would be our honor, Beth & Dusty!
Selfies galore.
Jenna, Beth from Unskinny Boppy, and Dusty from All things G&D.
(by the way, both girls gave amazing talks, learned so much, thanks ladies!)
I even got treated for dinner from my mentor, Jen Rizzo!
(In case you didn't know, I'm a contributor to her blog so it was amazing to finally meet her. She has a Christmas decor book coming out this fall too!)
And these girls! Love them!
Shayna from Woodgrain Cottage, Jenna, Sarah from Life on Virginia Street, Krista from The Happy Housie
 & April from House by Hoff.
The same girls are in this photo as well as Chelsea from Making Home Base and Abby from Just a Girl and Her Blog.
Love you too!
And these girls I met last year and we chat nearly every day.
Lauren from The Thinking Closet, Laura from The Turquoise Home, Melissa from The Happier Homemaker, Candace from Vintage News Junkie/Rusted Roots, Emily from Two Purple Couches.
Love ya 😉
Then there was the time that 19 of us fit in THIS ONE SHUTTLE…
(shhhh, don't tell anyone because I can say with certainty there were NOT 19 seat belts)
… to cross the street for dinner together!!
Now it's time for the Jamie & Jenna show!!
People kept saying we looked like sisters and we just started saying yes, we are sisters!
Some became a bit confused when they found out I lived in Canada and she was an ex-Southern Belle.
It's so weird that we can have this amazing relationship when we only see each other once a year but we totally and completely get each other and we also have the same hobbies (we love home decor, DIY projects and blogging about 98.99% of the time).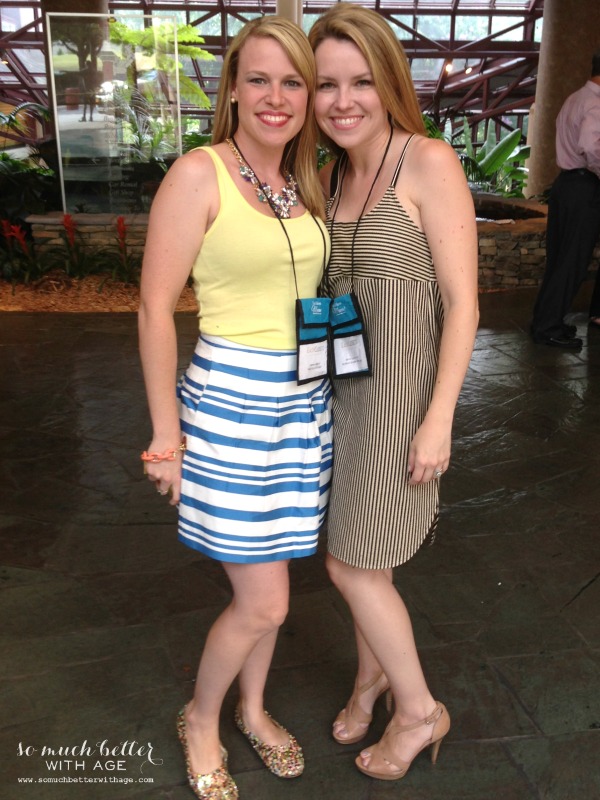 We also seem to be everyone's entertainment and that's fine by us.
After I planted a wet one on her cheek, I fell over on her and she crashed into the wall.
And some skin scraped off and it might have bled. But she was fine, really.
For more comic relief, I got a shot of Jenna "stealing" one of the conference's beautiful banana leaf trees.
Okay, she didn't actually steal it. At the end of the conference, we were allowed to take plants home but I wasn't about to lug one on the plane. Luckily Jenna drove.
I'm gonna miss you, girl! I can't wait until next summer. We gotta make plans to see each before then. Mmmmkay?
Disclosure:  Please note all photos were taken with my phone which totally suck, I'm aware.