How I Reconnected With My Family After 8 Long Years
This is a very personal post about how I reconnected with my family after 8 long years.
Today I'm sharing with you an update on recent life events and something that I thought would never happen – reconnecting with my family after eight long years.
A year and a half ago I wrote a very personal post that set off an incredible series of events in my life, none of which were planned.
I could never have dreamed what would have happened for speaking my truth.
It's amazing what can happen when you listen to your gut and do what's right for you.
I'm going to share with you how I reconnected with my family after eight long years of separation and how you can too.
For years I felt stifled and not able to speak about my past. I hid my past and listened to people that said to lie about it. It made me feel awful, ashamed. It should have been a red flag to not have people like that in my life and I now know differently. I buried a piece of myself and gave my control over to people that didn't deserve it. I allowed them to control my life.
The thing was I was starving for love. I felt unloved, I felt not good enough and by accepting someone else's version of what they thought of me, I bought into that version too.
Wanting To Be Loved And Not Good Enough
One major reason for not feeling loved or good enough was from many aspects of my life but a major component was not having my family in my life. After leaving that religion and, of course, not having my family, I literally had no one. It took great courage to leave a life that I didn't think was right for me. That religion forms an incredibly tight knit community but if or when you ever decide you want to leave you have nothing. That is the whole basis of their teachings, the reason that they don't want you to hang out with people outside the religion, so you stay within their confines basically. I've had numerous emails asking how I left that religion and the simplest answer is that I just left and didn't go back. It's incredibly hard but you get to start your own life over again and decide what you want it to look like.
For the last eight years I haven't been in touch with my family. Before that it was always on and off for years. I just stopped calling them but they didn't reach out to me either. There were insurmountable problems and resentment built on both ends and time has a way of just passing by. After awhile it just becomes a way of life I guess. I made my own family with close friends but I had high expectations for those friends which wasn't fair to them. Because of the emptiness I felt, I made bad decisions in who I let in my life – people that were overbearing, controlling and demanding. For a people-pleasing person such as myself, I just wanted people to like me but I felt like I was failing. I could justify not having my family in my life in 1001 different ways. I saw therapists for years. I saw a great adoption therapist who dealt with the adoption issues I had but other therapists couldn't get me to work out my family problems. Some even agreed with my stance. I just couldn't see how any of these major problems could be overcome.
For the last year I've been going through a divorce. My best friend recommended we try Landmark Forum. I've heard of it before but because I saw a therapist I didn't think it was necessary. So I signed up and thought it was a great course until day 2 when the part of 'families' came up. I was so mad she recommended it to me knowing I'd have to deal with my situation head on. But today I thank her because if it wasn't for her I wouldn't have them in my life now.
Landmark Forum can come off as very sales-y. They really believe in their program because it really does work. So if you go in with an open mind and really go for it, you don't have anything to lose.
And that was where I was at that point in my life. Desperate for a change. I was stuck. The same problems kept reappearing in my life over and over again. And they were going to keep repeating if I didn't fix the problems with my family.
Many self-help books say the same thing…if you don't fix the problems or unresolved issues in your life with your family, they will keep playing out in your life with your partner. It's just the way we were designed.
It doesn't mean that you have to have your family back in your life, if you are in a similar situation, but you need to make amends. After that it's up to you to decide. But forgiveness and acceptance are the biggest factors. Landmark Forum is like an intense form of therapy in one weekend so you can get the same results with therapy or self-help books but within a much quicker timeframe and also a more direct way. Honestly, the biggest eye opener for me was that I just never accepting of my family for the way they are.
I'm by no means a therapist. All I can do is learn from each and every thing I do and see the gifts each mistake presents to me. If I don't learn from it, it will show up in life again.
It's sad I didn't see the gifts that were in my family before. My mom and sister are extremely creative, they both have a super cool sixth sense (like a super hero power!) and have many other outstanding gifts. I learned all my DIY skills from my dad. He could fix anything around the house and farm. I hope he can still teach me to weld (how cool would that be?!).
If I had a reset button on life, that would be awesome. I'm sure we all do at times. But it doesn't exist. And I'm convinced this is the way my life was just supposed to go. The hard way? Yes. But at the very least I can share my stories with you so you won't take eight long years to reconnect with one of your loved ones.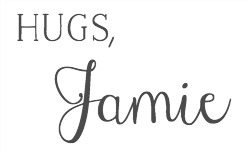 SaveSave