This is the best thing I've find for how to clean a white apron front or Farmhouse sink.
I love my white apron front sink or Farmhouse sink. This is the second one I've had as I had it installed in my previous house. I get a lot of questions asking if it's hard to keep clean.
Because it's made from enameled cast-iron (and it's white), you do have to take some care with it but I have had this same brand of farmhouse apron sink in two homes now and I haven't had any issues. I've washed out my paint brushes in it, clean big metal pots and pans in it, and wash muddy shoes in it all the time.
Source for My Apron Front Sink
This post contains affiliate links for your shopping convenience. Click here to read my full disclosure policy.
There are a lot of variations of apron kitchen front sinks on the market but I wanted the real deal so it lasted the test of time. This is the one I have:
Kohler Whitehaven self-trimming under-mount single basin (model no. K6487)
29 11/16″ x 21 9/16″ x 9 5/8″
This one is almost exact but model K6486.
The one thing that shows when the sink is dirty are these black marks and they don't come off with just elbow grease. Sometimes the apron sink shows some yellow griminess if it's really dirty but these ugly grey marks are caused by my pots and pans and any type of metal that scrapes along the bottom of the sink.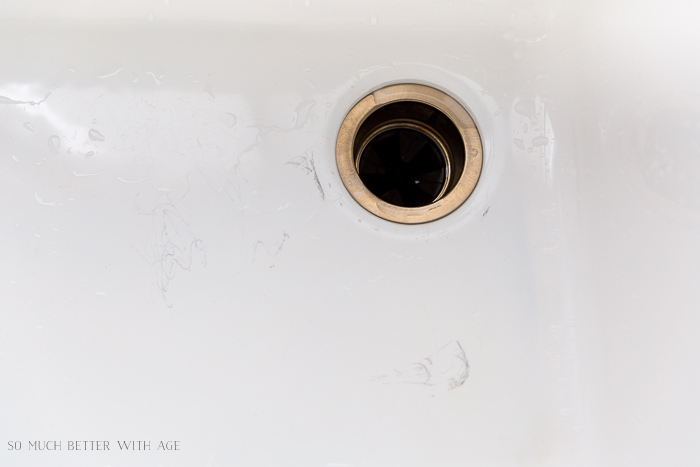 The Best Cleaning Agent for White Farmhouse Sinks
The only thing I've found that works is this cleaning agent.
About once a week I sprinkle it in the sink, scrub it for about 5 seconds and wash it away. It's the best cleaning agent for white farmhouse sinks!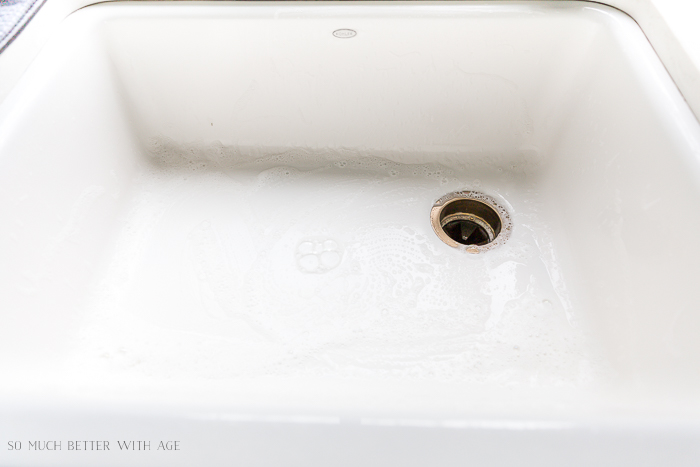 It's like brand new every time I wash it.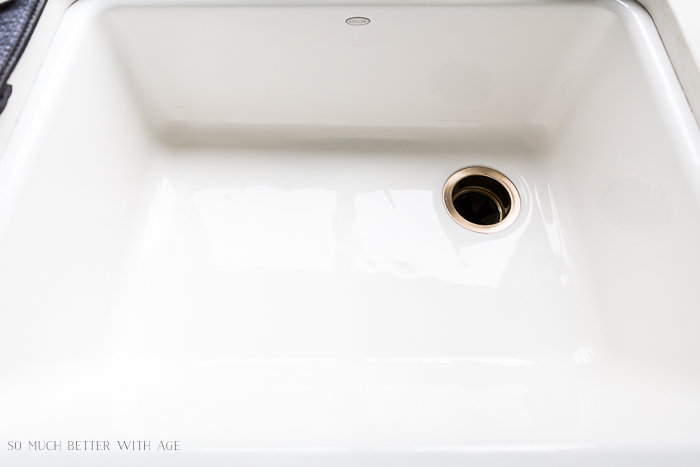 Over time you might see some scratch lines in the bottom but they are faint and barely undetected. I've had two sinks (same brand) for two kitchens now and I would still buy it again.
I love that it's an under-mounted apron sink and I love the single basin. My contractor put silicone on the under-mount part so the silicone is not noticeable.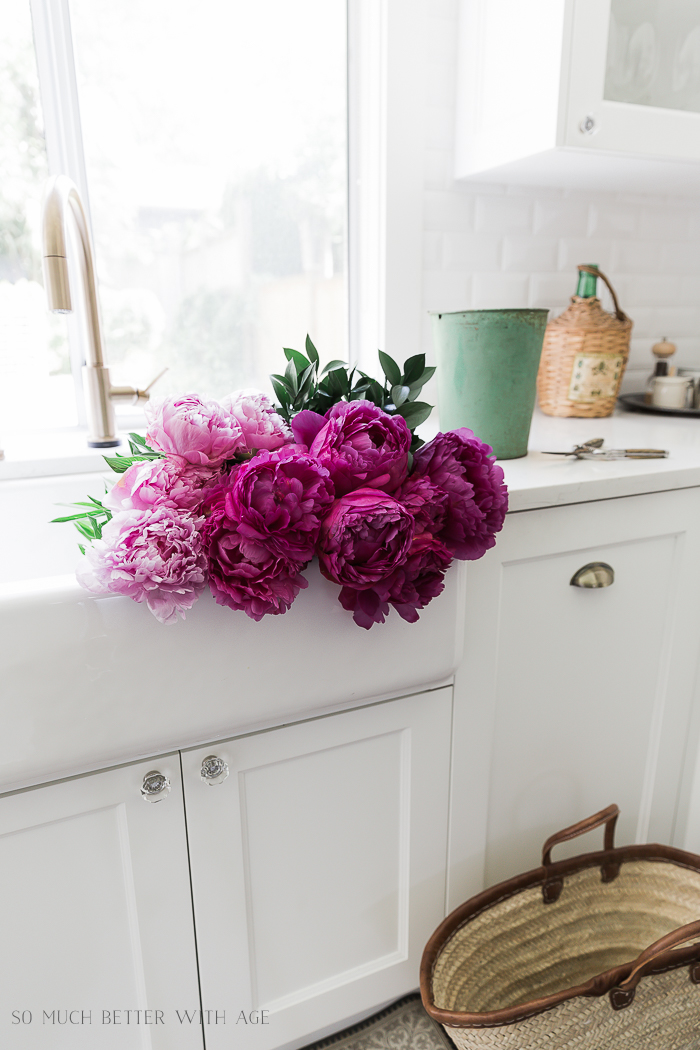 The front of my sink always sparkles. I never do anything but wipe a cloth over it to clean it.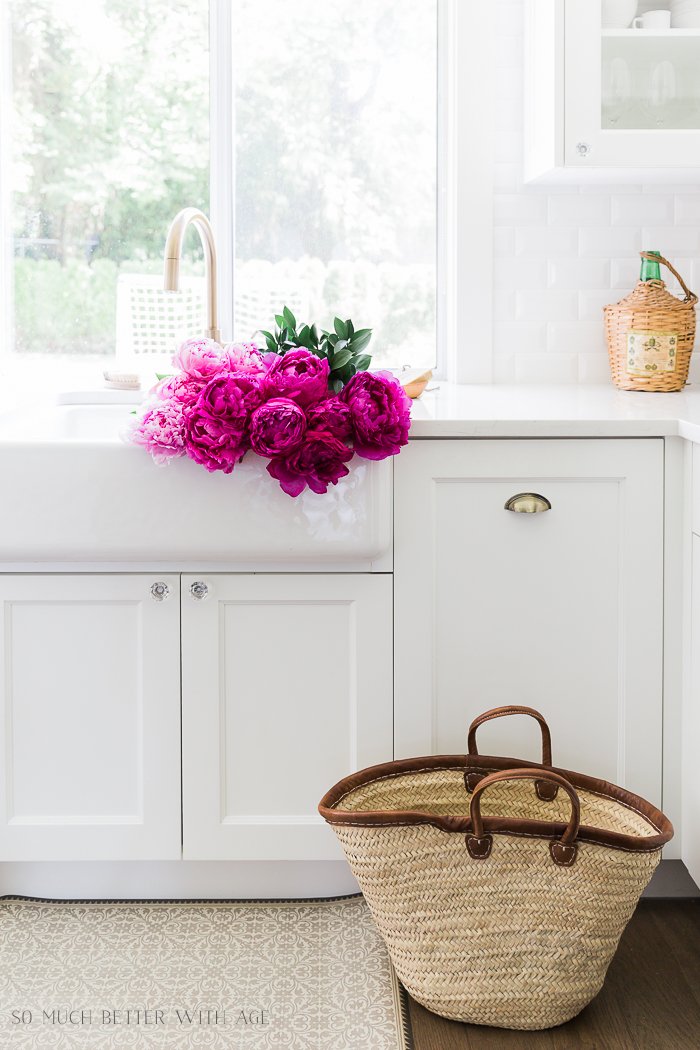 If you ever had any doubt if you should invest in a white apron front/Farmhouse type sink, I hope this has answered some of your questions!
Make sure to pin it for later!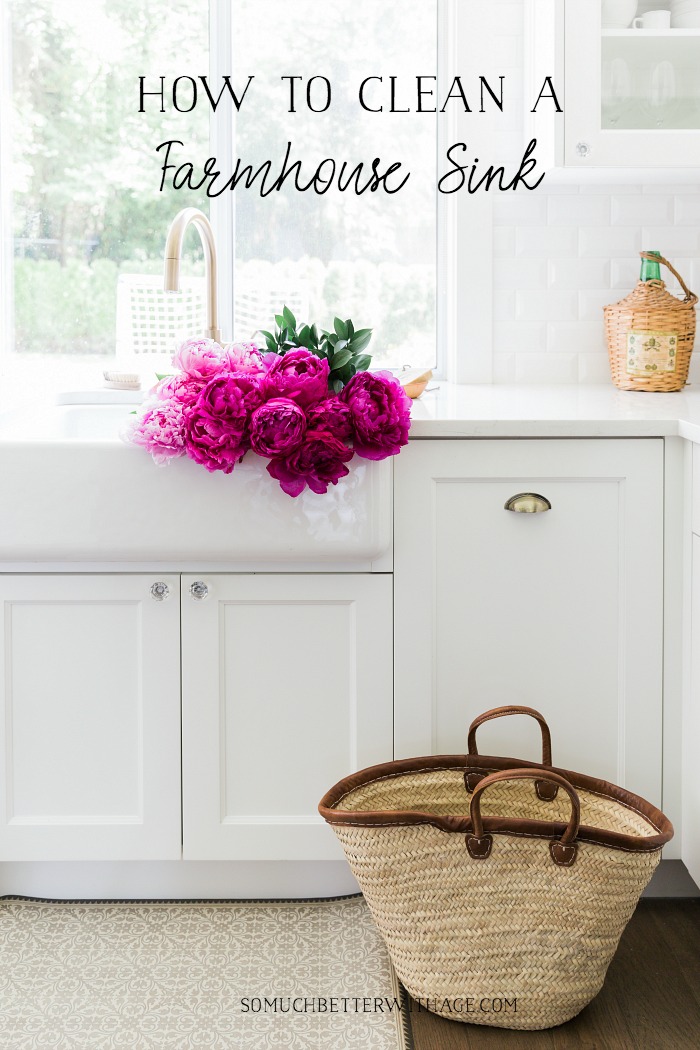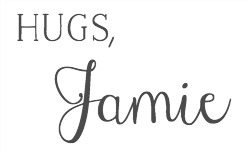 Click in Case You Missed: