I'm sharing how I spruced up my bedroom for fall and made it more cozy!
A good night's sleep is so important. I've always been a girl that looooves her sleep. I prefer to go to bed early-ish and get up early-ish. I love to read in bed every night and make a routine of settling in for the night to ensure a good night's sleep. Setting up your bedroom for coziness is a sure way to have a good night's sleep!
This post contains affiliate links for your shopping convenience. Click to read my full disclosure policy.
a cozy bedroom for a good night's sleep
1.Cozy bedding
I alway have a white duvet cover on my bed. To me, white can be dreamy, airy, clean and comfy but lately I've been craving something a bit darker. I switched duvet covers in my bedroom and it's changed the whole look of the room.
To me it seems more cozier with darker hues that you want to envelop yourself in. I bought this linen duvet cover from West Elm a couple of years ago but I don't think they carry this exact color anymore but they have many colors to choose from.
2. Cozy Lighting
Like I said, I love my sleep and I'm pretty cranky when I don't get a good night's sleep. Reading helps me to fall asleep so cozy lighting is a must. I love the lamps I bought at Home Sense (I'm kidding, I bought them over 10 years ago!) but I'd love to buy new lamps with USB outlets in them to lessen all the cords. The only nearby outlet is behind our bed so we have two extension cords leading to the nightstands for the lamps and chargers.
Shop USB Lamps

3. Declutter
I know I must be one of the few bloggers that doesn't have a lot of pillows on her bed but I hate putting all the pillows on each morning and throwing them off so we only have pillows that we actually use (okay there's one throw pillow in the middle).
Both Aaron and I have a specific orthopaedic pillow. I have quite a thick one as I'm a side sleeper and his is quite thin as he's a stomach sleeper. I've adjusted that by putting a thin pillow in a sham on my side of the bed and a thicker pillow in a sham on his side of the bed. It seems to work okay. I know my bed could look more luxurious but I'm all about keeping things pretty and minimal.
One throw pillow in the middle makes it look pretty. I recently got it at Pier 1 but I cannot find it online although there are many similar ones I found below.
This throw is extra cozy too and nice when you want to just lay on the top of the bed and read a book.
I don't like to have anything else around in the bedroom that can look cluttered so keeping everything else clear keeps distractions to a minimal.
4. Fan or White Noise Machine
Aaron loves sleeping with a fan and although I don't like it blowing in the winter, I love the white noise it makes. My kids have a little fan in their room too as they always slept with a white noise machine when they are babies.
5. Blackout curtains
I've sewn blackout curtains for every bedroom in every house. I usually sew them from scratch in one of my most popular posts but this time I sewed blackout lining in store-bought curtains and it was definitely easier than sewing from scratch.
I got these ivory balloon panel curtains from Soft Surroundings and hemmed them at the bottom since there are baseboard heaters under the windows.
Having a room that's nice and dark is one of the most important things for a good night's sleep!
I hope these tips help you have a cozy night's sleep this fall.
Shop Cozy Decor

Make sure to pin it for later!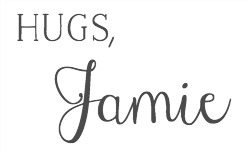 click in case you missed:
How to Sew Blackout Lining to Store Bought Curtains
French Vintage Master Bedroom Tour