Today I'll show you how to create a floral centrepiece in a basket for summer or anytime of the year.
I love simple flower arrangements and ones that involve a vintage vibe are my favourite. I wanted a way to display these beautiful hydrangeas in a basket without ruining the basket and keeping the flowers fresh.
Let me show you how I did it.
I found this basket at a vintage market and loved the aged patina on it.
To display flowers in a basket, use a bowl that is slightly smaller than the basket itself. I found a glass in my kitchen that did the trick.
I filled the bowl with water and floral food and started arranging the flowers around the edge of the bowl then filled in the middle with more flowers.
Cut the length of the stems with pruning shears so they fit nicely in the bowl.
Fill the edges of the bowl with the flowers first then fill in the centre. You'll need to cut the stems of the middle flowers shorter than the flowers around the edge.
It's just that simple!
Now you have a simple flower arrangement that will last and looks pretty in a vintage basket. The green and white hydrangeas together are just so beautiful.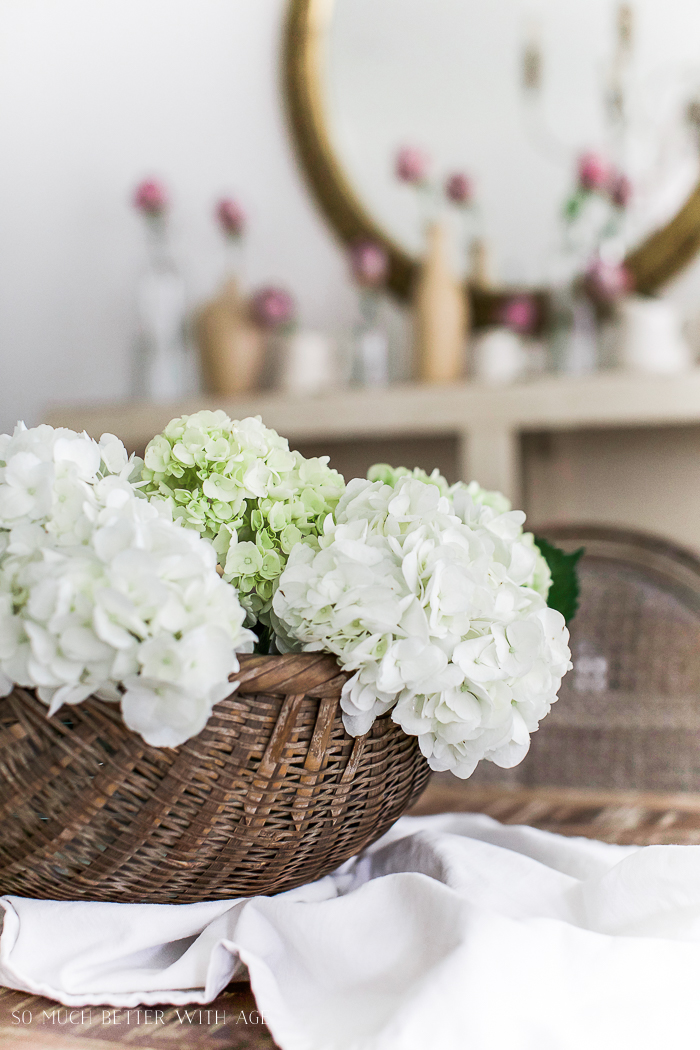 I hope this post will inspire you to use basket or different vessels you have around the house to create your own floral arrangement.
Check out my short video on how to create a floral centrepiece in a basket:
Make sure to pin it for later!
Click in Case You Missed:
Bug Repellent Outdoor Centrepiece