How to Declutter and Organize the Basement
Where do you start when trying to declutter and organize a packed basement? Check out all these great tips!
Today I'm sharing with you the not-so-pretty photos of my basement. This part of our basement is unfinished which makes it perfect for storage. There's another half of our basement that contains the kids' play room and where we watch movies.
I'm going to share with you how our basement got so bad to begin with, how I organized it and lots of before and after photos!
Let me show you the 'before and after' of our basement.
Disclosure: This post may contain affiliate links. Please read my disclosure policy.
How did my basement get so out of control?
Welcome to my basement. It's a hoarder delight!
Since I've started blogging, it's like I actually have become a hoarder. Especially when I was doing DIY projects for my book, I had to collect lots of furniture and had many types of DIY supplies on the go. I now have an overabundant supply and too much stuff down here.
If you can believe it, I've held two markets and sold a TON of stuff from both times and my basement still looks like this!
The other part of the problem is that I need more decor than the average person for photo styling and seasonal decorating.
I've decided enough is enough. I don't want all the clutter anymore and want to share more 'real life' photos anyway. Win win!
Now that our garage is completely transformed, this is the last room in our house to have a makeover. And to be fair, some of the stuff in the basement went into the garage but there was still an overwhelming amount of stuff.
Do you relate? Do you have an area in your home that gets out of control? A dumping ground where everything gets thrown into?
basement floor plan
To give you a good glimpse of how our basement is set up, here is a floor plan. You can see that the left half is where we watch movies and have the kids' play room and the other part is unfinished. I have no idea why there is a place at the end that could have been added to the rec room but I'm not complaining as we obviously need the extra space for storage!
That back skinny unfinished part of the basement is where I keep my seasonal decor and camping supplies.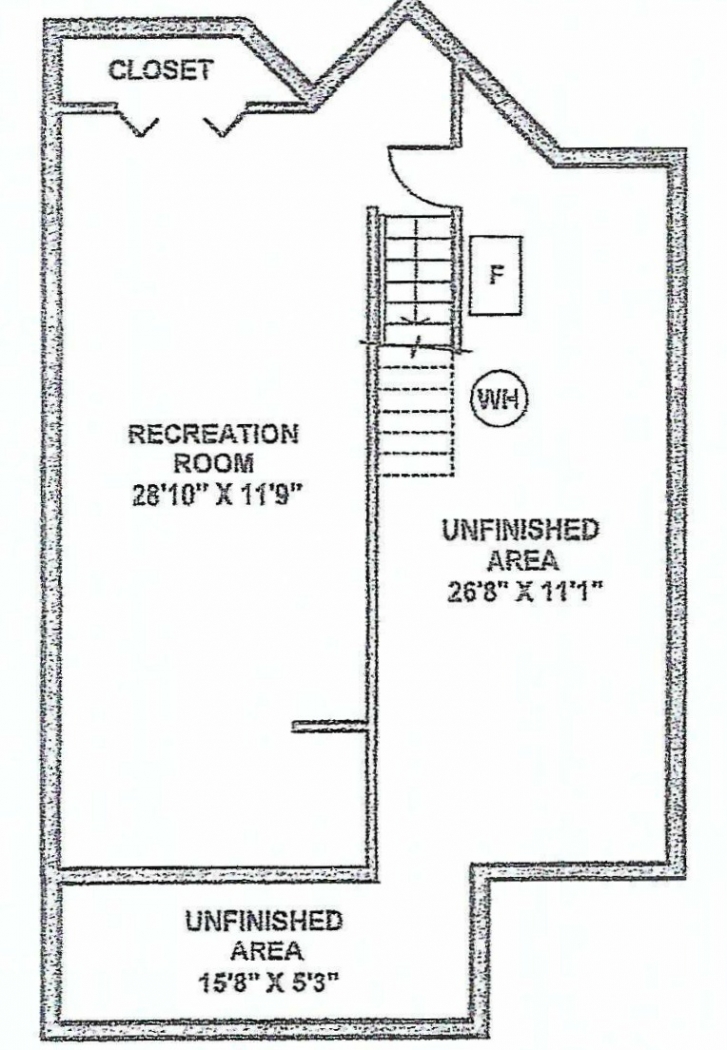 You can see in the photo below that there are bins neatly stacked in the corner. I've organized this space more times than I can count! I feel like that I've just been reorganizing mess, though, and nothing ever truly gets decluttered and organized. Do you know what I mean?
We've put in shelves years ago so you can see that there was once a beginning of organization but once it starts to pile up on the floor I find that's it's a loss for the whole place.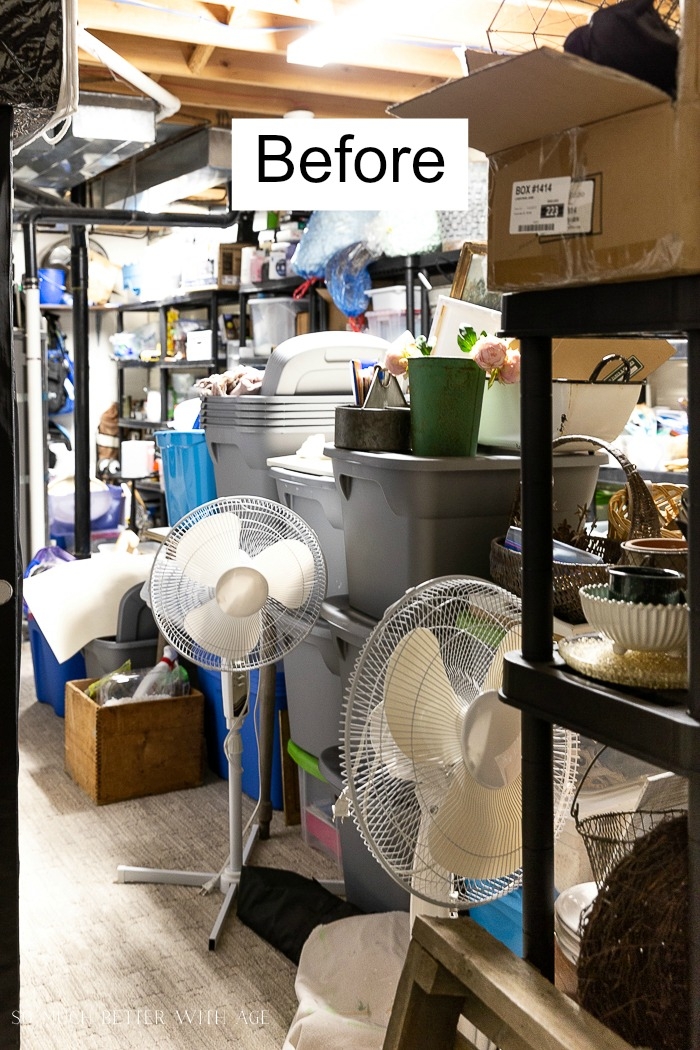 The two shelving units on the right contained most of my paints and DIY supplies. It was also in the far corner of the basement which made it completely awful to try to get to. They are now in the garage so those shelves were empty by the time I organized it (a kick start is always helpful!).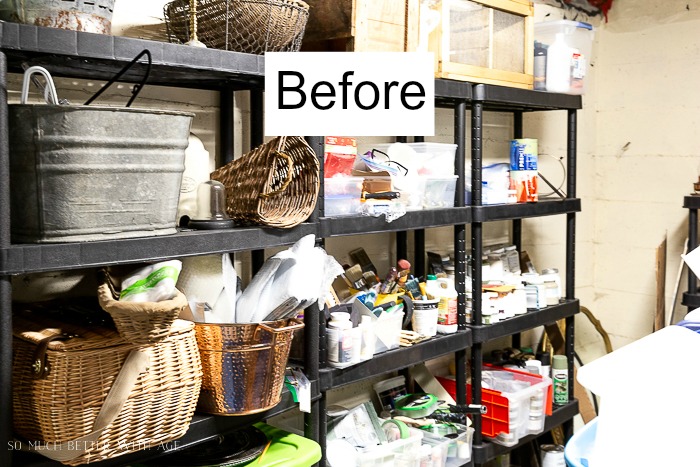 In the photo below, these are the shelves you see when you first come down the stairs into this unfinished part of the basement. The shelving unit on the left is where we stored extra pantry supplies and the shelf on the right is where most of our tools were kept.
All the tools and supplies are now in the garage so this freed up another shelf! Woohoo!
We also had a lot of expired food down here. I think we always avoided going down here!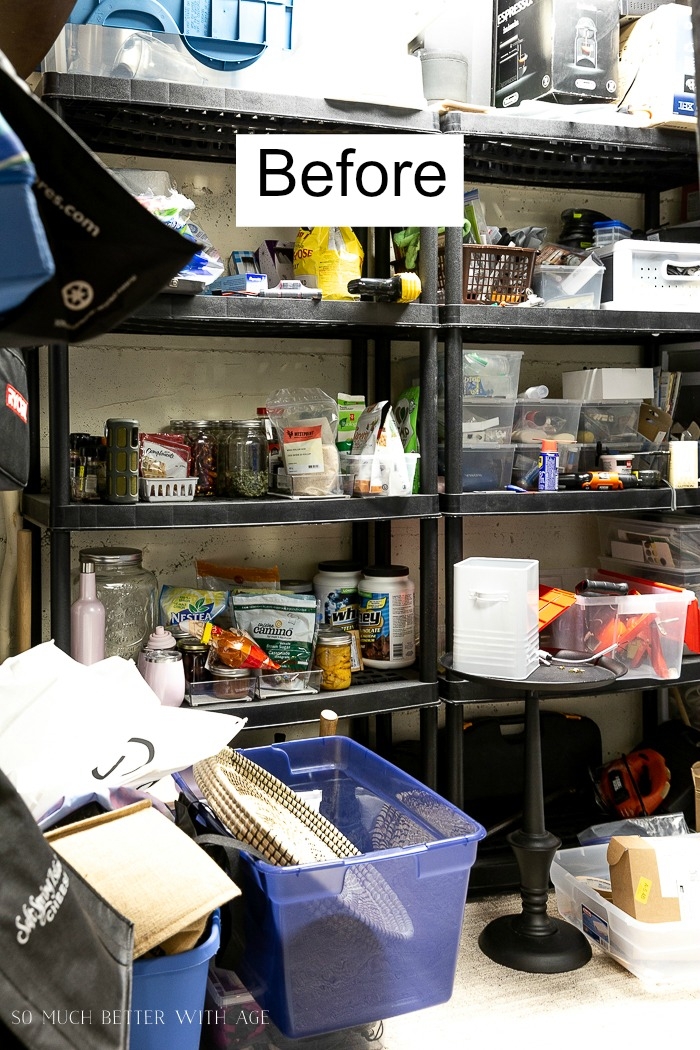 how did I tackle it all?
I really took a hard look at what I acquired and started to sell off a lot of stuff. I had a booth at the Olde Farmhouse Market in November and sold a lot of my vintage items, projects from my book and many copies of my book. It was a great success! But I still had lots of stuff in the basement.
With the market in November and Christmas right after, I decided to tackle it this month but I thought about things that I could let go of which was a tremendous help in decluttering.
Just like dieting, getting rid of clutter is a mindset.
By keeping items in the back of my mind, I would think about them now and then and I came to terms with letting a lot of them go.
I also made a promise to myself that if I bought any new home decor, then I would have to let go of something that I currently have.
I've been doing it the same way I purge clothes in my closet and it's been a huge help in keeping the clutter away. One item in, one item out!
I wanted everything to be in a bin (unless it was too large) so it makes you take stock of items that you are putting in clear bins. Is it really something you want to store?
There are a few things that I might sell or donate but I'm not ready to get rid of just yet so I will continue to think about them. Once you start purging, it can become addictive (in a good way!). I'm now visiting the basement just to check it out and thinking of other ways on how I can make it even more organized.
In review, this is how I tackled the clutter:
Sold stuff that had good monetary value and donated a lot!
Gave myself a deadline to tackle it – looked at everything I had and thought about the items for a few weeks before beginning
Made a promise that if I buy something new, something old has to go
Store in clear bins if possible so you are reminded what you kept – you might want to get rid of it in the near future
Disclosure: This post may contain affiliate links. Please read my disclosure policy.
the reveal
And now time for the reveal, here is what the room looks like now!
Isn't it amazing?! Look at all that space!
My goal is to put stuff in the middle of the floor that I'm going to sell. That way there's a spot for it to sit while I wait for it to be sold.
I bought both of these wardrobes from Ikea but at two different times. One year they were white and the next year they were black. So annoying. Anyway, one wardrobe holds ski jackets, ski pants, snow boots and another has a bunch of Aaron's clothing in it that he currently doesn't wear (I've reminded him that he needs to go through them!).
Two foam mattresses sit on top which are perfect for sleepovers.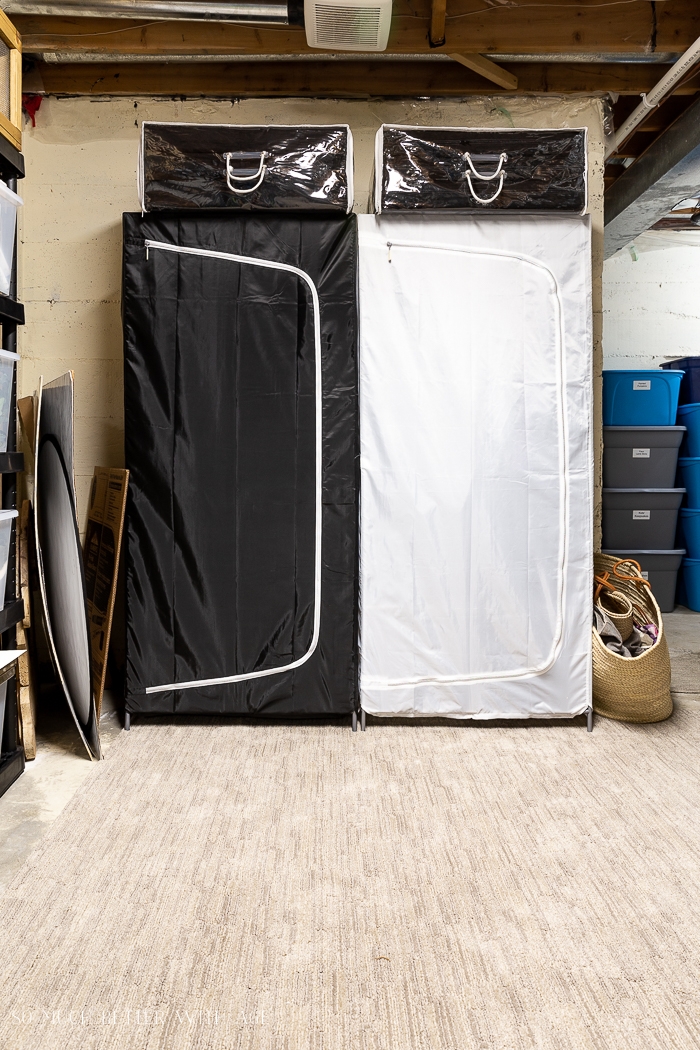 In the skinny back part of the unfinished basement is where we store the camping bins, water floaties and seasonal decor.
Some items are so bulky they don't fit in a storage bin (like the Christmas tree collar, vintage sled and camp stove) so this is the perfect spot for them.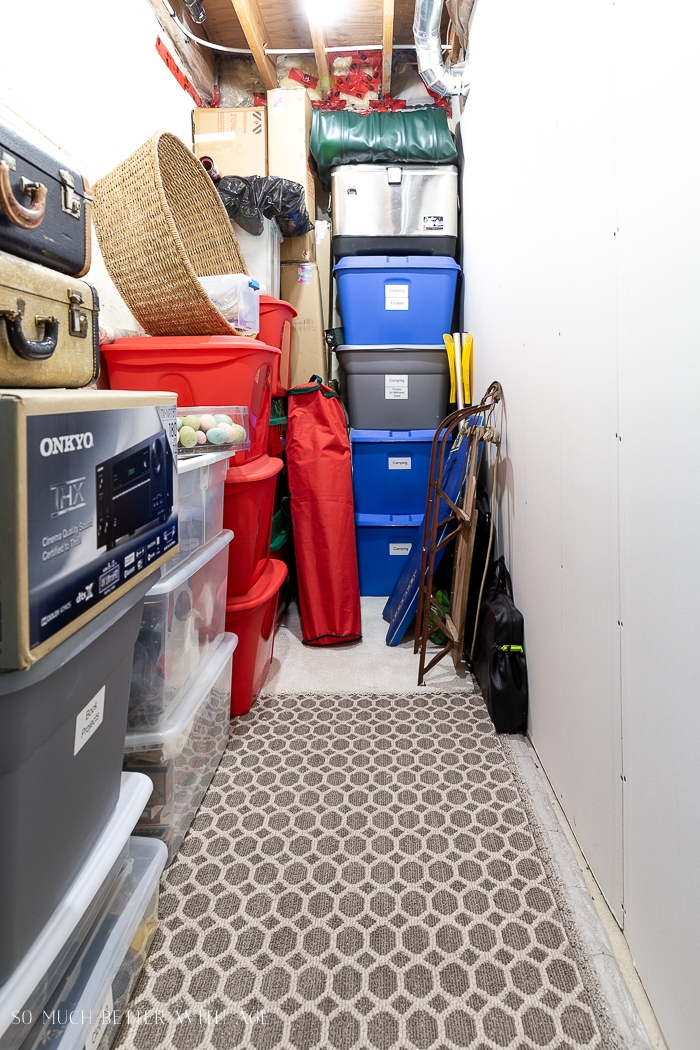 I'm still thinking about those vintage suitcases. I've had them for 20 years. Hmmmm…should I sell them? I'll keep thinking about it.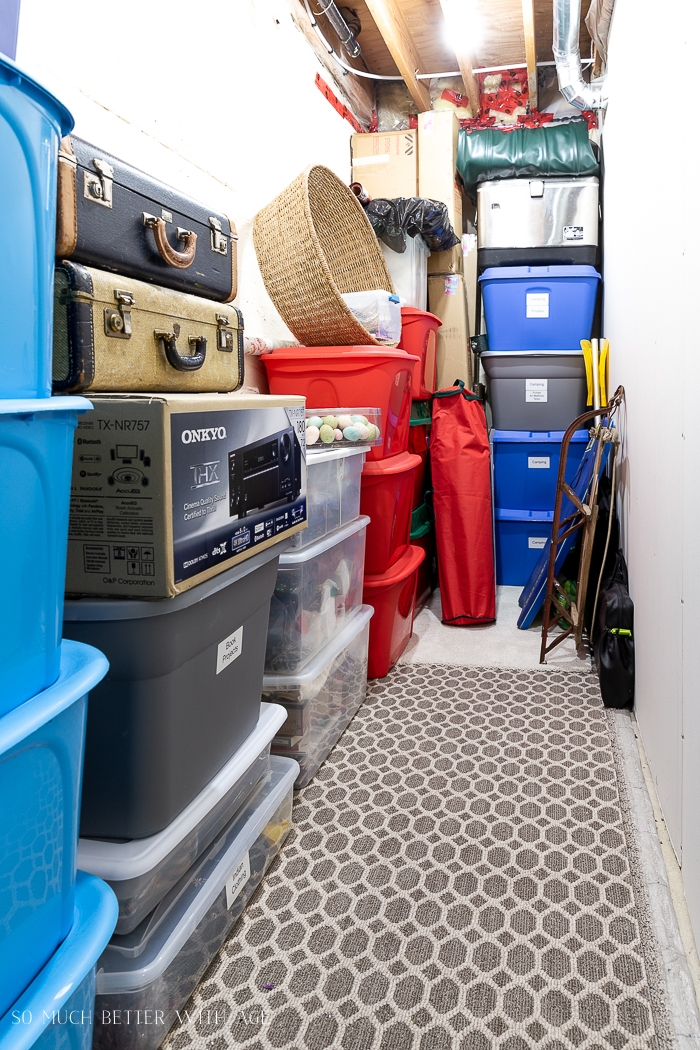 I made labels with my Dymo labelmaker so everything is labelled nicely and you can grab what you need easily.
If you don't have a large label maker, you can always use painter's tape and a felt marker. I would not use masking tape as it tends to get brittle over time and eventually comes off.
I'm currently storing the mirrors I made and some art.
I just sold the trumeau mirror I made for my book, French Vintage Decor! You can learn how to make your own gold mirror inspired by Anthropologie's gorgeous mirrors.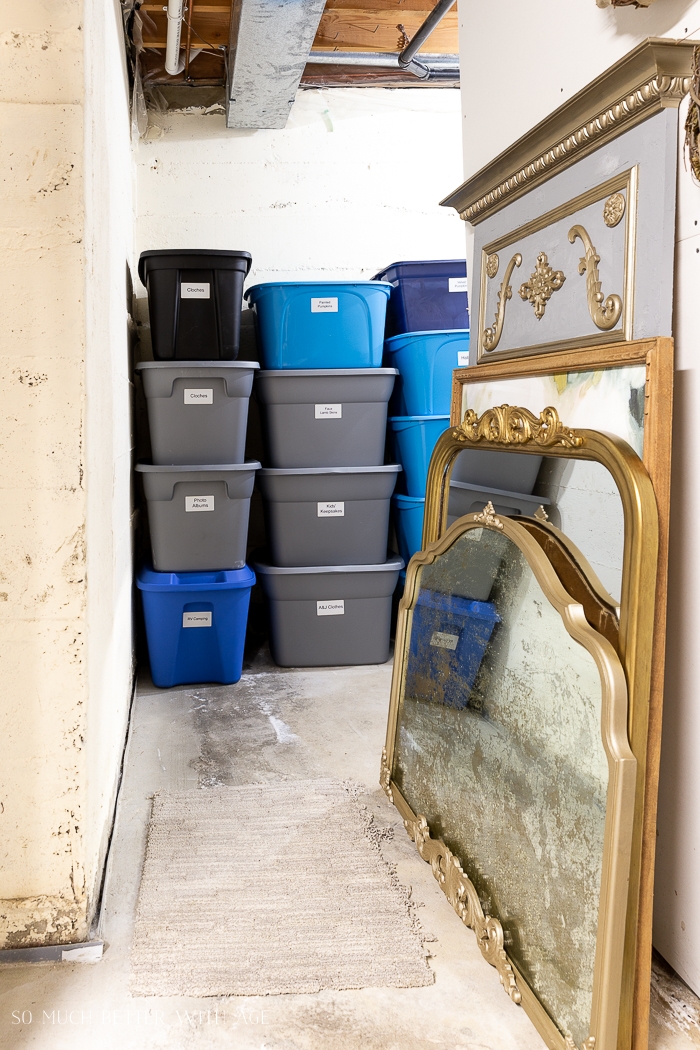 I admit I still have lots of decor but it's a fraction of what I used to have.
I'm also considering selling off a big part of my crock collection! But I'm still thinking about which ones to sell.
The small bins contain all my craft supplies that used to be in my office. I have extra vases and plant pots. The four plastic bins on the right contain smaller decor pieces for styling props and candlesticks.
These are similar shelves: black plastic shelving unit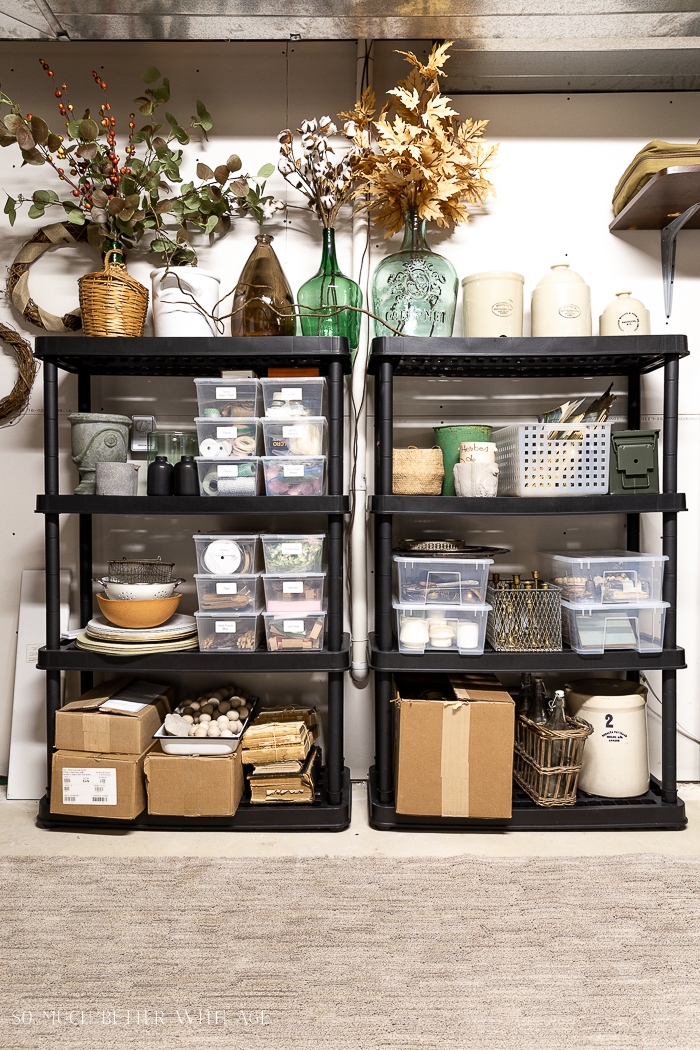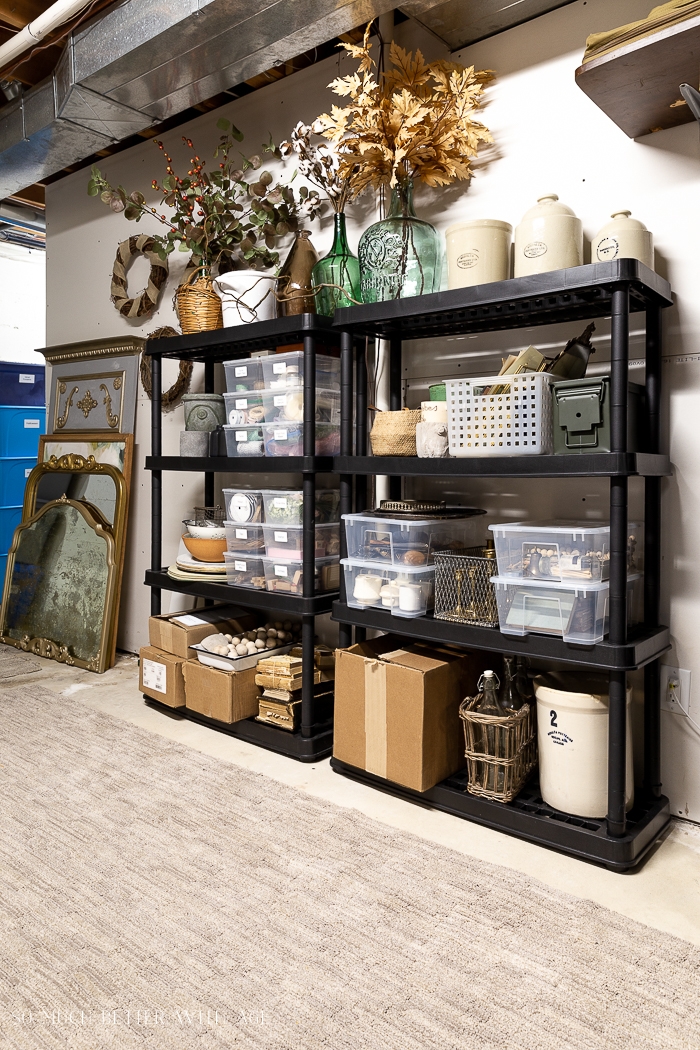 This is what the other side looks like. This side has taller shelves. These are similar: tall plastic shelving unit
I have bins labelled for DIY supplies, faux florals, fabric and more decor.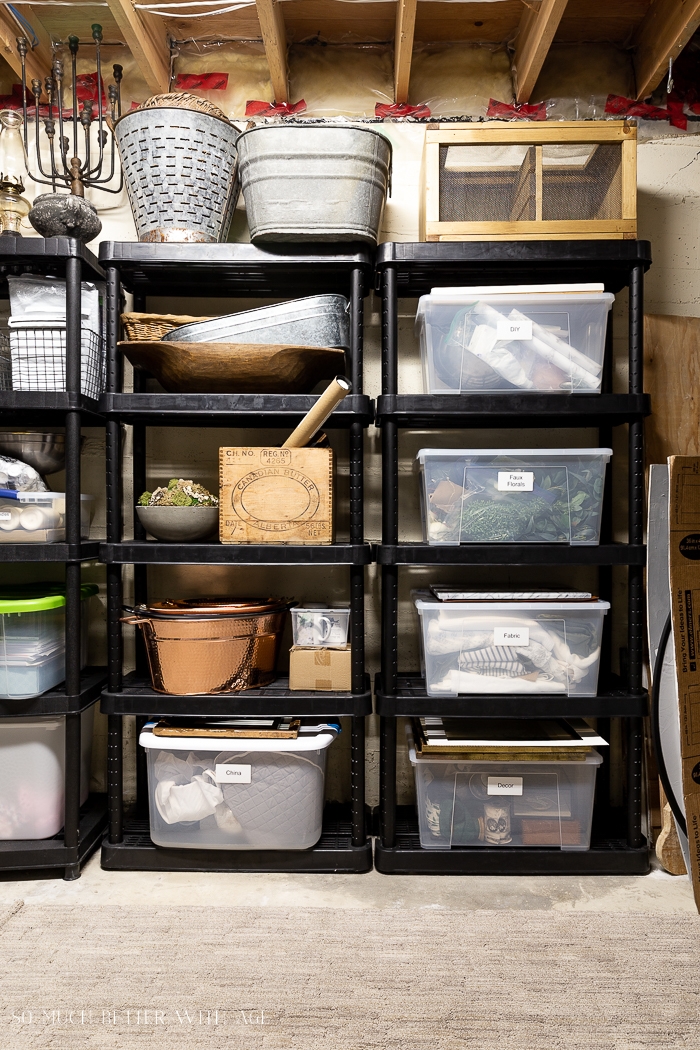 On the left shelving unit, the smaller bins contain candles, tea lights, votives and pillow covers.
The bins on the bottom hold old photos (something I have to go through this year!) and a bin of paints for the kids.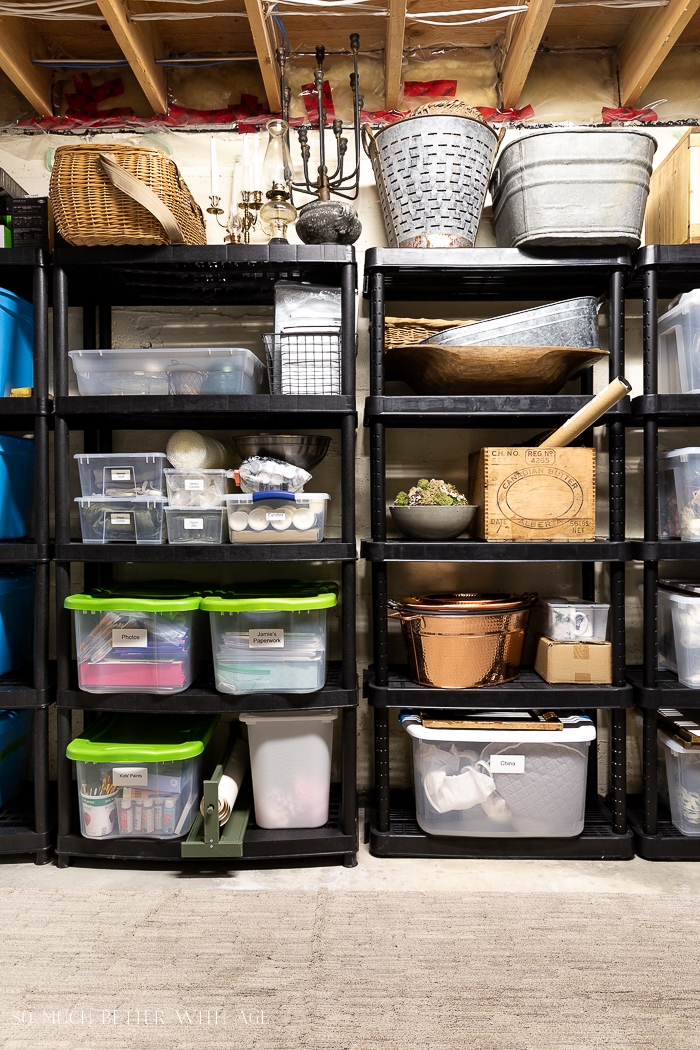 This shelf on the left contains four blue bins with Aaron's stuff. With all my decor, it seemed only fair 😉.
We have some empty product boxes at the top that we want to keep for awhile but then will recycle after the warranties expire.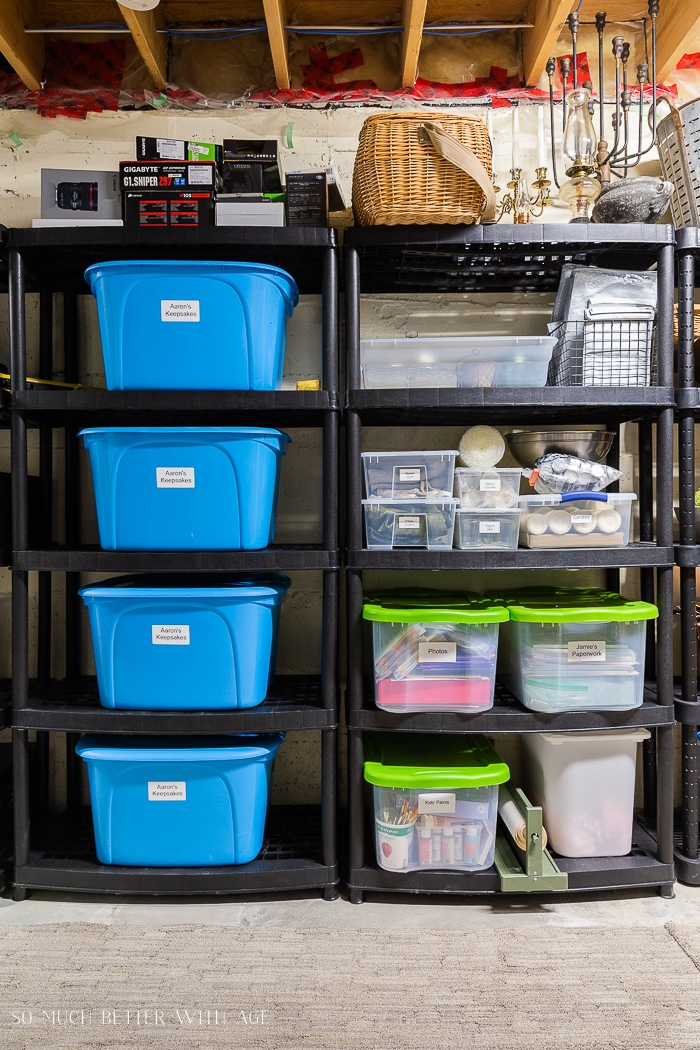 Our extra panty shelf has been reduced and organized and the bottom bags are used for donation items. Whenever I need to donate something, they can go in those bags and once they are full, I'll drop them off to a thrift store.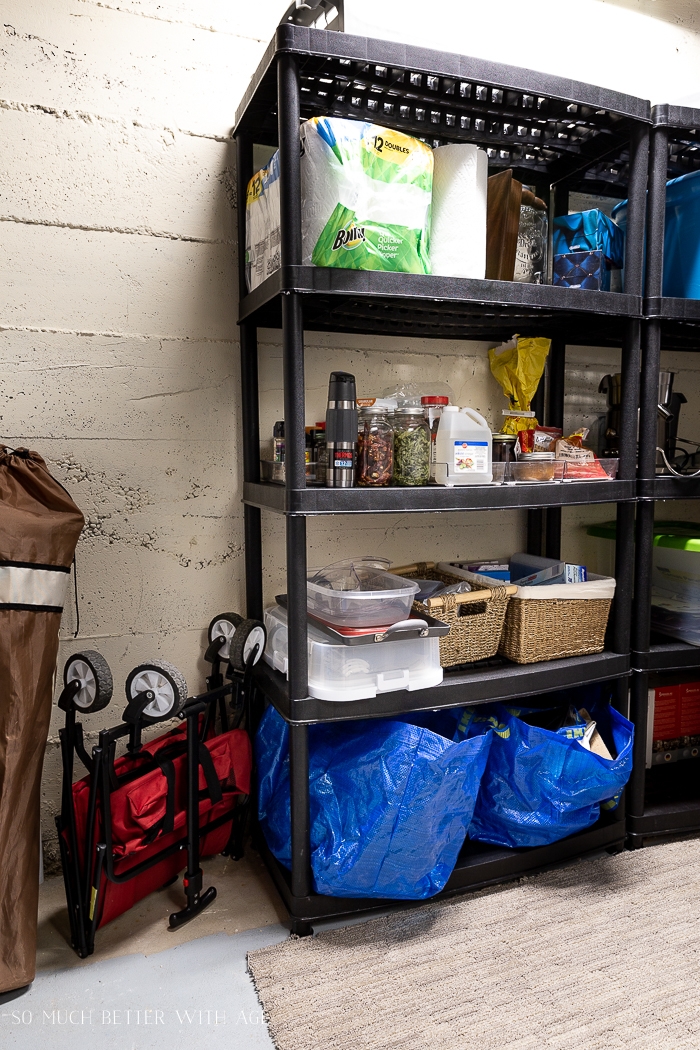 Here's a view of that entire wall.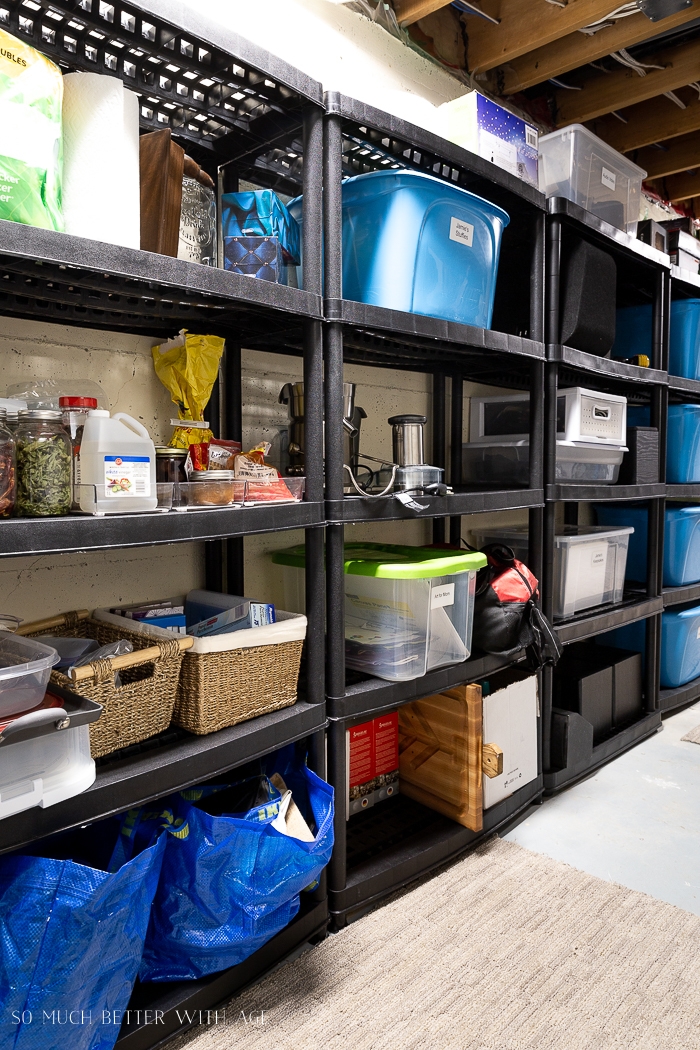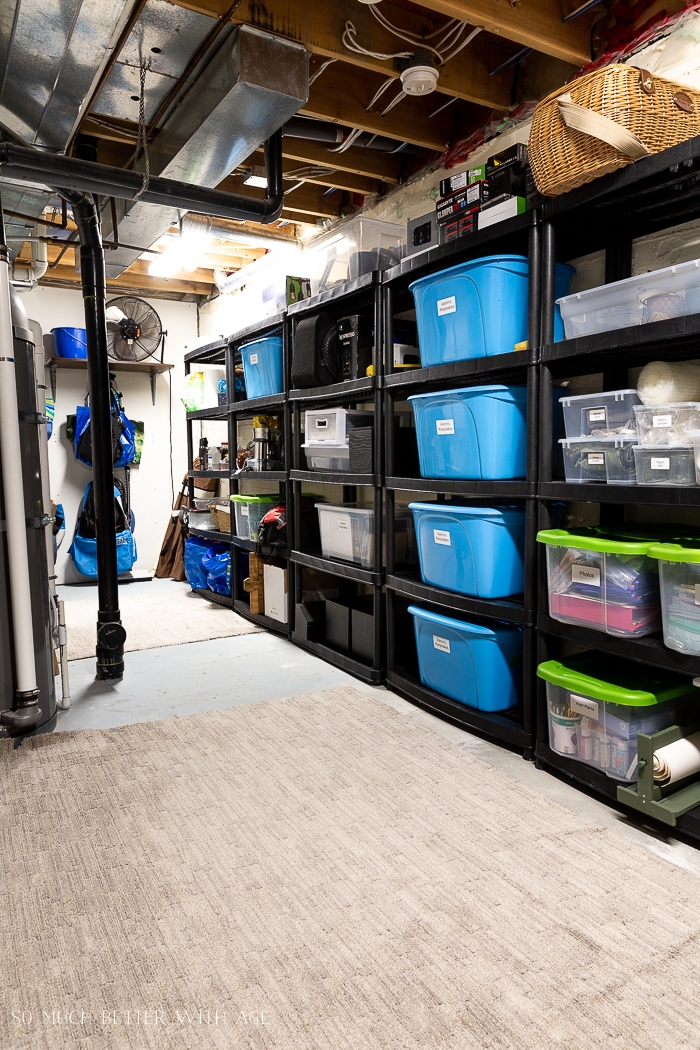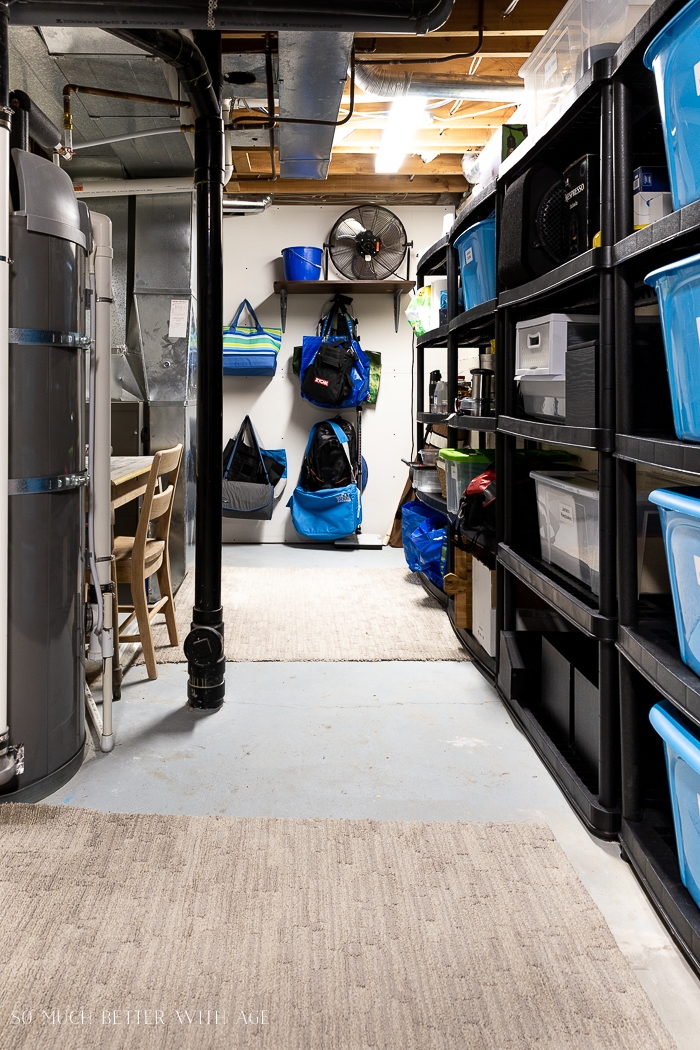 This may seem like an old place for a desk (don't worry, I won't be actually sitting here) but this old desk and chair I can't get rid of just yet. I might keep them forever or I might sell them if I feel I don't want them anymore. Anyway, this was the perfect spot for them so I've kept them and will ruminate on if I want to sell them or not.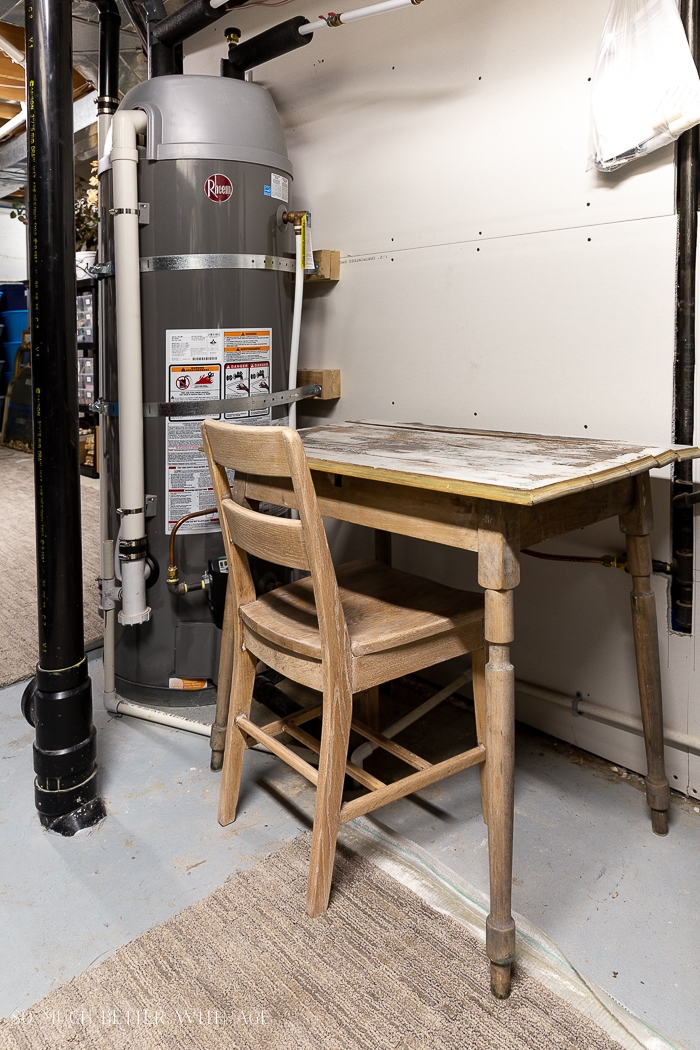 Near the entrance, we've placed long screws in the drywall to hang extra bags, cooler bags and our picnic blanket.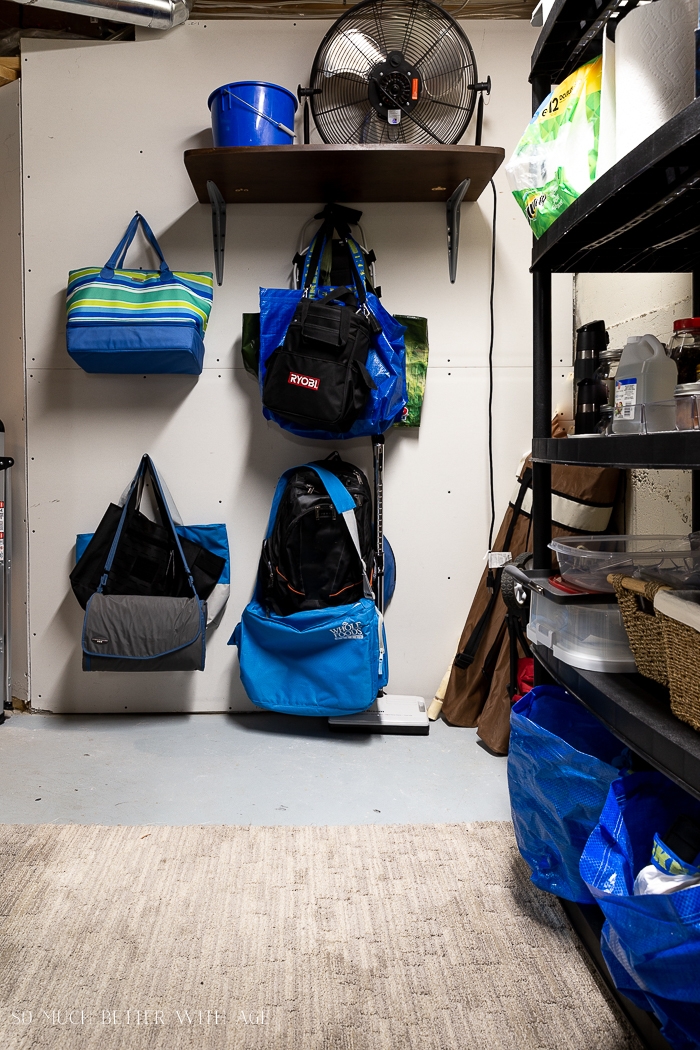 Phew! What a lot of work but the reward is huge! We can now go down in the basement and find anything we need easily.
It's such a load off and lowers my stress. What do you think? I hope this helps you to declutter and organize your basement or other cluttered room in your house.
Sources:
Shop Storage Bins:
Make sure to pin it for later!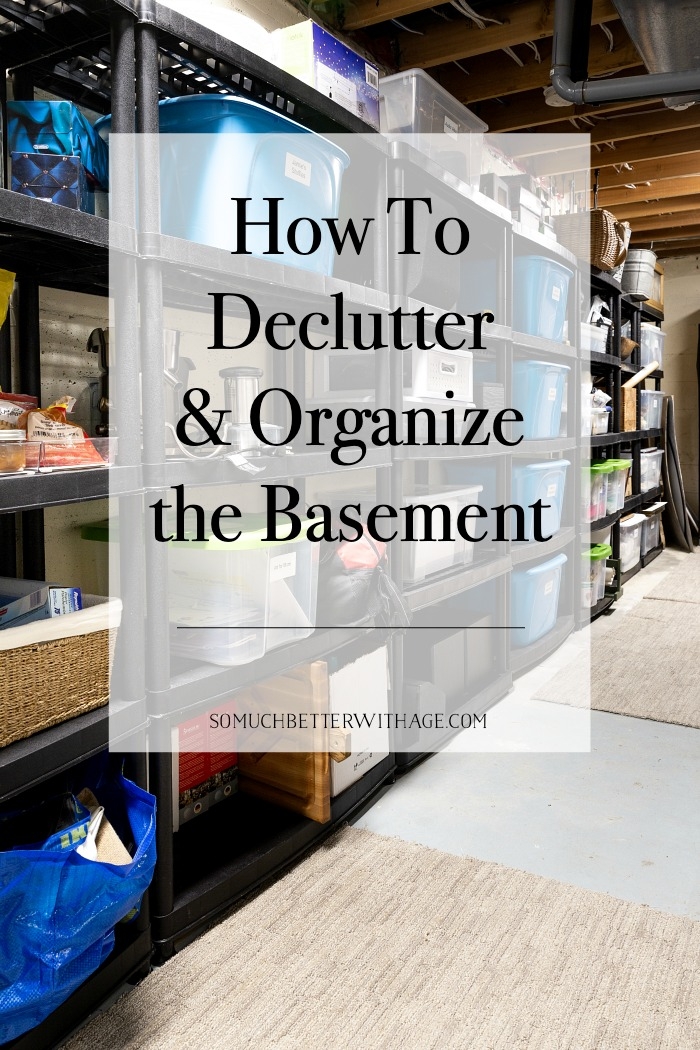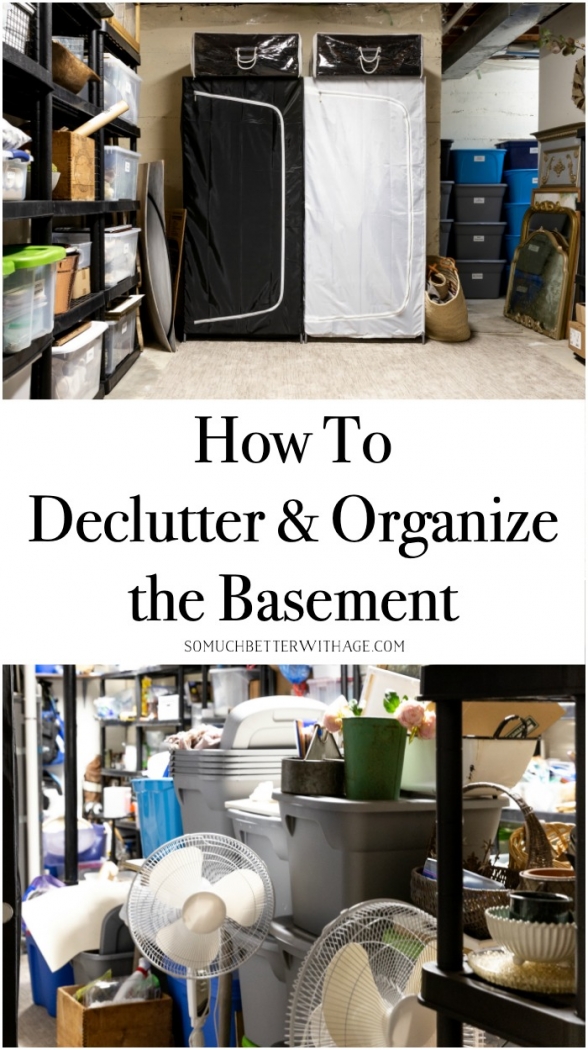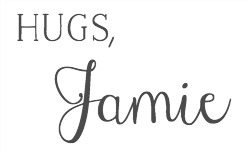 click in case you missed:
How to Sell Everything in a Storage Unit