How to Declutter When You're Sentimental
I'm going to share with you how I declutter my home even though I'm sentimental and two stories that changed my life!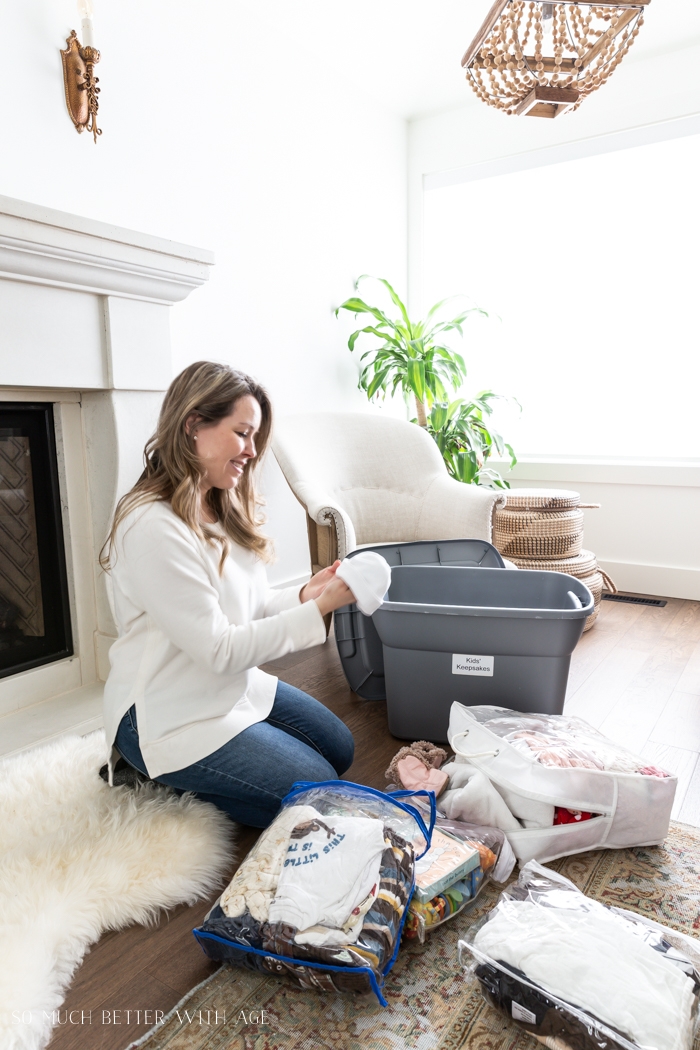 I am a sentimental person. There, I said it. And it can be really hard to declutter when you're sentimental. My only saving grace is that I'm also a very organized person. I like everything to have its own spot and I've never had a junk drawer. Ever.
What happens when you're sentimental and organized is that you start to get neat piles of junk. That's what my basement was like although neat went out the door every few months or so. It would be all neat and organized then a few months would pass and I'd have to reorganize it all again. But reorganizing clutter is just that, organized clutter.
To truly get to the bottom of the clutter you need to tackle the sentimental reasons behind it. Why you have it and why it's so hard for you to let go of.
Today I'm going to share with you how I tackle all these sentimental items in our homes and how you can too!
Disclosure: This post may contain affiliate links. Please read my disclosure policy.
Excuses we tell ourselves
I like to keep the kids' artwork, baby clothes, birthday cards and all their schoolwork. But I realize that I'd be on the show 'Hoarders' if I didn't keep it under control!
Also, I think being a blogger has given me an excuse to hoard lots of home decor for prop styling but do I need a whole basement of it? Umm no.
Also, we were planning on moving to a bigger house so we kept a LOT of furniture along with a storage unit full to the top but the cost to keep it was ridiculous. After a couple of years, we could have purchased all those items again for the same cost. The other thing is that styles change and tastes change. What you think you might want to keep for 'one day', you probably won't want when that 'one day' comes and in the meantime, you've spent a lot of money storing stuff for no reason.
That's the biggest reason for getting rid of our storage unit a year ago and it was the best decision ever made. It was a huge weighted lifted.
Maybe you have items that you'd like to pass down to your children so you hang on to things for that very reason. Or maybe it's for another family member/grandchild etc.
If you are holding on to something for someone else, then just give it to them now! If they come to you and say I really want your china collection when you're gone, then why not pass it on to them now? Then you can see them using it and find joy in it!
Two stories that changed my mind
Story 1
When my grandparents downsized from their farm to an apartment, my grandma set up what looked like a garage sale (minus the money exchange) on their big driveway for just family and later friends and everyone got to pick and choose what they wanted. It was like Christmas! She was so happy to see all her items going to people she loved. If they didn't want it, she donated it. But everyone seemed to pick something they loved and it was a great way to give things away without feeling the pressure to take it.
Story 2
I remember there was a distant relative in our family that passed away around the same time my grandma held her 'garage sale'. This other family member was a hoarder. Her home was so full of stuff it was such a burden on her family members. It took tons of man power and energy to go through everything in the house, the garage and the sheds.
There was so much stuff that had rotted over the years that most of the stuff was unsalvageable. Everything was crammed in so tightly that you couldn't notice how rats had crawled in and made homes out of the family 'heirlooms' and water damage had ruined what the rats didn't touch. Dumpsters had to be dropped off onto the driveway and it took WEEKS for everything to be gone through and after that everyone was exhausted.
Not only is it an emotional time for loved ones but having to deal with all their crap is not what you want to leave your family. I'm determined to not do that to my children!
The moral of these stories
In both of these stories, what family members actually took away were small items. Mementos that were important to them so they could remember their loved ones. Not big collections, not any furniture, just a few small pieces.
I always remind myself of these stories when I'm holding on to too much stuff!
how to Deal with Sentimental Items
So where do you begin when you have a basement (like mine was) bringing to the top of stuff that you don't know what to do with and a lot of it is sentimental?
Do multiple rounds of decluttering
This has helped me tremendously. As I mentioned in my basement organization post, I really found it helpful to take a good hard look at what you have first. Leave some boxes open or take the lids off some storage bins and take mental pictures of what's in there. When you're going about your daily business, remind yourself of what is in those bins and ask yourself why you are still hanging on to them.
Most sentimental items have zero monetary value. They are valuable to us because each of those items carries a memory. We worry that if we throw out the item, we'll lose the memory.
Because my blog shares photos of my home and I have my book full of book projects, I'm happy to let those items go. I've documented the items, it gave me joy now it's time for you to go.
First round:
Go through everything in a section (like the basement) and quickly sort through the easy stuff and set aside the sentimental items. Anything that is not useful to you/doesn't fit/broken/throw away, recycle or donate.
I have a spot in my basement where I keep items to go to donation. I drop off stuff every 1-2 weeks. If feels so good!
I take a photo of things I no longer need but still love before letting them go.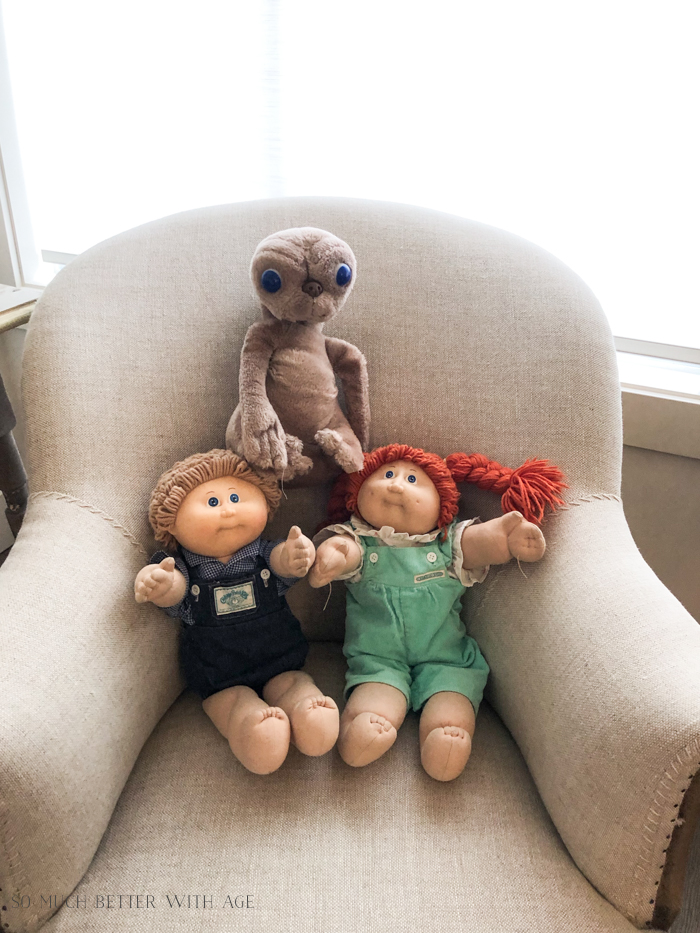 Second round:
If you reallllllly love and it sparks joy (KonMari style), keep it but promise yourself you will re-evaluate it in another 3-6 months . I find that when I get purging and can't decide if I want to hold on to something, I'll keep it and then put it in the back of my mind. Later on I realize I can just let that item go. It's helped tremendously get over lots of sentimental items!
Third round:
Tackle your sentimental items once the majority of your home (or an area) is organized. It will make you feel so good and proud of yourself to know that you can declutter and make a huge dent in tackling it head on! Also, once you start tackling those sentimental items, it won't be placed around all the other cluttered items. You'll be going through it all in a semi-organized home/space.
now you're ready!
Now that you have your sentimental items ready to go through, be prepared to find joy in all these items but you can't find joy in EVERYTHING and keep EVERYTHING. It's going to be hard!
Pick out your best/favorite/most amazing items. It's going to be the sentimental olympics for you! For example, if you have tons of stuffies, keep one or two favorite ones and donate the rest.
Start with one category at a time. Divide up all the sentimental items into different categories and box them up temporarily. Now you'll pick a category at a time to go through.
For kids' stuff, I gave myself a limit of ONE bin of baby clothes/shoes/first blankets/favorite books for both kids. It will depend on your space and how sentimental you are for how to make a decision on your goal.
And remember, your kids won't want a ton of their own stuff later on so just keep a small amount! And if they do want all their stuff, then you have to make sure they don't become hoarders so you want to be an example for them.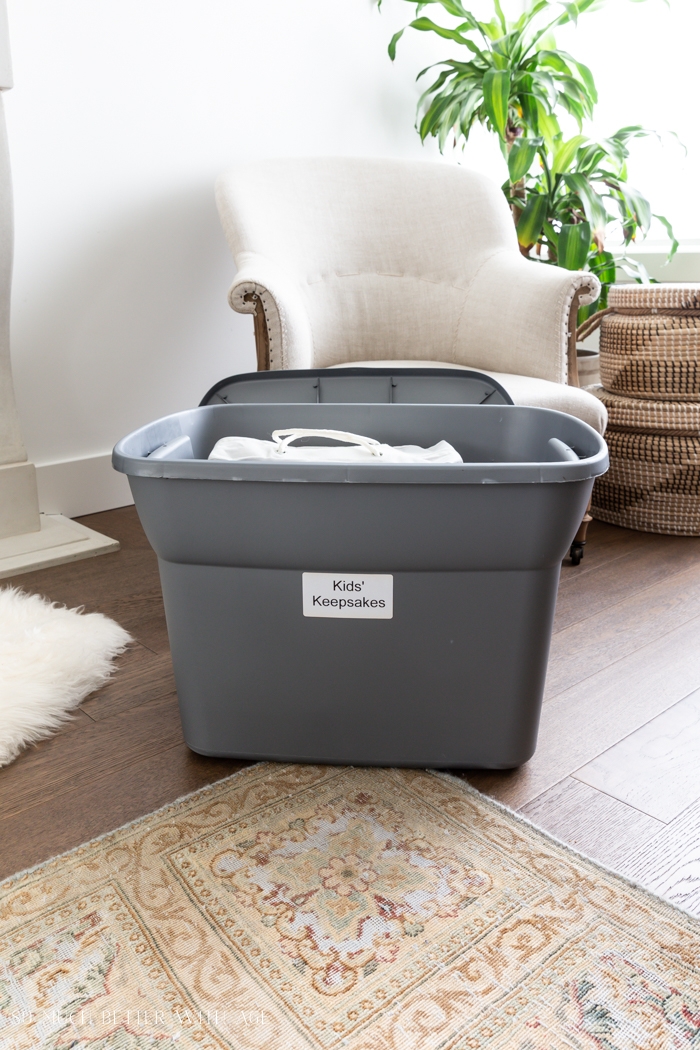 Go through all the items and pick only the most memorable or favorite and make sure you stick to the goal. In this case, I wanted only one bin.
If you only have one item for your each of your children or none, well done! If you're sentimental like me, this could be challenging!
I've kept these bags from different things throughout the years. Some have been from school supplies and sheet sets. You can buy similar zipped storage bags here.
Zipped storage bags:
For my kids' artwork, school report cards, baby book, and any paper mementos, I have one smaller bin for each of them.
You can see how I organize my kids' artwork here along with my free School Memories Book printables.
I also have one bin for my keepsakes and Aaron has four keepsake bins as we saw in the basement makeover post but since I have so much home decor, I call it even 😉
I continually go through a category at a time until that category is complete.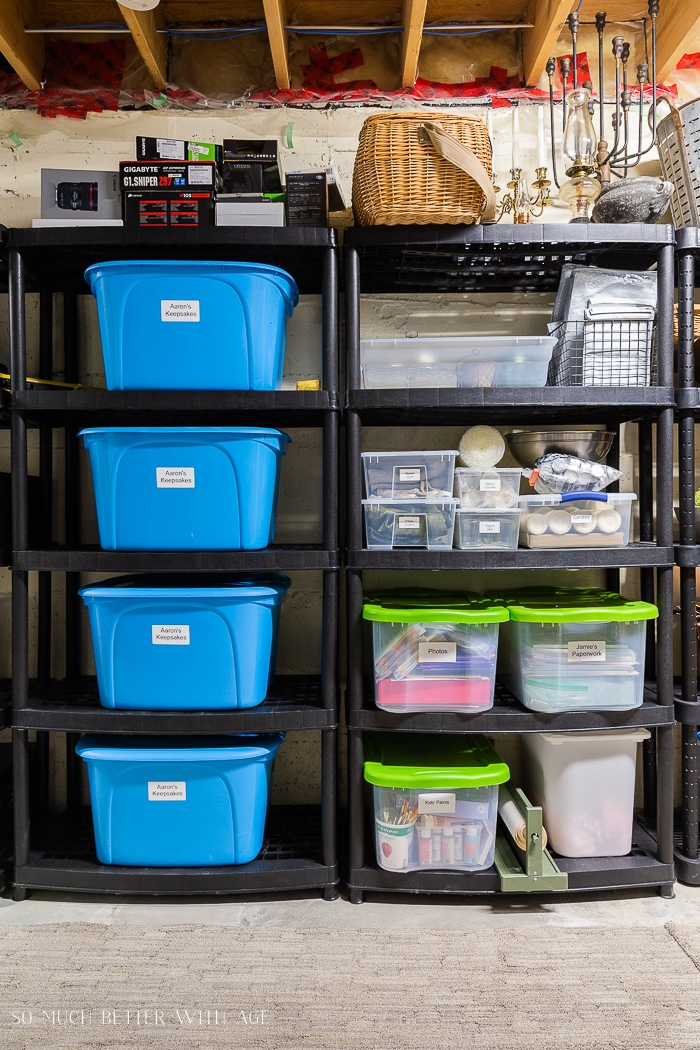 remember this tip
Now you have a SYSTEM for what to do when you get more items in that category. In some cases, you won't have any more items of a category coming in to your house. Be sure to stick to your goals and don't allow yourself to add more to it. This is how it slowly goes downhill fast. You'll begin to think what's one more thing?
This is what happens when you think what's one more thing: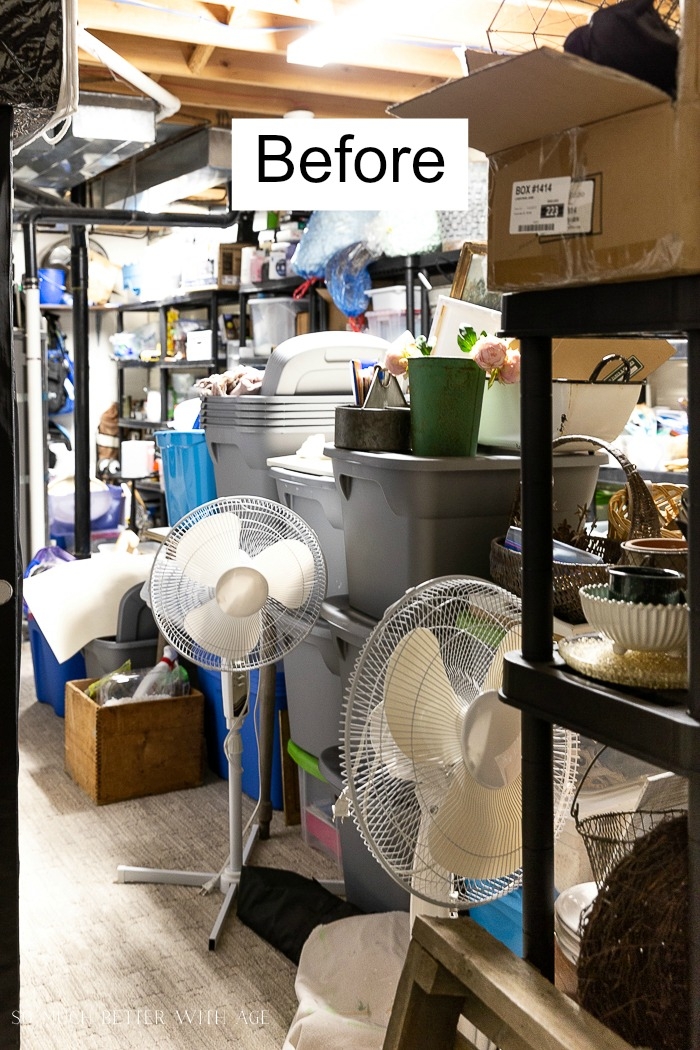 Right now the only thing left in my home to organize is family photos. I'm trying to decide if I make more digital photo books or do something else. I'll make sure I share whatever I end up doing.
I realized after some time that hanging on to so much stuff was unnecessary. It's kind of like when one door closes another opens. And that doesn't mean that you'll get those items back or replace them but what you do get back is peace of mind and freedom. All of a sudden I feel like I have more creativity, I have less stress and a huge burden has been lifted. Which, if you logically think about, seems odd because these are just items sitting in a box but it really does help you in your everyday life. You don't feel like there's a weight attached to you anymore.
You'll also feel very PROUD of whittling down clutter from your house.
I hope this has helped you declutter your home when you are sentimental. Let me know in the comments below what your biggest sentimental items are to let go of.
Make sure to pin it for later!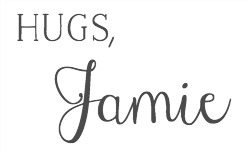 click in case you missed:
How to Declutter and Organize Your Basement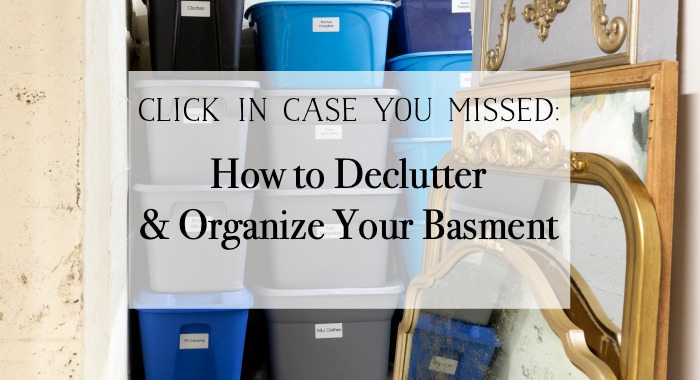 How to Sell Everything in a Storage Unit