How to Easily Remove Wallpaper
If you are needing to remove wallpaper but are daunted by the task, be sure to follow these easy directions!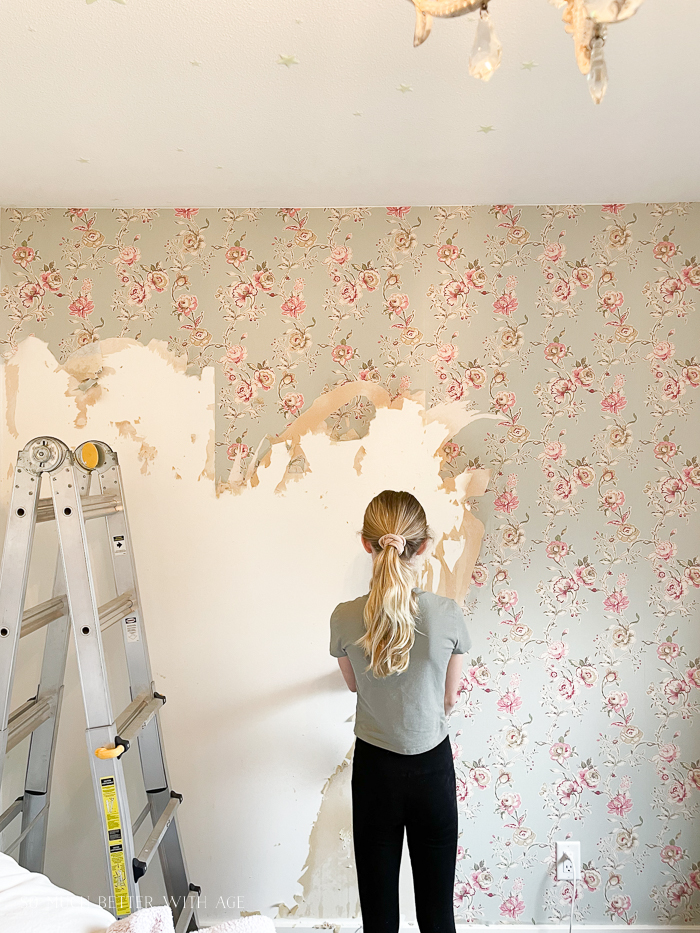 Disclosure: This post may contain affiliate links. Please read my disclosure policy.
More than four years ago I did a blog post on how to apply wallpaper or a mural and now I'm telling you how to remove it.
Sometimes you need to remove it, what can I say?
I have plenty of experience with this as about three houses ago we bought 100 year old house that was covered (more like layered!) in wallpaper in every room. And the wallpaper was stuck onto plaster walls which made it very tricky to get off.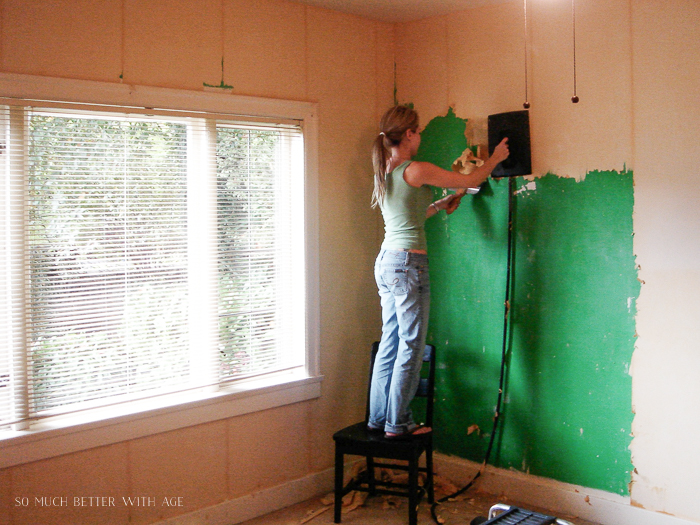 We rented a large steamer, used all the tools and products out there but I found the best way to remove wallpaper was with pretty basic stuff.
So here is the best way to remove wallpaper:
(Both my kids wanted their wallpaper removed so here are two rooms that I'm sharing for examples)
Supplies
ladder
bowl or bucket of water
drop cloth, old sheets or towels
How to Remove Wallpaper
1. Start by removing any electric covers. I didn't do this until the last minute as you can see in the photos but you should remove them right away and then cover the area with painter's tape so no water gets in.
2. Next lay down a drop cloth, some old sheets or towels. It's about to get messy and you want to protect your floors from dripping water and drippy glue.
3. Then try to get the top layer of the wallpaper off. That will be the printed paper on top and the underneath layer is the part that has the glue so it will be more difficult to get off. Sometimes you can find a corner that is already peeling that you can lift up and peel off in a strip.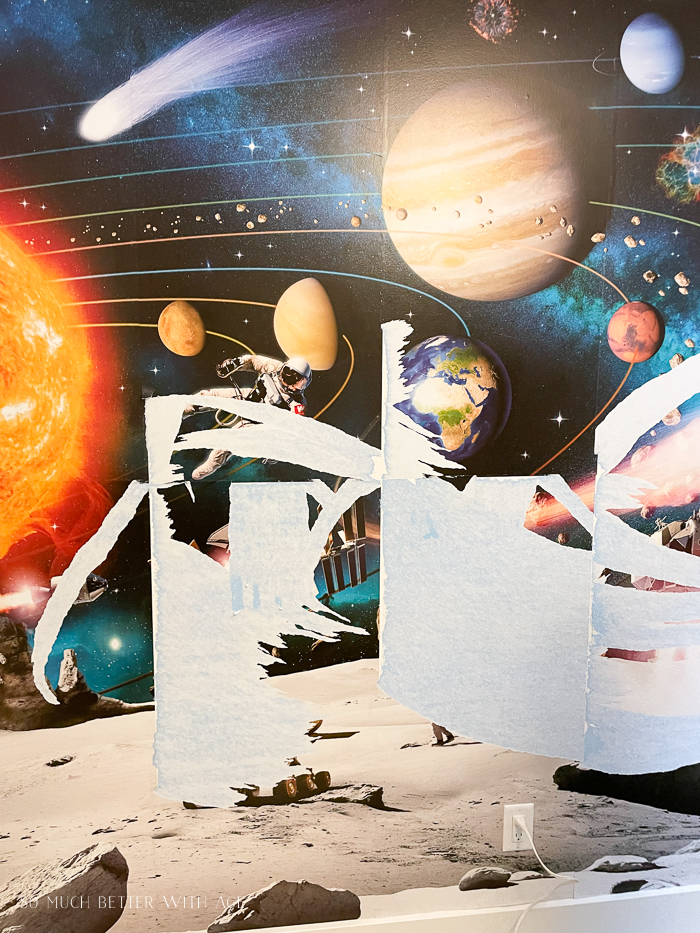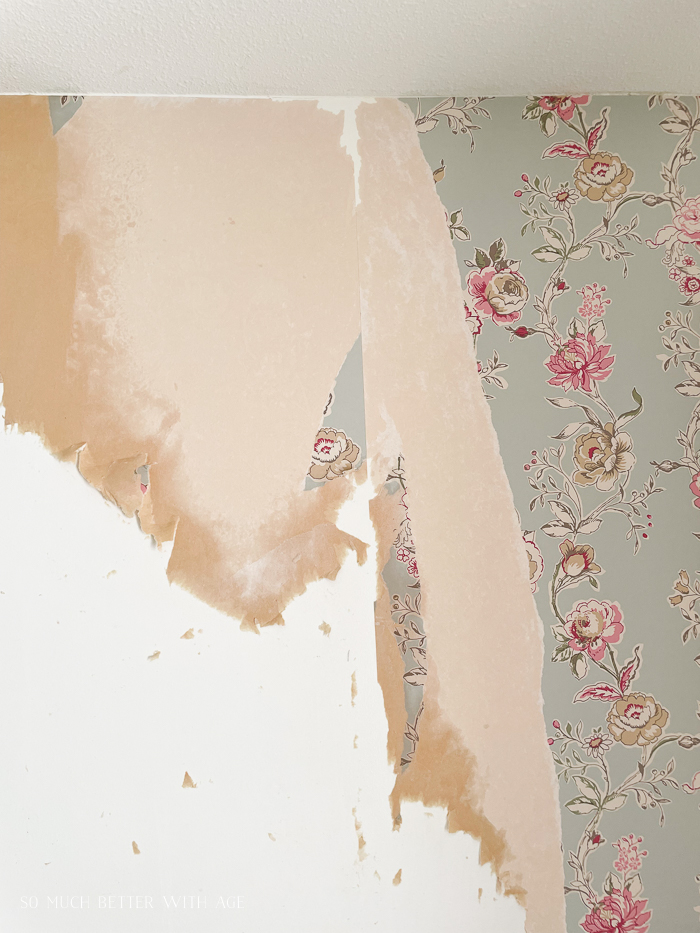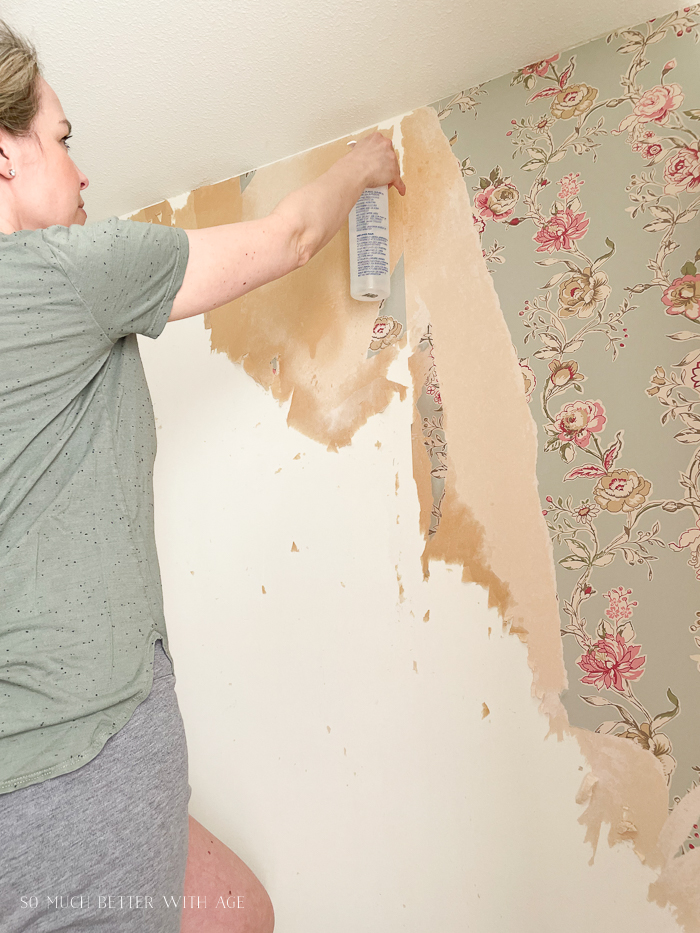 4. If you are having a difficult time even peeling a tiny section of the top layer of the wallpaper off, you may need one of these wallpaper remover tools.
Once you've scored the wallpaper with this tool, you can then proceed to the next step.
5. Spray warm/hot water from a spray bottle all over the glued paper part.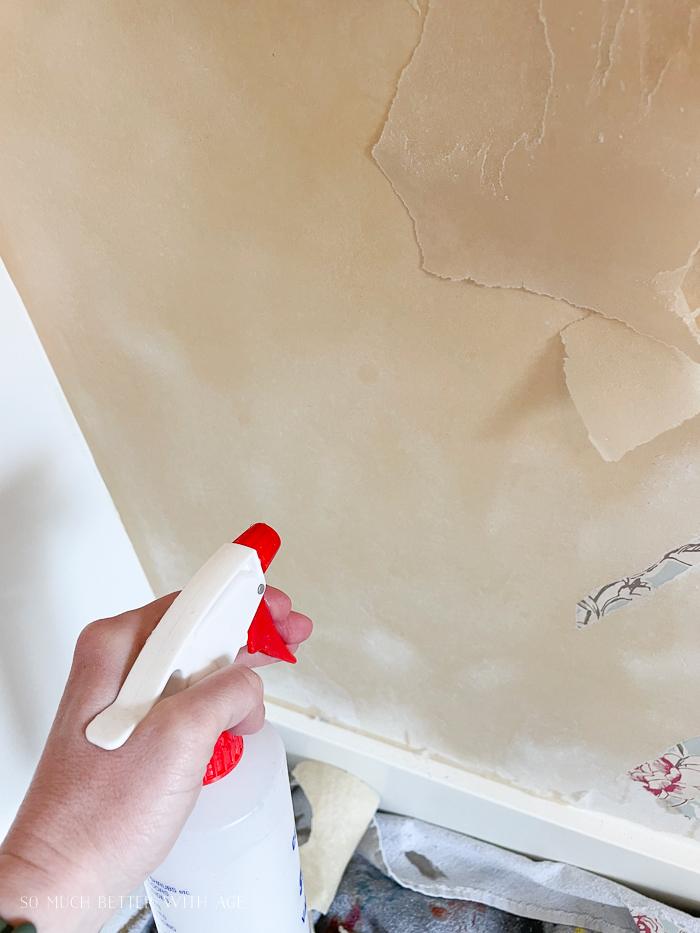 If you used a wallpaper tool and no top layer of wallpaper came off, just spray right over the wallpaper.
You can also rent a wallpaper steamer (like in the photo above with the green walls) or a regular clothes steamer. But I found just warm, almost hot, water in a spray bottle works best!
We did use the regular clothes steamer as we were going along but I would say it's not necessary. My kids liked to use it but I never used it once.
6. Wait about a minute or two for the water to soak in, then start scraping off with a putty knife.
I found that waiting for at least a minute really helps the glue underneath the paper to get moist and makes it easier to scrape off the paper in big chunks (very satisfying!).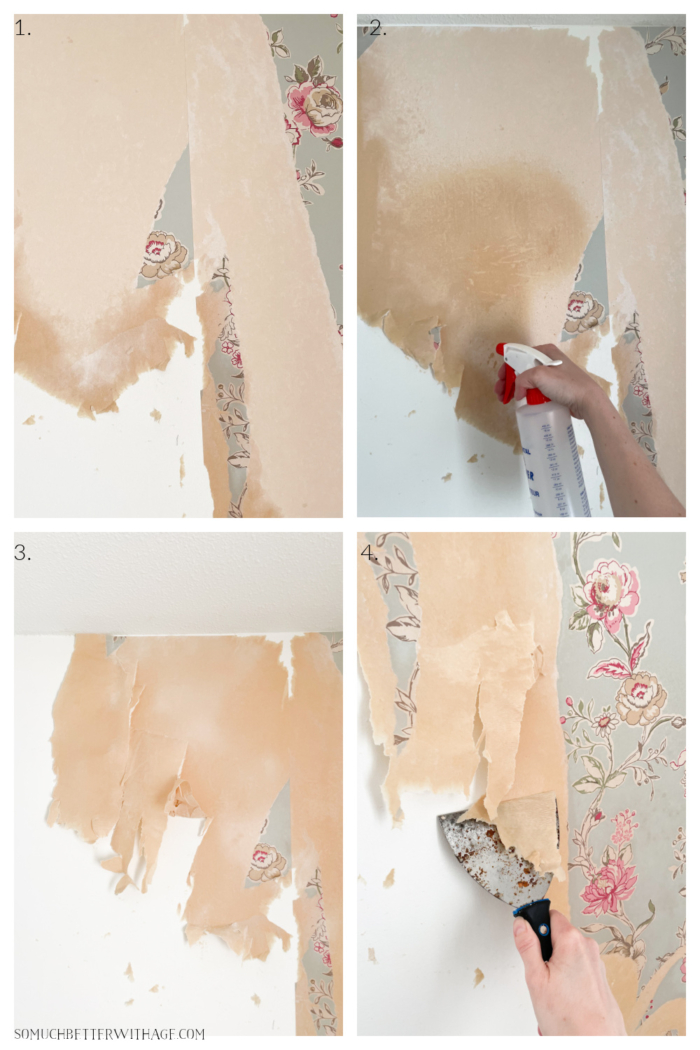 cleaning
I highly recommend cleaning the walls as you go. If you don't, the paste will harden and you will have to wet the walls all over again and it can be very difficult to get all the paste/glue off.
We had to leave halfway and come back to finishing it and the cleaning part was a nightmare! All the glue had dried and I had to spray water all the walls again and scrub to get the paste off. I definitely recommend cleaning as you go while everything is still moist.
To clean the walls, just use a bowl of really warm water and a cloth, that's it!
But be sure to go over the walls thoroughly. I cleaned each section three times to make sure all the residue was off, filling the bowl with fresh water and rinsing off the cloth.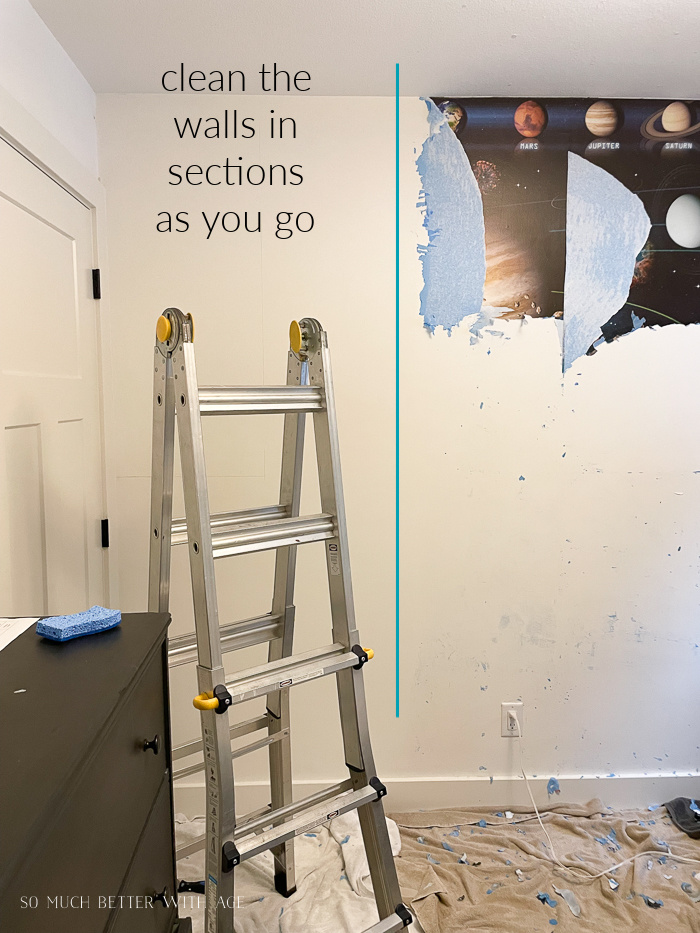 You can see in the photo below how the left side is nice and clean and how much glue residue is still left on the wall on the right side.
(can you see my son's head hiding behind the bed??)
Work in twos
I was surprised at how much my kids loved doing this job! I think once they found their groove, it was super satisfying to peel off the wallpaper and the wet paper in chunks.
I helped with the bottom part and then once one section was done, my kids would move over to the next section and then I was able to continue to remove the top part from the ladder then clean that entire panel of wall.
It helped speed the process along nicely!
Once I was done cleaning a section, they would be done the bottom section of the next panel and I would then move my ladder over and continue removing the top part and cleaning that section.
Teamwork makes the dreamwork baby!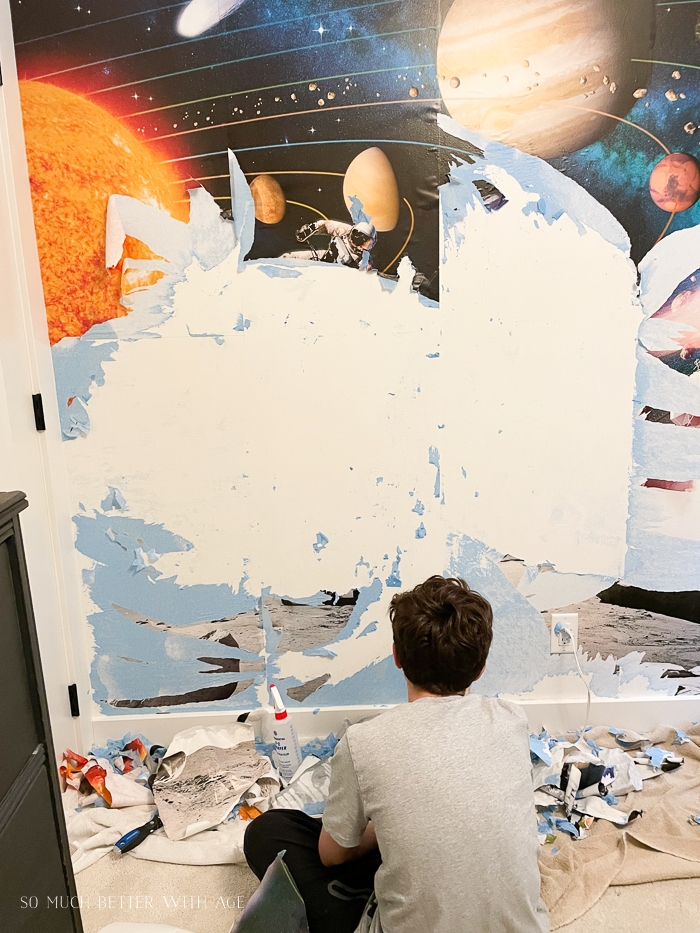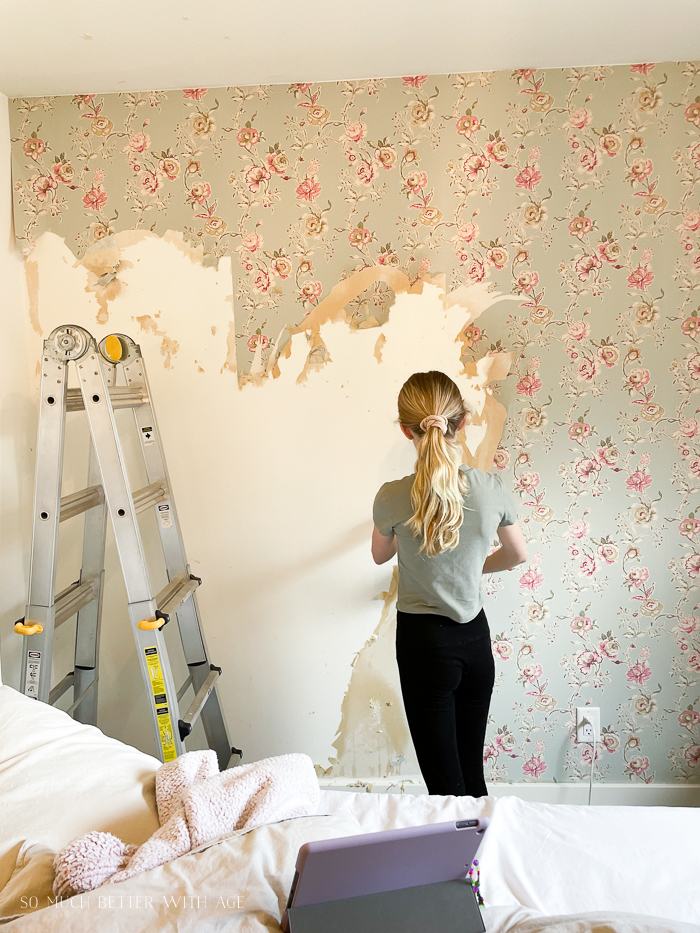 I was so grateful for my hard little workers!
I mean, they did want the wallpaper off so they really needed to participate anyway, right?
What do you think of this? Do you have any tips or tricks to add for removing wallpaper? Let me know in the comments below!
Make sure to pin it for later!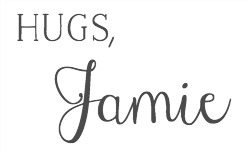 click in case you missed:
How To Hang Wallpaper (Or A Mural)