How to Paint Over Bright or Dark Coloured Furniture-Vintage Kid's Desk Makeover
A step by step guide in how to paint over bright or dark coloured vintage kid's furniture.

I love finding new pieces to make over. Most of the time, I'm not even trying to.
For instance, the day I found this desk I was dropping boxes of stuff off at a thrift shop after a big house purse. Here I am so happy to be getting rid of stuff from my house and I leave with a desk!
But I couldn't help myself. I have a soft spot for mini or kid furniture. And it was only $10!
It's solid wood but bright red and had seen better days.
If you've spent more than five minutes on my blog, you'll know how much I love my neutrals so the red was never going to stay. Painting something from bright red to a neutral color takes a few steps but if you follow my step-by-step guide, you'll be able to paint over bright coloured furniture easily too.

Before we get to the steps and tips to painting bright coloured furniture, you'll need these…
Supplies:
Directions:
1. Prep – I hate sanding furniture before painting. That's why I switched to chalk paint years ago and now I always use Fusion Mineral Paint (Fusion Mineral Paint is an acrylic paint with zero VOCs but adheres like chalk paint and needs little or no prep). This piece was very shiny so I felt some light sanding was in order. I took fine sandpaper and gave it a light rubbing everywhere. You can see by the photo below that the goal isn't to take the finish off, just to take off some of the shine. Lightly sanding this whole piece took about 5-7 minutes.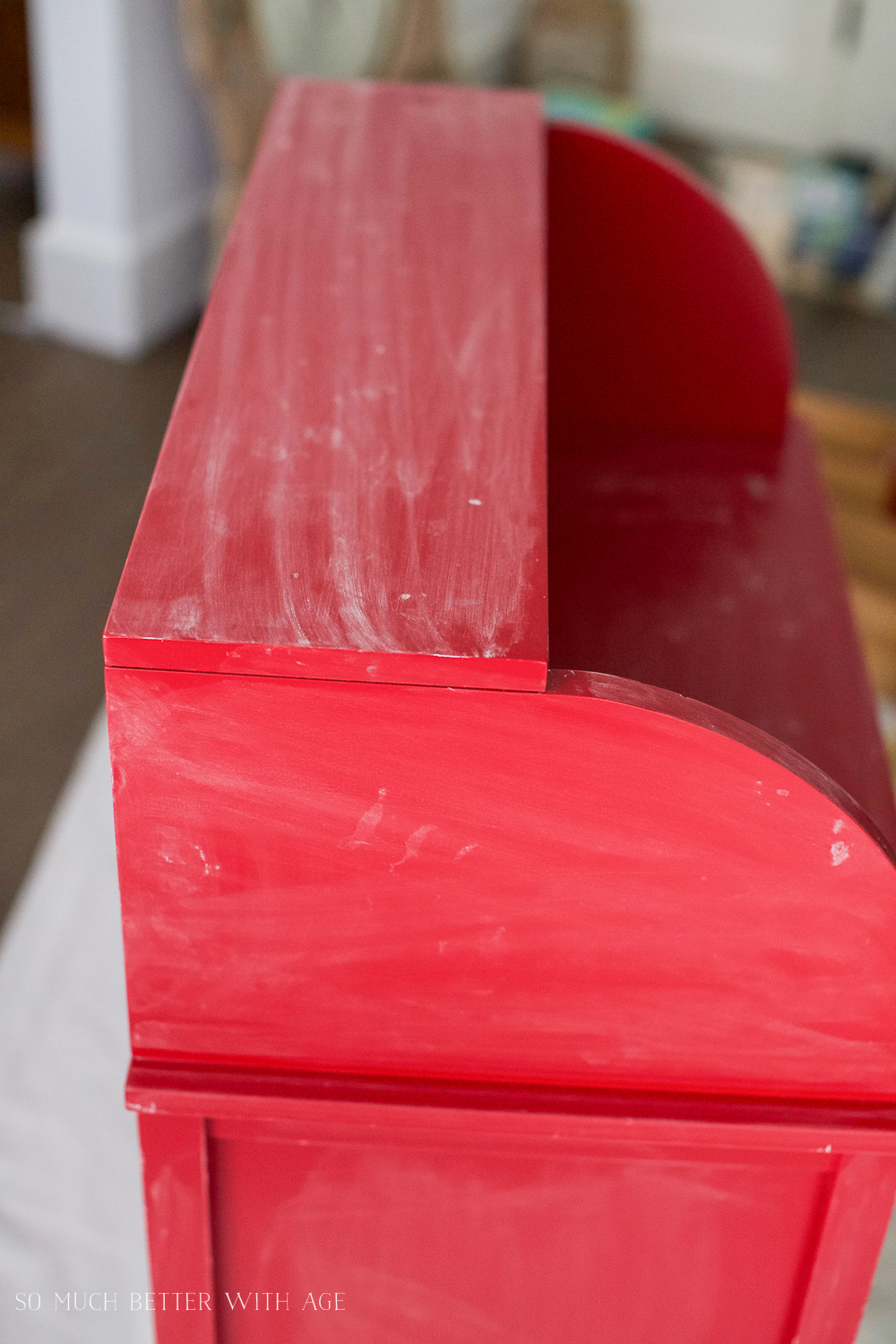 2. Wipe off the dust – you want to make sure your piece of furniture is free of dust and cobwebs and debris. Wipe it all down with a slightly damp cloth. Make sure the underneath is dust free. Remove drawers and vacuum them out.
3. Remove all hardware – if the furniture piece has doors or handles, remove it all. There is nothing worse than painted over hinges, in my opinion. It takes more time but it looks so much better. If they are in bad shape, you can replace the hinges with new ones as well.
4. Put on stands – prop your furniture onto stands or you can do what I do – once I've painted the legs, I move the whole piece to a different spot on the drop cloth that way it doesn't adhere to the drop cloth when dry. I sometimes have to move my furniture piece in between coats as I paint near my kitchen and if it were on stands, it would topple over when moved of course.
5. Primer –  As you can see by the photo below, it doesn't fully take the color away but it's just a primer, that's what it's supposed to do. So don't try to lay on a thick coat. One thin coat of primer is all you need. Make sure to get in every nook and cranny.
6. Multiple thin coats are better than one thick coat – I know that's not what you want to hear. You would rather paint one thick coat of paint and be done with it. But trust me, I've tried this and it just doesn't look good. You'll end up having to go back to spot paint areas that you can still see which will leave you with a patchy mess. If you do it right the first time, you won't need to go back. Also, thicker coats tend to chip later on so thin coats are always better. For this furniture piece, I ended up painting three coats of paint on it. Two would have been fine but I'm a bit anal and though one more coat would be perfect.
7. Paint small sections first – when you are painting a piece you just want to get to the large areas but you'll mess up your newly painted work by trying to reach into those small spaces later. For this desk, I painted the cubbies first. The roller wouldn't fit in there obviously so I used the sash brush for the corners and edges and the foam brush for everything else. I had to paint using the whole side of the foam brush as it was so tight in there. Alternatively you could spray paint the primer in that section or use spray paint primer for the whole piece but you will go through multiple cans. And you still have to watch for drips, that's why I like painting by hand. (If you are using spray paint, make sure to spray outside or well ventilated area and on drop cloths).
8. Watch for drips – this is soooo important. After every coat, before you let it to dry, go around your piece and look for any drips. Once those dry, you'll have to pick them off if you don't catch them and then you'll end up with marks on your freshly painted piece.
9. No need to wash brushes in between coats – washing paint brushes and rollers is the worst part of painting! Do what I do and wrap your paint brushes and roller with plastic wrap in between. If I know I'll be painting again in a couple of hours, I'll put the tray into a plastic bag or if I'm not painting again until the next day, I pour the extra paint leftover in the tray back into the bottle and the tray will dry. After awhile, you can just peel out the entire dried paint layer from off the tray.
10. Furniture wax (if using chalk paint or Fusion Mineral Paint) – once your furniture piece has completely dried (I usually wait 24-48 hours), I wax it. Grab a soft cloth and put a dab of the wax on a corner and start rubbing it onto the furniture piece. For instance, I put wax all over the top part of the desk then started to put wax on half of the desk top. Then I went back to the very top part and buffed the wax off with a clean part of the cloth. Then I would go to the other half of the desk top and wax that, going back to the previous section to buff that off. I like to work in sections and allow a bit of time for the wax to sit before buffing off.
You'll know you're done when you feel the sections with your hand and it doesn't feel sticky. It should feel nice and smooth to the touch. This protects your furniture and also gets rid of the chalky feel to it. If the piece gets marked up later on, you can put more wax on it and buff it out. You can also paint over the wax again if you need to. It's very versatile.
So here is the before and after: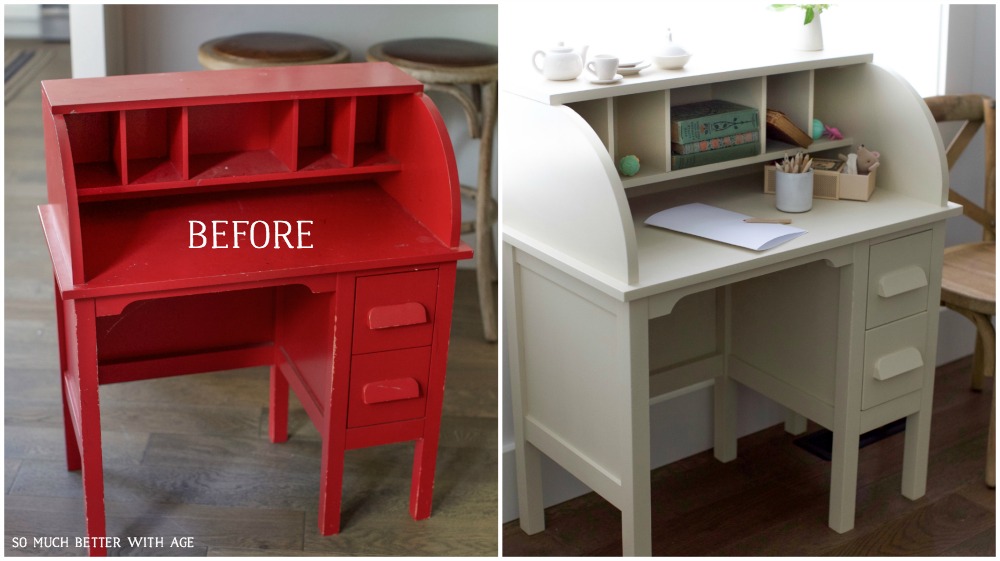 Furniture pieces are just so satisfying to paint as they produce such great results!
What was once a ragged old desk now has new life and it looks gorgeous.
I replaced my kids' table and chairs for this desk for now. I'm not sure ultimately where it's going to go. I'm a furniture hoarder.
At first I wasn't crazy about the handles but now that it's a neutral color those handles remind me of an antique school desk.
Here is one last tip, when I paint a piece of furniture, I basically accept that this will take me one week so I plan accordingly. Technically it shouldn't take anyone that long but in between kids and running my blog and all the every day usual stuff, by the time I get a chance to putting another coat on it, it's the next day or evening. So every day might get one coat.
Chalk paint and Fusion Mineral Paint do not take that long to dry in between coats. I usually paint a second coat within a couple of hours if I have the time.
I hope I've inspired you to paint over a bright coloured piece of furniture.
I know you can do it! If you have any questions, leave them below.
I'm going to do a beginner painting post next week to fill in any gaps I've missed here today.
Some Sources For You: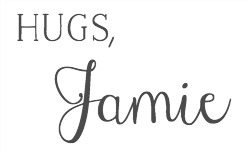 Click in Case You Missed:
Paint Ikea Products to Match Your Decor
How to Paint Stripes Like an Outdoor Rug on Patio Concrete Slab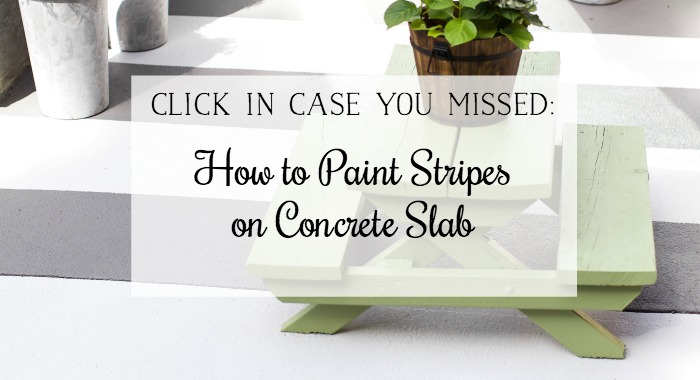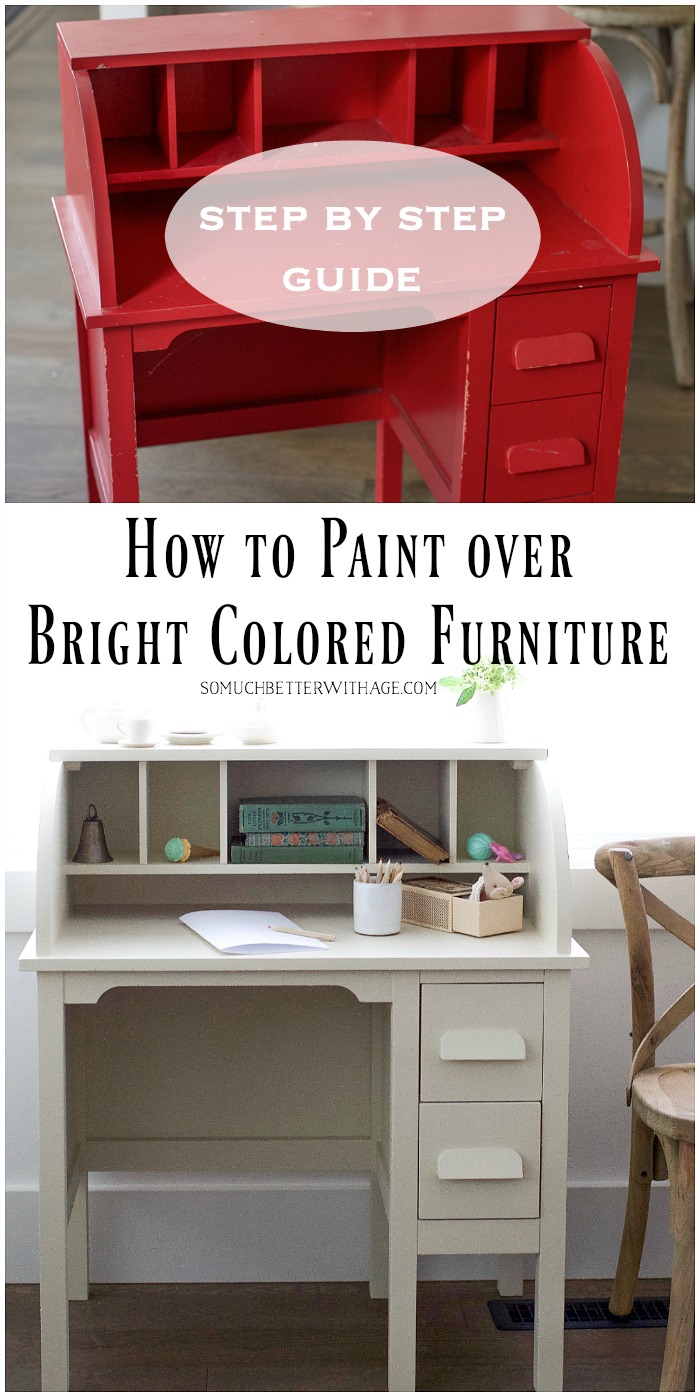 SaveSave