You guys, I've gotten to the point now in my reno where I'm picking paint colors!! EEK! And flooring!
Picking paints for your house is hard. Picking whites and greys are even harder!
You know how much I love my neutrals but you might be surprised to know I've actually never done just white paint on any of my walls.
They've always been a bit cream with white trim. But this time I'm doing white walls with white trim.
Let me show you how I picked them.
Whites and greys are so difficult to pick because they look so different in different lighting. The lighting is so different in every room.
I grabbed all the paint chips I liked at the store and went home to research.
I got rid of all the obvious no's then the ones that were too pink or brown or cream.
I narrowed it down to three whites and four greys.
I tried all the colors in one spot in the kitchen.
It's important to paint on at least two coats to get the full effect.
Greys can read green or purple at times. You really have to put it on your wall.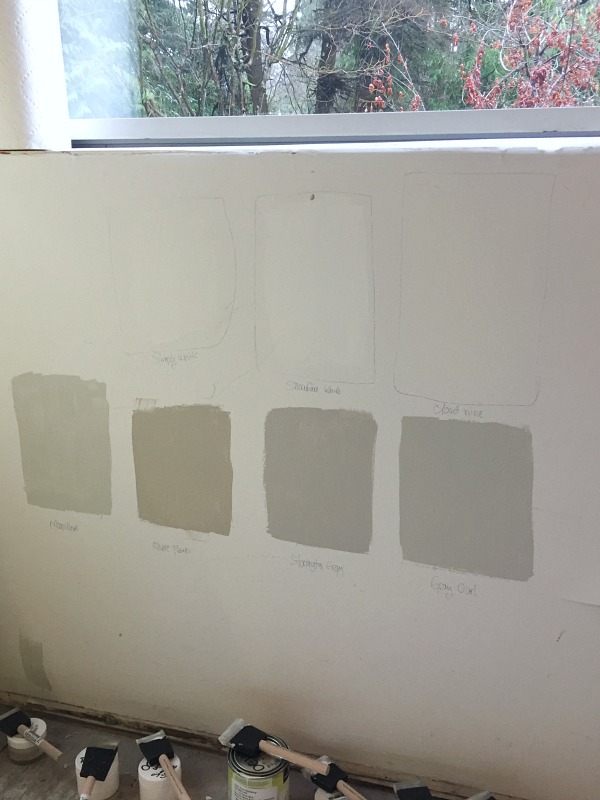 I even painted my samples on white poster board.
I painted Benjamin Moore Cloud Nine OC-119, Simply White OC-117 and Snowfall White OC-118.
Then I walked around the house with it to try it in every room.
That OC stands should stand for OCD.
So where is the grey going?
On my kitchen island.
I love an all white kitchen but with so much white going on I wanted the island to stand out a bit.
When I put Revere Pewter on the wall I knew it was too beige so I didn't paint it on the poster board.
The greys I tried were Benjamin Moore Moonshine OC-56, Gray Owl OC-52 and Stonington Gray HC-170.
I have a countertop sample so I made sure to put it next to the white and grey poster boards as well.
Here are the samples in the living room.
It's hard to tell in this photo but they look totally different in this room.
So my final decisions?
Simply White for the walls and trim and Gray Owl for the kitchen island.
So cool that Simply White is also Benjamin Moore's color of the year!
It's going to look gorgeous.
I've also made a decision on flooring.
I wanted a rustic feel for my flooring but something not shiny and hid dirt well.
Between the darker and the lighter, I picked the lighter.
It's an engineered flooring from Dansk called Weathered Saddle (Oak) Monterey Wire Brushed.
The cream carpet is going in the bedrooms and the patterned carpet I'm putting on the staircase like a runner.
Remember the French chandelier I was picking for my dining room?
I made a decision!
Did you catch the light fixture lying on the floor in Monday's post?
I brought it to the house to see how she would look.
I went with the Aidan Gray Italian Chandelier. I cannot wait for it to go up.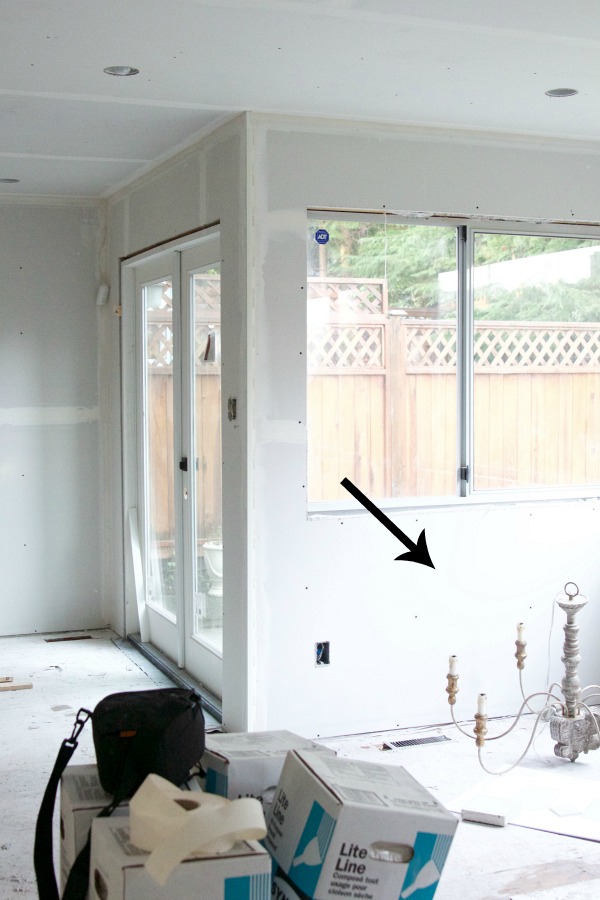 I've also had this beaded chandelier forever and I'm having it hung in the little vaulted ceiling part of my living room.
My hardworking contractor Dan is holding it up for me.
It was quite the challenge getting electrical to that spot in the ceiling and hanging it centre of the window but he did the first time.
It's going to go perfect in that little seating area.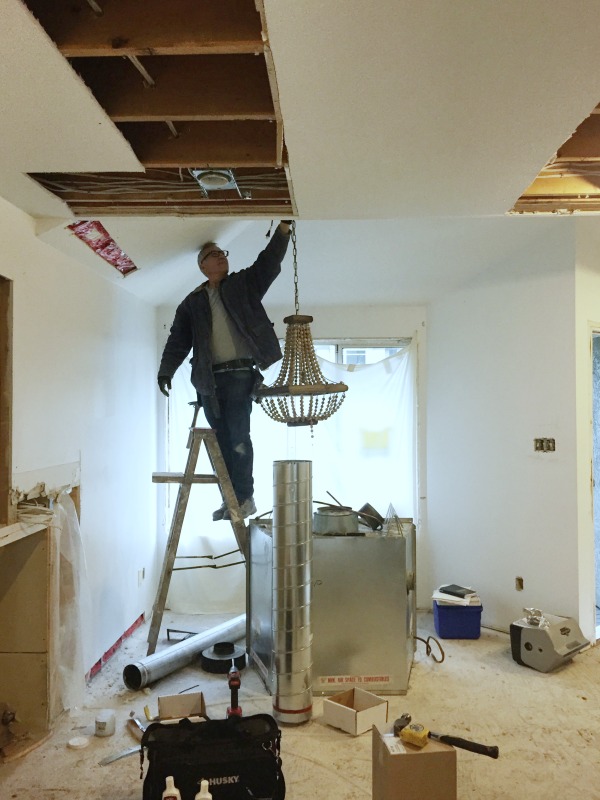 Next week the drywall will be getting finished and painting will start.
I will keep you posted with more renovations!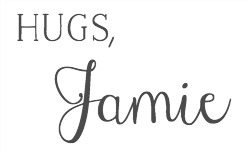 Click the image below to read more posts: