How to Plaster a Brick Fireplace
Sharing all the details on how to plaster over a brick fireplace!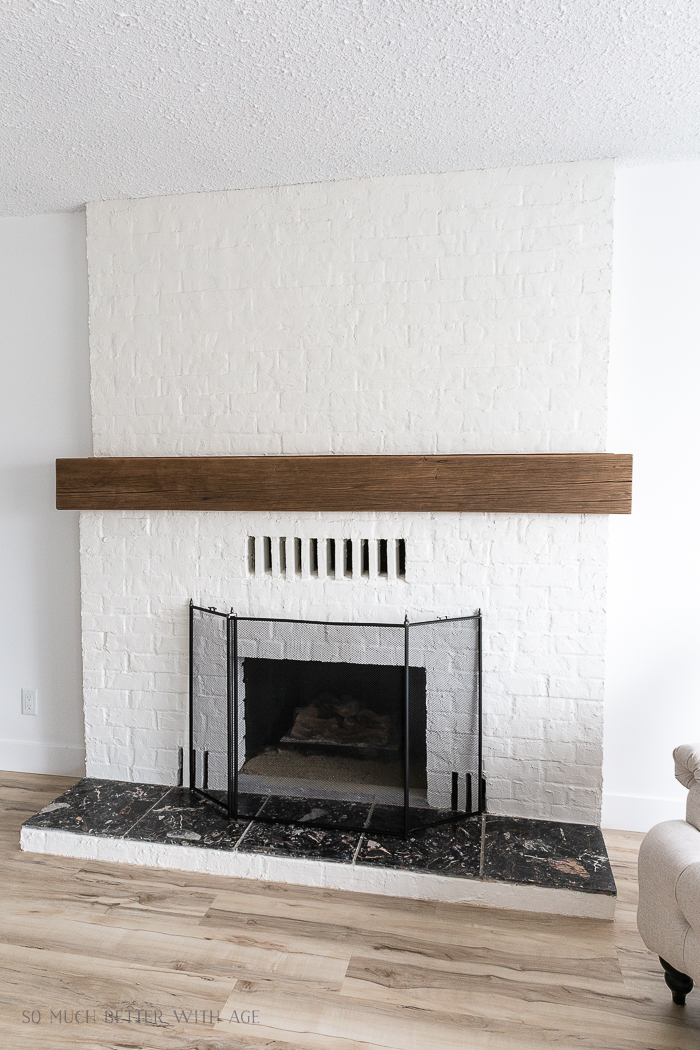 My parents are selling their house and I've been helping them with designing it for sale. Recently I shared how designed their kitchen using Ikea cabinets and how much they cost.
The other project I wanted to tackle in their home was the fireplace.
Now my goal for the fireplace wasn't a plaster treatment that was a smooth, solid finish. I wanted to still be able to see the shape of the bricks not for the bricks to be completely covered (so not like a German Schmear).
It was hard to find what I was looking for on the internet but I finally achieved what I wanted. Here is how I did it!
fireplace Before
First this is what we started with. The brick was actually painted a couple of years ago in a grey color.
But a TV hung on this fireplace and huge holes put through the masonry so it would be very hard to just paint the brick again and be done with it.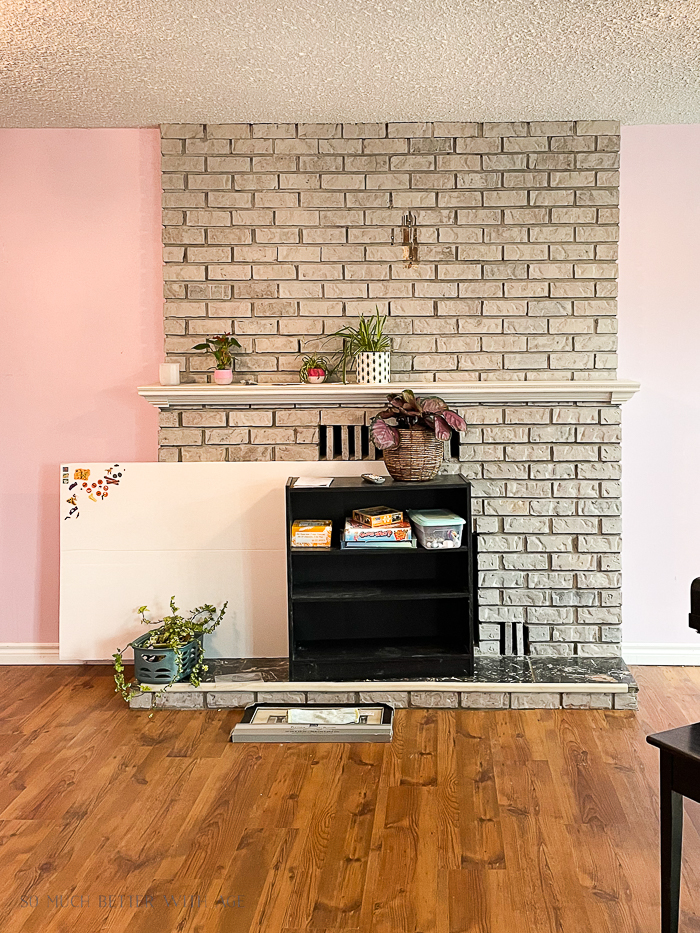 My first attempt at filling in the grout lines was to use some sort of brick filler that was more for sealing cracks in a chimney and was painful to try to squeeze into each grout line. I knew I needed a better solution.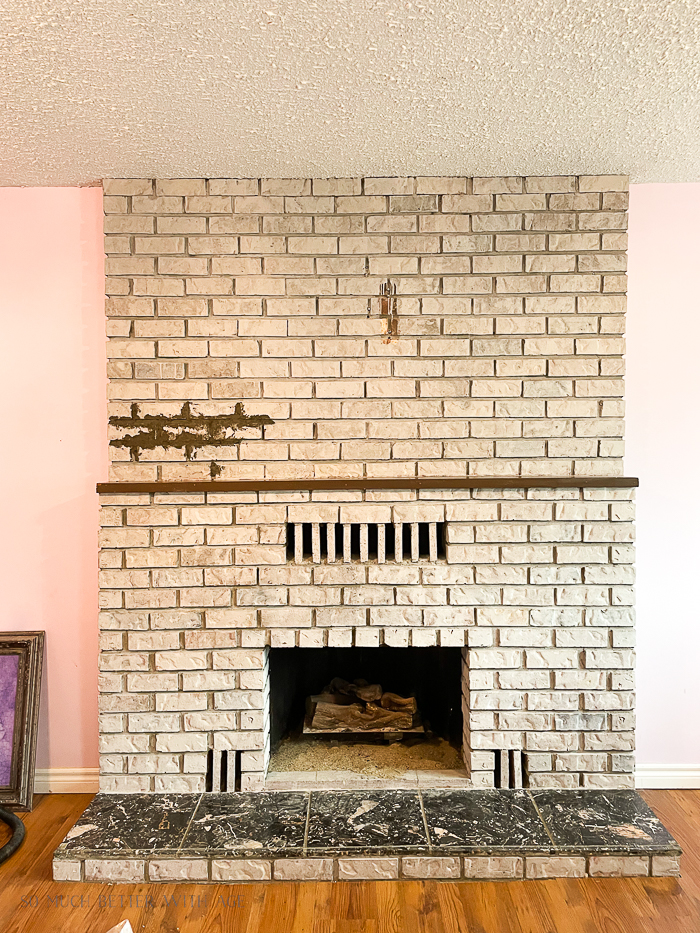 The Plaster Begins
After Googling about the best type of filler, I found Modern Masters Texturing Medium. I used this to fill the gaps AND to plaster over the brick. It worked perfectly!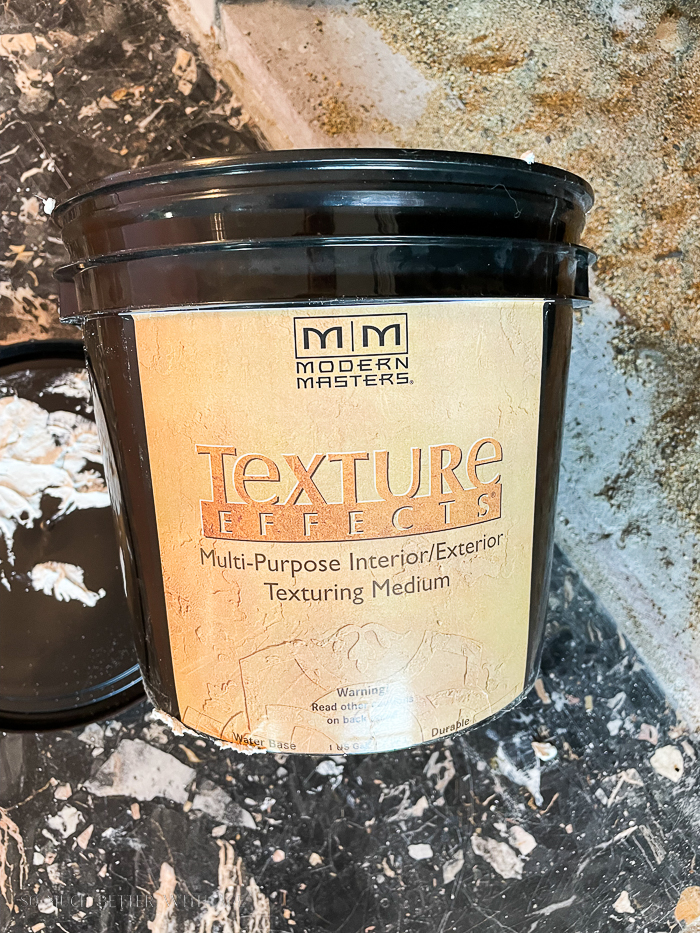 Here is what the first coat looked like on.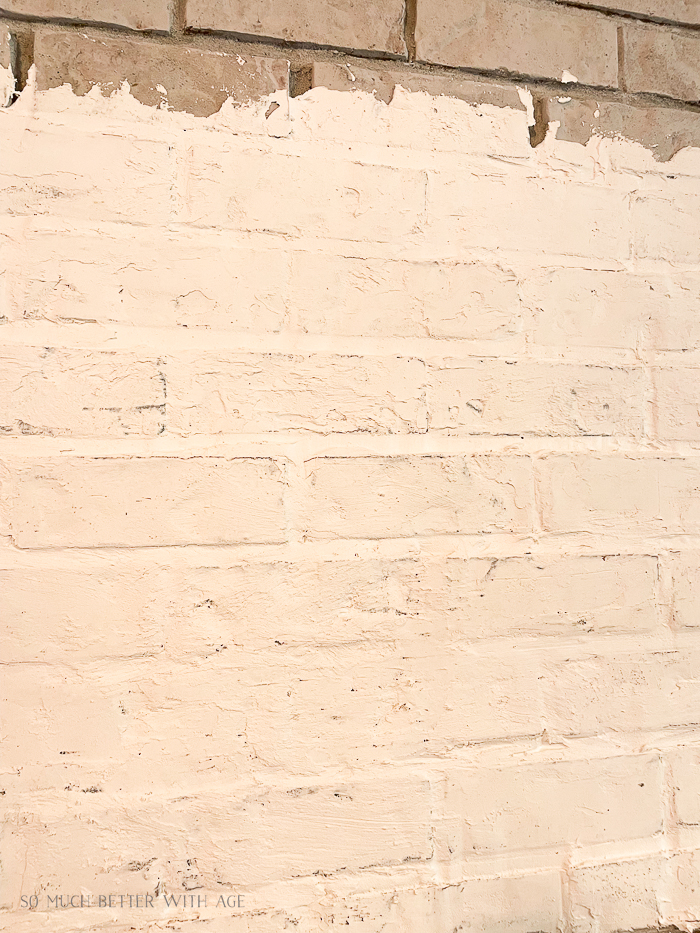 This is how much 1 bucket got me. I used a total of 3 buckets. Using a trowel, I pushed it on the brick making sure to push it into each groove.
Then you smooth the excess over the brick. It's pretty straightforward even for someone like me who hasn't done this before. The texturing medium is very soft and pliable and makes the work go by fast.
The trowel I used had rounded edges and could easily bend which made it super easy to get into each grout line. I highly recommend!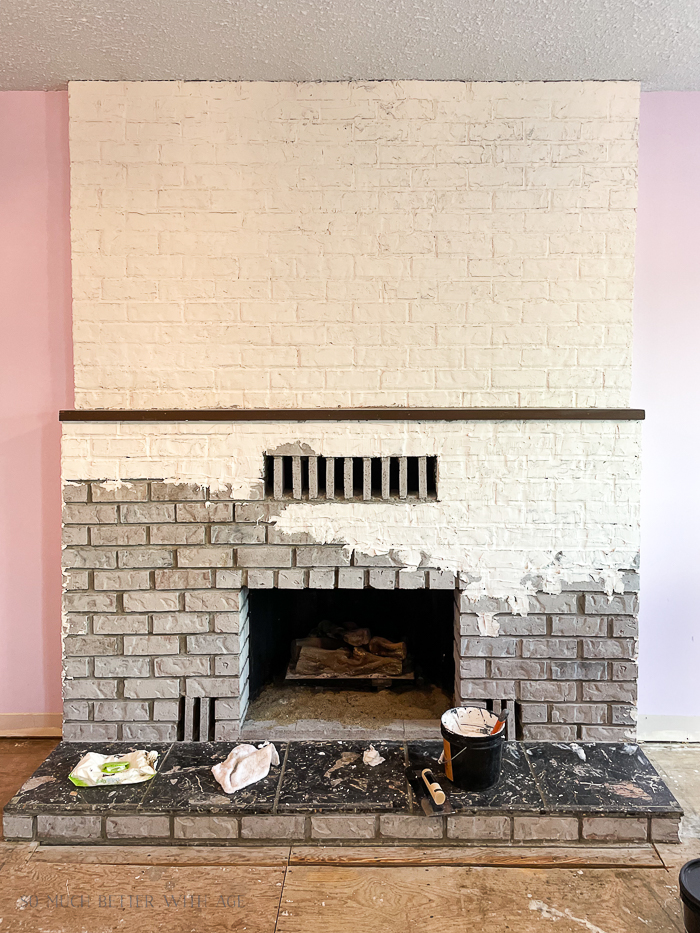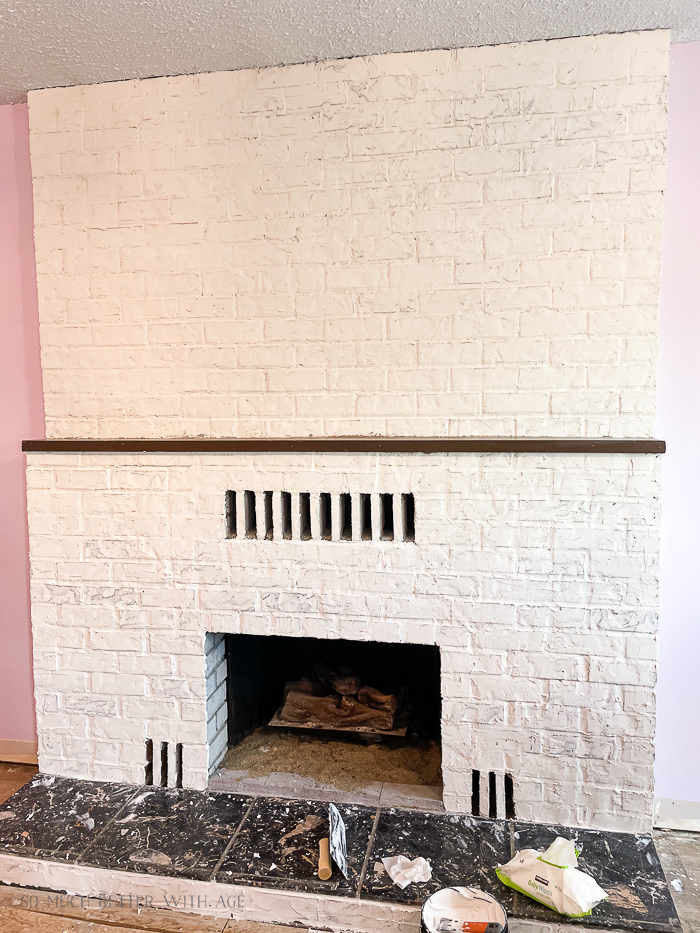 Here was the first coat done. You can see that you definitely need a second coat. The trowel makes grey scrape lines everywhere but it did a great job in filling in all the cracks while still being able to see the bricks.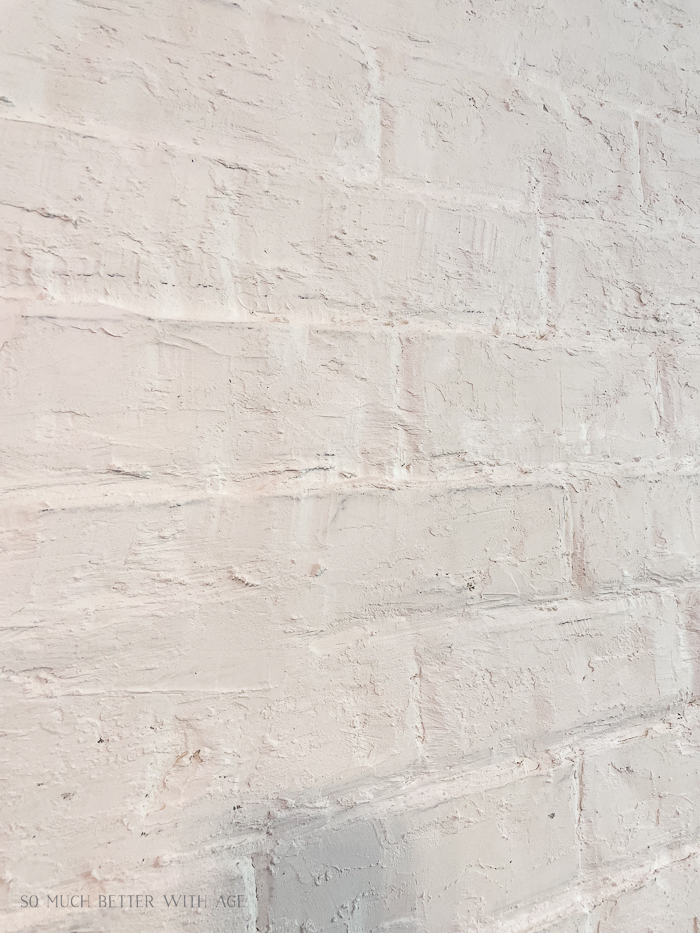 Bad Before It's Better
The best part about this Modern Masters Texturing Medium is that you can paint over it. You can even sand it! So if I wanted a really smooth finish I could sand it to make it really smooth.
At first I tried to paint a diluted wash over the plaster to give it a lime wash feel. That didn't work. It was too dark too. So I ended up painting over it with Behr Swiss Coffee.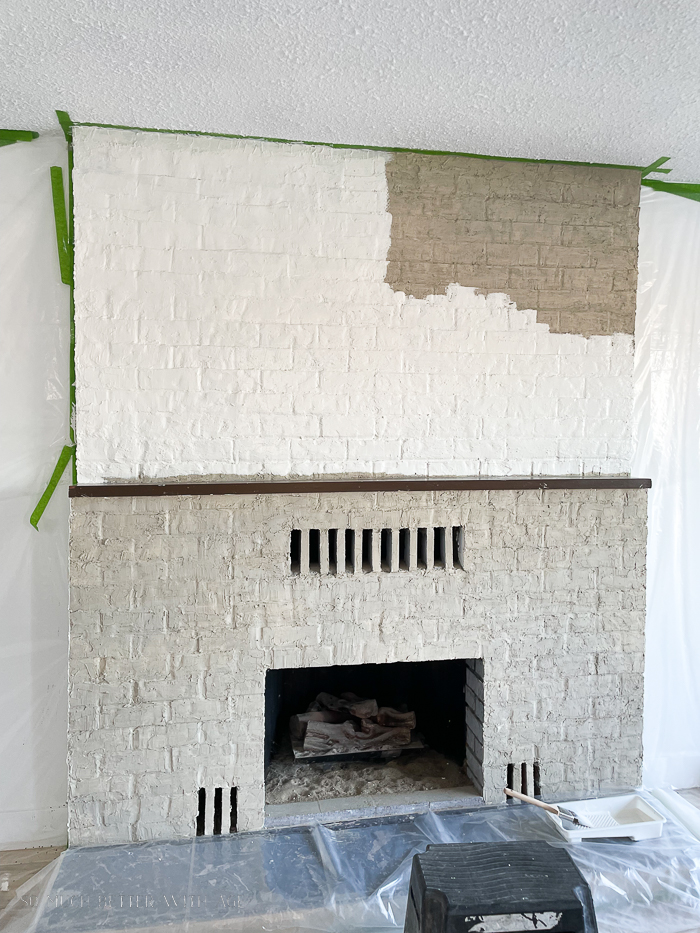 Here is the finished fireplace after it's just been painted.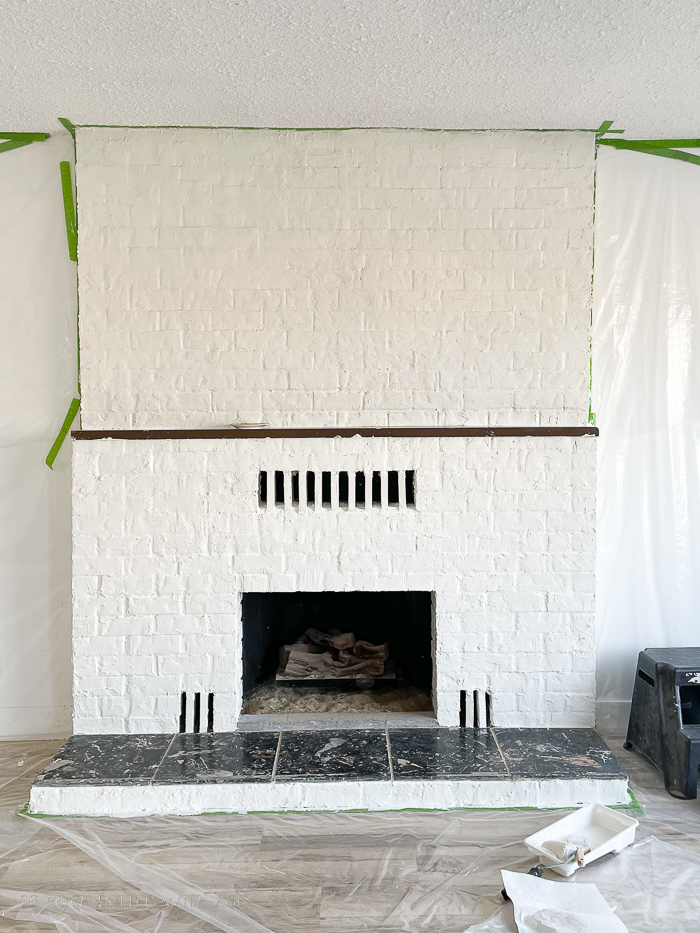 Final Result
And here it is after the final second coat!
I got Jordi from WASalvage to create this gorgeous fireplace mantel.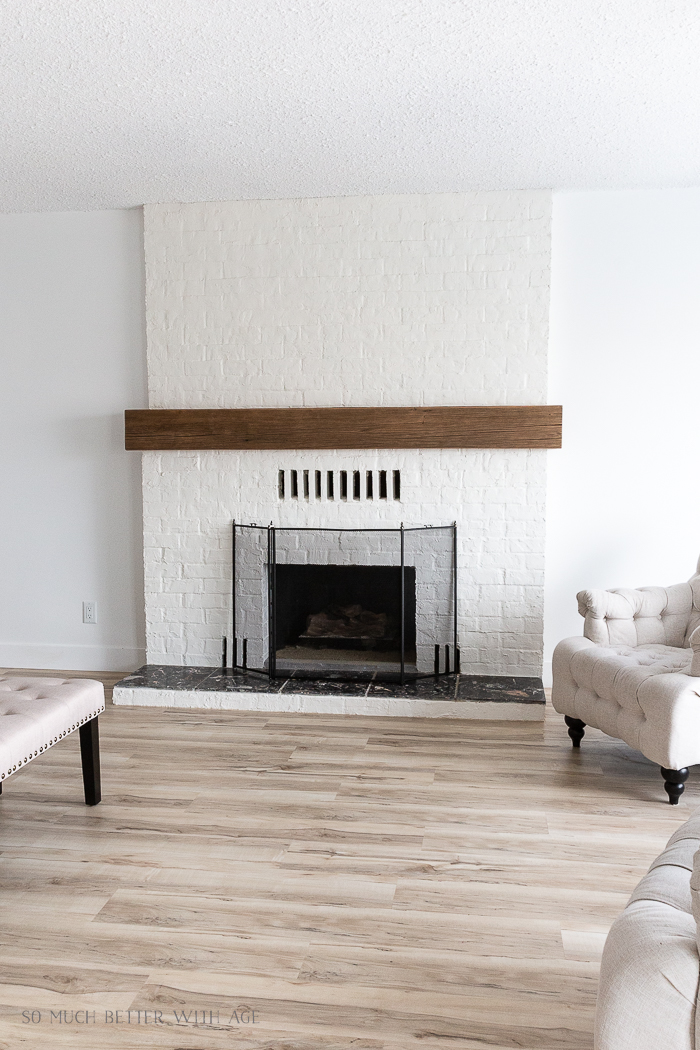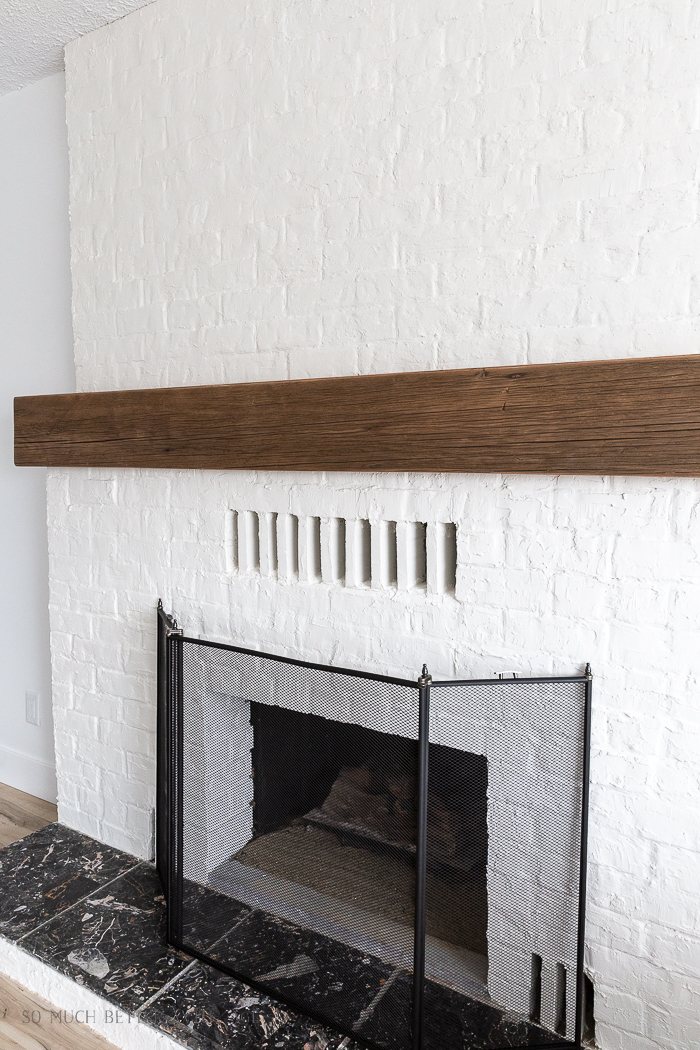 Now I will say, it's not how I perfectly wanted it but I know the reasons why.
Once you put the plaster on, you are to wait for a bit (like 30-1 hour maybe more) and get a damp sponge and smooth over what you just plastered. This will give it a smoother finish.
I couldn't do this as I was traveling back and forth from my home to my parents home to do this project (travel time is 1.5 hours one way) and for me to get a coat done and then wait would have taken too long. So, in hindsight, I should have planned it a bit better to ensure a smoother finish. But, like I mentioned above, it could always be sanded for a smoother finish.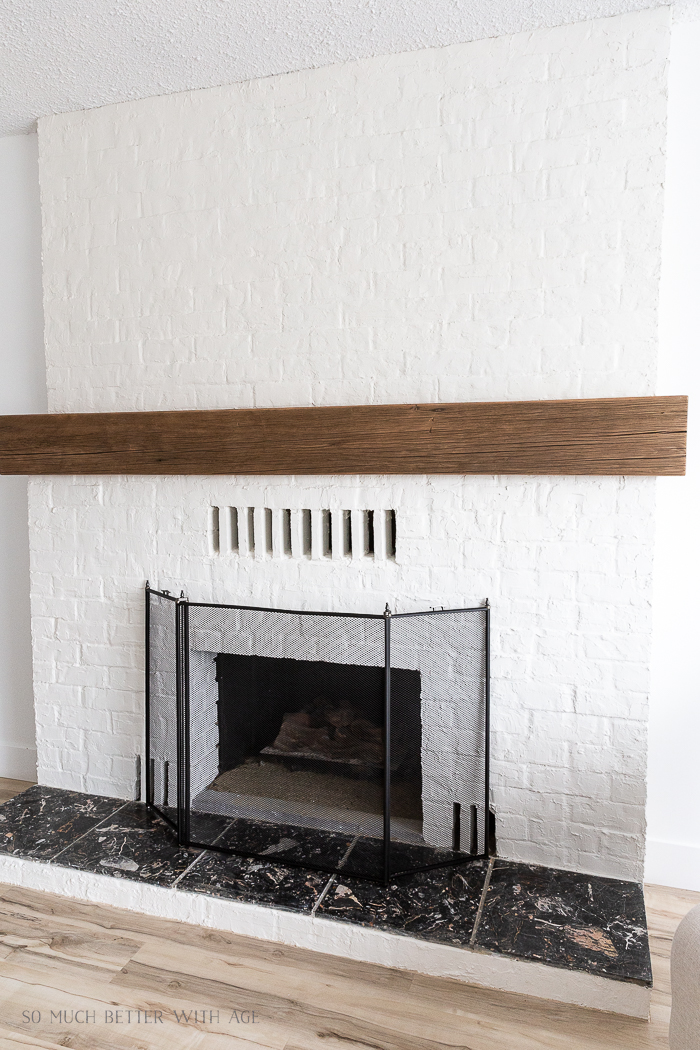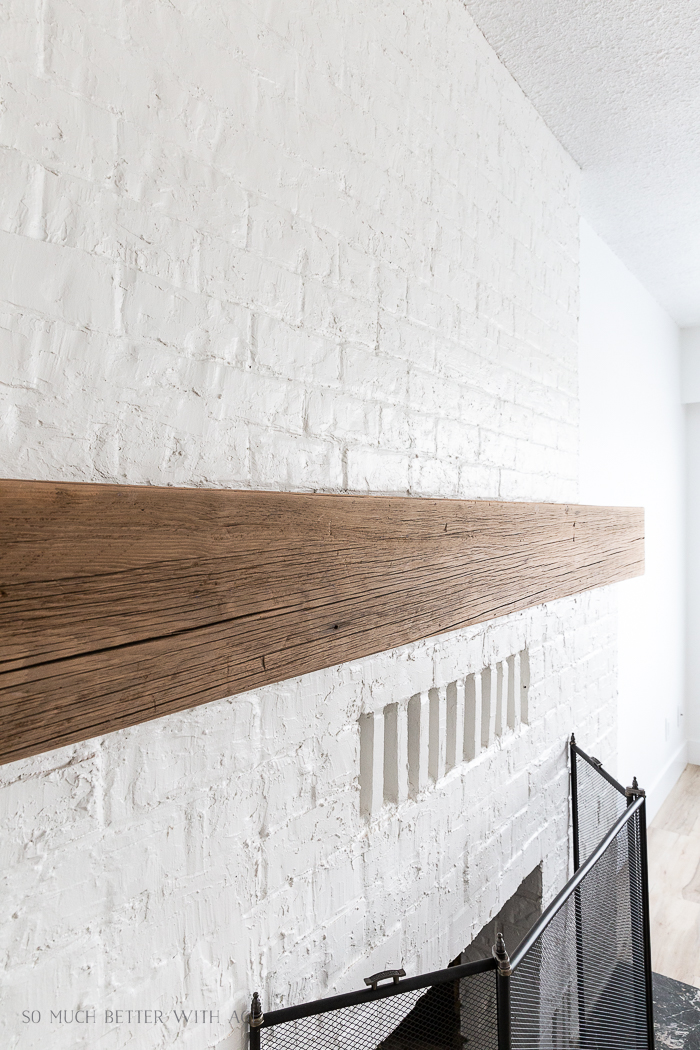 All in all, I'm really happy with how it turned out.
Some Other Real Life Examples
Angela Rose Home did an amazing job installing a brick wall veneer then plastering it. Be sure to check out her tutorial.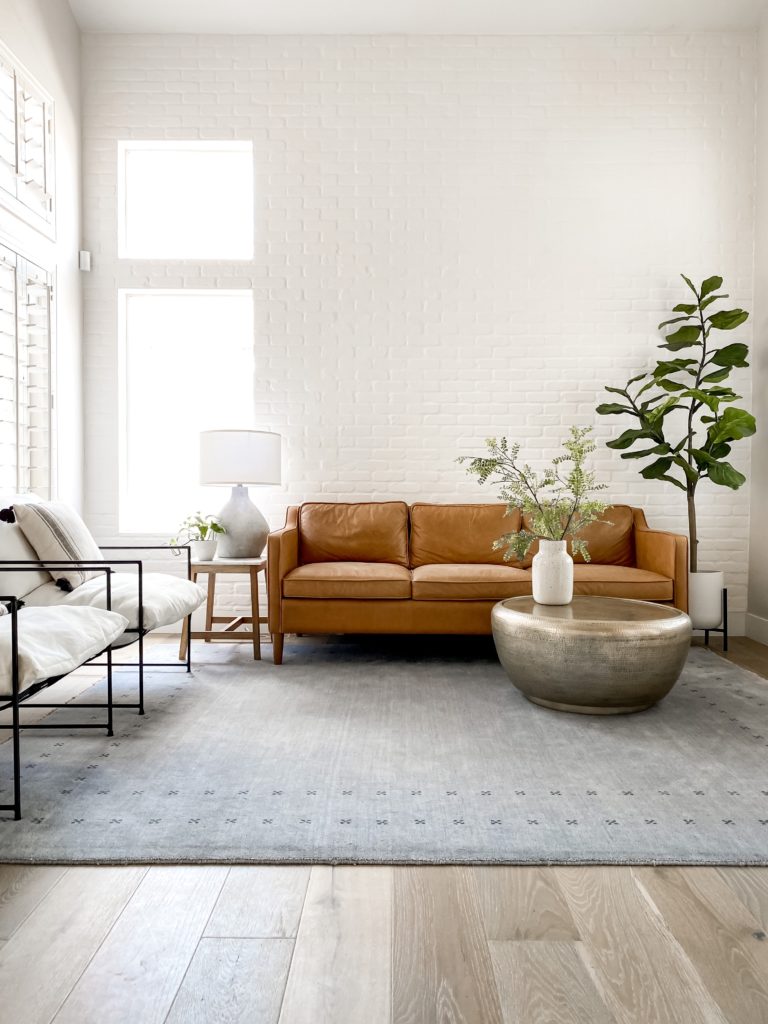 Jen from Noting Grace filled in the grout lines and the worm lines in her brick. She has a detailed tutorial on her blog.
Jen from Noting Grace also shares a full tutorial on the Romabio website about how she plastered with Romabio products.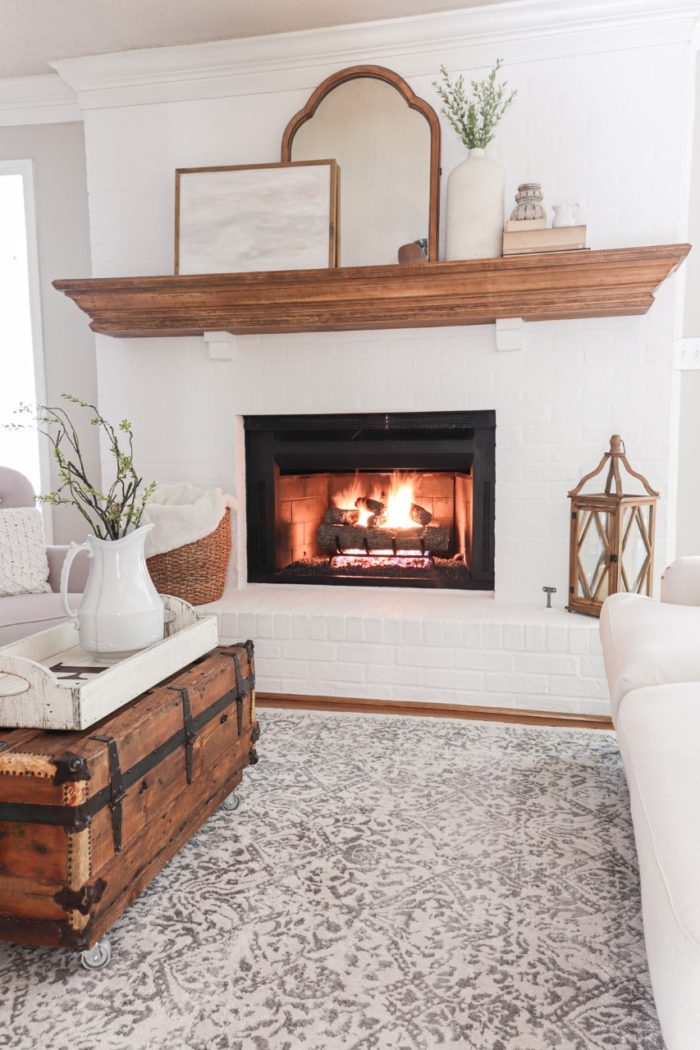 I hope this was helpful in creating your own plastered brick fireplace. Have you tried it? Let me know in the comments below!
Shop The Plaster

Make sure to pin it for later!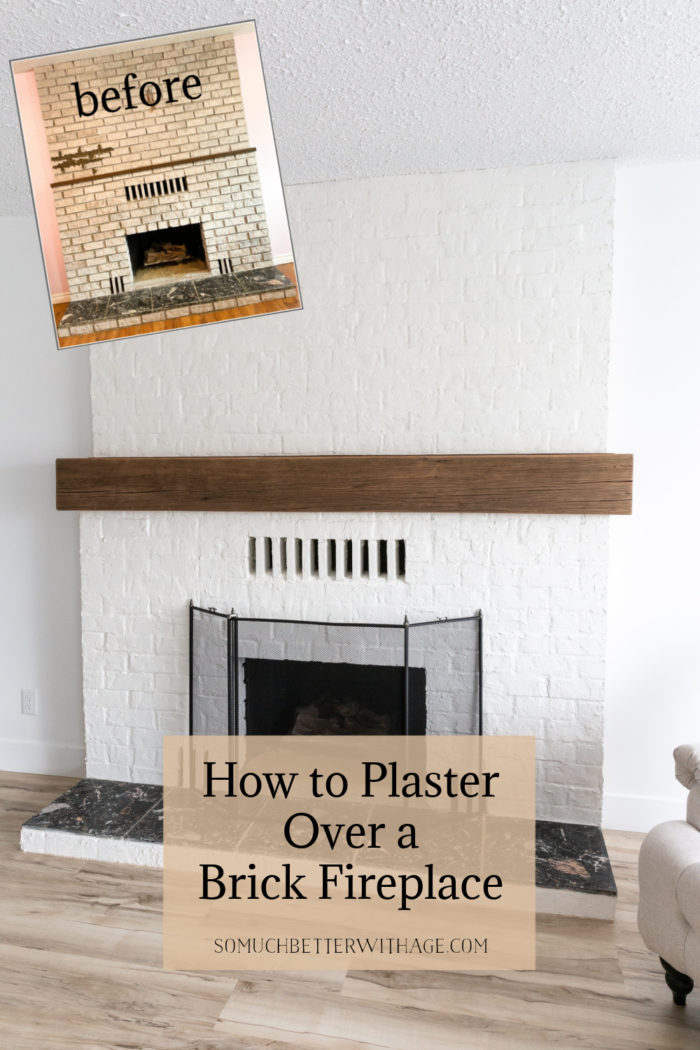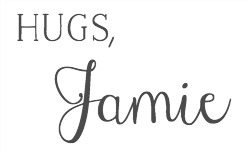 Click in case you missed:
How to Install Simple Picture Frame Moulding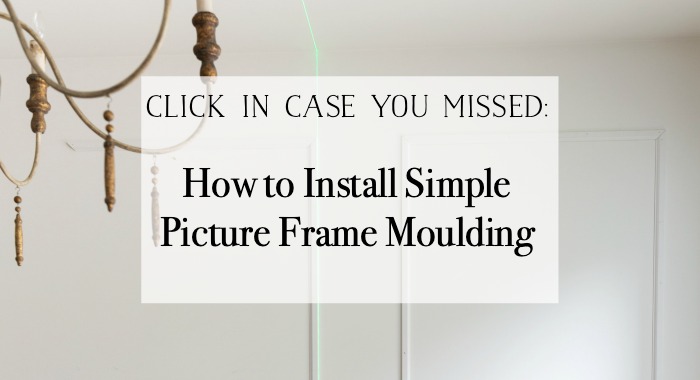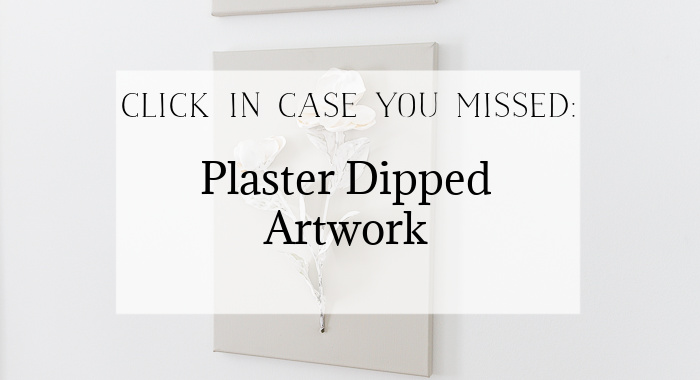 How Much Do Ikea Cabinets Really Cost