Our Intimate and Romantic Wedding
I'm sharing lots of photos and sources of our small and romantic wedding in downtown vancouver.
I'm so excited to share photos of our wedding day with you today! For those of you that don't know, Aaron and I met in grade 5 when we both attended a new school. We quickly became each other's first loves and boyfriend/girlfriend. We had the most sweetest first love and clearly it made an impact on both of us. It's the kind of first love that I can only hope my children experience.
But a year later he broke my heart (dumping me at the Valentine's day school dance!) but we got back together in grade 7 after which I broke his heart! Ahh, young love. We went to the same high school but we never had the same classes together or ran in the same circles.
After we both got on Facebook, we would follow along in each other's lives pretty much the same way as with any classmate from the past with no romantic connection but every now and then he would apologize for breaking my heart. I had zero recollection of this incident back in grade 6 so I clearly blocked it from my mind it was so traumatic!
Fast forward a whole bunch of years and we are both going through divorces and we realized how similar our paths have been. Aaron proposed last Christmas and the end of August we were married! Here are the photos of our magical day!
The first look
We wanted to take photos ahead of the wedding ceremony so we got ready at our friends' place in Yaletown and met on the rooftop of their condo. Thanks Jill and Mark!
Jill and I have been friends for nearly 20 years. We first met while working in medical together. Jill still works for orthopaedic surgeons but she's also my assistant and SEO expert so I'm sure you've seen her photos before.
Her husband Mark was our unofficial groomsman.
After our first look photos we walked up a few blocks to the beautiful restaurant where we were getting married!
reception
Brix & Mortar is a restaurant but also has an amazing space for weddings and they have perfected it down to a T. Our whole day and the days leading up to it ran so smoothly! They excess at what they do and I'd recommend them to anyone in a heartbeat! They worked with our small budget and made our wedding a dream come true. Thank you Jennifer and Jamie for making our day so memorable!
Brix and Mortar has a courtyard space that is covered by glass at the top which is perfect for holding weddings. The venue is two floors and has plenty of room for a wedding plus regular restaurant patrons.
I have several of these gorgeous embroidered pillows I brought back from Paris. Perfect to hold the rings!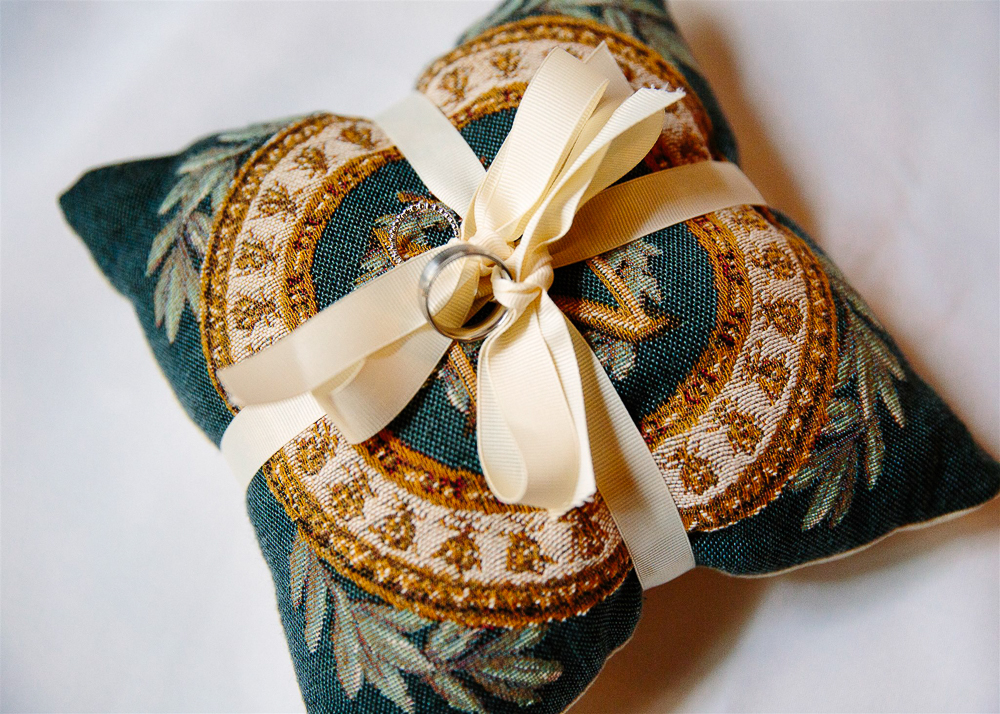 My son and daughter were a part of the wedding and walked down the aisle ahead of me after Jill ( who was my matron of honor). Aaron had his cousin/best friend Devron stand as his best man.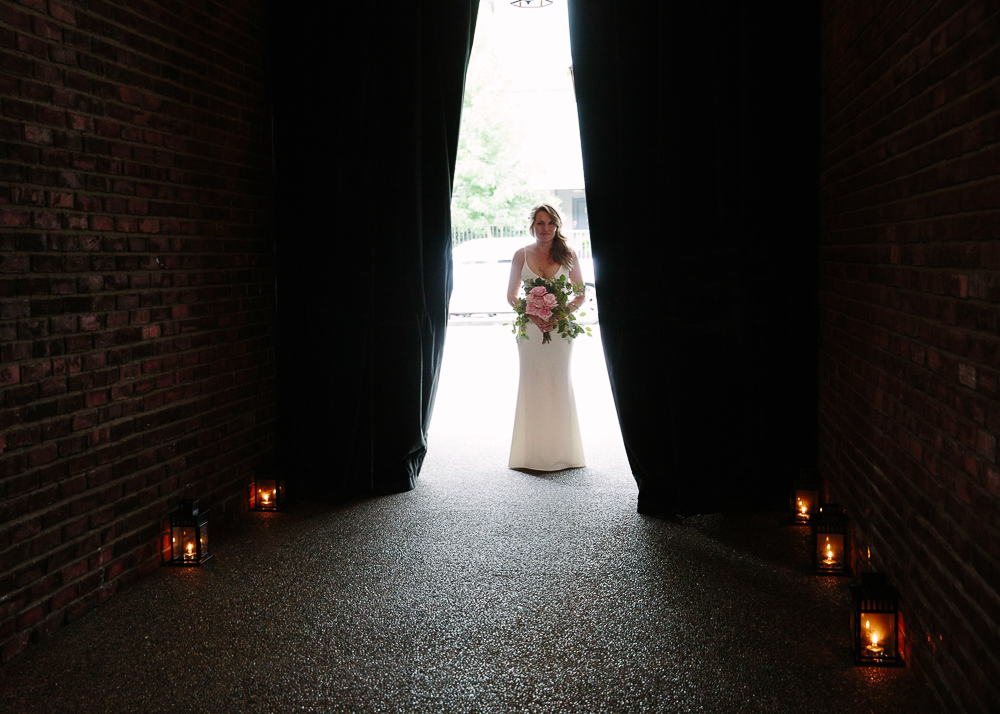 You know that I've been married twice before and I never had anyone shed a tear on our wedding day for me so to see Aaron cry on our wedding day made me so happy. Is that weird?!
We had our good friend Steve be our officiant. He's an amazing artist and has been our friend since grade 5, in the same class with us.
Because only official wedding officiants can marry you in BC, we had a real officiant waiting outside the restaurant to officially marry us after our ceremony.
We shared old photos, a teddy bear that Aaron gave me that he still had.
Along with a binder he still had from elementary school where he wrote I love Jamie and AQ+JL true lover forever!
We surprised guests with some dancing right after the ceremony while we sipped champagne before we headed downstairs for our reception dinner.
reception
I quickly snapped some photos of our intimate private dining room. Brix & Mortar included these beautiful customized menus for everyone.
I bought all the flower stems and eucalyptus and Aaron's parents and the restaurant decorated the tables with them and I put together the bouquets the morning of the wedding.
Aren't these cafe au lait dahlias amazing?!
We couldn't decide on which cake we wanted to we actually got two! We only cut one.
Vanilla cake with lemon buttercream frosting (my pick).
Chocolate with raspberry ganache (Aaron's pick).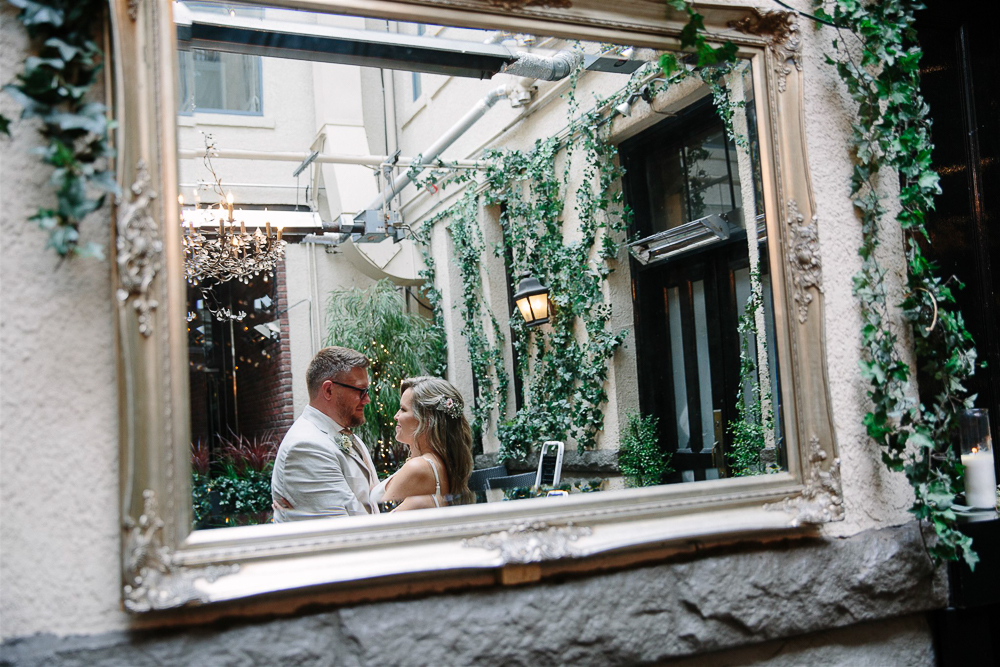 Ready to get started?
With only 35 people in attendance, it was a small but intimate and romantic wedding. It was a magical day and one that we'll cherish forever. I'm so glad to be able to share it with you!
sources:
(trying to locate links for the other clothing items)