Kitchen Cupboard and Drawer Organization
Kitchen cupboard and drawer organization is crucial when designing a kitchen. Check out my tips.
Today there's one more post on my kitchen!
It's all about organizing the cupboards and drawers. I'll show you where I store everything, the best places to put things that make sense and how I put everything away in my kitchen.
I used to organize my mom's kitchen cupboards ever since I was little. I hated things all jumbled on top of each other in cupboards and stacked too high, and I liked everything to have a place. If we didn't use it, then it needed to go. My mom still remembers and asks me to organize her kitchen cupboards!
I've always kept every kitchen in every house or apartment I've lived in like that. Always organized. If I had a tiny kitchen, I would take over a hall closet to store not as frequently used items but I always kept everything that I would use regularly. Everything in its place. It makes like so much easier!
Let me show you how I organize all my kitchen cupboard and drawers.
Here is an aerial view of the kitchen, one of the first sketches.
The island has a lot of storage and although I don't have a lot upper cabinetry, there is plenty of lower kitchen cabinets.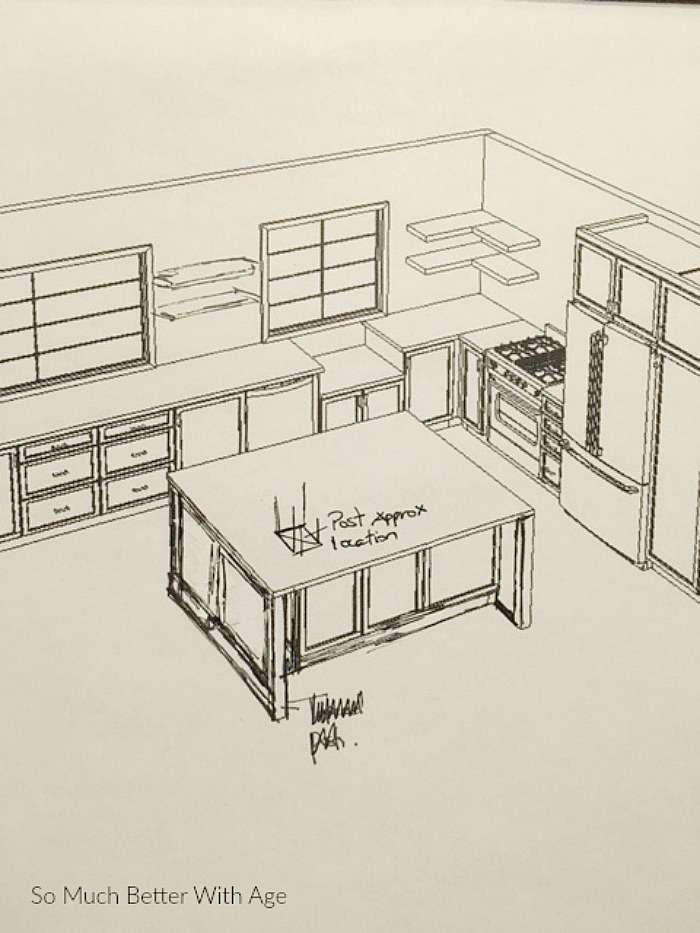 A counter-depth fridge was a must for me and the pantry was built all around it so there is a lot of dry food storage as well.

Turning this 80s eating nook into a baking centre was the BEST decision ever. There is so much storage and counter space for making pies and cookies.
What's In Each Cupboard and Drawer
I've numbered each cupboard and drawer on these photos and labelled what is in each one.
After the initial photo, I have a few sample photos of what's inside of them.
Everything in this section is for baking and I have the kids' dishes in here as well so they can easily grab their own.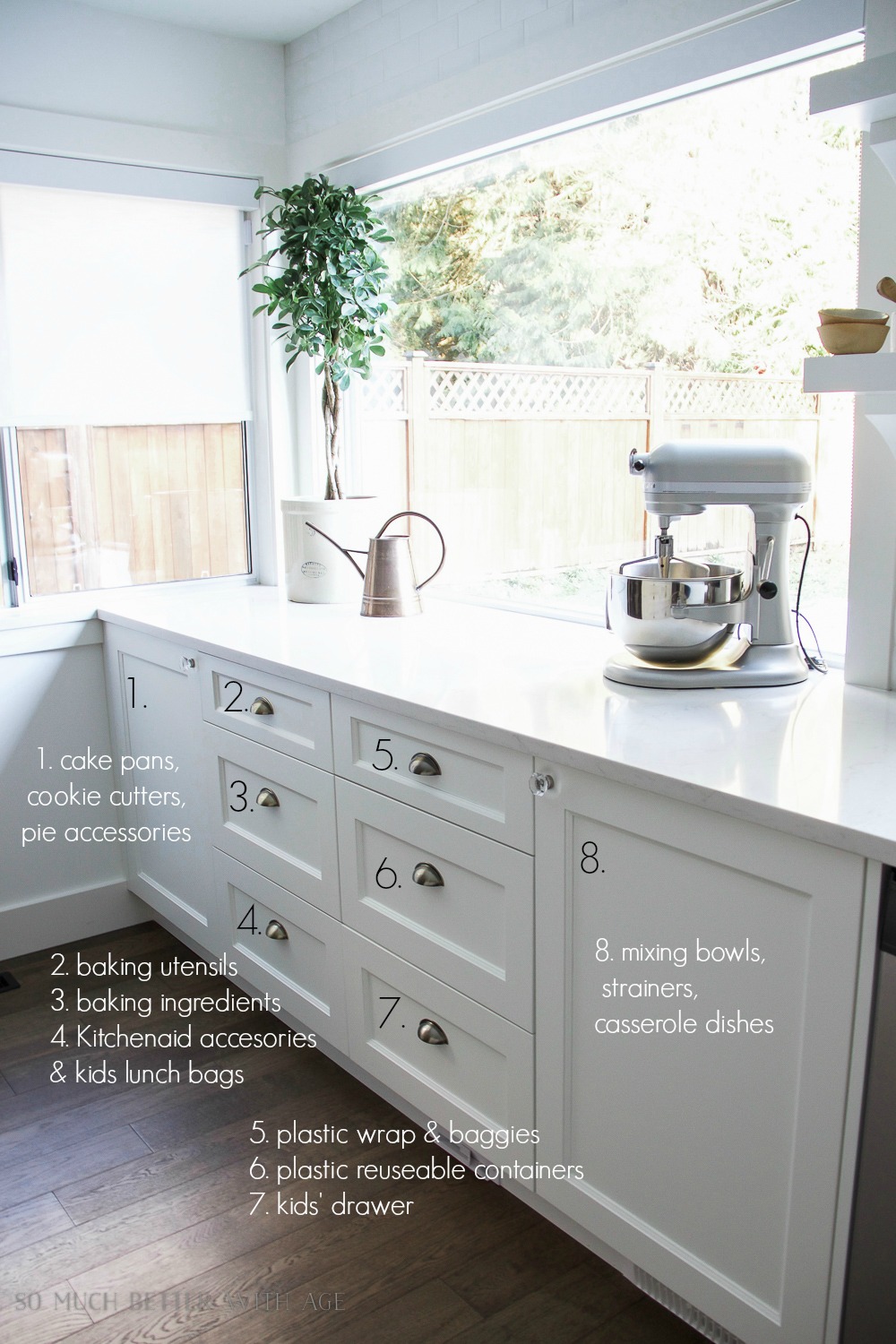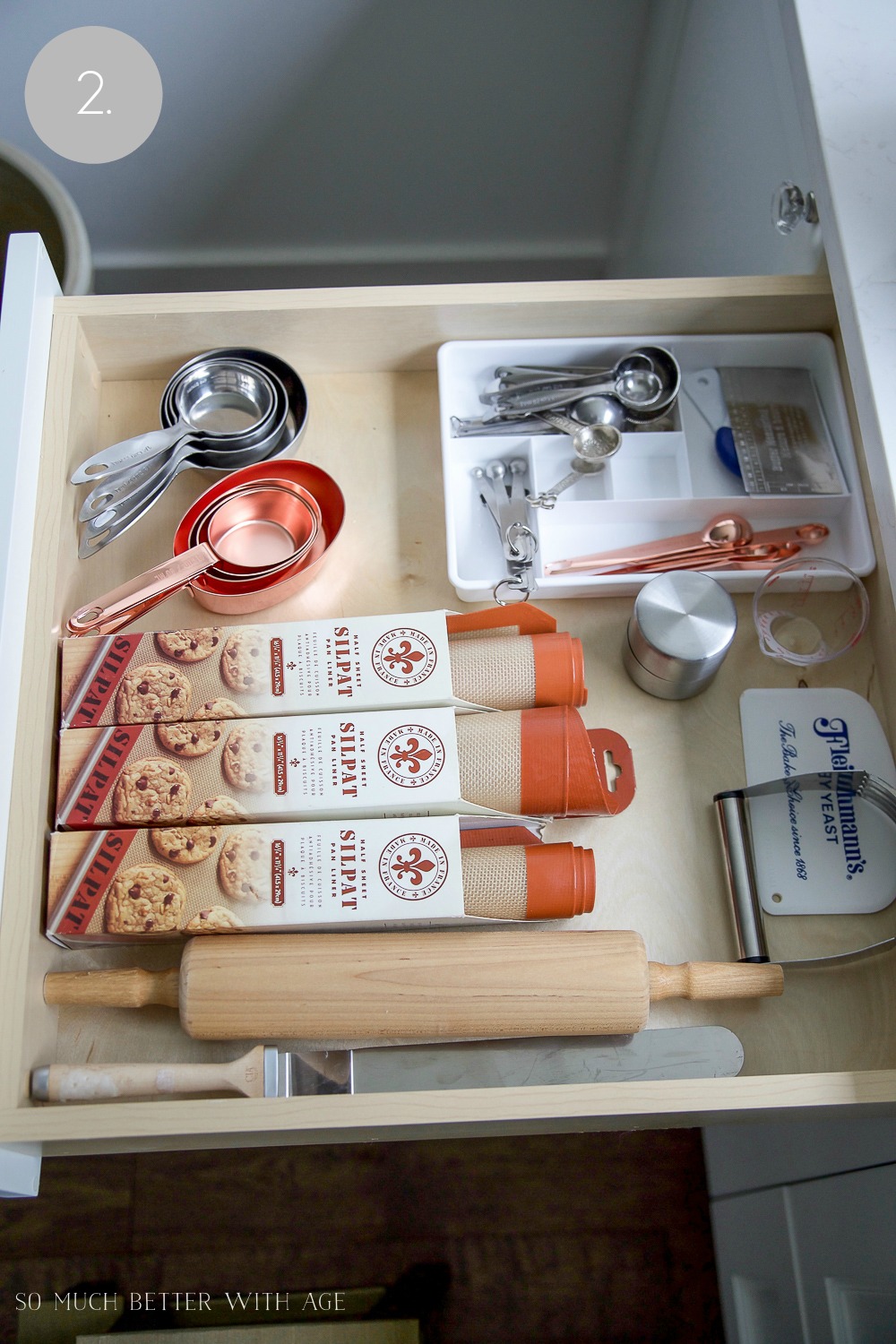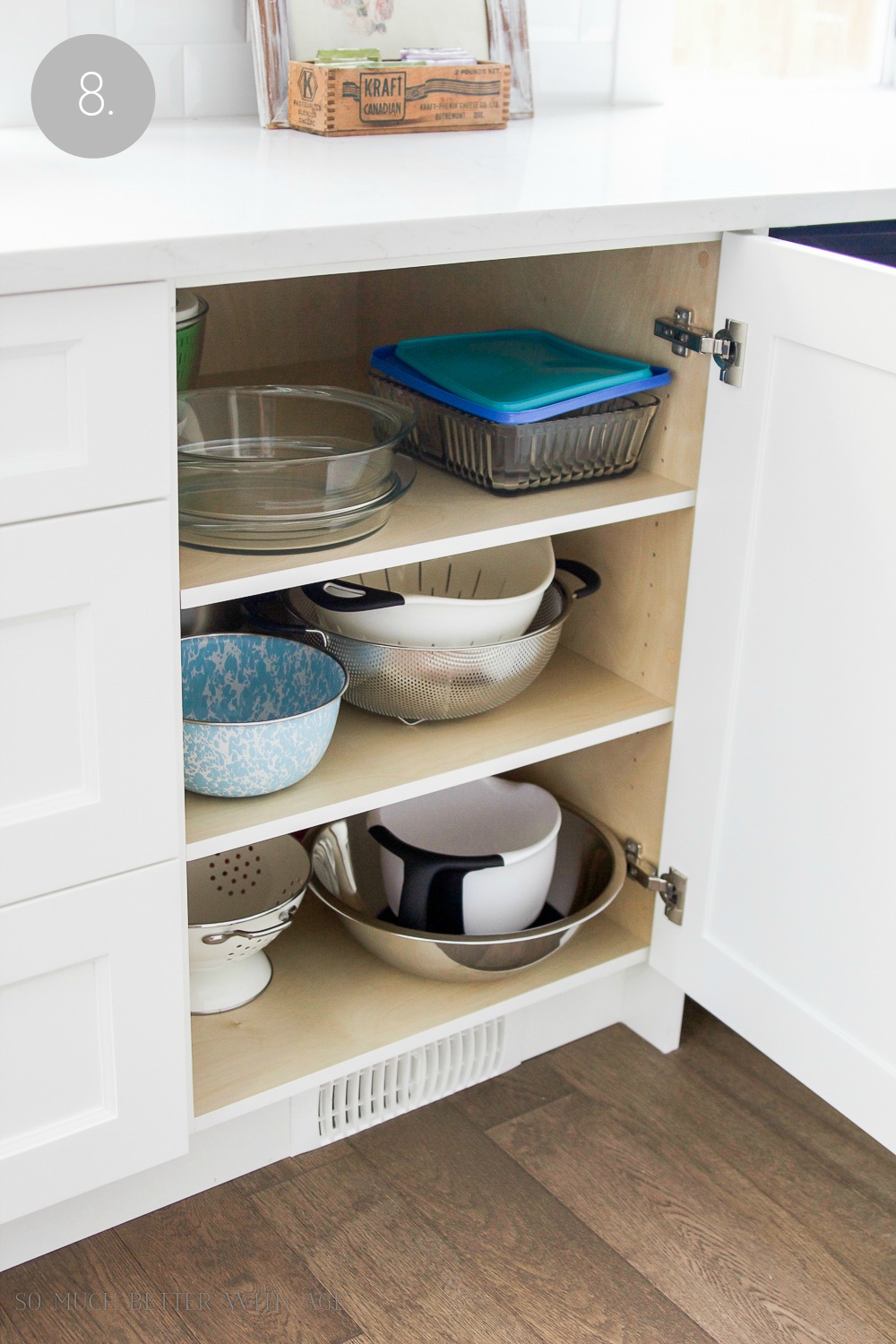 Next to this cupboard is the dishwasher then the sink.
The everyday glassware is on the open shelving above and across in the island is where all the plates and bowls are kept so unloading the dishwasher is easy and convenient.
Next to the sink is a pull-out garbage and recycling drawer which is also in a convenient location.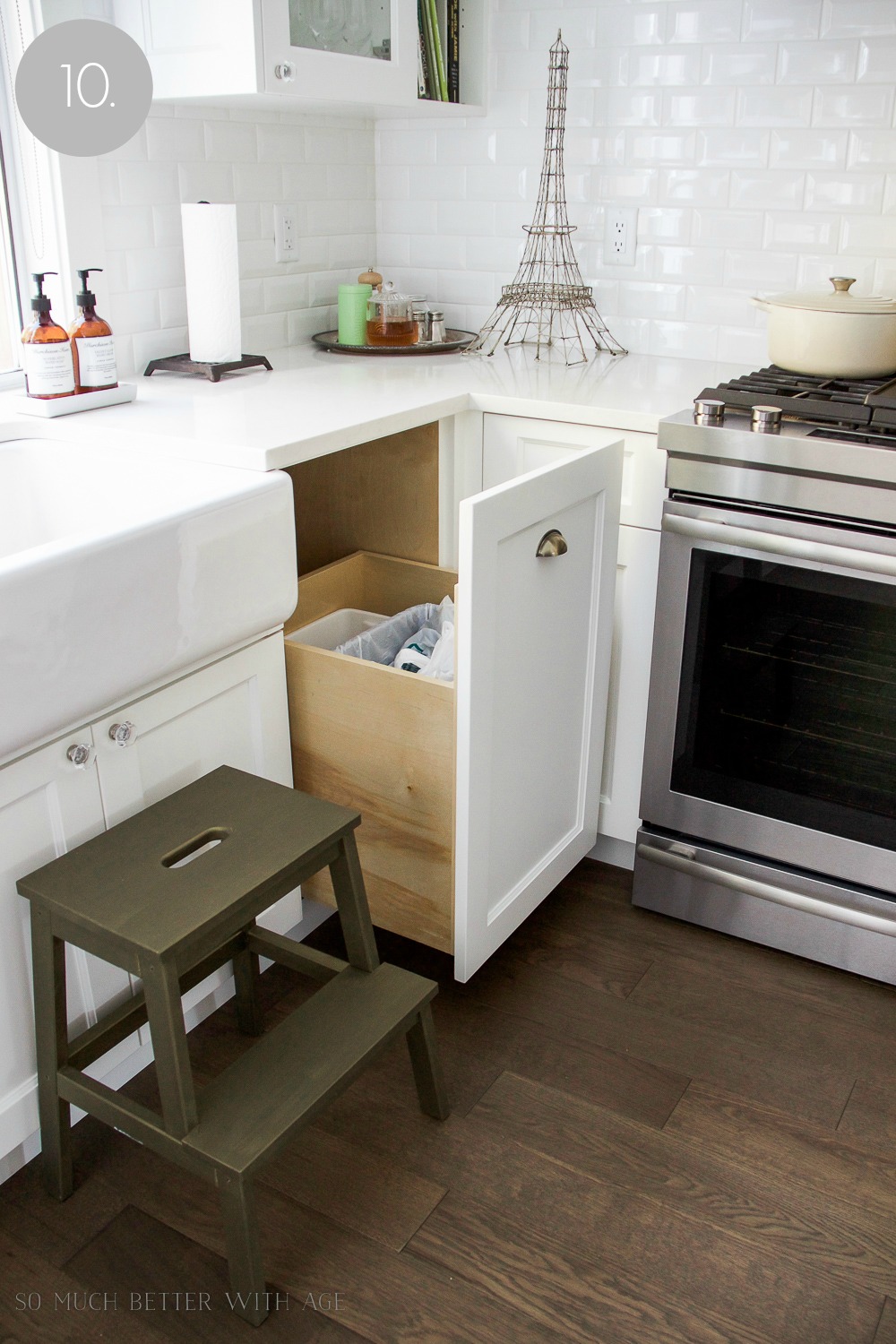 Spices and baking sheets should be close to the stove area.
I have cutting boards in the baking sheet section along with oven mitts and cooling racks.
Knives and cooking oils are close by too.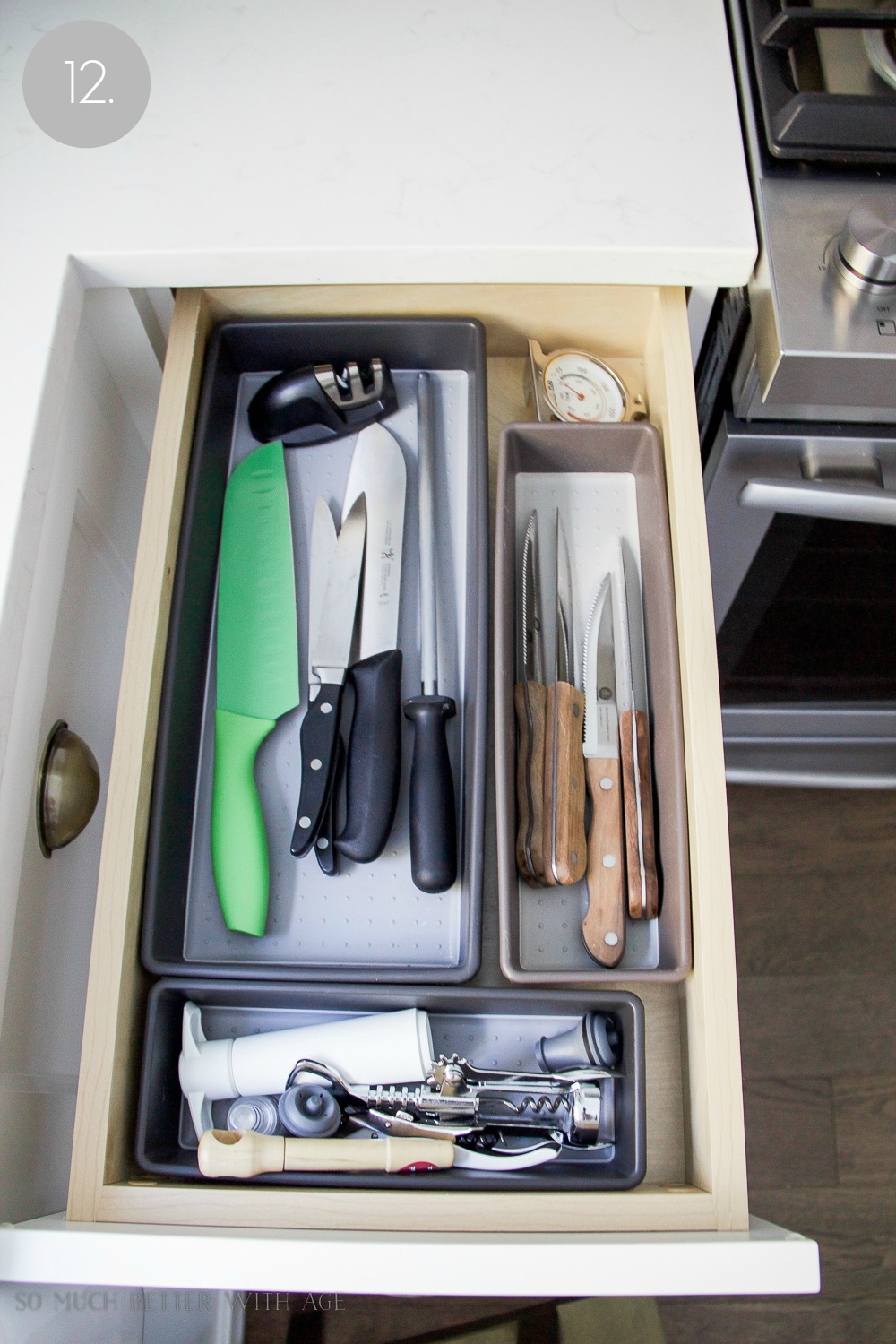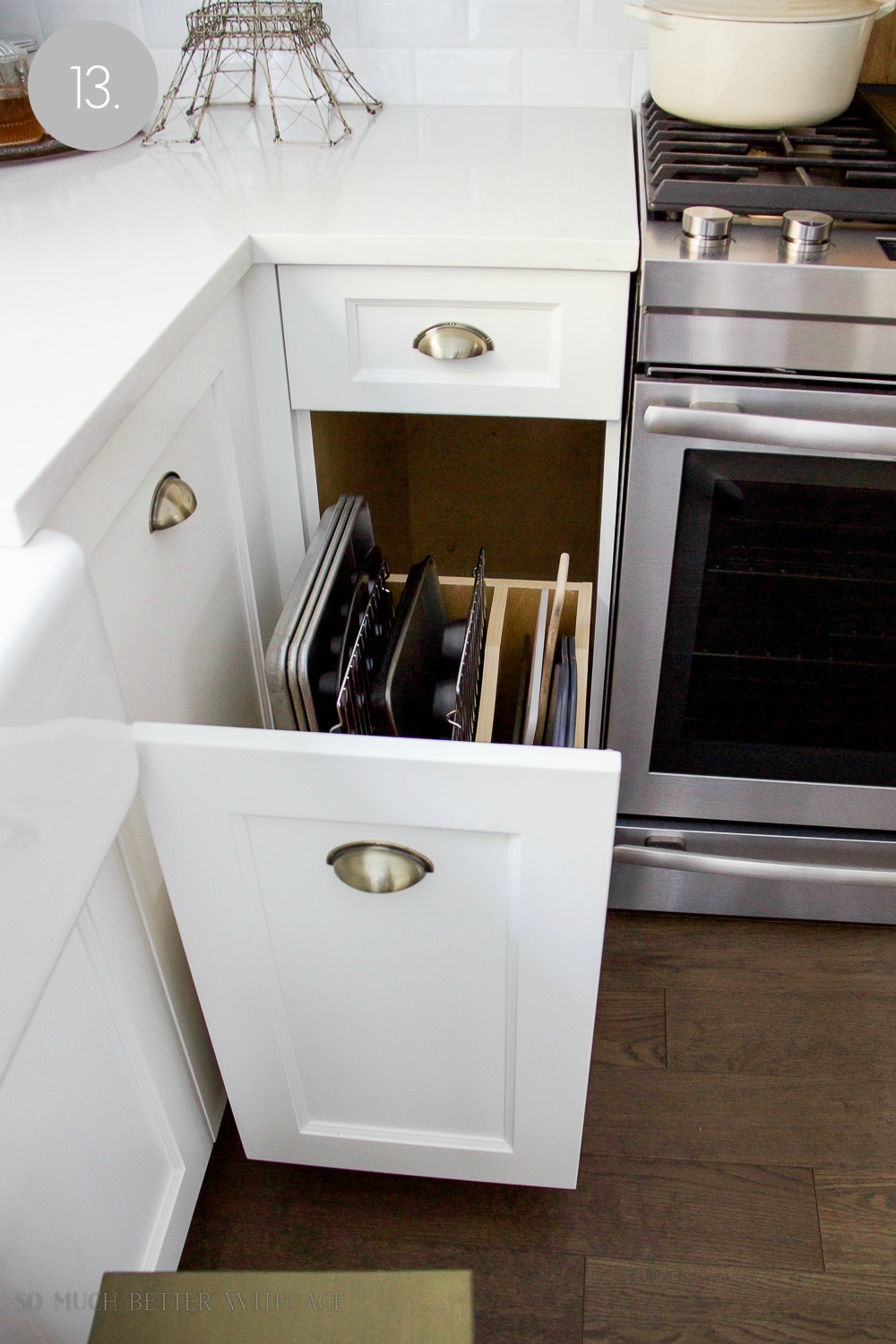 The island stores so much and everything has it's place. Like I mentioned above, the flatware and plates and bowls are directly across from the dishwasher for easy unloading.
This Sharp microwave drawer is the best invention ever. It opens like a drawer with a press of a button.
The drawer underneath stores the toaster and blender and can be plugged in in the island for easy access.
These two hidden cabinets store more cookbooks and crayons and play dough for the kids.
And finally, the open shelving holds the my everyday glassware along with a few beautiful green items.
Here is the source list. There is more I need to add to it so I'll update it shortly!
I hope I've inspired you to organize your kitchen 🙂
Source List:
wall color – Benjamin Moore Simply White OC-117 (Regal matte)
cabinetry color – Benjamin Moore Simply White OC-117 (Regal semi-gloss)
island cabinetry color – Benjamin Moore Gray Owl OC-52 (Regal semi-gloss)
custom cabinetry
counter-depth refrigerator – Jenn-Air Model JFC2290VEM
gas range 30″ – Jenn-Air Model JGS1450DS
dishwasher (came with house) – Bosch
3×6″ beveled subway tile with white grout
countertop -Quartz Vico Stone BQ8220 Carrarra eased edge but ogee edge on island
flooring – Danske Hardwood, Monterey Wire Brushed, Weathered Saddle (see photo above)
Shop the Kitchen

Make sure to pin it for later!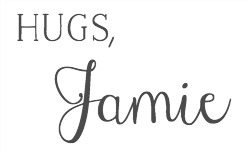 Click in Case You Missed:
My Big, Beautiful Kitchen Renovation
Kitchen Planning & Renovation for Your Dream Kitchen