Breakfast in bed on Mother's Day made special with a decoupaged tray your kids can make.
Nothing is better than breakfast-in-bed. It rarely happens when you have kids that's why it's a luxury on Mother's Day.
I had an old breakfast-in-bed tray that I decoupaged some scrapbook paper to years ago but I thought of this idea much later and have always wanted to do it and I finally did.
Nothing like tackling your to do list and giving yourself a present at the same time!
I used artwork from last year's Mother's Day to make this tray memorable as I had an amazing Mother's Day last year.
This is such a great idea for any mom so I'm excited to share with you how you can make your very own Mother's Day tray with decoupaged kids' art.
This post contains affiliate links for your shopping convenience. Click to read my full disclosure policy.
Here is what you'll need for this project.
Supplies:
Directions:
1. To keep this project nice and easy, we're not painting the legs on the tray. To do a good job with the paint job, the legs would have to be taken off and that seemed like too much work for me (since it's Mother's Day). Also, I liked the contrast of the white with wood. If your tray has a lip all around like mine, put painter's tape just under it. This will match the unpainted legs.
2. Paint the top part of the tray concentrating on the edges and handles as you will be putting scrapbook paper and art on the main part of the tray. Let dry about one hour. You can finish with clear furniture wax to give it a smooth durable finish.
3. Measure out your scrapbook paper and cut. Have the paper overlap about half an inch.
4. Brush Mod Podge on half the tray in a good amount spreading evenly. Place down first piece of scrapbook paper. Repeat for the other half. Mod Podge dries quickly so it's best to work in small sections. Apply Mod Podge over the top and allow to dry. If you need to you can smooth out with something like a spatula making sure not to push too hard or the paper will rip. Sometimes bumps disappear after it dries. If there are bumps after it's dried, you can poke holes with a pin on the hole and apply more Mod Podge with a brush. Let dry.
5. Place your children's artwork and/or letters on top and apply Mod Podge again. Because there was a piece with construction paper, I applied Mod Podge, let dry, and repeated a couple of times until it was all flat.
It's now ready for breakfast-in-bed!
I'm so happy with the results! I know this is something that I will cherish for years to come.
Nothing better than a chocolate croissant, cup of tea and a book about Paris to stay in bed with!
I love the contrast of the white wood and wooden legs.
Make sure to add a little vase with some beautiful flowers like these mini green hydrangeas.
I love my son's phonetically spelled letter he wrote to me last year when he was in grade 1:
My mom is the best because she cuddles me to sleep and she bakes cakes for me and for my birthday. She takes me to the aquarium. She is awesome.
My daughter loves to draw. She drew this last year when she was 4.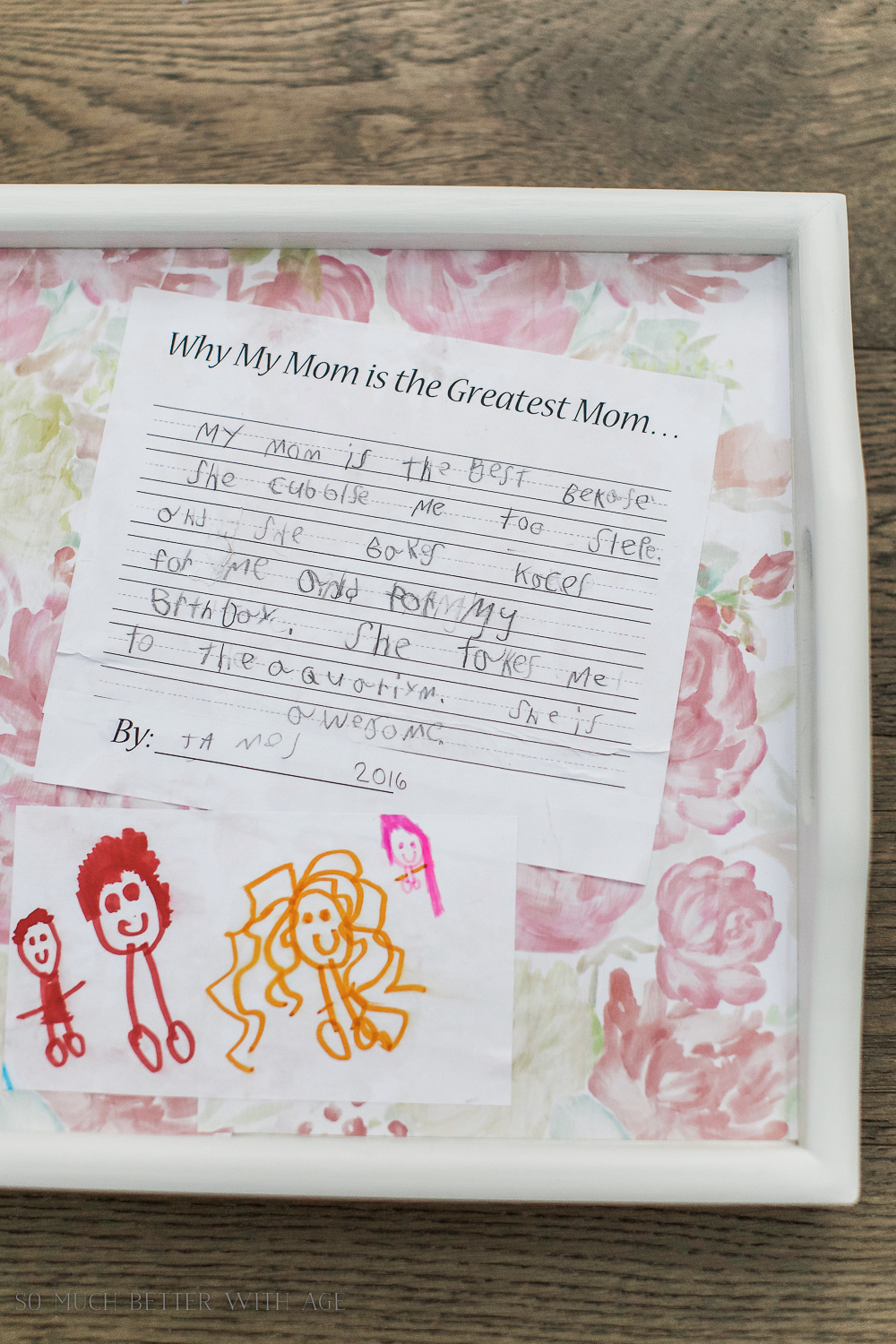 Only a couple of weeks until Mother's Day. This is one present I know any mom will love and cherish every year.
And those are the best types of gifts.
Make sure to pin it for later!
Click in Case You Missed:
Mother's Day Painted Vase + VIDEO
SaveSave