My Master Bedroom Style and Floor Plan
I am sharing with you the floor plans for my beachy French master bedroom!
Welcome back to the last of the What's My Style Series!
Today is the last of the three-part series. Here is what we saw the last two months:
January – Main Living Space Style
 March – Bedroom Style — today!
I've shown my master bedroom and ensuite before but today I'm going to show you the actual floor plan. I also have a lot of decor updates so I'll show you how I've added my Industrial Beachy French style to my master bedroom today.
My Master Bedroom Style and Floor Plan
You know how much I love my subtle neutrals. I could live all day in pure white but my hubby would never go for it.
I've been adding a few charming gold touches with the lamps and my stencilled bee wall.
My RH grain sack pillow is so Vintage/Industrial.
And I recently added these exquisite indigo pillows. I actually dyed them myself and I'm going to be showing you how soon.
I think it adds a nice tactile contrast with all the neutral and touches of gold.
It's also very French and so are those bees!
This is the way the master bedroom looked when we first toured the house.
We changed the carpets and painted the walls and adding thick crown moulding.
 I think the white duvet cover adds a nice Beachy feel to the bed.
 Here is a floor plan of the bedroom and bonus room next to it.
If you look closely, you'll notice the master ensuite is just drawn in by hand. That area was actually part of the master bedroom and just a quarter of that space was a tiny bathroom.
So weird!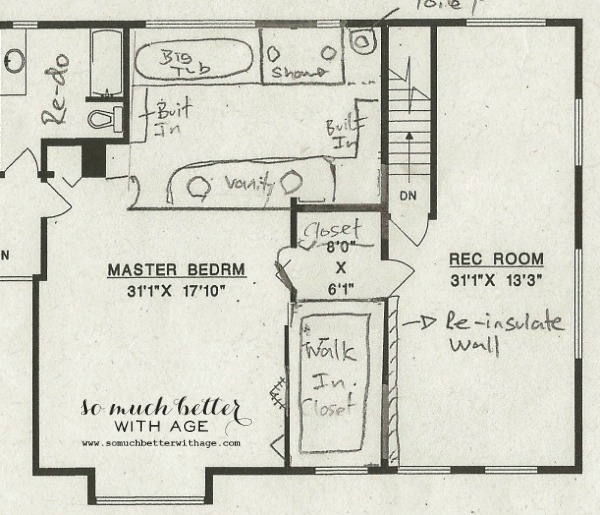 Our master bedroom is already huge. Can you imagine how much bigger it actually was BEFORE we added the master ensuite?
And we have a king size bed.
I'm not sure why the builders thought they needed the master to be the size of an apartment with barely a bathroom.
I mean it's fine if the house were HUGE but it's not.
So glad we changed it! So here is the old part of the bedroom that we turned into the master ensuite.
 Getting the walls roughed in.
 I really wish I could paint my bedroom furniture but my hubby would never go for it.
I think I'll change out the knobs to give it an update.
I moved my dough bowl from my dining room to the top of my wooden dresser.
 I love my French Industrial laundry cart from Pottery Barn.
 Here is a before shot of the other side of the room. We changed out the bifold doors for actual doors (another weird thing).
The door on the left leads to that bonus room. The door on the right is my walk-in closet.
 The bonus room is where we watch movies at night and where I blog. I've carved out a corner in that room for my home office.
I'll be showing you an update to that room soon!
 My hubby hates tons of pillows on the bed. Even though I make my bed every day, I often only add all the pillows some days so a lot of time I just pile them on my French looking side table I bought of Craigslist a few years ago.
 When the soft pillows are actually on the bed, I move the stack of books to the table top.
I love the gold around the edges.
Here is another before shot of a corner in my room where my walk-in closet is.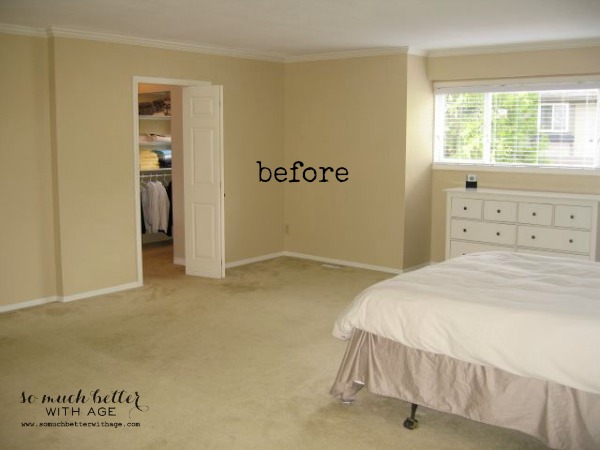 That large mirror was gold and green from Costco. Yuck. I painted it white (of course) and added a glittered Paris sign.
The chandelier is made from capiz shells, very Beachy.
All the white and blue make this whole corner very Beachy feeling.
These are the popular blackout curtains I made.
 What do you think? Is it Industrial Beachy French?
Be sure to check out my master ensuite.
Follow my co-hosts to see their bedroom style!
Tuesday, March 25th
So Much Better with Age — > that's me!
Wednesday, March 26th
Bedroom Update: