My Top 5 Favorite Designers
I have put together a list of my 5 favorite designers to inspire you!
My weekend was so good and so bad at the same time. The highs and the lows can come all at the same time.
My daughter's 3rd birthday was this weekend. That was the good part. I cannot believe she is already three. I seriously remember like it was yesterday holding her in my arms the day she was born. That newborn smell and the way she looked in my eyes with those deep baby blues of hers.
I've been going through so much personal stuff lately. It's difficult to throw a party when things are going wrong in your life but it also makes for a very good distraction.
My daughter had a very good day. The birthday party was a success and I feel a little bit better accomplishing that for her.
She also got all her favorite things for her birthday.
Today I'm going to share with you some of my favorite designers. My inspirations.
Because what gets me by on bad days, is looking at beautiful inspiration.
Everyone needs a little beauty in their lives each day.
So here are my Top 5 Favorite Designers.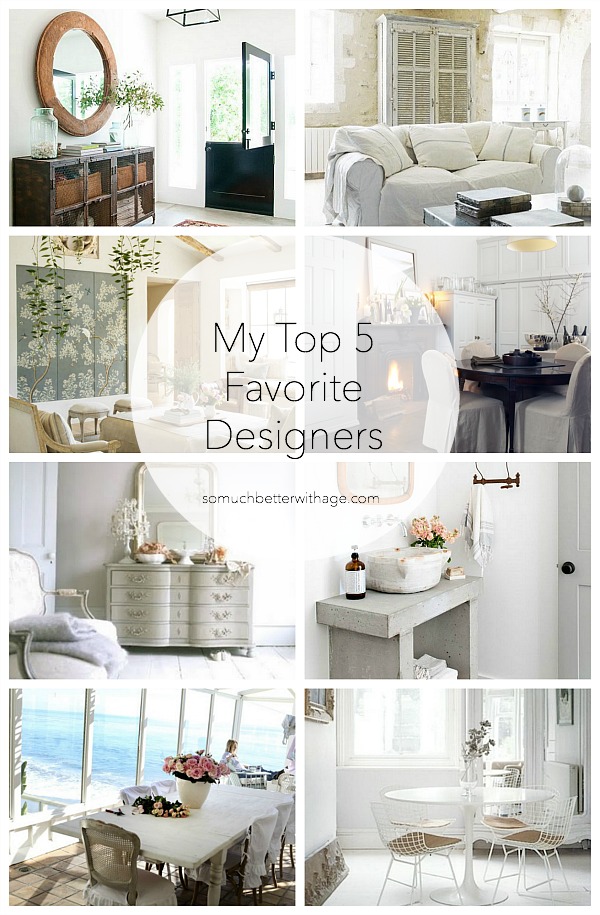 1. Brooke Giannetti
This husband and wife team is incredible. Brooke is an interior decorator and her husband is an architect. Their blog is the most gorgeous thing ever you will ever see. You have to take a look.
They also have a gorgeous book called Patina Style.
2. Rachel Ashwell
Everyone knows Shabby Chic style. Rachel Ashwell invented it. If I could live in an all white house with pink flowers I would.
One of her many gorgeous books.
Shabby Chic Interiors
3. Atlanta Bartlett
I love Atlanta Bartlett. A few Christmases ago, I got a bunch of her books and I think I read the books cover to cover every day for a week.
Here is one of her beautiful books.
4. Tricia Foley
Her style is exquisite. She has worked with huge clients like Ralph Lauren Home and Pottery Barn and does everything with pure perfection.
One of her beautiful books.
5. Heather Bullard
I love this girl. I've been following her for years and almost met her at The Farm Chicks show that I went to years back.
I hovered around her booth and didn't get the nerve to go up and talk to her but her style and grace shows in everything she does.
She is also a Contributor Editor for Country Living Magazine.
Fair warning: you will get lost in her blog.
Her Instagram feed is equally impressive.
She currently does not have a book that I know of but she certainly should.
I hope you enjoyed my Top 5 Favorite Designers.
What are yours?
* Affiliate links added