I love using neutral colors to decorate for fall. Check out how many different ways you can use faux or real fall leaves!
Today I'm sharing my only fall post! I've had to cut back on seasonal decorating this year with the start of my new interior design business but I couldn't let my favorite season pass without a post!
It's also time for our monthly series, Simply Home, so be sure to check out the fall decorating ideas that my friends have shown at the bottom of this post.
I LOVE neutral colors and I've always decorated for fall with neutral, even though traditionally fall is all about dark browns and oranges. I boycotted that with my purple and green fall post back in 2016. Do you remember that? Even the title said, No Orange Allowed!
I love decorating for fall with just a few simple things like acorns and pine cones I got at the dollar store. I just put them in an ironstone dish. Not bad for $2 decor, right?
This post contains affiliate links for your shopping convenience. Click to read my full disclosure policy.
I also got some new pillows and a throw for fall this year!
I recently bought two Lucia chenille pillows in 22×22 inch size.
I also got this heathered boucle fringe throw in oatmeal.
They went so nicely with my two faux fur ruched pillows (20×20 inches in ivory) and the faux fur ruched throw that I bought last year.
The middle pillow I've had for years and I cannot remember where I bought it from!
And don't pay any attention to my split couch. We moved it around from a sectional to a regular couch to open up the space. We will get a new couch for this space eventually but this one is so cozy we're not ready to give it up just yet!
You can see the before and after of how we moved around my sectional couch here in this post: How to Decorate a Long, Narrow Living Room
And the full story of why this couch wasn't even supposed to be in the living room in this post: Honest Review of Pottery Barn Slipcovers in Premium Performance Basketweave
Floral Centrepiece with Faux Fall Leaves
I made an Instagram Reel about this fall centrepiece. I love using chicken wire in a planter to keep the faux leaves from flopping over.
Just use wire cutters to cut the stems off the branch.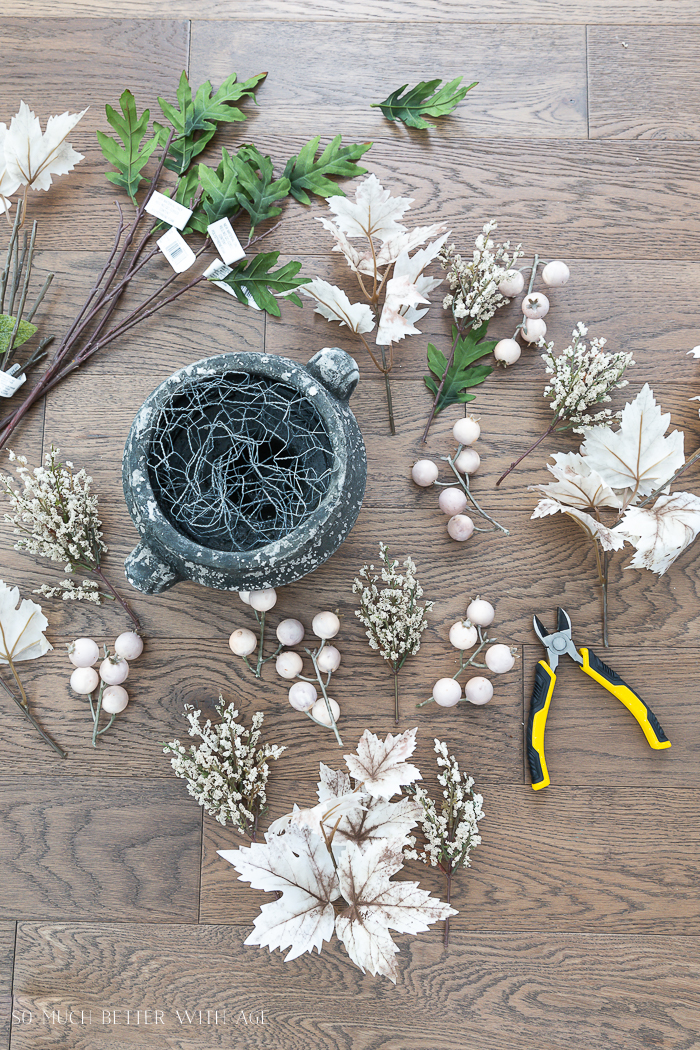 I put the cream rose berry stems (ball-type stems) around the outer edge with the cream maples leaves in the middle and the tan heather berry stems (fluffy looking stems) I poked in a few places around the leaves.

I also stuck some fall leaves in this concrete planter that resembles a basket (similar planter here).
I love the neutral beige and grey colors in my living room.
More Fall Leaves Inpiration – Faux and real Leaves
Right now, this photo (below) is going viral on Pinterest! It's amazing how a simple image gets a lot of traction.
It's from this post here: Decorating for Fall with Muted Colors
The color of these faux fall leaves are the perfect amount of 'fall' and right now they still say they are in stock!
The demijohn vase I got at Home Sense but I have a few vintage ones in a deeper green tone that I love.
You can learn to paint your own heirloom pumpkins by checking out this popular post of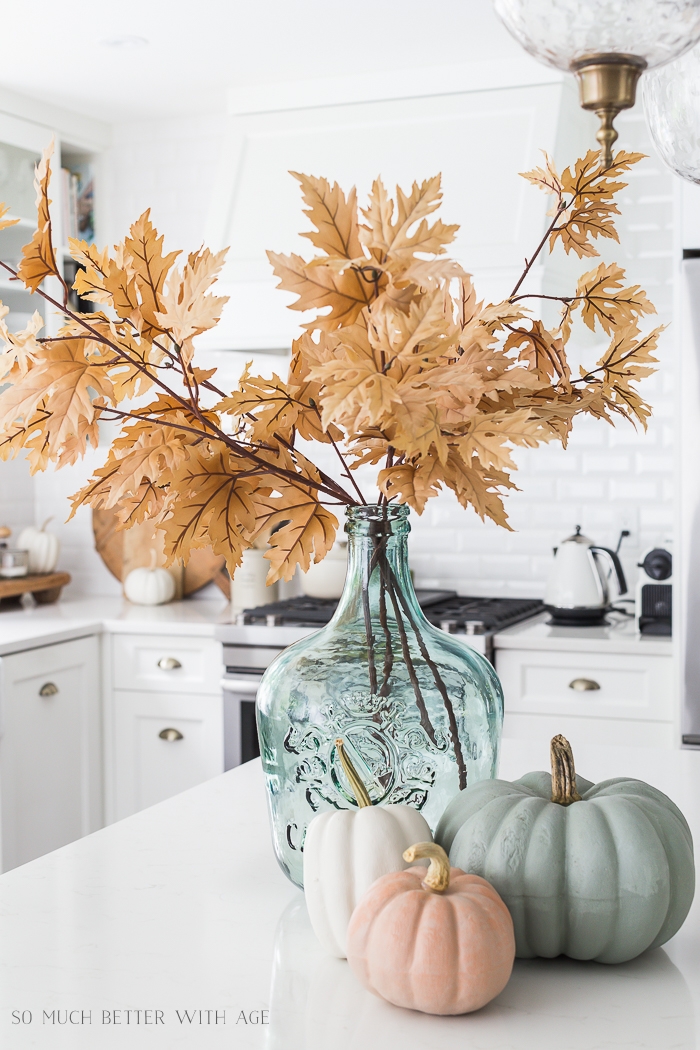 My fall mantel from last year showcases leaves that are real. I found these leaves in my backyard and framed them. The simple leaves now look important in beautiful gold frames.
The eucalyptus and berries are faux. You can mix up real and faux anytime!
I made these fall leaves into printables! You can learn how to download them in this post: Pressed Fall Leaves Printables
Check out my Painting Pumpkins in Muted Colors post here.
Shop this Look


This centrepiece from my fall dining room last year used more beautiful faux leaves.


Even though these fall leaves were all crinkled up, I thought I'd still bring them inside and showcase them on my dining table. It adds lots of 'crunchy' texture.
Check out more of my velvet pumpkin dining table.
And finally, putting an assortment of leaves and tree clippings in cloches was a dramatic and beautiful touch. You can check out the full post here: Fall Mantel Decorating with Leaves in Cloches
Shop Cloches

I hope you enjoyed this article or post on how to decorate for fall with fall leaves AND for it to be all neutral!
Be sure to visit my friends below with their fall decorating ideas!
Make sure to pin it for later!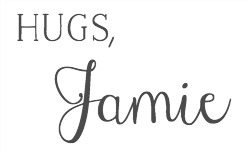 Click in case you missed:
Easy Formula for Coffee & Console Table Styling
Fall Decorating With Muted Colors
Tidbits: Early Fall Decor Ideas
Maison de Cinq: Five Tips for Easy Fall Decorating
Seeking Lavender Lane: Five Favorite Fall Decor Items
Shades of Blue: Foraged & Found Fall Decorating